There are many reasons why you might be looking for information about outbound sales representatives. Maybe you are the owner of a start-up, or a sales manager looking to expand your team. Or maybe, you are someone interested in starting a sales career path and are researching your options.
Sometimes it can be difficult to fully understand what this job entails and which skills and attributes a suitable candidate should possess.
In this article, we are going to explain who outbound sales reps are, what they do, and how you can become one.
What does an outbound sales representative do?
As the title suggests, an outbound sales representative's main responsibility is to sell the company's products and services to potential customers. They do this by performing cold calls and sales presentations.
Outbound sales reps contact cold and warm leads and prospective clients from an outsourced or in-house call center to deliver their sales pitches. Sales calls can be conducted through various communication channels, including phone calls and in-person meetings.
The goal of a sales rep is to successfully deliver their sales pitch and lead potential buyers toward converting. The sales strategies they implement depend on the products and services they sell, their target audience, and their sales playbook. However, all sales reps should strive to provide the best sales experience to their clients.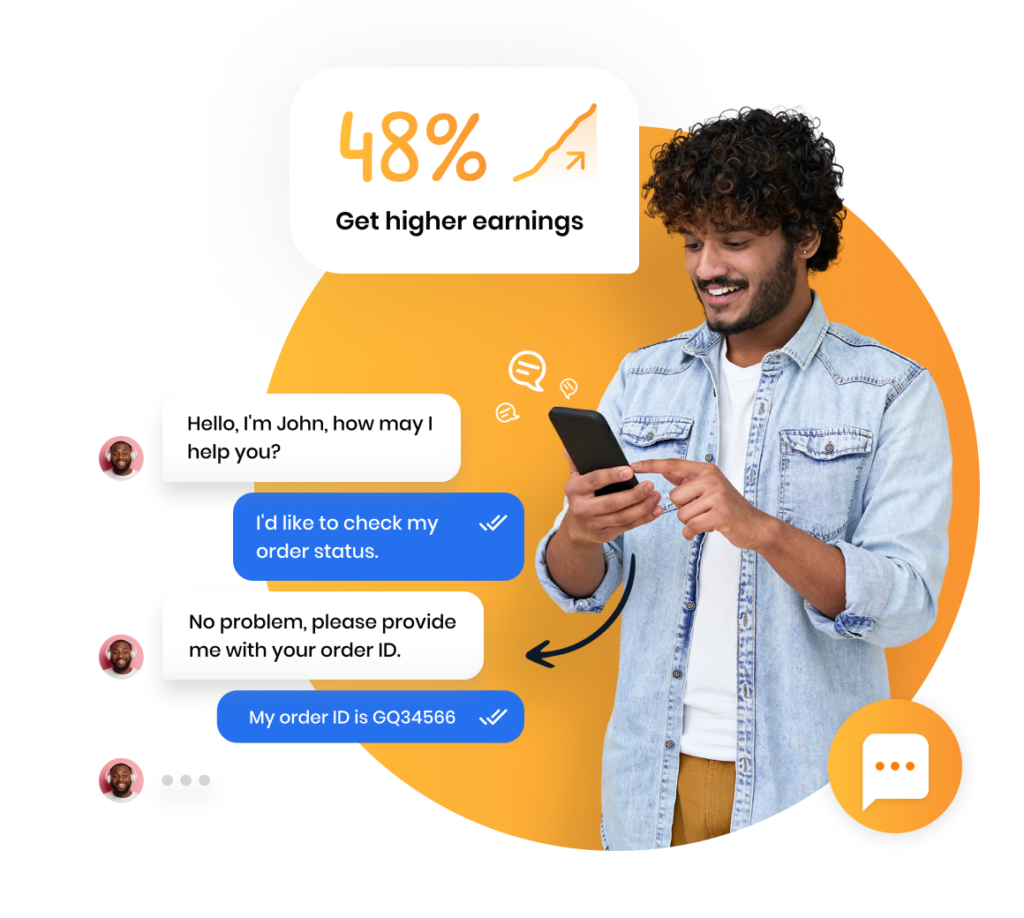 Many employers and sales reps debate the levels of education required to fulfill the role of an outbound sales rep. In general, obtaining a high school diploma or its equivalent is enough to qualify for entry-level positions in this field.
Outbound sales representative responsibilities
Sales departments are crucial to the business's success. Outbound sales representatives have many roles and responsibilities they have to stay on top of.
Identifying sales opportunities
Determining qualified leads
Contacting prospective customers and initiating outbound phone calls
Converting leads into customers
Preparing sales contracts
Communicating with qualified prospects either verbally or in writing throughout their sales cycles
Understanding and promoting the company's products and services
Working with the company's software to log customer interactions and maintaining customer records
Coordinating sales and marketing activities
Preparing pricing plans, quota, and more
Working closely with the customer service department to deliver excellent customer service
Generating sales reports
Meeting sales goals – monthly sales goals, activity goals, etc.
Adhering to company guidelines
This is not a definitive list of all the responsibilities each outbound sales rep has. Each company is different, so the roles and daily tasks of sales reps may differ.
There is no doubt that outbound sales representatives have a lot on their plate, but these jobs can be equally rewarding and motivating as well.
Outbound sales representative skills and personality traits
What do you need to become an outbound sales rep?
Let's look at the skills and traits that will help you start your sales career and ultimately become a successful salesperson.
Be driven – you will not become successful without a passion for your job. Self-motivation is often one of the most reliable tools for successful sales reps.
You need excellent communication skills – effective communication is essential in the sales process. Delivering pitches to potential clients, answering questions, and negotiating prices is a job full of both verbal and written correspondence.
You should possess soft skills – humility and empathy go a long way in the selling process. Instead of coming off as aggressive and arrogant, you need to be approachable and listen to potential customers. Remember, customer relationships are what matters most in sales.
You must be goal-oriented – the experience of pursuing and completing goals is usually a great motivator for successful sales reps.
Product knowledge is the key – you need to learn everything there is to know to perform an effective product demonstration and win the potential customer over.
You should be a team player – being an outbound sales rep is usually not for a lone wolf. In B2B and B2C sales, you often rely on others to close a deal.
You need to manage your time effectively – if you want to be successful as an outbound sales rep, you need to develop great time management skills.
Be optimistic – some situations are best taken with humor. And while you must stay down to Earth, optimism goes a long way when dealing with people.
How much does an outbound sales representative make?
Answering this question depends on the company you work for and where you are located in the world. Moreover, most salespeople earn a starting base salary and additional pay. It can be in the form of commissions and bonuses, depending on the sales quota.
The average salary of an outbound sales representative in the United States is around $45,000 to $50,000 per year.
Improve your customer service
With LiveAgent your outbound sales representatives can provide each customer with personalized experience, making their work more fluent and efficient than ever before.
Frequently asked questions
How can I be a good outbound sales agent?

To become a successful outbound sales rep, you need to have great communication and listening skills. You should be comfortable with speaking in front of people, and be persuasive while not coming off as pushy. You should also be good at managing your time, so you don't become overwhelmed. Some companies require their newcomers to have at least a Bachelor's degree, while others accept those with a high school diploma.

How do you make a good outbound sales call?

The most important thing is to come prepared. Research your potential buyers beforehand and tailor your pitch to their needs. Respect the potential client's time when scheduling a meeting and make sure you are professional and courteous, but still friendly and approachable. Moreover, remember not to make promises you can't keep.
Expert note
<p>Outbound sales reps contact potential customers to sell products and services through cold calls and sales presentations. Good communication, time management, and goal orientation are essential skills for this job.</p>

Andrej Saxon
Sales manager