Before launching a landing page, there are many different aspects to consider. This task can sometimes be overwhelming, but it's vital to get the details right before people start visiting your page.
The following is a list of things to consider before creating your landing page. From copywriting and design elements to conversion rates and other measurements, this checklist will cover everything that you need to make your landing page successful.
What is a landing page checklist?
A landing page checklist is a great way to make sure you have all the bases covered before launching your website. Having one will help you uncover any bugs or missing elements before the landing page goes live, as well as prevent unexpected issues from occurring.
Why is a landing page checklist important?
It will help you get a clear idea of precisely what journey visitors take on your site. This will help you understand not just how long it takes to move down the landing page funnel, but also where potential conversions may fall out of it.
In addition to the benefits listed above, what else can you gain from a landing page checklist?
Determine whether you successfully convert visitors into leads.
Keep all steps of each process visible and prevent any possible confusion about what needs to be done next.
Create an effective landing page that will drive conversions.
Ensure that potential customers will have a great experience.
Ensure that everything is covered before launching your website.
In contrast, if you decide to build a landing page without following a checklist then you can get stuck at a certain point, miss an essential element, or – worse still – fail to find opportunities for improvement.
Who can benefit from a landing page checklist?
Simply, anyone who wants to focus specifically on conversion:
Email and pay per click (PPC) marketers
Business owners
Marketing managers
Freelancers
In essence, anyone who wants to develop a cohesive, properly planned, and well-designed landing page without forgetting about anything important that might impact its future performance.
How to use a landing page checklist?
Below is a complete landing page checklist with all the items you need to consider when creating your landing page. Feel free to use this list as inspiration, adding or removing certain parts to tailor it towards your own needs and personal style.
Let's start from the top and look at all of the elements that an effective landing page should include.
How to know if my landing page is performing well?
Take a quick look at your overall review to get an idea of how well your landing page is doing. Here are a few questions to help you determine whether your landing page is effective or needs some improvement.
Can visitors navigate through the website while still on your landing page?
Does your entire landing page convey one clear, simple message that you want people to remember?
Do you feel comfortable if this was how someone found their way onto the landing page for the first time?
Have you tried tweaking fonts, colors, wording, or images to see what seems to work better for the readers?
Does it convert visitors into leads?
Will it help you achieve your main goal?
Does it look professional and trustworthy enough that visitors would be willing to give you their contact details?
The more questions you can answer with a "yes," the more likely your landing page is to be successful. However, this alone isn't enough. You also need to track some data and metrics to get an idea of how well your landing page is doing.
Which metrics matter most for a landing page?
This is the most basic of metrics that you will want to track. Did your landing page receive any traffic? And how many views did it get if so?
This is important because without visitors coming to check out what's on offer, there is no chance of converting them into leads or customers. Variations in this metric can indicate that something has changed, which might have an impact on how successful your landing pages are at driving traffic.
How to check the numbers? To pull up this report in Google Analytics, go to Behavior → Site content → All pages. After you reach the latter, you can choose specific landing pages and display the relevant data.
What drove the traffic to your landing page? Did visitors find their way there from a social media post or via an email campaign, etc.?
Understanding where your visitors are coming from will help you know what is working and if there might be any new opportunities for promotion.
You can find data on your traffic sources in Google Analytics under Acquisition → All Traffic → Source/Medium.
Setting up goals in Google Analytics is the first step to tracking conversions on your landing page. With a target linked to your campaign's thank-you page, you'll be able to track the number of visitors and the number of people who took the desired action.
You can find completed goals by looking at the ones you set up recently in Conversions → Goals → Overview.
What is working to bring people in and what's not? Did a social media post work for you, or was it an email marketing campaign that drove the most conversions so far?
Understanding the difference between each activity will help you make future decisions about prioritizing activities. For example, if an email marketing campaign has been performing much better than other efforts, this might suggest investing more time into sending out messages via this channel instead of promoting your page elsewhere.
What impact does each page or session make in terms of conversions into leads? This stat will tell you how long people are staying around and how much effort goes into converting them.
If you do not see any conversions then there may be problems with how keywords and topic relevance have been handled so far. You can fix it by adding more details about what's being offered and addressing any concerns that potential customers might have.
Visitors-to-Contact Ratio
How many visitors are coming in but not taking the next step? If you know that a large proportion of people who land on your page immediately leave, this means there is a problem somewhere.
It might be with how trustworthy and professional your landing page looks, or maybe something raises some doubts. There may also be problems with keywords and where they're placed throughout the page, which could lead people away.
Suppose that less than 20% of your visitors convert into leads (this number may differ depending on the industry), then it's time to get down to editing the landing page copy for better clarity. Make changes to the fonts and color of the CTA button, etc.
How many people are coming to your site and immediately leaving? If this figure is high, then it's time to start taking a closer look at the landing page itself.
The headline, images, and copy all impact how long visitors stay on your landing page, so take some time to think about any improvements that could be made.
You can find the bounce rate in the Behavior → Site Content → Landing Pages.
How long do people spend on your landing page? If people aren't staying there long enough, it will be a challenge for you to convince them that what you offer could solve their problems.
You can use things like customer testimonials, case studies, and media coverage as social proof to help provide evidence of the benefits. If this isn't helping or there don't seem to be many visitors at all, maybe it would make more sense to focus efforts elsewhere until traffic increases organically through SEO activities instead.
Getting this data in Google Analytics is the same as finding your bounce rate. Navigate to Behavior → Site Content → All Pages.
How many pages are people visiting on average? If this figure is low, it implies that visitors aren't getting enough information before leaving, which also means there might be problems with the way keywords and topic relevance have been handled so far.
You can always provide more details about what's being offered here by adding product descriptions, blog posts, or FAQs. Basically add anything at all to help answer the questions your customers may have.
To track pages per session for your landing page in Google Analytics and see the average number of pages visitors viewed when entering your site through your landing page, navigate to Behavior → Site Content → Landing Pages.
How to make an existing landing page attractive?
If you already have a landing page, do you need to rebuild it from scratch? The answer is "no," but you do have to conduct a thorough landing page audit instead.
The regular analysis allows you to see what's working and what needs to be changed.
Performing an audit of your landing page should help you identify gaps. There are landing page optimization tools available on the market that can greatly help you with that task.
Such tools provide a set of features to measure overall performance, identify low-performing aspects, and improve your landing pages to drive more conversions. If you use a landing page builder, it's easy to make some changes and adjustments after publishing your page.
The simplicity of these optimization tools makes them very appealing to users. Furthermore, many of them offer templates to help you improve your conversation rate, especially if you don't know how to get started.
What should be done during a landing page audit?
A landing page audit is not an easy task to complete. It requires patience and attention to detail. The following things should be taken into account during the process:
Make sure the content is written in a way that resonates with your target audience.
Create a sense of urgency – the offer should be time-sensitive.
Ensure the page is relevant to what's being advertised and that people can find what they are looking for there.
Use a heatmap tool to track where people are putting their focus and how long they're spending on each form field.
Keep the number of fields reasonable – the more options you have, the more difficult providing the required information will be.
Confirm your offer with a headline and use sub-headings to explain it further or share your value proposition.
Create an effective call-to-action that is descriptive, compelling, specific, and trackable.
Design your landing page with the correct colors, sufficient contrast between the background and foreground, plus the right font type and size according to the results of A/B testing.
Include testimonials to build trust with potential customers.
Let's break down the whole landing page audit process into 7 steps:
reevaluate your goals – Getting started requires a clear idea of what you want to achieve.
learn as much as you can about your audience – If your conversation rate is dropping, it's high time to take a closer look at your target group.
understand what your visitors are doing – Where they are clicking, how long they stay, and what's making them bounce from the page (landing page optimization tools help here).
review the current content on your landing page – Check grammar, spelling, and whether it is informative enough.
perform a functional and design analysis – Is the font too small or is the color of your CTA button not encouraging people to take the desired action? (changes will be much easier to implement if you use a landing page builder).
reexamine the user experience – Can users easily navigate through the landing page?
perform some A/B tests – See which changes work best.
During the landing page audit process, answer the following questions:
Does my landing page meet the expectations set by the ad(s) that are sending traffic to it?
Is my landing page free of unnecessary links?
Have I added a page title to my landing page?
Do I have a clear call to action that is noticeable?
Is my landing page responsive and mobile-friendly?
Is the headline of the landing page suitable?
Are my 'above the fold' elements free from spelling and grammar mistakes?
Does my landing page content provide value to readers?
Is the content useful, interesting, or entertaining enough that visitors stay to read everything on the landing page?
Am I being too "salesy" on my landing page – do visitors feel like it is promotional rather than a resource they can learn from?
If you have answered 'no' to any of the above questions, it is time for immediate action.
Landing page reviews according to our checklist
Always look to improve user satisfaction by testing landing pages, analyzing the weak points, and making necessary changes.
How should you assess your landing page according to our checklist? Let's look at a few examples that we analyzed in great detail below.
1. Biteable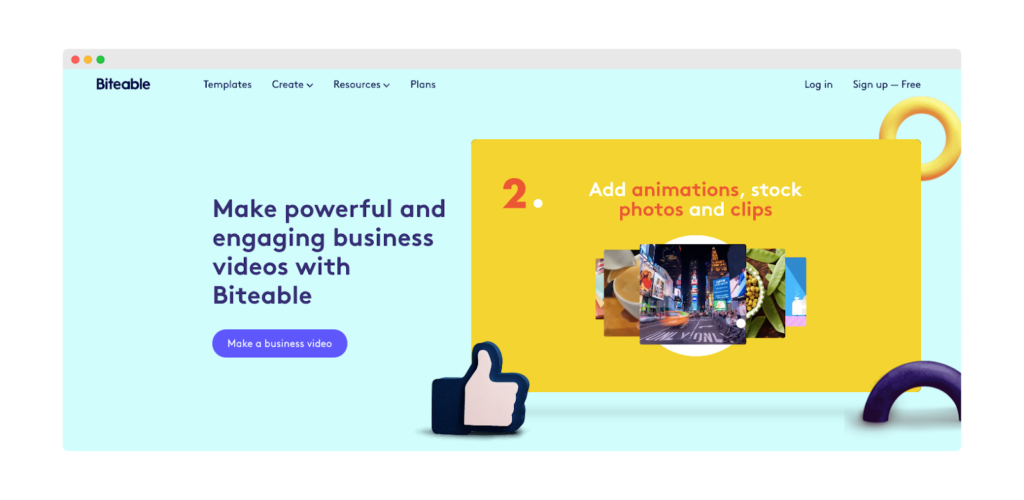 With its colorful and dynamic graphics, Biteable's landing page stands out at first glance. As a tool for business videos, they make great use of this format on their site too. What about the other components?
✅ Content:
This landing page is full of information about the product and the benefits you can gain by using it. Also included is a short 5-step guide to creating business videos with their tool. Potential customers can thus quickly see how the product can shorten the process of creating videos.
✅ Style:
Biteable knows how to talk to their audience and interest people who are full of new ideas that they want to transfer to business videos. The copy is written in a professional style and full of tips, yet it is still easily understandable for everyone.
✅ Persuasiveness:
The main and sub-headlines build up curiosity in the audience, and the tool seems clear, easy to use, as well as helpful for making business videos from the very beginning. "Join in seconds. Create in minutes" is a compelling call-to-action that draws attention.
✅ Design experience:
The landing page design is appealing, has eye-catching graphics, and some elements are animated for a more dynamic experience.
Final Score:
Biteable's site has a great example of a landing page that is likely to convert potential customers into clients. The amount of text there could be reduced a little bit, but all in all it has everything a good landing page should have: a persuasive CTA, animations, an appealing design, and videos.
2. LiveAgent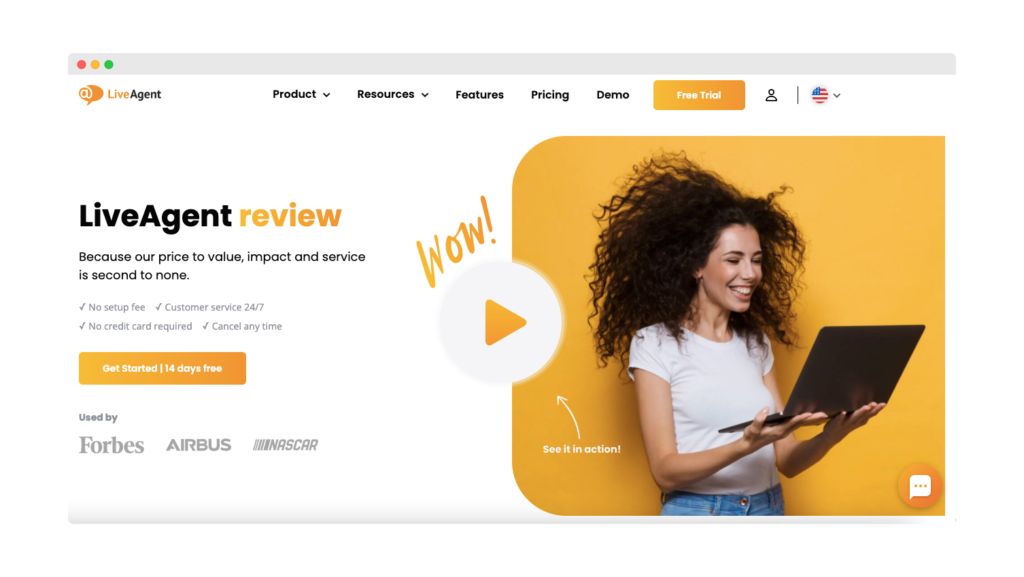 LiveAgent's landing page is well-designed and easy to navigate through. Below the "above the fold" content is a short three-field form for starting a free trial, meaning that visitors can immediately take the desired action when they reach the site.
✅ Content:
Immediate attention is drawn towards the button to play a short animated video explaining and demonstrating the tool, clearly illustrating 3 reasons why companies use LiveAgent. There are core features, testimonials, and reviews featured here, plus the landing page provides answers to the most common questions in an FAQ section.
✅ Style:
LiveAgent conveys the most critical information in a straightforward and accessible way. Moreover, it presents a trustworthy and professional image.
✅ Persuasiveness:
A pop-up appears on the landing page to encourage people to test out a free trial, but it isn't intrusive. Instead of just showing the product's features, the landing page highlights its benefits and shows how the tool can help people.
✅ Design experience:
The LiveAgent landing page consists of one background color, but also has a variety of graphics that give the site an appealing aspect. The site is well designed, so visitors can find the information they need quickly.
Final Score:
Despite having many elements, it is a good example of a landing page that isn't overwhelming to users.
3. Kontentino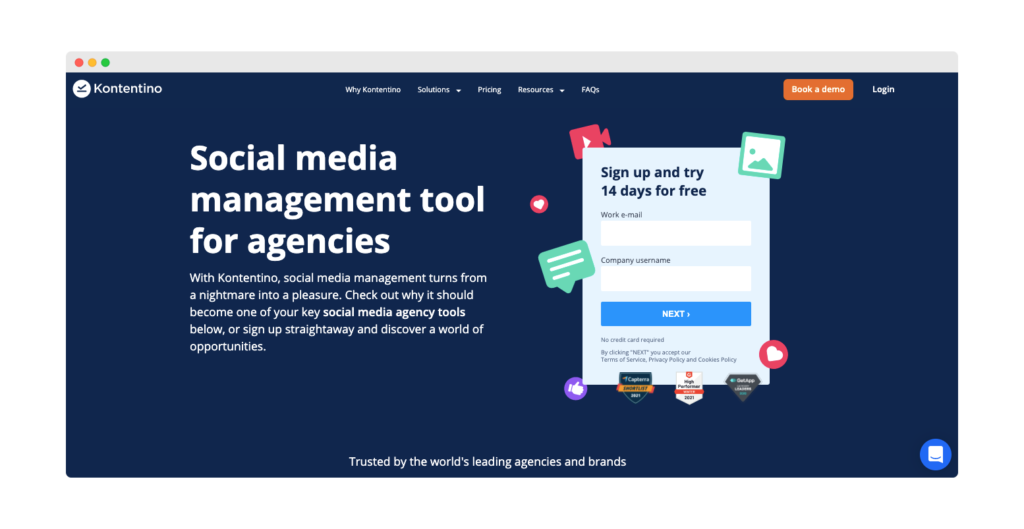 Even though this site doesn't have any dynamic animations or other variety, it is a great example of a well-built landing page. There can be no confusion about what to do or what the page aims to accomplish.
✅ Content:
Most attention is focused on signing up for a free trial, and this is the first element that visitors see while the page is loading. The contact form is short and easy to complete.
A significant part of this landing page is "Try Kontentino and gain," which visualizes five things that make Kontentino a great solution. Ultimately, each benefit is paired up with a CTA button.
✅ Style:
It's a tool aimed at managers or professionals who are responsible for social media, and its main goal is to streamline their workflow. As such the landing page is maintained in a professional style that is not pushy, but rather informative.
✅ Persuasiveness:
This landing page aims to motivate people to use the product by showing them the benefits they can gain by doing so. This may well encourage visitors to give Kontentino a try.
✅ Design experience:
The landing page is divided into two main sections: one with a dark background and the other with a brighter one. It starts and ends with a CTA button and form to fill in, making the page easy to read and understand.
Final Score:
Kontentino's landing page looks great, presents clear information and benefits, and convinces potential customers to try the tool out. When navigating through this page, you will not doubt that it encourages people to try out the solution. As a result, visitors know exactly what action to take without facing any distractions.
To sum up
Take care about helpful, clear content
Add cover photos from a design team
Pay attention to the layout
Include a note from an expert (if applicable)
Feature a customer testimonial (if appropriate)
Put product pictures
Put product videos
Present statistics from research
Create comparison table
Add FAQ section with Schema
Add contact info
Make use of quotes, lists, and other formatting tricks
Design short forms
Create compelling CTA buttons
Be sure to proofread
Optimize page speed – Google Web Vitals
Conduct responsivity optimization
Publish the content with CMS
Promote the content
Run A/B tests
Measure results
Landing page metrics:
Landing page views
Traffic source
Goal Completions
Conversions by source
Conversions per session
Visitors-to-Contact Ratio
Bounce Rate
Average Time on Page
Pages per session