What is the first contact resolution?
First contact resolution (FCR) is one of the most critical metrics in a contact center for determining center performance. It measures the number of incoming tickets and customer requests resolved upon the first customer contact, including emails, customer interactions on social media, customer calls, chat messages, or any other contact modes.
The FCR is comparable to a larger scale metric that indicates the percentage of incoming tickets resolved by staff in a single interaction – the FCR rate. High FCR signifies that your agents can keep a low response time and provide speedy resolution to customer requests.
Frequent FCR measurement and thorough ticket analysis should be a part of your contact center operations. It not only provides insights into your business performance but also has a great influence on customer satisfaction levels and customer loyalty.
FCR is a key performance indicator (KPI) together with other metrics like average handle time (AHT), average hold time, rate of agent turnover, and others.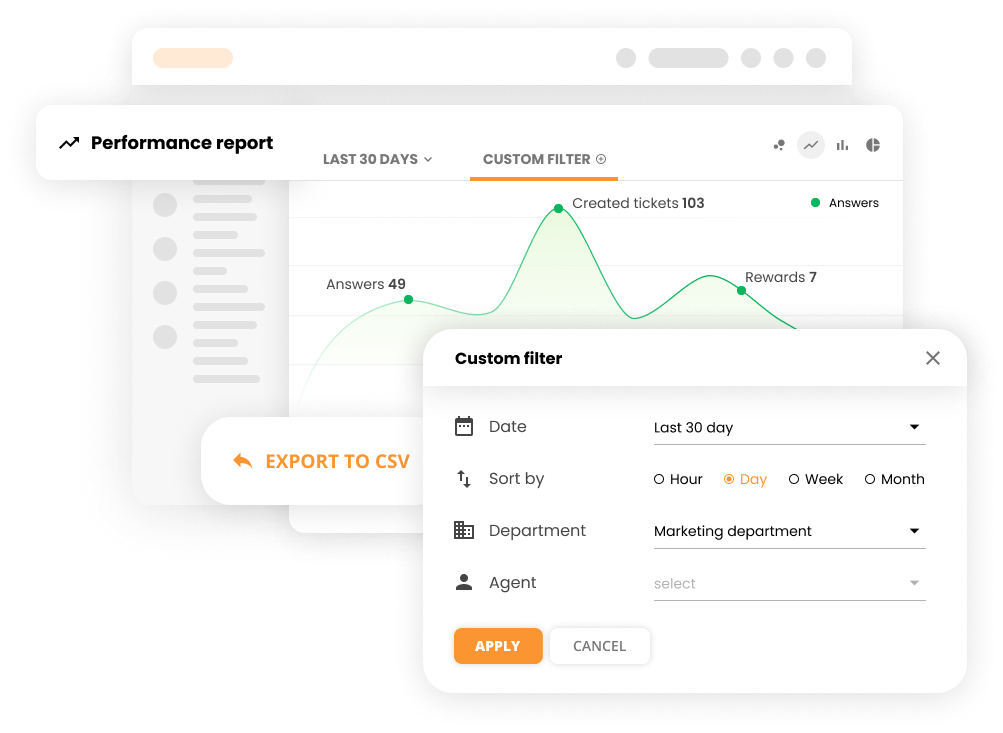 In customer-centric businesses providing an excellent customer experience every time is the most important of the contact center objectives. Keeping track of various contact center metrics can make or break a business. You need to study and understand available data to determine where you can improve your business, exceed customer expectations, minimize the risk of having dissatisfied customers and prevent customer churn.
To be successful in your business ventures, keep in mind that prompt issue resolution is just one of the ways to ensure great customer feedback. Training your staff to provide personalized care, and nurture the customers while upholding a friendly but professional approach is what will make you stand out from the competition.
How to measure first contact resolution?
To work with the available data, you need to get them in plain old numbers so you can set achievable goals for yourself and your business.
When it comes to accurate measurement of FCR, you can calculate gross and net FCR.
The first contact resolution formula for gross FCR is as follows:
Gross FCR = Tickets resolved at first contact / Total number of incoming tickets
And the net FCR formula looks like this:
Net FCR = Tickets resolved at first contact / (All incoming tickets – Tickets that can't be resolved at the first level)
Generally, contact center leaders work with the net FCR metric. It is because some of the incoming tickets simply can't be solved upon the first interaction. For example, complex tickets requiring tech support, or regional issues like internet outages that need to be forwarded to other departments.
To fulfill your 1st call resolution goals and keep your FCR measurement as high as possible, you can set up self-service tools including a knowledge base, interactive voice response (IVR), or automation to either answer common questions or point customers to the right support representative that can resolve their inquiries in a short period of time.
Shorten your resolution times with LiveAgent
LiveAgent's ticketing system can help you with faster, efficient, and professional answers to any customer ticket. Get started with our free trial today.
Watch how to measure FCR
Immerse yourself in the world of first contact resolution with our informative video. Explore how this critical customer support metric plays a pivotal role in enhancing efficiency and customer satisfaction. Learn about the strategies and techniques that empower support teams to resolve customer issues swiftly and effectively, right from the first interaction.
First Contact Resolution | Managing Metrics | BenchmarkPortal07:54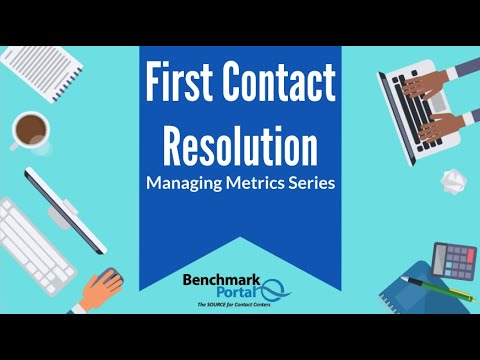 BenchmarkPortal
Topics
First Contact Resolution
Customer satisfaction
Cost savings
Video summary
This video discusses First Contact Resolution (FCR) as a customer-facing quality metric that tells you the percentage of times a customer issue is resolved on the first try, and why it's important. The video lists several benefits of FCR, such as increased customer satisfaction, loyalty, and cost savings, and provides examples of how companies can achieve higher FCR rates through training and improved knowledge management. The video also covers different ways to measure FCR, such as customer surveys and documentation within the customer record, and emphasizes the importance of benchmarking FCR against other centers in your industry.
Frequently asked questions
Why is FCR important?

FCR is a significant metric that provides not only insight into both your business and contact center performance but also has a huge impact on customer satisfaction levels. Keeping your FCR high should be one of your most important contact center objectives.

How to improve first contact resolution?

To make sure that your FCR is high, ensure that you have a customer portal with self-service options and a robust knowledge base available. Set up frequent agent training sessions to make sure they are ready to tackle any customer issue and provide the best one-touch resolution every time.

What is a good first contact resolution rate?

An industry standard for a satisfactory FCR rate is 65-75%. Resolution rates above that are considered high, while FCR rates under 40% are considered low.

What is the first chat resolution?

The first chat resolution refers to the number of incoming chats resolved upon first contact. It is similar to the broader FCR metric but it is focused on one main contact channel - live chat.
Expert note
<p>First contact resolution is a critical customer service metric that measures the number of incoming tickets resolved upon the first customer contact. It has a great influence on customer satisfaction levels and loyalty.</p>

Andrej Saxon
Sales manager