What is a support address?
A support address is an email address your customers can use to contact you in case they need help. It is the address where most customer service representatives handle customer requests.
Generally, a support address consists of keywords like info, help, support, welcome, hello, or others. Following is the "@" and your domain name. Here are a couple of examples of support addresses:
support@liveagent.com
help@liveagent.com
info@liveagent.com
If you use ticketing software, you can create tickets from requests and notification emails sent to this address. With features like the universal inbox, all your outgoing and incoming emails are stored in one convenient place, so your agents don't have to check multiple communication channels.
Why is it important to have a support address?
When you run a customer-centric business, offering clients a way to reach you is imperative. Support address allows them to contact you, submit service requests, bring issues to your attention, and ask questions. Your support address often functions as a distribution group email address, as it should be accessible to all your support agents.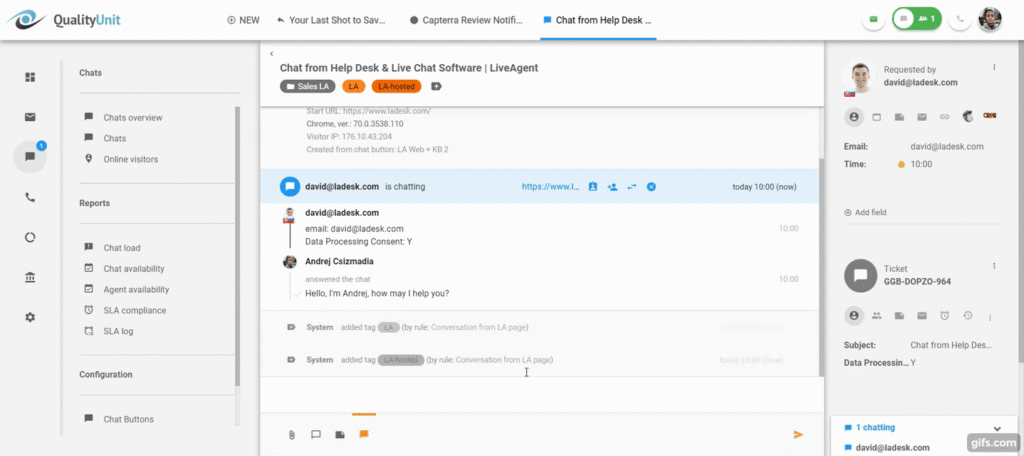 Where to find a support email address?
Usually, you can find a company's support address on their website on the Contact us page. However, if you want other ways to reach a business, most companies offer multiple channels like live chat, phone support, social media, video calls, and more.
Is it possible to change the email support address in LiveAgent?
Yes, in LiveAgent, you can modify your wildcard email address, add custom email addresses, and even use an external email address for support requests.
There is, however, no way to modify built-in email addresses. There is a fixed structure for them: support@mail.DOMAIN.ladesk.com.
LiveAgent makes it easy to talk to your customers
Build strong relationships, increase sales, and provide stellar customer service with LiveAgent. Our wide range of features is yours to try by signing up for a 30-day free trial!
Frequently Asked Questions
What is a support address?

The support address is the email address used to submit customer requests. Customers can turn to these addresses if they need help. Ticketing software can convert emails sent to this address into tickets.

How to create a support address?

To create support addresses in LiveAgent, go to the "Configuration" section in the panel, select email, and then click email accounts. Once accounts are configured and connected, you can use LiveAgent to send reply emails to requests using these addresses.

Can you use your support address in LiveAgent?

Yes, you can use your LiveAgent support address. To set it up, go to the agent's panel, and find the Configuration tab. From there, select email, and go to the email accounts section.
Expert note
<p>Providing a support address enables customers to easily contact a business for help. It's important for customer-centric companies to offer this option for streamlined communication.</p>

Andrej Saxon
Sales manager