Sales teams tend to initiate cold calls to new leads that have no previous relationship with the company. These outbound sales calls are very useful when it comes to generating leads and expanding businesses' contact lists.
Strategies for successful outbound calls
Below you will find a few strategies that will help you take your outbound calling to the next level.
Always adhere to the law
Different places have different legal requirements for running a contact center. Make sure that you thoroughly understand the laws and regulations that are in place in your area.
If you don't have a company lawyer, you can hire a third-party company to go over all the applicable laws. Be especially careful about handling and storing customer information and data. A leak could be detrimental to your reputation as well as the entirety of your business.
Implement outbound call center management software
Don't underestimate the importance of reliable call center software that has great outbound calling capabilities.
Helpdesk software like LiveAgent makes it possible to set up an outbound call center as a part of your key business operations. It doesn't only provide the way for your outbound agents to reach potential customers, but it also allows you to later study the customer interactions and further improve your KPIs. In case you are already using another software solution like CallHub or CallPage, LiveAgent supports data migration from these and many other platforms.
Furthermore, you can log all the important customer data into an integrated CRM so your agents can provide an excellent customer experience each time.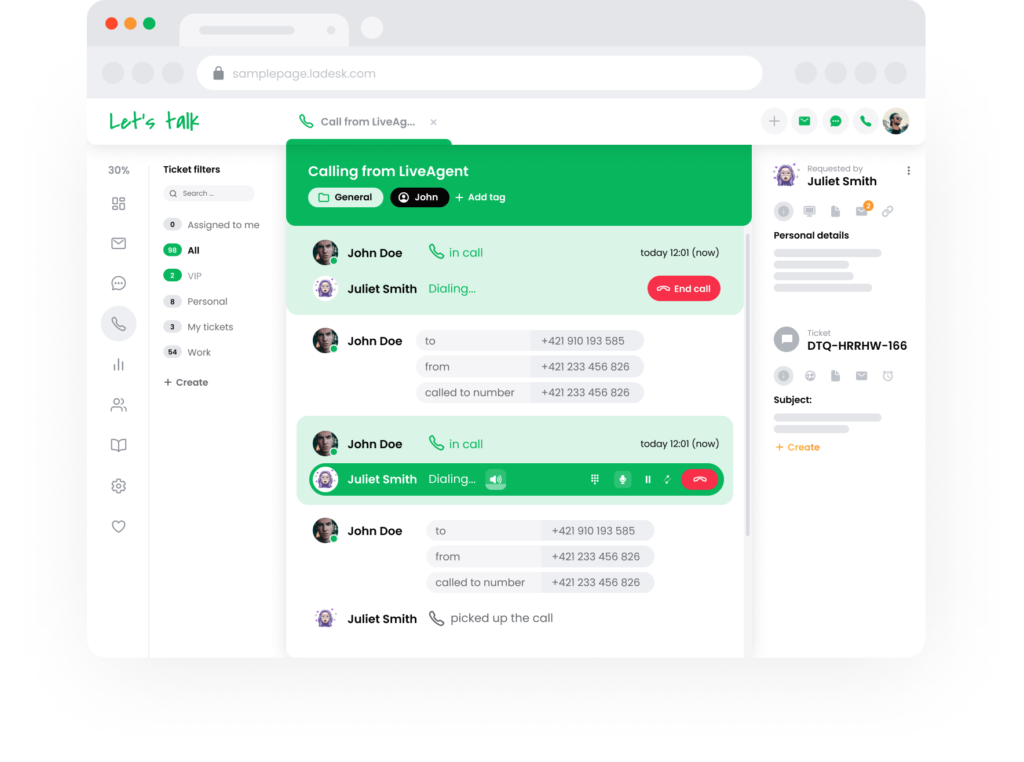 Train your employees
Nobody wants to get a call from a person that gets nervous or irritated and is all-in-all difficult to talk to. Make sure that the members of your contact center team are well trained and prepared to talk to customers no matter the situation.
There are multiple ways you can provide training for your staff. Which one you choose depends on the size of your contact center, how many agents you have, and the type of clients they usually talk to.
Here are some ways you can train your call center staff:
set up regular training sessions – They can be led by outside professionals or more experienced employees in your company.
hold seminars – Keep your agents updated on new practices and technologies that are coming up.
analyze call recordings – Helpdesk software like LiveAgent allows you to study recordings of previous customer calls. You can use them to teach your employees about good and bad customer service practices.
use call scripts – Call planning is fundamental, and scripts should be developed carefully. You don't want your customer support agents or sales reps to sound too rigid and unnatural.
Analyze and improve your KPIs
You should consistently track and update your KPIs and the goals you set for your business. Some of the KPIs you should pay attention to include:
connection rate
first call resolution
occupancy time
quality scores
abandon rate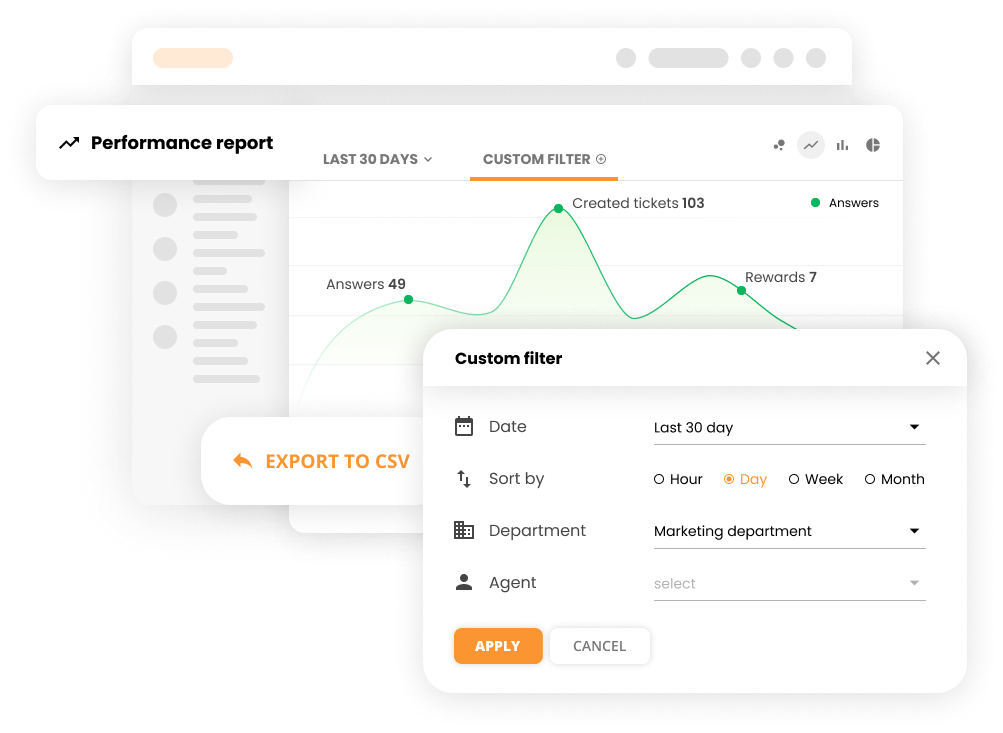 These KPIs will allow you to measure success rates of your outbound call center. They will also provide you with data that you can use to adjust your business operations. For example, you may figure out that your call center does not benefit from automatic dialers or predictive dialers, but features like IVR and automatic callback are of great use. Therefore, you can better allocate your budget and keep things running smoothly.
Make outbound calls with LiveAgent
LiveAgent is a fully-featured call center software with both inbound and outbound capabilities. Get started with our free trial and set up your digital call center today!
Frequently Asked Questions
What are outbound calls and their types?

Outbound calls are those phone interactions that are initiated by outbound call center agents to customers. Types of outbound calls include telemarketing and cold calling, fundraisers, customer service calls, marketing research, marketing calls, customer surveys, post-sale follow-up calls, etc.

Does outgoing call mean you called?

It does. In an outgoing call, the caller initiates contact with the recipient.

How to handle outbound calls in LiveAgent?

LiveAgent helpdesk software allows you to set up your outbound call center. If you are interested in providing outstanding customer service you can either go right ahead and get acquainted with LiveAgent by signing up for a 30-day free trial, or you can schedule a demo call with a member of the sales team.

How to make an outbound call effective?

You can do this by ensuring that your outbound call center agents provide excellent customer communication - they are polite, they respect customers' time and they make the clients feel valued. Furthermore, always set up a follow-up call in case the customer has more questions, isn't sure about something, etc. This allows you to build strong and long-lasting customer relationships.
Expert note
Outbound calls are an essential tool for businesses to proactively reach out to customers and prospects, allowing for personalized communication and increasing brand awareness and customer loyalty.

Andrej Saxon
Sales manager