Who is customer service consultant?
In some organizations, customer service consultants are similar to management consultants and they make suggestions for improving the efficiency of customer service. Customer service consultants can be similar to customer service representatives too. Their main task is to answer phone calls and talking to customers. They also identify chances to offer information and they handle and resolve complaints. They update information, document customer interactions and make changes to customer accounts.
The work of customer service consultants requires strong communication skills, interpersonal skills and knowledge about computer software. They also need a sales abilities and skills to recommend products.
Watch a video about great customer service
LiveAgent is an all-in-one customer management and help desk software designed to help companies streamline their customer service operations. From organizing customer inquiries in one place to providing automated responses, to providing live chat support, LiveAgent includes a range of features and tools designed to make customer service more efficient and personalized. LiveAgent's multichannel support system allows companies to quickly respond to customer inquiries, reduce call center wait times and optimize customer service operations.
Customer Service Consultant: Great Service in 2 Minutes | Cary Cavitt Consulting02:22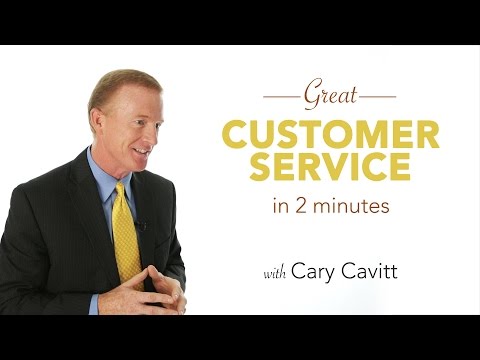 Cary Cavitt Consulting
Topics
customer service experience
importance of attitude
exceeding customer expectations
Video summary
The video provides great tips for offering a five-star customer service experience. It emphasizes the importance of projecting a friendly attitude and treating every customer with respect and appreciation. Maintaining a cheerful disposition and being prompt in responding to customer inquiries are also highlighted. Going the extra mile to exceed customer expectations and consistently being courteous can greatly improve customer service ratings. The key takeaway is to always start with a smile and show a great attitude to everyone that you serve.
Frequently Asked Questions
What is a customer service consultant?

A customer service consultant is a person who is responsible for contact with the customer and its service as part of complaints, order processing, providing information about the company's products and services. They make phone calls, email or chat.

What are the responsibilities of customer service consultant?

The duties of a customer service consultant include listening to customers' concerns, as well as helping to solve their problems and providing information. Another obligation is accepting requests from clients. It is also extremely important to acquire and record customer information. One of the most important elements is also meeting the expectations and needs of customers related to products or services and customer service.

How can you add a customer service consultant?

To add a customer service consultant, go to the LiveAgent panel and add another person. When adding another agent, you must define his role in the system. You have the choice of agent, administrator and owner roles.
Expert note
A customer service consultant is responsible for improving customer service efficiency and handling customer interactions. They require strong communication, interpersonal, and sales skills.

Andrej Saxon
Sales manager