What is customer delight?
It describes the moment a customer truly appreciates your services and your business. When you exceed customer expectations and provide what they need at the exact right time, you can consider it a delightful customer experience. Satisfied customers are an important pillar that supports your business, so creating a positive experience for both new and current customers is a must.
Why is customer delight important?
The greatest goal of most customer-centric businesses is customer satisfaction and a delightful experience. But why is that the case?
Because it increases revenue – When your customers are satisfied with your business, they are likely to return. If they really enjoy doing business with you, they might even recommend you in their social circles.
Because it builds customer loyalty – Having loyal customers is a bread and butter of a successful business. When clients have an overall positive customer experience and enjoy doing business with you, they usually become members of your loyal customer base.
Because it prevents customer churn – Happy customers tend to come back. Building strong customer relationships should be a significant part of your business strategy.
Because it builds a positive brand image – Branding is how potential customers and current buyers view your company. By having a delighted customer base, you can create a reputable brand without the need to spend a fortune on marketing.
Delight your customers with excellent service
LiveAgent has every necessary tool to help you provide the best customer service for every client. Get started today with our free trial!
Watch a video about customer delight
LiveAgent is a helpdesk software designed to help companies deliver customer delight. Its intuitive dashboard allows agents to quickly respond to customer inquiries, manage customer conversations, and automate routine tasks. The software also features an automated ticket distribution system, an integrated customer satisfaction survey, and live chat and phone support. With LiveAgent, companies are able to keep their customers satisfied and ensure customer delight.
The Simple Secret to Delighting Your Customers | Dennis Snow06:24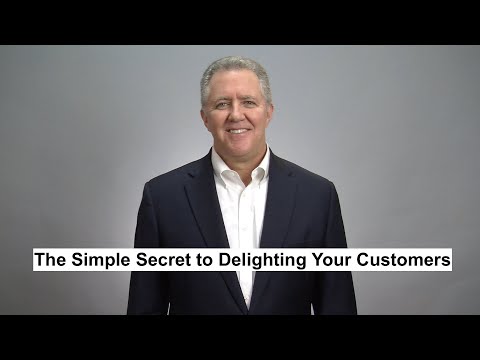 Dennis Snow
Frequently Asked Questions
How to define customer delight?

It means meeting customers' needs and providing them with the value they expect. However, your goal should be not only to fulfill your customers' needs but to go the extra mile and anticipate them, and exceed customer expectations.

What are the basics of customer delight?

The basis of customer satisfaction is the fulfillment of all needs required by the customer. This consists of meeting the expectations for a service or product, excellent customer service, and a correctly implemented, seamless purchasing process.

What is the opposite of customer delight?

The opposite of customer delight is customer dissatisfaction. It happens when the client's needs and expectations have not been met. This can occur at any stage of the customer journey and results in negative customer feedback, and a higher customer churn rate, which can ultimately lead to a loss of business.
Expert note
Customer delight refers to the moment when a customer truly appreciates your services and exceeds their expectations. It is crucial for building customer loyalty, increasing revenue and creating a positive brand image.

Andrej Saxon
Sales manager