What is customer service software?
Customer service software is software that can be used for communication, analyzing customer support, and making reports. Every interaction between a company and customers, website visitors, or business partners is stored in tickets. Every time, when someone new contacts you, this software creates a new contact. Customers or web visitors can submit tickets via email, live chat, chatbot, web form, and the customer support ticketing software will automatically assign the ticket to the appropriate agent or department. By integrating customer service software with your help desk, you can provide a seamless and effective support to your customers. There are also many providers, that offer a combination of these two software solutions under one roof.
Elevate your customer support
In order to streamline your day-to-day customer service operations and provide top-notch support, utilizing a help desk ticketing tool is crucial to handle all the incoming customer tickets. With this tool, you can efficiently manage and track customer interactions across multiple channels. Customer service software by LiveAgent includes ticket management features, integrations, the ability to create a customer portal, live chat, and many other functions. You can also create reports and statistics to evaluate customer support performance and measure customer satisfaction.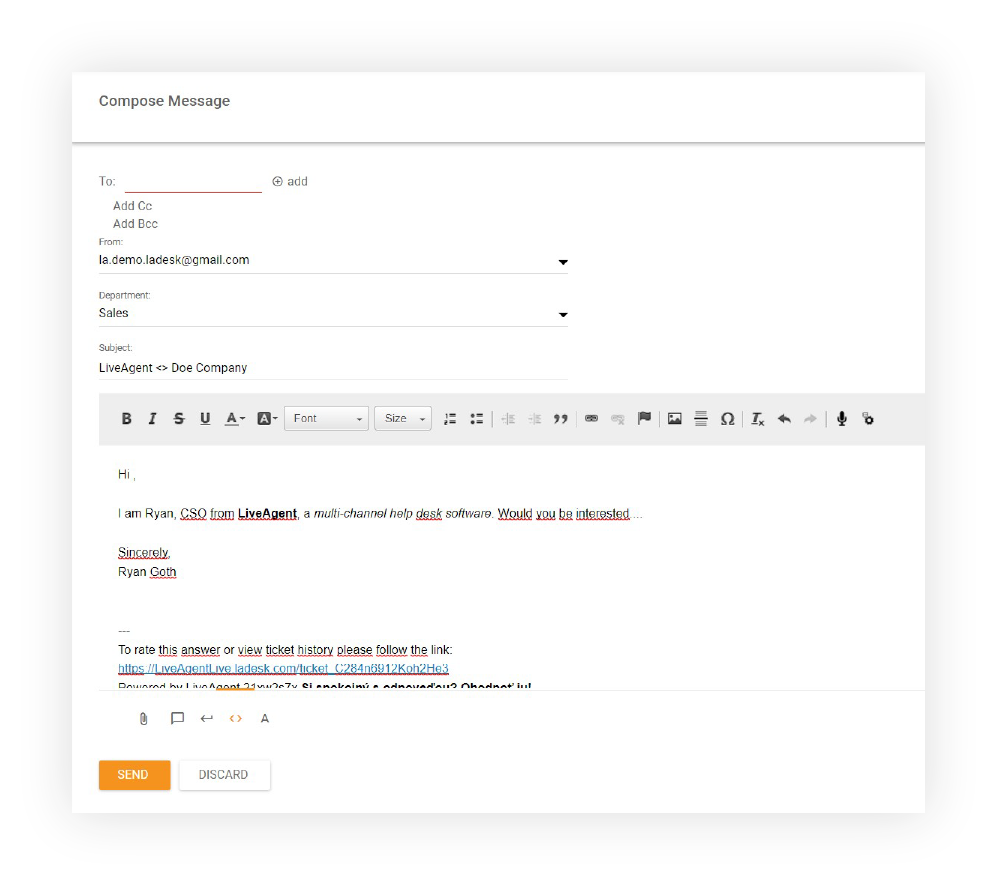 Frequently Asked Questions
What is customer service software?

Customer service software is software that allows you to manage, organize and track customer requests. We have access to everything in one place. It consolidates problems, conversations, and also links them to specific customer records. The main function is the ticket system, which transforms all customer messages into tickets and in this form routes them to agents.

What are the types of customer service software?

We can distinguish three main types of customer service software: HelpDesk Software, CRM Software, LiveChat Software. HelpDesk Software is a software responsible for receiving requests from users and controlling their solution, which is the so-called single point of contact. CRM Software is software that allows you to manage customer relationships. LiveChat Software, on the other hand, is software that allows you to handle live chat.

How to choose the best customer service software?

To choose the best customer support software, you need to consider that it helps you with most (if not all) customer service processes. It should have access to all the communication channels you need, i.e. e-mails, telephones or social media. Live chat is an extremely important feature. Also pay attention to creating analyzes and reports that will allow you to improve customer service.
Expert note
Customer service software streamlines communication, tracks customer requests, and helps analyze data for improved support. Choose one with multiple communication channels and reporting features.

Andrej Saxon
Sales manager