What is service software?
Service software are tools used by businesses to solve a variety of issues. They are used to streamline customer relationship management processes, track employee progress, and provide useful reports, among other things. They are typically on-demand software (SaaS) and are used across many industries, from field service companies to retail.
When do you need service software?
Given the flexible aspect of service software and the amount of issues they can help solve, arguably every business could benefit from these platforms. Whether you run a small business looking to scale up or a massive enterprise in need of a streamlined solution to the influx of customer requests, service software is the way to go.
There are few things more important to today's customers than customer service. It can make or break customer relationships, and it can be the most important factor in consolidating customer loyalty. This is particularly important for small businesses, since having a good reputation regarding your customer service can drive more customers your way.
It is also worth considering that with more customers come more requests. This is another reason why you want to invest in customer service solutions. Because they allow you to use the human resources of your call center more efficiently and scale up when needed.
A common misconception is to think of customer service as a post-sale satisfaction survey. In reality, customer relationships cover every aspect of a customer's interaction with a company. From engaging with prospective customers, to assisting them on their purchase, to post-sale support. Service software can cover all of those aspects.
If you understand the value of customer support enough to make it a part of your business model, it is safe to say that you need a good service software solution. By providing your human resources with this invaluable tool, you can make sure to improve your customer relationships and employee satisfaction simultaneously.
What are the benefits of service software?
As we mentioned previously, service software is extremely adaptable, which means that there are countless ways you can benefit from it. Provided you define your goals and set up your software tool accordingly, you can do anything from enhancing the customer experience to increasing brand loyalty.
One of the many ways you can benefit from this software program is by improving communications. Making it easier for customers to reach you when they need it can go a long way in cementing customer satisfaction and trust in your business. Now more than ever, users want to feel appreciated and valued, making efficient customer service one of the pillars of customer loyalty.
This is made particularly painless with tools that have an omnichannel approach to communication. Being capable of engaging with customers on any social media app they use can make life easier for the agent and the application user altogether, on top of providing faster response times.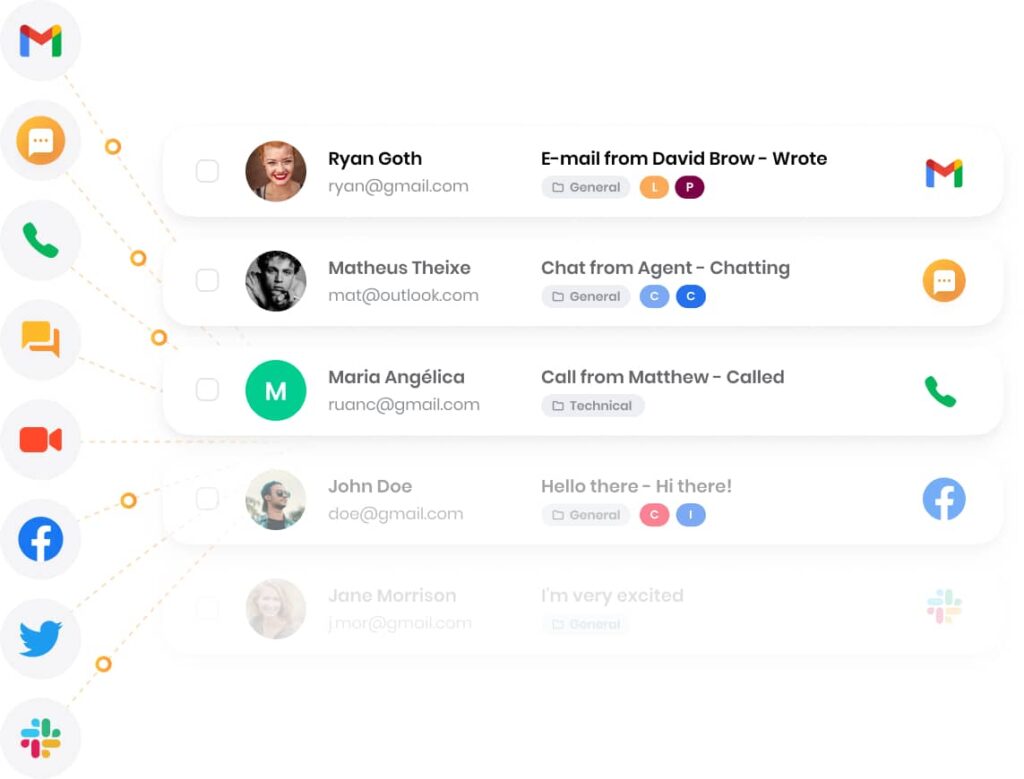 Building up on the previous point, you can benefit from these LiveAgent service tools that can track all requests, regardless of the platform of origin, and organize them into tickets that can be accessed through the service software. Having calls, emails, Facebook Messenger, and even WhatsApp all in one platform can help keep track of requests and prevent them from being neglected.
Another beneficial aspect of customer service platforms is their capability to integrate with other software in order to gain crucial insight regarding customer behavior. This is especially favorable for small businesses that need to make the most out of every customer interaction.
And it's not just customer behavior that can be analyzed, having reports on your customer service representatives can give you crucial insights into what may or may not be working. Service software can give you that information, allowing you to tweak processes and improve your service model.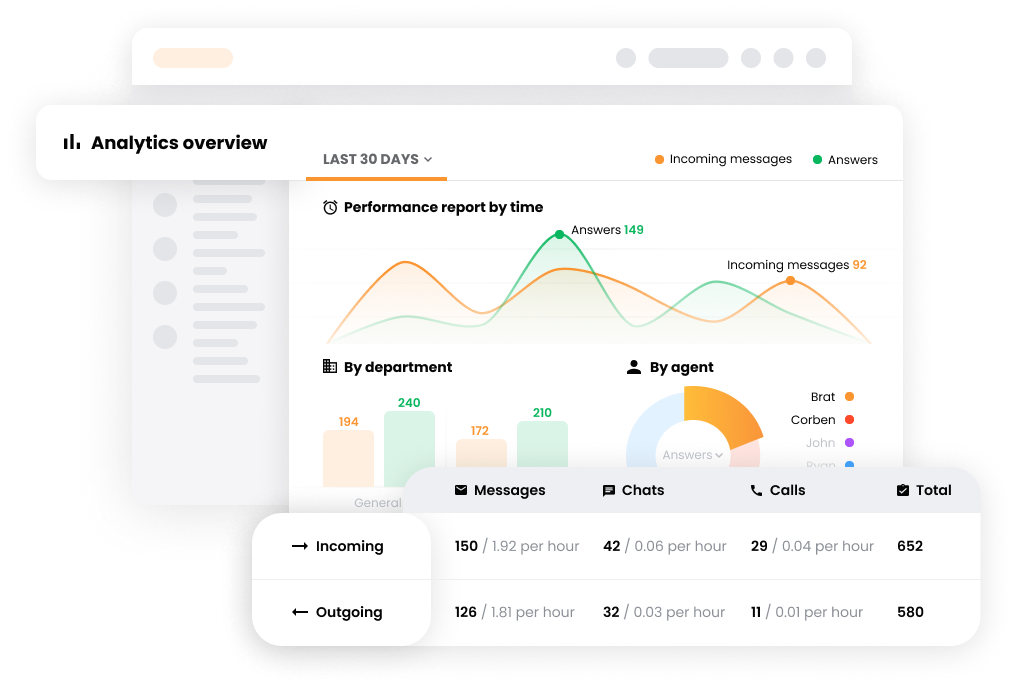 Choosing a software solution with built-in CRM can change your entire customer service workflow. This type of business application helps agents access important customer information on the same cloud platform where the request is being handled. CRM can also be customized to provide further data regarding what types of products they have purchased, even if they did it through a third-party vendor.
Some services even provide the option to create a knowledge base for your customers with useful information about your product and common issues people face. This helps customers find faster solutions and frees your agents to deal with the most complex cases.
Automation and AI are some of the most recent features to be added to service platforms, and they are a godsend. Even the smallest businesses have to deal with repetitive tasks and there are certain customer requests that appear over and over again. Automation allows you to handle repetitive tasks and simplify the process of solving recurring issues, further enhancing your enterprise resource planning.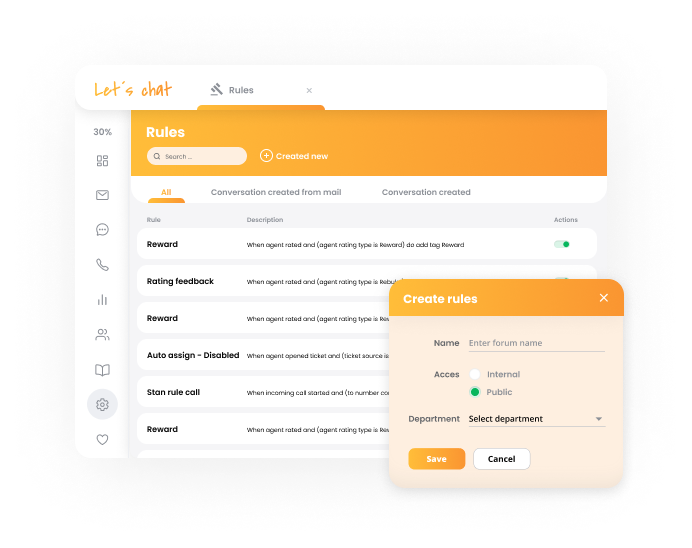 In order to get the most out of your service software, make sure to check the software license to see which functionalities come with each subscription tier. While we do suggest LiveAgent, the reality is that any platform is better than none.
How does service software work?
The world of service software is very vast, and each individual program has its twists and turns. However, most of them share similarities in terms of the functions they provide and how they provide them.
Service software is a cloud computing software product that collects all your communications and organizes them as tickets. This means that emails, live chat and even social media messages can be seen in an all-encompassing dashboard. Think of Google Workspace as an example.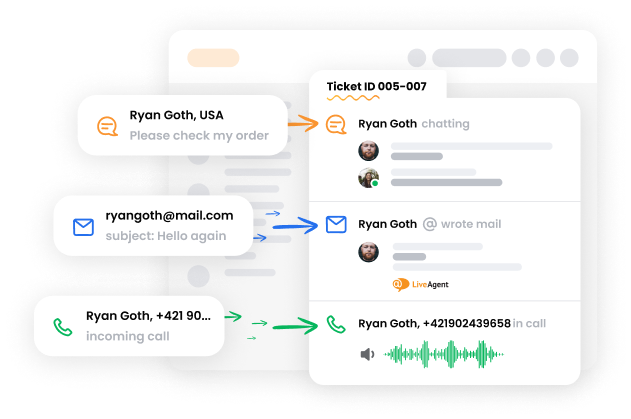 On top of organizing communications, these tools can assign tickets to different agents, and even filter them based on agent expertise and avoid agent collision. This enhances human resource management and optimizes workflow. Considering that slow responses and neglected messages are some of the biggest drivers of customer dissatisfaction, these key features to every service application.
Reporting is another key feature of service software, helping you keep track and manage agents' workload and efficiency. Most application service providers put emphasis on this feature because it can provide invaluable data to improve customer service and agent performance.
Most service platforms allow integration with third-party software through application programming interfaces. This augments service capabilities and convenience. Not having to switch between different tabs and apps, and keeping all the relevant information in one place.
Nowadays, you can even find service software with AI tools in their source code. In a field filled with repetitive tasks and a plethora of recurring requests, automation can save precious time and resources.
Looking to improve your customer service?
Get started with LiveAgent and unify your communication tools in one dedicated help desk solution that can help you solve queries efficiently.
All in all, software services are a key component of every company's service model, and they work to streamline and simplify service processes. Whether you are a cloud service provider, or you sell physical goods, chances are you can find a service software that works for you.
Frequently Asked Questions
What is the definition of service software?

Service software is software used to create interaction between customers and customer service. Customer satisfaction depends on high-quality service software. It assists in solving problems and managing the business.

What features should every service software provide?

Service software should meet several criteria. First, it has to be intuitive and should ensure comfort of use. It should also ensure data protection and application security. Lastly, it should ensure process automation.

Why do you need service software?

The service software allows for high-level customer service. It has an impact on user satisfaction, but also on employee satisfaction.
Expert note
Service software streamlines customer relationship management, tracks employee progress, and provides useful reports. It is essential for high-level customer service.

Andrej Saxon
Sales manager