What is skills-based routing?
Skill-based routing or skill-based distribution is a type of call routing strategy that assigns incoming calls or chats to the agents who are best equipped to solve the customer's issue.
While a short response time is an essential key performance metric (KPI), skill-based routing enhances many more aspects of customer service and interactions.
Inbound calls are distributed according to predetermined routing rules to agents with particular skill sets who can deal with the issue most effectively.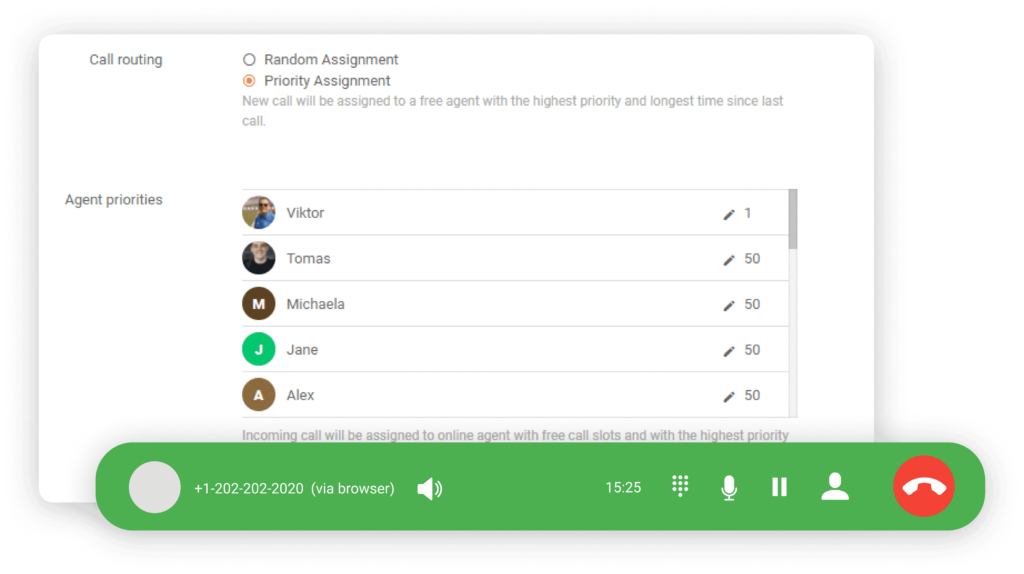 Let's talk about a real-life example.
You get a call from a customer who has a technical issue. In addition, they speak only Spanish. The customer inputs voice commands or presses keys and the skill-based routing system picks from the pool of agents the most skilled agent and sends this ticket to them. So, in this case, it should be an agent from the tech department who is proficient in the Spanish language. This agent has an appropriate level of expertise in technology and can communicate with the customer effectively, provide reliable support and close the ticket.
Now, let's have a look at some of the benefits skills-based business call routing can bring to your business.
increased customer satisfaction
better first contact resolution
increased customer loyalty
decreased waiting times
lower average handle time (AHT)
higher agent performance and productivity
better overall efficiency of contact centers
What is omnichannel skills-based routing?
Skill-based distribution doesn't only apply to calls. All types of customer interactions can be distributed using this approach. You can set up these distribution strategies also for online chats, social media messages, emails, and other relevant tickets.
Businesses with multiple communication channels will find setting up a call route invaluable. Not only for better agent utilization but more importantly, it helps provide a unified customer experience across the board.
How do skills-based routing and ACD work together?
The majority of callers value their queries resolved by qualified agents in a short time. This is when skill-based routing goes hand-in-hand with an automatic call distribution system (ACD). When customers answer prompts from IVR's auto-attendant, they are handed over to the automatic call distributor system. At this point, intelligent routing comes into play. Based on the rules you have pre-set, the customer is forwarded to the caller queue of the agent whose type of skills best suit the particular situation. This could be language skills, level of expertise in a particular field, other customer profile data, etc.
Set up your call center with ease
Besides skills-based routing, LiveAgent offers numerous useful features that can always come in handy. Want to see for yourself?
Watch a video about skill-based routing
Skills-based routing is a type of router which uses customer information to route customer inquiries to the most suitable and knowledgeable customer service agents. With LiveAgent helpdesk software, customers can be efficiently routed to the best-suited support agents in place, streamlining the customer service process and optimizing customer satisfaction. LiveAgent's helpdesk software provides the added bonus of tracking and logging customer queries. With the help of this data, customer service agents can provide more accurate and personalized service.
Skills-Based Routing - Benefits, Best Practices, & How to Set Up | GetVoIP - Expert Tutorials, Reviews, Top Providers06:40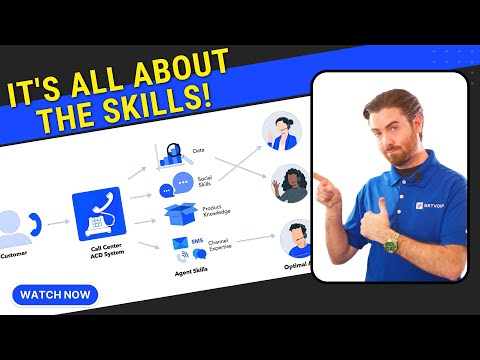 GetVoIP - Expert Tutorials, Reviews, Top Providers
Topics
Skills-based Routing
Automatic Call Distribution
Agent Proficiency
Video summary
This video introduces skills-based routing, a call distribution strategy that directs inbound queries to agents with the best matching skill set. The video discusses how skills-based routing works with the phone system's automatic call distribution technology and analyzes inbound call details. It also explains how administrators can configure skills-based routing rules and evaluate and score agents based on their proficiency for each skill. Furthermore, the benefits of skills-based routing are discussed, such as improving agent productivity, confidence, and satisfaction and meeting service level agreements more often. The video concludes with suggestions on how to ensure that a skills-based routing system functions optimally, such as using customer data to determine which skills to evaluate and match agent staffing with skill demand.
Frequently asked questions
How does omnichannel skills-based call routing work?

Customers reach out to companies via various channels. Omnichannel skills-based routing works the same as usual skill-based call routing, except it encompasses more communication channels for example calls, social media messages, emails, chats, etc.

When should a company consider using skills-based routing?

Skills-based routing can be used in companies of all sizes across all industries. However, contact centers that support a large number of customers and employ many agents can benefit from such distribution strategies the most. So, if you're expanding your business, consider setting up skill-based routing in your daily operations.

What are some of the key benefits of skills-based routing for your business?

Skills-based routing can increase many KPIs like average handle time, first contact resolution, short waiting times, etc. Other than that, it can enhance overall customer satisfaction and productivity of your contact center.
Expert note
<p>Skills-based routing is a call routing strategy that assigns incoming calls/chats to the agents who are best equipped to solve the customer's issue. It enhances many more aspects of customer service and interactions resulting in increased customer satisfaction and loyalty.</p>

Andrej Saxon
Sales manager