Artificial intelligence has been bringing forth new advancements in technology and it shows no signs of slowing down. It's only natural that AI and natural language processing have found their way into knowledge management. In this article, we will dissect the role of AI knowledge management, its benefits, and its potential risks.
Embark on a journey through knowledge management where every article is a stepping stone to a deeper understanding. To ensure you get the most out of your exploration, we've compiled a list of related articles that delve deeper into various aspects of this topic.
What is AI knowledge management?
AI knowledge management is a sophisticated system that leverages artificial intelligence technologies to streamline and enhance the process of capturing, organizing, and utilizing organizational knowledge. It involves the use of AI tools such as machine learning, neural networks, natural language processing, and cognitive computing to automate the process of managing vast amounts of data and information.
AI-powered knowledge management systems are designed to make the process of finding and using information more efficient, accurate, and personalized. They can sift through massive amounts of data, identify patterns, learn from user interactions, and provide insights that humans might miss.
What is AI?
AI, or artificial intelligence refers to the simulation of human intelligence by machines, especially computers. This advanced technology encompasses processes such as learning (the acquisition of information and rules for using that information), reasoning (using the rules to reach approximate or definite conclusions), and self-correction.
AI-based technology is typically classified into two types:
Narrow AI is designed to perform a narrow task such as voice recognition – Apple's Siri, and Amazon's Alexa.
General AI can theoretically perform any intellectual task that a human being can do. As of now, no such system exists.
AI technologies include machine learning, where machines are programmed to learn and improve from experience, and natural language processing, which involves the interactions between computers and human language. Other technologies include speech recognition, image recognition, planning, and robotics.
Although it might feel like a brand-new idea for some, AI has been with us for quite a few years now. AI learned to play checkers in 1965, chatbots emerged in the 90s, and in the 2010s it was mostly used to simplify complicated policy documents. Now that ChatGPT 4 has been released, it's exciting to see where AI will lead.
What is knowledge management?
Knowledge management (KM) is a multidisciplinary field referring to the process of creating, curating, sharing, utilizing, and managing the knowledge and information within an organization to facilitate efficient decision-making processes, problem-solving, learning, and innovation. The aim of agile knowledge management practices is to improve efficiency by reducing the need to rediscover knowledge.
In KM, insights and experiences comprise knowledge. They are either embodied in individuals or embedded in organizational processes or practices. To give you a better understanding, here are the most significant components of enterprise knowledge management:
People: Simply put, they are the creators of knowledge. The individuals in an organization who create, use, and share knowledge. They need to be willing and able to share what they know and to use the knowledge that others share.
Processes: The methods and procedures used to create, store, share, and use knowledge. These can range from formal processes, such as training programs, to informal ones, such as social interactions.
Technology: The tools and expert systems used to support knowledge management. This can include databases, document management systems, social media platforms, search engines, and more.
Culture: The values, norms, and behaviors that encourage or discourage knowledge sharing and use. A culture that values learning and sharing is critical for knowledge management.
Structure: The organizational structures that facilitate or hinder knowledge management. This can include hierarchical structures that control who has access to what knowledge, as well as more informal structures, such as networks of relationships.
What's the connection between AI and knowledge management?
Artificial intelligence and knowledge management are interconnected in a way that generative AI enhances the efficiency and effectiveness of knowledge management. Traditionally, knowledge management includes many manual tasks that can be seen as tedious. Artificial intelligence not only automates those tasks but adds many complex functions.
Why is artificial intelligence important in knowledge management?
Artificial intelligence has claimed its place as an indispensable tool in knowledge management due to its speed, analytical prowess, predictive capabilities, accessibility enhancement, and self-improving nature. Building on this, AI has rapidly emerged as a cornerstone in the field of knowledge management.
At its core, the importance of AI in KM lies in its ability to process and analyze vast quantities of data far beyond human capabilities. Its speed, accuracy and predictive abilities empower organizations to identify and leverage critical insights hidden within their data, leading to more informed and strategic decisions.
Furthermore, AI facilitates enhanced accessibility of information, ensuring that the right knowledge is delivered to the right individual at the optimal time. This symbiosis of AI and KM not only ensures the efficient handling of data but also fosters an environment that promotes innovation, agile decision-making, and a deeper understanding of both internal operations and external market dynamics.
Benefits of AI in knowledge management
AI can bring many advantages to businesses. Let's delve deeper into the benefits AI-powered knowledge management software can bring to your business processes.
Enhanced decision making
AI-powered tools allow companies to make more data-driven decisions. Artificial intelligence-powered knowledge management software can analyze complex scenarios and provide recommendations, enhancing the decision-making process.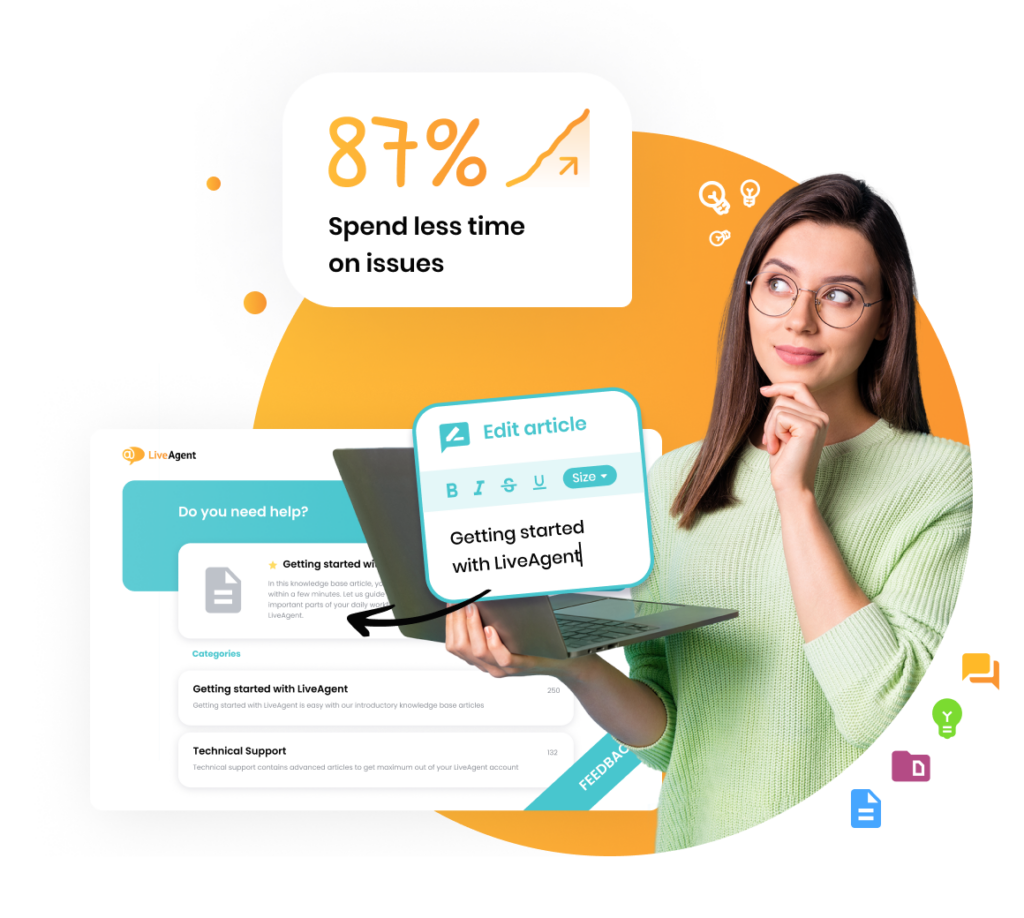 Cost savings
As we have already mentioned, knowledge management can be quite tedious. By employing AI-powered systems, you can automate routine tasks, which leads to reduced operational costs and better resource allocation for other business activities.
Improved efficiency
With AI's ability to process vast amounts of data at lightning speed, it can streamline the entire knowledge management process, making it more efficient and less prone to human error.
Increased innovation
AI in knowledge management can play a pivotal role in increasing innovation within organizations by facilitating the discovery of insights and collaborative intelligence capabilities and promoting the creative use of knowledge. By allowing your employees to leave menial tasks to AI, they can express their creativity and foster a culture of innovation.
Improved customer service
Generative AI in knowledge management can significantly enhance customer service efforts by providing faster, more accurate, and personalized customer service options.
Some of the most common uses of generative AI knowledge management in customer service include chatbots with advanced conversational capabilities and self-service options facilitating 24/7 contactless customer support. AI can also generate guides to resolve common customer issues based on previous knowledge articles, and automatically categorize customer support tickets. All of this can exceed customer expectations, boost customer retention, and help you achieve business success.
Enhanced personalization
AI uses complex algorithms to analyze a user's behavior, preferences and needs to deliver personalized knowledge. In particular, neural networks can identify relationships within a data set by mimicking the way the human brain works and providing personalized results e.g. knowledge articles. This level of personalization improves user and customer experiences.
Potential challenges of AI in knowledge management
As with any other innovative and powerful system, utilizing generative AI in knowledge management doesn't come without its fair share of challenges. Let's discuss the most pressing ones.
Technical complexity
While generative AI has the potential to greatly enhance knowledge management processes, the intricate nature of AI technologies can introduce challenges that organizations need to address. Some of the most common challenges are the implementation complexity, integration with existing systems, data quality and accuracy, and even intensive resource requirements. Although AI-based solutions are not exactly autonomous systems, they are still very complex and require a high level of expertise.
Data privacy and security concerns
AI systems often require access to large amounts of data, which can raise privacy and security concerns. For example, an AI system used for knowledge management in a healthcare setting would need access to sensitive patient data. If this data is not properly secured, it could be vulnerable to breaches, potentially leading to serious legal and reputational consequences.
Risk of dependence on AI
Over-reliance on artificial intelligence can lead to a lack of human oversight and critical thinking. For example, if a company relies solely on an AI system for knowledge management, important insights that require human intuition and experience may be overlooked. Additionally, if the AI system fails or makes a mistake, the company may not have a backup plan in place.
How to mitigate risks of AI-based systems
Here are a few tips on how to mitigate the risks linked to using AI-powered knowledge management platforms:
Invest in skilled AI professionals and provide training for existing staff – Make sure your staff feels empowered to use the new AI tools and have seasoned professionals at hand in case any issues arise.
Plan for comprehensive data quality improvement and preprocessing strategies – Outline a systematic approach to ensure that the data you're using is accurate and consistent. Set up standardization processes and monitor data regularly to avoid knowledge gaps and deterioration in data quality.
Conduct thorough research and pilot projects before full-scale implementation – Thoroughly investigate and test the new system before putting it to work in a production environment.
Choose AI solutions that align with the organization's goals and technical capabilities – Make sure you don't bite off more than you can chew. Assess your needs and goals, as well as technical capabilities. This will help avoid overwhelming yourself and your staff, and prevent overshooting your budget.
Establish clear protocols for ongoing maintenance, updates, and ethical considerations – Set up and follow strict protocols to avoid breaches and privacy concerns.
Prioritize data security, privacy, and compliance throughout the AI lifecycle – Focus on security measures such as data encryption, regular risk assessments, and continuous compliance audits to protect your and your users' data.
Focus on user education and change management to ensure smooth adoption – Adopting a new tool or service can be challenging, namely a complex one such as an AI knowledge management platform. Train all the users on the proper handling of the system to avoid knowledge gaps, and implement a change management process that ensures smooth system integration.
Examples of how AI is being used in knowledge management
Now that we have the theory down, let's look at some real-life examples of AI in knowledge management.
Intelligent chatbots
One of the most prominent examples of generative AI in knowledge management is the use of intelligent chatbots. These AI-powered virtual assistants can interact with users in a natural, human-like manner, providing instant responses to queries, guiding users through complex processes, and even learning from past interactions to improve future performance.
A prime example of a company that uses intelligent chatbots is IBM, with its AI platform, Watson. Fun fact, IBM's Watson has attended, and even won Jeopardy multiple times!
Enhanced knowledge bases
AI knowledge bases are centralized information repositories with added AI capabilities. The functionalities added by AI vary from system to system, but overall they contribute to more comprehensive, automated, and easy-to-navigate external and internal knowledge bases.
A good real-life example is LiveAgent's upcoming AI-powered knowledge base which automatically creates knowledge base articles from tickets and previous customer communications.
Advanced search functions
AI can sift through vast amounts of data to find precise information quickly. They use natural language processing to understand human language, making knowledge searches more intuitive and accurate. AI's intelligent search capabilities tear down the barrier for knowledge workers and enable them to do their jobs much more efficiently and effectively.
In real life, Salesforce's Einstein is a great example of AI-powered search functionality.
Interactive browsing support
When interacting with an AI-powered knowledge base, customers or agents can use prompts to browse an existing knowledge base. This allows for much more targeted browsing in comparison to simply typing keywords into the search bar.
You can see these artificial intelligence capabilities in LiveAgent's AI-powered knowledge base with the Smart Search functionality.
Predictive analysis
Artificial intelligence uses advanced algorithms and machine learning techniques to make predictions about future outcomes based on historical data and patterns. AI predictive analysis has become one of the critical solutions for processes such as resource allocation, fraud prediction, trend analysis, risk assessment, and churn prediction.
A well-known example of predictive analysis in real life is Netflix. They use predictive analytics in their recommendation engine to predict user behavior and suggest TV shows and movies.
Decision-making tools
AI-powered enterprise knowledge management allows companies to make more data-driven decisions. Artificial intelligence-powered knowledge management software can analyze complex scenarios and provide recommendations, enhancing the decision-making process.
For example, the URLsLab plugin for WordPress uses AI to analyze large amounts of data on your website and independently recommend website elements such as related articles, content clusters, and even automatically generates new content.
How is LiveAgent incorporating AI for knowledge management?
LiveAgent's team is hard at work implementing artificial intelligence into the existing feature set and various aspects of knowledge management. The knowledge management features are going to be enriched by new AI-powered knowledge base and Smart Search features that use AI to create a more streamlined and efficient experience for users.
LiveAgent's AI-powered knowledge base can automatically create knowledge articles based on customer support tickets and previous customer communications, while Smart Search uses AI to answer customer questions based on existing knowledge articles.
Both of these features are accompanied by other AI-powered functionalities that will greatly improve and expand LiveAgent's capabilities.
Start your free trial today and see the difference!
Transform your customer service with LiveAgent's knowledge base software.
Frequently asked questions
What is the difference between artificial intelligence and knowledge engineering?

Artificial intelligence is the broader field that encompasses the creation of intelligent systems capable of human-like tasks, while knowledge engineering is a specific discipline within AI that involves structuring and encoding human knowledge and expertise for use by AI systems. Knowledge engineering plays a crucial role in enabling AI systems to reason and make informed decisions based on accumulated knowledge.

How can conversational AI transform IT support?

Conversational AI has the potential to transform IT support by providing efficient, user-friendly, and personalized assistance to users seeking technical help or information. Among the most significant capabilities conversational and generative AI can bring to your business are 24/7 availability, reduction of human error, reduced workload for your IT support team, and multilingual support.

How are AI-powered chatbots transforming marketing and sales operations?

By leveraging AI-powered chatbots, businesses can streamline marketing and sales operations, enhance customer engagement, and provide more personalized experiences throughout the entire customer lifecycle. This results in improved customer satisfaction, higher conversion rates, and greater operational efficiency.

How does artificial intelligence acquire knowledge?

AI acquires knowledge through a combination of data, algorithms, and learning processes. The process of acquiring knowledge involves training AI models on large datasets and enabling them to learn patterns, make predictions, and generate insights.
Expert note
<p>AI knowledge management utilizes artificial intelligence to enhance decision making, improve efficiency, and enhance customer service through automated processes and personalized experiences.</p>

Andrej Saxon
Sales manager