Knowledge management systems (KMS) can seem complicated, even mysterious. But to skip out on implementing them would not only hurt your customer service efforts, it could potentially damage your business. To prevent this from happening, we have created an article you can use as a comprehensive guide throughout your KMS journey.
To put knowledge management systems' transformative powers in context, consider that customer portals utilizing KMS have been found to achieve a remarkable resolution rate of 95%. So, are you ready to discover how these systems can revolutionize your business operations, enhance productivity, and significantly improve customer satisfaction? Let's dive in!
What is a knowledge management system?
Let's begin with some definitions. A knowledge management system (KMS) is a system for managing knowledge in organizations. It supports the creation, capture, storage, and dissemination of information. This technology-driven system organizes and retrieves knowledge, providing a method for systematically collecting and utilizing scattered knowledge within an organization.
Types of knowledge in a business knowledge management system
To better understand KMS, let's quickly go over the main types of knowledge management.
Explicit knowledge
This type of knowledge is well-documented, codified, and can be easily communicated or shared. It includes manuals, books, databases, and any kind of structured documents. Because of its organized and systematic nature, it is easily transferable.
Tacit knowledge
Tacit knowledge refers to personal and context-specific knowledge. It is intangible, embedded in personal perspectives, experiences, and attitudes. Transferring tacit knowledge often involves personal interaction, as it is likely derived from a person's experience or insight.
Implicit knowledge
This type of knowledge lies somewhere between tacit and explicit. It's not as 'deep' or personal as tacit knowledge, but it's also not as structured or easily transferable as explicit knowledge. It could be something an employee understands but has not codified or explained.
Organizational knowledge
Also known as institutional knowledge, this is a collective set of experiences, processes, data, expertise, culture, and history within a company. It is accumulated over time and influences business decisions and behaviors.
Technical knowledge
Necessary in most organizations, this refers to understanding knowledge about technologies, systems, or devices used in business operations.
Customer knowledge
This refers to knowledge about consumers' needs, expectations, behaviors, and feedback that can help in enhancing customer service and improving products and services.
One of the examples of knowledge management systems could be a customer relationship management (CRM) system. This system stores information about customers, their purchasing habits, preferences, and feedback. Everyone from the marketing and sales team to the customer service department can access and use this system to improve customer service, predict future trends, and target marketing efforts more effectively.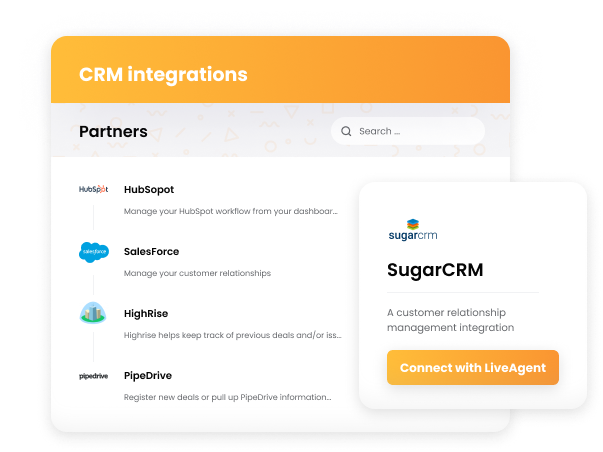 Why is a knowledge management system important?
An effective knowledge management system is crucial for small and large companies alike because it serves as a centralized repository of information, insights, and experiences that employees can access and utilize whenever needed. KM systems are designed to manage, distribute, and make available the collective knowledge of your business, which can significantly enhance its operations.
Having the data readily available helps reduce the time employees spend searching for information, increasing their overall efficiency. It also ensures that the decision-making process is based on reliable and up-to-date information, reducing the risk of errors.
Additionally, a KMS promotes creative collaboration within your organization. By sharing knowledge, your employees can work together more effectively, build on each other's ideas, and come up with innovative solutions.
What are the benefits of a KMS?
Now that we understand what a KMS is and why it's a wise idea to implement it in your business, let's highlight some of its most notable benefits. By implementing a knowledge management system, you can:
Improve decision-making
Such systems provide timely and relevant corporate information, enabling faster decision-making and reducing the risk of errors. Furthermore, using a KMS can help identify patterns and trends, enabling predictive analysis for future decision-making. You can use all these valuable insights to make strategic business decisions.
Enhance collaboration and communication
KMS facilitate the sharing of knowledge across different teams and departments within your organization. This helps teams to collaborate effectively, as they have access to all the information needed to complete tasks efficiently and improve their collaboration skills.
Increase efficiency
By centralizing knowledge and making it easily accessible, KMS help eliminate duplication of work, reduce time spent seeking information, and improve work processes, resulting in increased productivity and efficiency.
Drive innovation
You can spur new ideas and innovations by systematizing and sharing collective knowledge. This way, your employees can leverage existing knowledge and come up with newer ideas for products, services, or process improvements. This can result in improved business processes, productivity, and happier customers and employees alike.
Help in staff training and development
Knowledge management tools are great resources for staff training and development. By accessing the knowledge base content, new employees can quickly understand company processes, while experienced employees can continuously update their knowledge and skills.
Improve customer satisfaction
Having an accessible centralized knowledge repository allows customer support agents to provide quick and effective answers to customer queries. This way, you can greatly increase customer satisfaction and build relationships.
Preserve intellectual capital
Employees come and go, but if you store their knowledge and experience in a well-maintained system, it remains with your organization.
Save costs
By streamlining and automating processes, KMS can reduce operational costs. Using an advanced knowledge management solution can also eliminate the need for manual handling of company documentation, further reducing your costs.
Provide competitive advantage
Organizations that manage knowledge effectively have a strategic advantage over their competitors. Gathering, organizing, and studying valuable insights allows you to quickly respond to changes in the business environment, make informed decisions, and innovate.
Aid in risk management
Due to its ability to capture and use data from previous projects, KMS can be used to identify, assess, and manage potential issues and risks.
Who can use a KMS?
Are you still asking yourself whether you even need a KMS? To help you make up your mind, let's talk about various business sectors and industries where KMS is an absolute necessity.
Customer service
Customer service departments can greatly benefit from KMS. As you already know, these systems can store and organize vast amounts of customer data, including past interactions, preferences, and common issues. Customer support teams can use this data to provide more personalized and efficient service.
Additionally, KMS can be used to create self-service portals including troubleshooting guides, common customer questions, community forums, and much more. These portals allow visitors to find answers to various customer service questions without needing to contact support agents directly, saving both the customer and the company time, as well as bringing down customer support costs.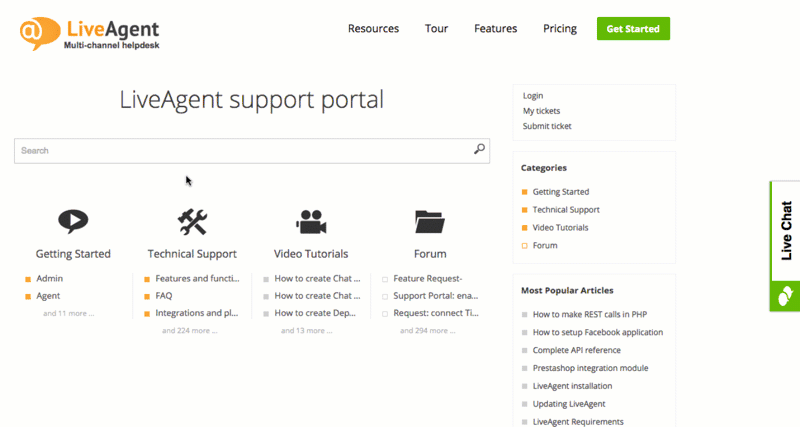 E-commerce
E-commerce businesses deal with a vast amount of data, including customer preferences, buying patterns, and feedback. A KMS can help these businesses organize this data effectively, enabling them to make informed decisions about product offerings, marketing strategies, and customer service improvements.
Software as a Service (SaaS)
SaaS companies often need to manage a large amount of technical and customer data. SaaS knowledge management can help these companies streamline their processes, improve customer service, and enhance product development. It can also facilitate knowledge sharing among different teams, leading to increased efficiency and innovation.
Healthcare
In the healthcare industry, KMS can be used to manage patient records, research data, and other critical information. This can improve patient care by ensuring that doctors and other healthcare professionals have easy access to the information they need. Furthermore, a KMS can provide an additional layer of private data protection.
Information technology
IT companies can use KMS to manage technical documentation, track software bugs, and share knowledge about different technologies and methodologies. This can improve efficiency and help to ensure that all team members are on the same page.
Education
Educational institutions can use KMS to manage curriculum, share teaching resources, and facilitate collaboration among teachers and students.
Research and development
Companies that engage in research and development can use KMS to manage their research data, track their progress, and share their findings with the rest of the company.
Financial services
In the financial services industry, a KMS can be used to manage financial data, risk management information, and regulatory compliance information.
Manufacturing
Manufacturing companies can use KMS to manage their production processes, track inventory, and share best practices within the organization. This can lead to more efficient and streamlined processes from top to bottom.
Knowledge management system examples
Let's look at some of the most well-known knowledge management system examples out there.
LiveAgent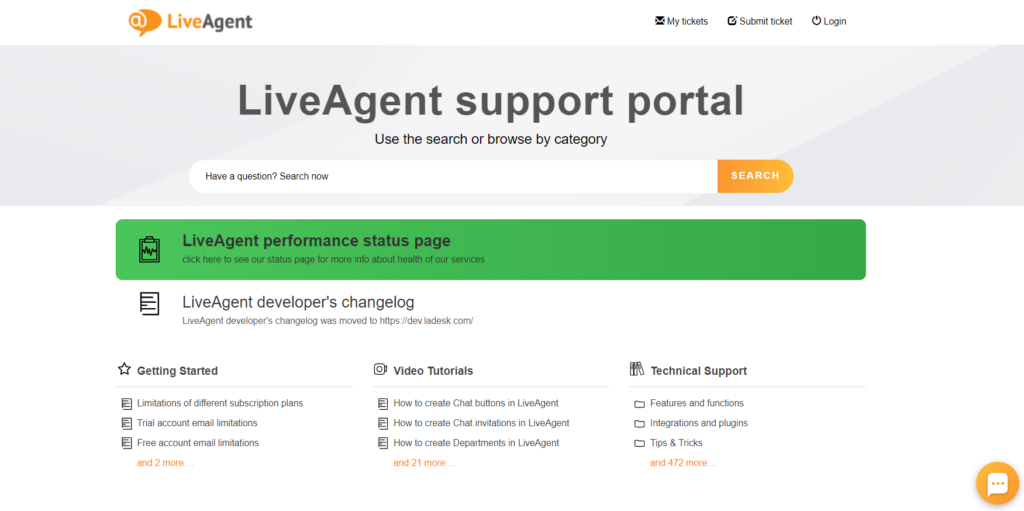 LiveAgent offers a comprehensive knowledge base software that combines multiple channels into a single and compact package. It includes features like ticketing, live chat, and social media integration. It allows businesses to manage, track, and organize their customer interactions effectively, ensuring a seamless customer service experience. Plus, LiveAgent comes with a very user-friendly interface even non-tech-savvy users can easily navigate.
Notion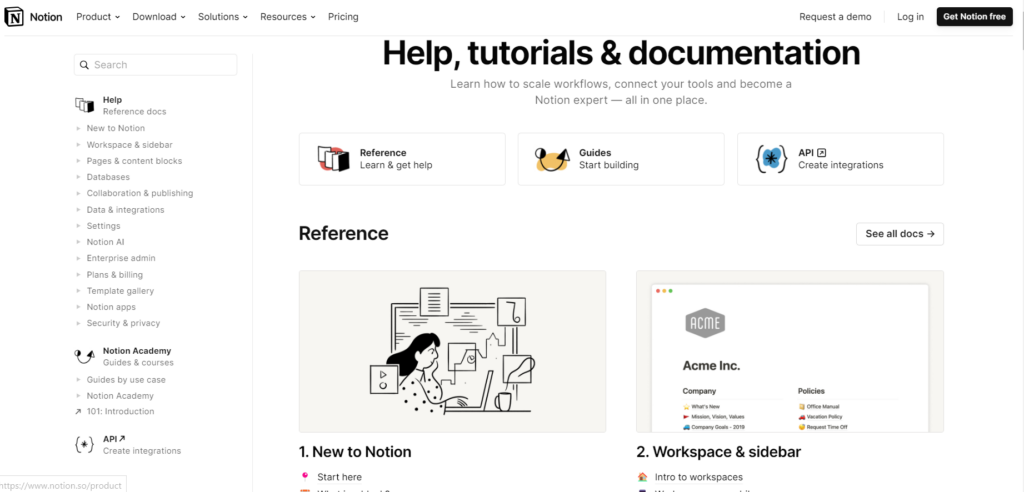 Notion is an all-in-one workspace where you can write, plan, collaborate, and organize. It essentially blends everyday work apps into one. It's a new tool that unifies your tasks, notes, databases, and more into a single, customizable interface, making it a great tool for your knowledge management framework.
WordPress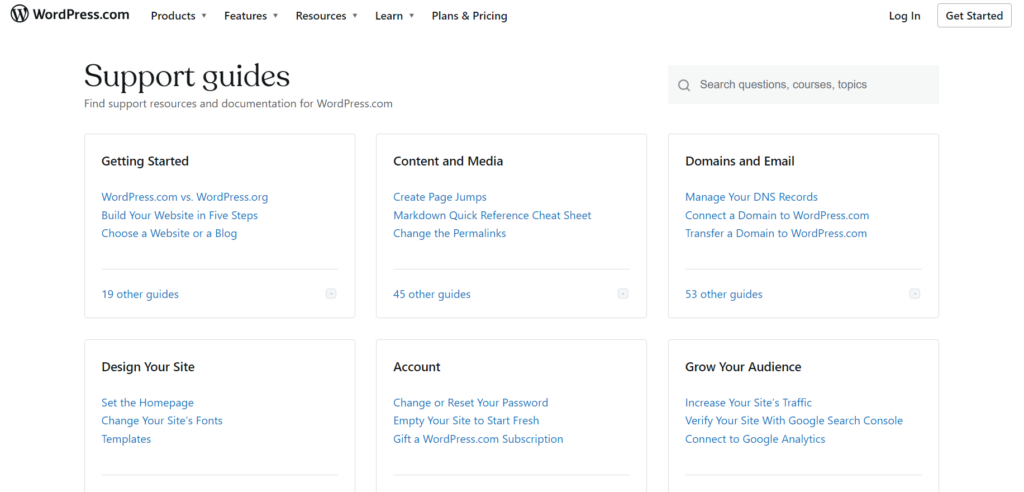 WordPress is a popular content management system that allows users to create, manage, and publish their content on the web. While it's primarily used for blogging, WordPress also supports other types of web content, including traditional mailing lists and forums, media galleries, and online stores. It's a flexible and powerful tool that can be adapted to a wide range of needs.
Pipedrive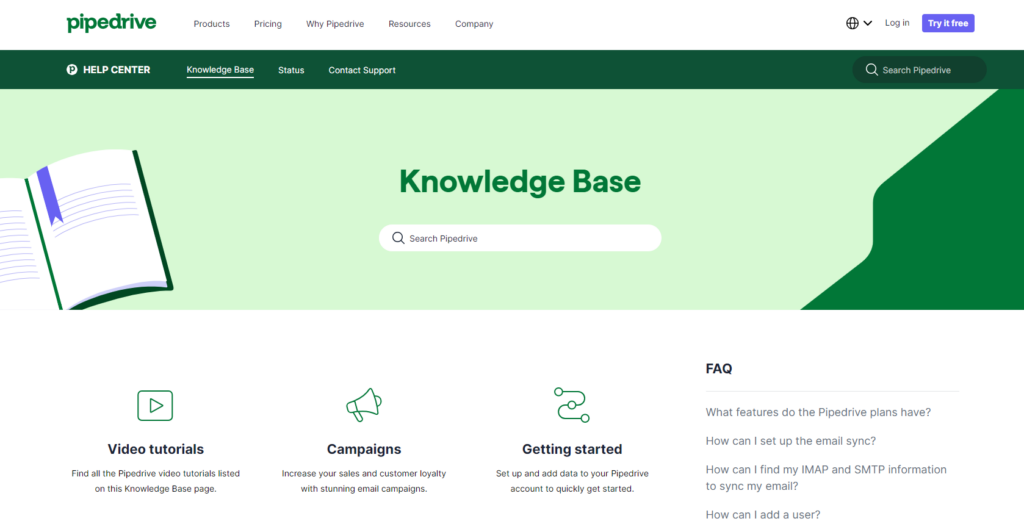 Pipedrive is a sales-focused customer relationship management tool that teams of all sizes love using. It organizes your business leads in a way that gives you a clear overview of your sales process and empowers you to focus on the activities that drive deals to close. It's a great tool for managing and optimizing your sales knowledge.
Confluence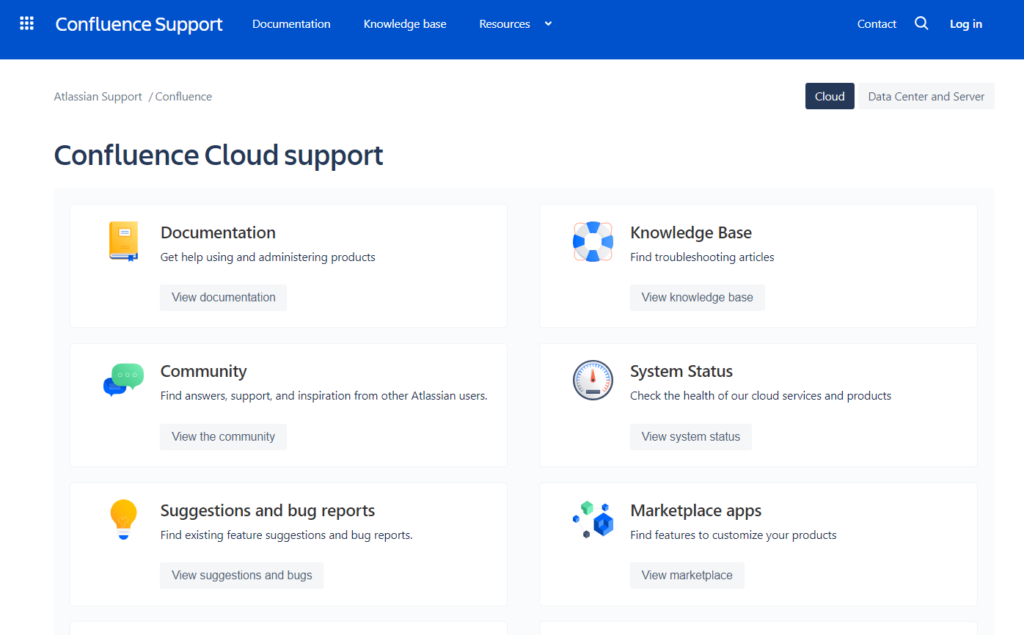 Confluence is a collaboration tool developed by Atlassian that allows teams to collaborate and share knowledge efficiently. With Confluence, you can create, share, and collaborate on projects all in one place to keep your work moving forward. It's one of the most popular knowledge management platforms for managing team knowledge and collaboration.
What are the essential features of a knowledge management system
Knowledge storage and retrieval: Your KM system should provide a secure and organized repository for storing knowledge. It should also have a robust search functionality for easy retrieval of information.
Knowledge sharing and distribution: The system should facilitate easy sharing and distribution of knowledge across the organization. This could be through collaborative knowledge management tools, discussion forums, or social networks.
User-friendly interface: KMS should have an intuitive and easy-to-use interface. This will encourage users to interact with the system and make the most of the knowledge available.
Integration: You should be able to integrate your KMS with other business systems and applications. This will ensure that knowledge is not siloed and can flow freely across your organization.
Security: The system should have robust security features to protect sensitive and proprietary knowledge. This includes access controls, encryption, and audit trails.
Scalability: Your KM system should be scalable to accommodate the growing amount of knowledge and number of users.
Customization: To meet the specific needs of each organization, the system should allow for extensive customization.
Analytics and reporting: Providing insights is a must. The KMS should provide analytics and reporting tools to measure the effectiveness of knowledge management efforts.
Mobile access: In today's digital age, the KM system should provide mobile access to allow users to access knowledge anytime, anywhere.
Collaboration tools: Your organizational KMS should have tools that promote collaboration and interaction among users, such as chat, forums, and shared workspaces.
AI and machine learning: Advanced systems may also incorporate AI and machine learning to automate knowledge discovery and distribution, and to provide personalized recommendations to users.
How do you create a knowledge management system?
To effectively implement a knowledge management system within your organization, it's crucial to follow a structured approach. Let's walk through the essential steps to create and implement a comprehensive knowledge management system.
Identify your needs
Understand what kind of information you need to manage, as well as potential knowledge gaps. This could be anything from customer inquiries, product information, company policies, or any other type of data that needs to be organized and accessible.
Choose a knowledge management system
There are many knowledge management systems available, but one great choice is LiveAgent. As we have previously mentioned, LiveAgent is a help desk software that includes a knowledge base feature that allows you to create both internal and external knowledge bases.
An internal knowledge base can be used for storing company policies, procedures, and other information for employees. An external knowledge base can be used for FAQs, product information, and other customer-facing information.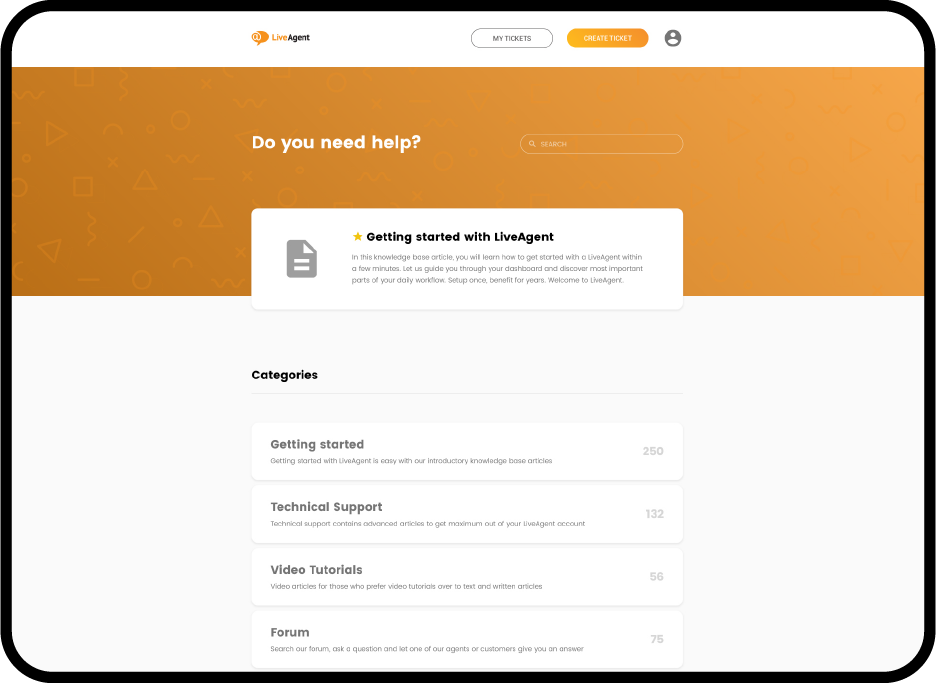 Organize your information
Once you've chosen a system, you'll need to organize your information. This could involve creating categories, tags, or other ways of sorting and filtering your data.
Create content
Start creating content for your knowledge base. This could be articles, FAQs, guides, tutorials, or any other type of content that will be useful to your users.
Implement access controls
Depending on the sensitivity of your information, you may need to implement access controls. This could involve creating user accounts, setting permissions, or implementing other security measures.
Train your team
Make sure everyone who will be interacting with the knowledge management system is trained on how to use it. You can do this by creating training materials, holding training sessions, or providing one-on-one support.
Monitor and update
Once your knowledge management system is up and running, you'll need to monitor it to make sure it's meeting your needs. This could involve tracking usage, gathering employee and customer feedback, or regularly reviewing and updating your content.
Continual improvement
Always look for ways to improve your knowledge management system. You can do so by adding new features, improving usability, or expanding your knowledge base content.
What are the best practices of a knowledge management system?
Now, let's look at the 6 best practices for knowledge management systems and why you should consider implementing them.
1. Understand the flow of knowledge within your organization
Undoubtedly, understanding how information and knowledge flow within your organization is first and foremost when it comes to business knowledge management systems. This involves identifying who holds specific knowledge, who needs it, and how it is transferred. Understanding this flow can help you identify bottlenecks or gaps in knowledge transfer, which can then be addressed to improve efficiency and effectiveness.
2. Create a culture of knowledge sharing
A successful knowledge management system relies on a culture that values and encourages knowledge sharing. This means fostering an environment where employees feel comfortable sharing their expertise and insights, and where they are rewarded for doing so. This can be achieved through incentives, recognition, and training programs that emphasize the importance of knowledge sharing.
3. Implement a robust knowledge management solution
Using knowledge management software is absolutely necessary for successful KMS. A robust and reliable knowledge base solution, such as LiveAgent, can greatly enhance your organization's ability to manage and share knowledge. LiveAgent offers a comprehensive suite of tools that facilitate knowledge creation, storage, retrieval, and sharing. Its many collaborative features can help streamline communication and collaboration within your organization.
4. Diversify your knowledge
It's important to have a diverse range of knowledge within your organization. This means not only having expertise in different areas but also having different types of knowledge, such as tacit knowledge and explicit knowledge. Diversifying your knowledge can help your organization be more innovative and adaptable.
5. Set up measurable goals
Setting up measurable goals can help you track the success of your knowledge management system. These goals could be related to the amount of knowledge being shared, the number of employees using the system, the impact of the system on productivity or innovation, or other key performance indicators. By tracking these goals and KPIs, you can identify areas for improvement and make necessary adjustments.
6. Utilize technology
Technology, particularly AI and machine learning, can greatly enhance a knowledge management system. AI can help automate the process of knowledge creation and retrieval, making it easier for your employees to access the information they need. Machine learning, on the other hand, can help identify patterns and trends in the knowledge being shared, which can provide valuable insights for decision-making. These technologies can also help personalize the knowledge management experience by recommending relevant content to customers and employees based on their roles, interests, or past behavior.
Conclusion
In conclusion, a knowledge management system is not just a tool, but a strategic asset that can revolutionize your business operations, enhance productivity, and significantly improve customer satisfaction. It's a powerful system that can streamline your processes, foster collaboration, drive innovation, and provide a competitive edge in today's fast-paced business environment.
The benefits of knowledge management systems are undeniably manifold. It's a powerful tool that can help you manage, distribute, and make available the collective knowledge of your business, thereby significantly enhancing its operations.
One of the most effective knowledge management platforms available today is LiveAgent. It's a comprehensive system that combines multiple channels into a single and compact package, making it easy for businesses to manage, track, and organize their customer interactions effectively. With its user-friendly interface, robust features, and advanced technologies, LiveAgent can help you unlock the full potential of your business knowledge.
And the best part? You can try LiveAgent for free for 30 days. This gives you ample time to explore its features, understand its benefits, and see how it can transform your business.
Remember, knowledge is power – but only when it's managed, shared, and utilized effectively. With a robust knowledge management system, you can harness this power to drive your business forward. So, are you ready to unlock the transformative power of knowledge management?
Ready to revolutionize your business with a robust knowledge management system?
Sign up for LiveAgent's 30-day free trial today and unlock the power of knowledge!
Frequently Asked Questions
What is the difference between knowledge management and a knowledge management system?

The knowledge management process is focused on creating, sharing, using, and managing the knowledge and information within an organization. On the other hand, a knowledge management system is a type of information system used to manage and facilitate the creation, organization, and distribution of this knowledge. Simply put, knowledge management is the concept or strategy, while a knowledge management system is the tool used to implement this strategy.

What is the difference between a knowledge management system versus AI?

A knowledge management system manages, organizes, and distributes knowledge within an organization, often using technology to facilitate communication and collaboration. On the other hand, artificial intelligence (AI) is the simulation of human intelligence processes by machines, which involves learning, reasoning, and self-correction. While AI can be used within a knowledge management system to enhance its capabilities, they are not the same; AI is a technology, while knowledge management is a process or strategy.

What is the concept of KMS?

A KMS is a technology-based system used for storing, managing, and sharing information and knowledge within an organization. It is designed to help companies create and share documented information, procedures, insights, and expertise. The goal is to improve efficiency, and productivity, and foster innovation by making the collective knowledge easily accessible to all employees.

What is the purpose of KMS?

The purpose of a KMS is to capture, organize, and distribute knowledge within an organization. It helps in improving efficiency by reducing the need to rediscover knowledge and promotes an integrated approach to managing an organization's information. Additionally, it facilitates decision-making processes by providing easy access to a company's collective knowledge and expertise.