As your organization flourishes and expands, you naturally gather a wealth of knowledge. To ensure this treasure trove of information and resources is accessible and well-organized, you may find yourself exploring various methods to manage it effectively. That's where knowledge management systems come in handy.
These management systems are used by many companies to create, store and organize knowledge within the organization to enhance the productivity of their team, improve collaboration, and simplify the decision-making process.
Not sure how to choose the best knowledge management tool for your business?
In this article, we'll embark on a journey through the realm of knowledge management systems. We'll explore their usage and highlight some of the best examples available in the market, so stay with us for some deeper insights!
Embark on a journey through knowledge management where every article is a stepping stone to a deeper understanding. To ensure you get the most out of your exploration, we've compiled a list of related articles that delve deeper into various aspects of this topic.
What are the types of knowledge management systems (KMS)?
Having a reliable knowledge management system (KMS) can be a game changer for businesses to organize and manage valuable information. Let's look at the different types to see which one would be the best fit for you and your company.
Knowledge base systems
When it comes to knowledge base systems, two types serve different purposes but are both crucial for companies that want to provide easy access to information.
An internal knowledge base serves as a centralized location where employees can have all the information they need at their fingertips. It is an easily accessible platform that stores information such as company policies, company information, training materials, video tutorials, and much more.
An external knowledge base, on the other hand, provides resources for customers that are seeking help. By empowering customers to find answers on their own, organizations reduce the workload on their support teams while still enhancing customer experience and satisfaction. It provides information, such as product tutorials, product walkthroughs, troubleshooting guides, FAQs, and more.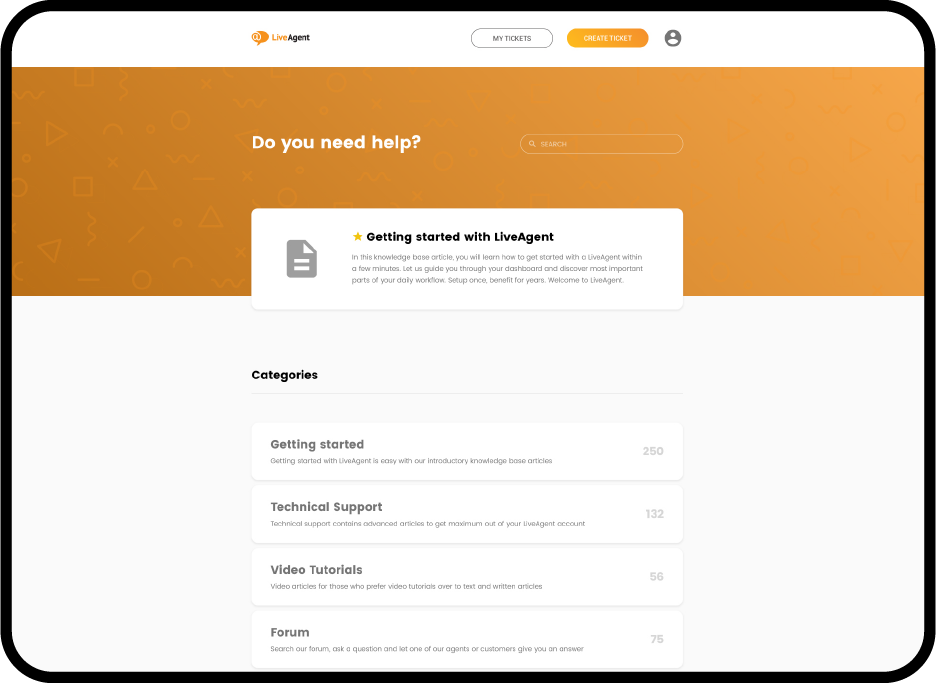 Document management systems
Document management systems (DMS) are revolutionizing the way organizations handle their large volumes of information. The days of sifting through physical files are gone. Document management systems provide efficient solutions that enable organizations to efficiently store, manage, and track electronic documents, such as contracts, invoices, agreements, project plans, or manuals in one secure and centralized repository.
Collaboration can be also taken to new heights with document management systems. These systems make it easy for teams to work together on documents, with a built-in collaboration tool that enables real-time editing and commenting.
Learning management systems
Learning management systems (LMS) have transformed the way training is delivered, making it more accessible, engaging, and interactive than ever before. The all-in-one learning platform empowers organizations to create a digital learning environment that can meet the needs of learners worldwide. From employee onboarding and professional development to academic courses, learning management platforms provide a flexible and convenient way to learn.
These platforms use educational content such as videos, interactive quizzes, gamification elements, and discussion boards to keep people actively involved and motivated. LMS offers access to a library of learning materials, such as e-books, articles, multimedia content, and external links. This accessibility allows them to dive deeper into subjects of interest, explore additional resources, and expand their knowledge even further.
Artificial intelligence systems
Artificial intelligence (AI) systems are computer software that can mimic human intelligence and perform tasks that typically require human intelligence. They use algorithms, data analysis, and machine learning techniques to process information, learn from previous experiences, and adapt to new situations. AI systems can perform a variety of tasks, such as speech and image recognition, natural language processing, problem-solving, or decision-making.
They are designed to be able to analyze large volumes of data and identify patterns and trends. Automation is another key aspect that can help organizations handle repetitive tasks, streamline business processes, and improve their efficiency.
Content management systems
Content management systems (CMS) help organizations create, manage, modify, and distribute digital content on websites or across various platforms without the need for complex coding. Whether it's blog posts, articles, product descriptions, or multimedia content, CMS platforms provide a user-friendly interface that allows users to create and edit content with ease.
Through the ability to streamline content publishing, with just a few clicks you can schedule, review and publish content across various channels. This saves time, eliminates errors, and ensures that it reaches the right audience at the right time. CMS platforms also enable content personalization, allowing organizations to tailor content based on user preferences, demographics, or behavior, enhancing user engagement and satisfaction.
Customer relationship management (CRM)
Customer relationship management, also known as CRM, is used for managing relationships and interactions with current customers and potential customers across the entire customer lifecycle. CRM systems can help with contact management, sales management, agent productivity, and so much more. The goal is simple: Improve relationships to grow your business.
So, how do businesses use CRM systems? It begins with centralizing customer data and gathering valuable information such as contact details, purchase history, and even social media interactions. This data paints a picture of each customer, allowing businesses to personalize the communication process. But the benefits don't stop there. CRM enables the strengthening of customer service by providing agents with customer information at their fingertips, promoting a customer-centric approach, and identifying customer needs to resolve issues promptly.
Project management systems
As your business grows, staying organized and keeping track of a multitude of tasks and deadlines can become challenging. To stay on top of the game, implementing project management systems can be a lifesaver.
So, what is a project management system and how do you use it effectively?
Simply put, project management systems are tools that aim to streamline and centralize project workflows, making project planning and execution a piece of cake. It provides a centralized platform for collaboration where team members can access project details and documents and have discussions.
With real-time updates and notification alerts, everyone stays informed, and thanks to the clear visibility into task statuses, managers can identify bottlenecks, effectively allocate resources, and make data-driven decisions to ensure project success.
Social networking platforms
Social networking platforms have revolutionized the way people connect, communicate, and share information. But how can we use these social networking platforms effectively, and how are they beneficial for businesses?
First and foremost, these platforms provide a space for individuals and businesses to connect with colleagues, industry professionals, and even potential customers. They facilitate the process of expanding your network, engaging with others, and forging valuable connections.
From a business perspective, these platforms offer various benefits. For starters, by creating a business profile, you can showcase your products, services, and company culture to a wide audience. Social networking platforms also offer targeted advertising to reach specific demographics. By setting up the right content strategy and sharing informative and relevant information, businesses can position themselves as experts in their field.
Wiki-based systems
Wiki-based systems are inspired by the concept of Wikis used to create, edit, and collaboratively organize content. But what exactly are wiki-based systems, and how can businesses use them to their advantage?
A wiki-based system is a platform that enables users to collaborate on creating and editing content in a structured format. These systems provide a user-friendly interface, allowing users to contribute their knowledge to a shared repository. And, because the content is organized, it makes it easy to navigate and explore related topics.
Some of the key features that you should look for in Wiki software include ready-to-use templates, user access control, advanced customization, integrations with external tools, and robust reports and analytics. These features will make sure that your business operations run smoothly, projects are delivered on time, and your team achieves peak performance.
Intranets and portals
An intranet is a private, internal network accessible only to employees within an organization. It serves as a hub for all internal resources, information, and tools. Intranets typically include information such as company news, employee directories, document repositories, and project management tools.
Portals provide users with personalized access to information. Portals can be also designed specifically for certain departments or teams. They often feature dashboards, customized content, and interactive tools that enable users to quickly access relevant information.
With key features like discussion boards, messaging systems, and news feeds, employees can collaborate in real-time, exchange ideas, and stay informed about updates.
Top 10 Knowledge management system examples
Navigating the world of knowledge management systems can be overwhelming with so many options available. Here, we've distilled the choices down to the top 10 standout examples to guide your decision-making.
LiveAgent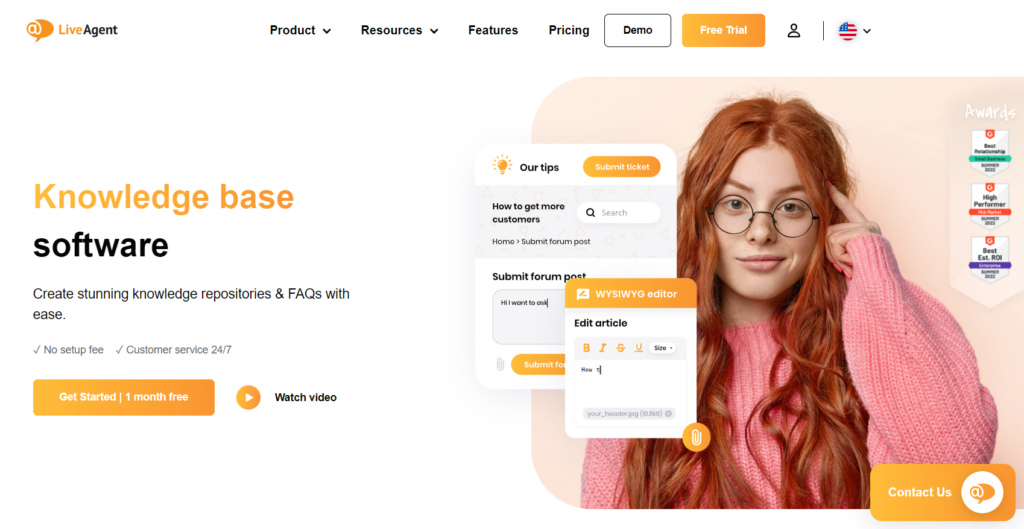 LiveAgent is the ultimate knowledge base software designed to streamline information access and enhance customer and employee self-service. With its robust set of features and user-friendly interface, LiveAgent has established itself as the go-to solution for businesses seeking to elevate their knowledge management capabilities.
Wave goodbye to information disarray and welcome a unified knowledge base. This solution not only strengthens your business's customer support but also equips your employees with the essential knowledge to excel in their roles.
Key features
Internal and external knowledge base
Multi-knowledge base support
WYSIWYG editor
Customizable themes
Forums
Feedback & suggestions
Search bar widget
User-friendly dashboard
Multi-language support
Attachments in articles
Categories
Who can use LiveAgent?
Regardless of the size or industry, any business that values efficient information management, exceptional customer support, and empowered employees can benefit from LiveAgent's knowledge base software. It caters to the needs of startups, small and medium-sized companies, as well as large organizations.
For small and medium-sized organizations, LiveAgent offers an affordable solution that provides a solid knowledge management foundation with a centralized repository for storing and organizing information that is easily accessible by employees as well as customers.
Large organizations can also benefit immensely from LiveAgent's knowledge base software. With its scalability and advanced features, it can handle the complexity and a high volume of information that come with a larger business scale.
In terms of industry, whether you operate in e-commerce, healthcare, finance, technology, or any other industry, LiveAgent's awesome knowledge base software is designed to adapt to your specific needs and requirements. You can give it a try with 30-day free trial.
Notion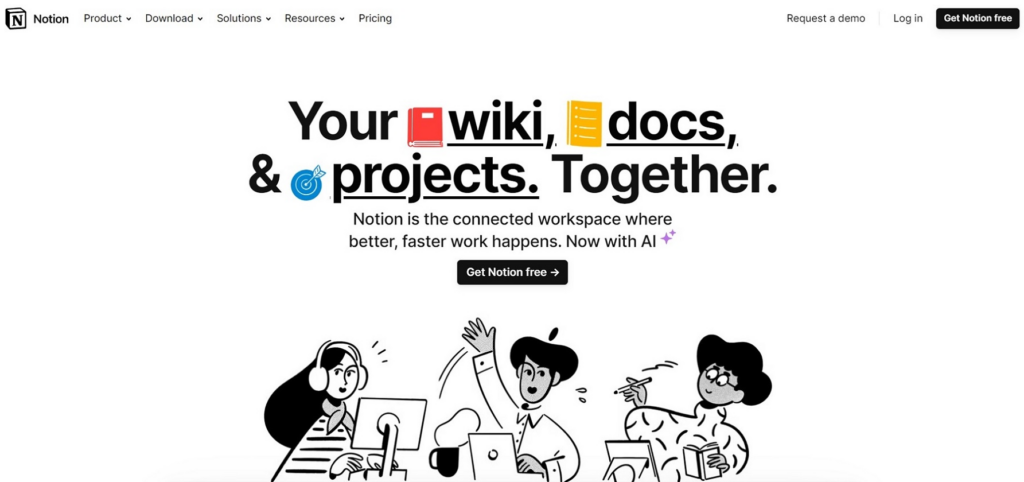 Notion can become a game-changer when it comes to document management systems for businesses. Its versatility, collaboration features, and intuitive interface have catapulted it to the forefront of the market, making it a must-have tool for efficient and organized information management.
No more sifting through countless folders and endless versions of documents. With Notion, businesses can seamlessly create, edit, and manage documents, while promoting collaboration and streamlining workflows. Increase your productivity and enhance teamwork with a sleek and intuitive platform that will revolutionize the way you organize and manage your documents.
Key features
Document library
Document integrations
Organize files into folders and subfolders
Access and control version history
1:1 documents
File management system
Create categories
Customization
Who can use Notion?
No matter the size or industry of your business, Notion's document management system can help you streamline your document workflows, facilitate collaboration, and improve productivity within your organization.
For startups and small to medium-sized companies, Notion offers an affordable solution that provides a robust document management system without the need for excessive IT infrastructure. It allows these businesses to centralize their documents, collaborate effectively, and stay organized.
Large corporations can also benefit from their document management system. Its scalability and advanced features can handle the complex document needs of a larger organization, allowing for efficient document sharing, collaboration, and version control.
TalentLMS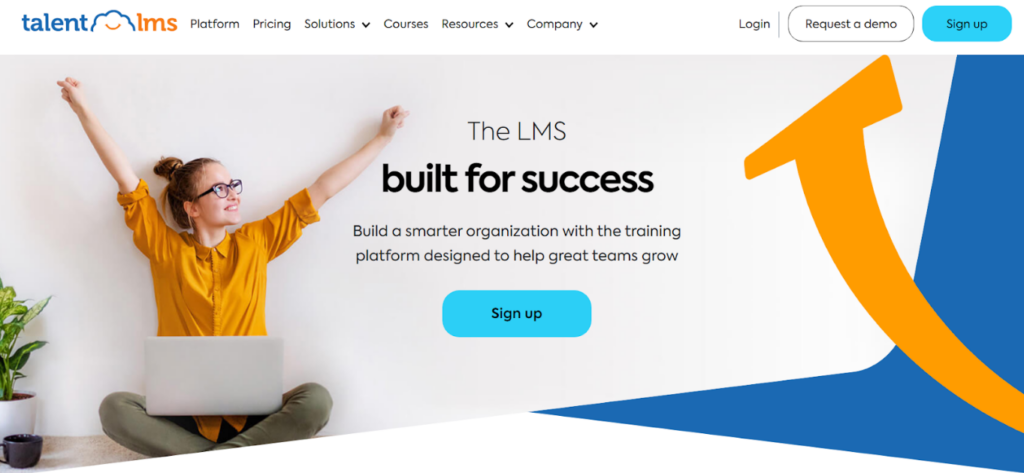 TalentLMS established itself as one of the top players in the realm of learning management systems (LMS) for businesses thanks to the impressive array of features and a user-friendly interface. TalentLMS became a go-to solution for organizations looking to elevate their employee training and development programs. With years of experience in the e-learning industry, TalentLMS is known for its commitment to innovation and customer satisfaction.
Key features
Content-friendly (supports videos, presentations, docs, etc)
File repository
Learning paths
Blended learning
Gamification
Certifications
Videoconferences support
Reporting
Create branches and sub-accounts
Customization
Multilingual platform
Who can use TalentLMS?
TalentLMS is a versatile learning management system that can benefit businesses across various industries and of all sizes.
From small businesses to large corporations, they can all benefit from implementing TalentLMS. Thanks to its wide set of features and flexibility, it enables businesses to design and implement comprehensive training programs. It also helps streamline their training programs, track progress, and ensure that employees have access to everything necessary to excel in their roles.
In terms of industry, TalentLMS can be used across various sectors. Whether you're in healthcare, technology, retail, or any other industry, the tools and functionalities provided by TalentLMS allow you to create customized learning experiences tailored to your specific industry requirements and compliance standards.
Azure Machine Learning Studio
Azure Machine Learning Studio has established itself as one of the leading artificial intelligence systems for businesses, providing cutting-edge capabilities for organizations looking to leverage the power of AI. Developed by Microsoft, Azure Machine Learning Studio combines advanced algorithms, data visualization tools, and a user-friendly interface to empower businesses to build, deploy, and manage intelligent models to solve complex challenges.
The platform offers a wide range of machine learning algorithms, automated data preprocessing, and model evaluation tools, making it accessible to both data scientists and non-technical users. With this system, businesses can unlock valuable insights from their data, automate decision-making processes, and drive innovation.
Key features
Multilingual support
AI bots
AI video indexer
AI document intelligence
AI metrics advisor
Automated machine learning
Drag-and-drop designer
Collaborative notebooks
Who can use Azure Machine Learning Studio?
Azure Machine Learning Studio is designed for a wide variety of users, from data scientists and AI professionals to business analysts and developers. Its versatility allows organizations of all sizes and industries to harness the power of artificial intelligence. Its flexible and scalable infrastructure allows businesses to adapt it to their specific industry needs, regardless of their size or complexity.
Data scientists and AI professionals can use the extensive capabilities of Azure Machine Learning Studio to build and deploy sophisticated machine-learning models. They can train these models using vast amounts of data, apply advanced algorithms, and use them to make accurate predictions and solve complex issues.
Business analysts and developers can benefit from the platform's user-friendly interface and automated data preprocessing features to easily create and deploy AI models for tasks such as demand forecasting, customer segmentation, fraud detection, and more.
WordPress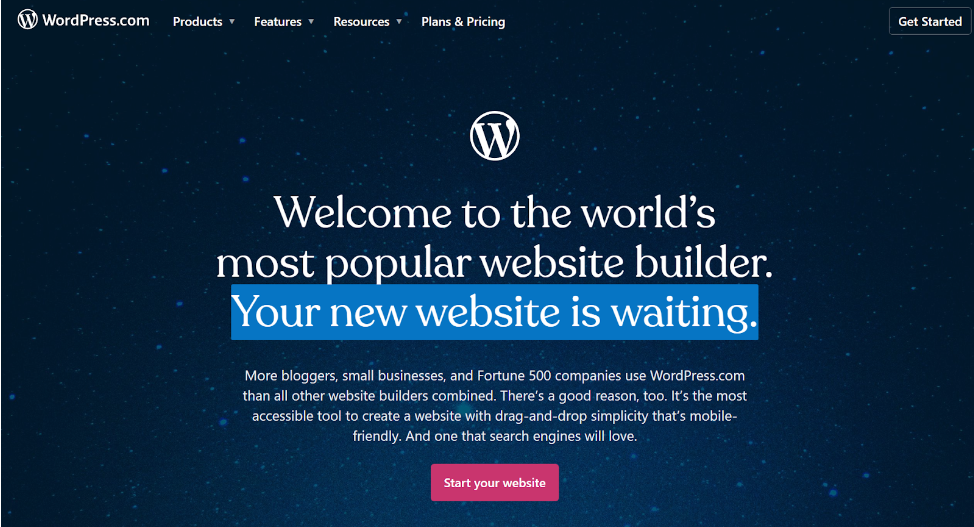 WordPress is a content management system that comes with a user-friendly interface, easy customization options, and a vast library of themes and plugins which makes it one of the most popular options for creating and managing websites.
Whether you're a newbie blogger or a seasoned content creator, WordPress comes equipped with a wide range of tools and features to help you effortlessly manage your content and enhance your online presence. But there's more! WordPress isn't just for individuals, it's also a trusted platform for many businesses. Thanks to its extensive scalability, you can create and maintain a knowledge base or intranet system to streamline internal processes and keep your team on the same page.
Key features
Publishing tools
User management
Media management
Easy theme system
Search engine optimized
Multilingual
Online Community forum
Plugin extensions
Full standard code compliance
Who can use WordPress?
Whether you're a small startup or a large enterprise, WordPress can help you to handle your content management needs. It's a versatile platform that can accommodate companies of all sizes and industries.
Smaller businesses can benefit from WordPress because it offers an affordable and user-friendly solution to create and manage their websites. With its extensive library of themes and plugins, small businesses can achieve a professional and polished online presence without breaking the bank.
Large enterprises also have the ability to handle complex websites with high traffic. Businesses can rely on WordPress to manage their intricate content management needs while maintaining stability and security.
Pipedrive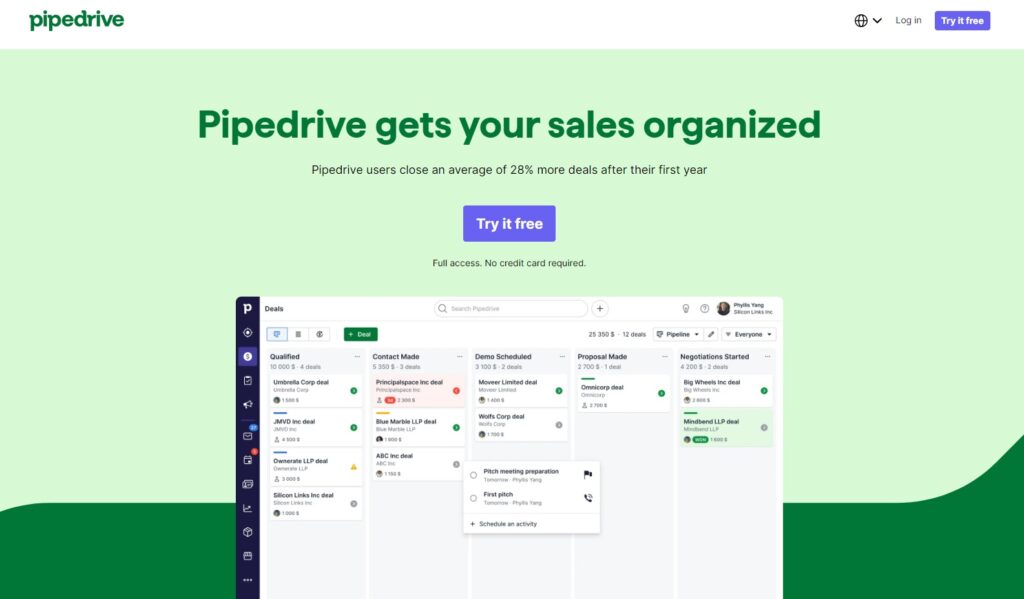 Pipedrive is one of the most popular customer relationship management (CRM) systems for businesses across industries. Its mission is to simplify sales processes and accelerate business growth by managing and nurturing customer relationships. It offers a comprehensive platform that stores customer data, organizes sales pipelines, tracks deals, and provides insightful analytics to improve sales performance and drive revenue.
Pipedrive's strength lies in its user-centric approach, providing sales teams with the tools they need to streamline workflows, collaborate seamlessly, and focus on closing deals.
Key features
Sales software
Visual sales pipeline
Customizable pipeline
Collaboration tool
Activity reminders
Contact history
Reporting and dashboards
Revenue forecasting
Automation
Who can use Pipedrive?
Pipedrive offers a customer relationship management system that is designed to benefit businesses of all sizes. Pipedrive helps these businesses to improve their sales efficiency, increase collaboration among team members, and ultimately boost revenue.
Businesses can leverage the power of Pipedrive to efficiently manage their customer relationships, track deals, spot opportunities, measure key activities, and focus on sales success. Whether you're in retail, technology, real estate, e-commerce, or any other industry that involves sales, Pipedrive provides all the necessary tools and features to streamline your sales processes. Additionally, its comprehensive analytics and reporting capabilities provide valuable insights into sales performance, allowing for data-driven decision-making and effective sales strategy development.
Monday.com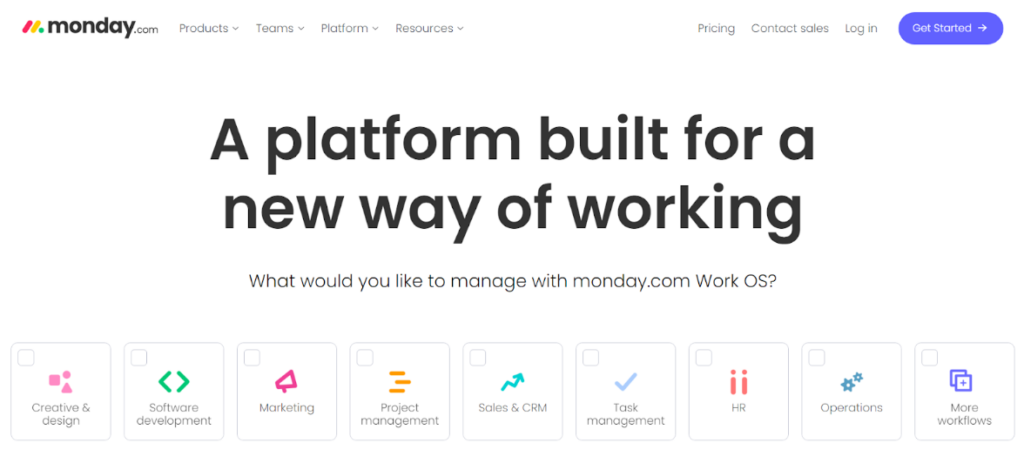 Monday.com is a powerful project management system that revolutionizes the way teams collaborate and accomplish tasks. Monday.com understands the challenges faced by businesses and strives to provide a solution that enhances team productivity and communication. Therefore it provides businesses with a dynamic and efficient platform to simplify work processes, and to plan, track, and execute projects seamlessly.
With its wide range of features and user-friendly interface, teams can manage projects with ease, assign tasks, and stay informed on the progress of each assignment. It eliminates any confusion and keeps your team aligned in order to achieve success.
Key features
Task management
Resource management
Custom workflows
Automations
Meeting summaries
Product launch planning
Live updates
Checklists
Real-time insights
Who can use monday.com?
Monday.com is a versatile project management system that can be utilized by companies of all sizes. Regardless of the industry, whether it's marketing, IT, ecommerce, or education, monday.com offers a flexible platform that can be customized to meet the specific requirements of each industry.
Small to medium-sized businesses can use the centralized platform to manage projects, tasks, and deadlines. It helps to improve collaboration among team members, increase their efficiency, and ensure that everyone is on the same page and completes projects on time.
Larger businesses can use this adaptable solution to handle multiple teams and more intricate projects with ease. Its advanced features empower large organizations to stay organized, streamline communication, and ensure project success.
Facebook
When it comes to social networking platforms for businesses, Facebook undoubtedly takes the crown as one of the most popular choices. With over 2.9 billion monthly active users, Facebook offers a wide reach that no other platform can quite match.
Facebook provides businesses with a platform to connect with their audience and build a strong online presence. Its features help them to engage with customers, share relevant content, and drive traffic to their websites. The vast user base and active community make it an ideal platform for businesses to build brand loyalty, foster customer relationships, and gain valuable feedback.
Additionally, the advertising capabilities further contribute to its appeal. Through targeted ads and sponsored posts, businesses can reach specific demographics, and increase their brand visibility.
Key features
Schedule posts
Page moderation
Similar page suggestions
Customization options
Response assistant
Saved replies
Page to watch
Automation
Integration with other tools
Who can use Facebook?
Facebook can be used by a wide range of companies, regardless of their size or industry. It offers many advantages, such as driving website traffic, forging partnerships, providing efficient customer support, and increasing brand awareness.
Here's why:
Facebook offers an affordable platform for small businesses to establish their online presence, connect with customers, and promote their products or services. It provides a space for smaller companies to compete and reach a larger audience.
Medium-sized businesses can expand their reach through Facebook, engage with their existing audience, and attract new customers. Features offered by Facebook can foster a sense of community, provide customer support, and strengthen brand reputation.
Even larger companies can benefit from Facebook's robust set of features. It allows them to maintain direct communication channels with their customers, run targeted ad campaigns, conduct market research, and gain valuable insights into customer behavior.
Confluence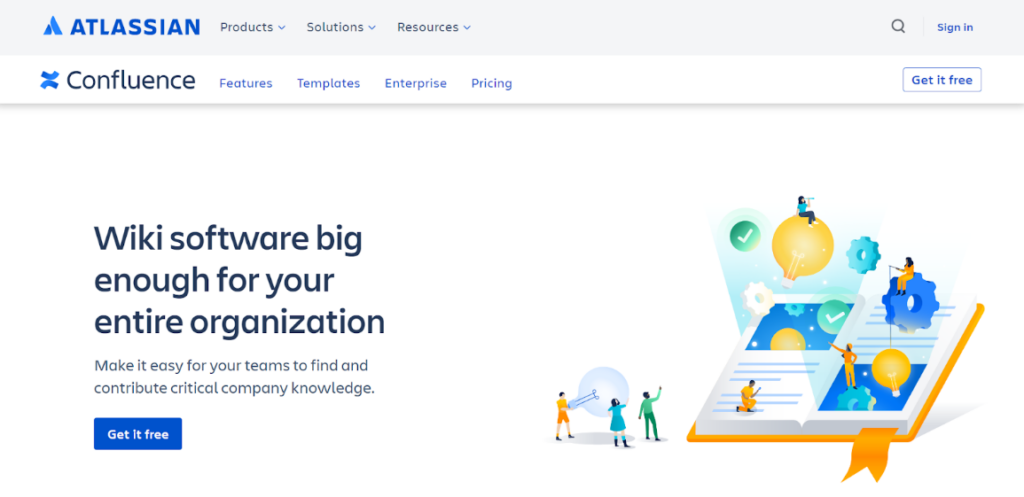 When it comes to wiki-based systems, Confluence stands out as one of the top options. It can be utilized for a variety of purposes, such as creating documentation, managing project requirements, creating knowledge bases, and even as an intranet system. This flexibility allows businesses to tailor Confluence to their specific needs, streamlining their workflows.
In addition, it integrates seamlessly with other popular tools like Jira, Trello, and Slack, making it an ideal choice for teams looking for a comprehensive collaboration ecosystem.
Key features
Inline comments and likes
Live activity feed
Personalized feeds
Track the status of projects
Project documentation
How-to articles
Structured content tree
Whiteboards
Real-time editing
Who can use Confluence?
Confluence, as a wiki-based system, can be used by companies of all sizes and operating in various industries and offers numerous benefits to various types of businesses.
Confluence can provide small businesses with a centralized platform to document their processes, store important information, and collaborate effectively. It helps streamline their workflows, improve knowledge sharing, and maintain transparency.
Medium-sized businesses can use this versatile tool to cater to their needs by enabling teams to manage projects and collaborate on one centralized platform. It improves communication and encourages cross-team collaboration that can enhance overall productivity.
It also scales well for large enterprises, offering advanced features to manage complex documentation and workflows. It serves as a repository for internal knowledge, allowing teams to improve information accessibility, and achieve greater efficiency across departments.
Workvivo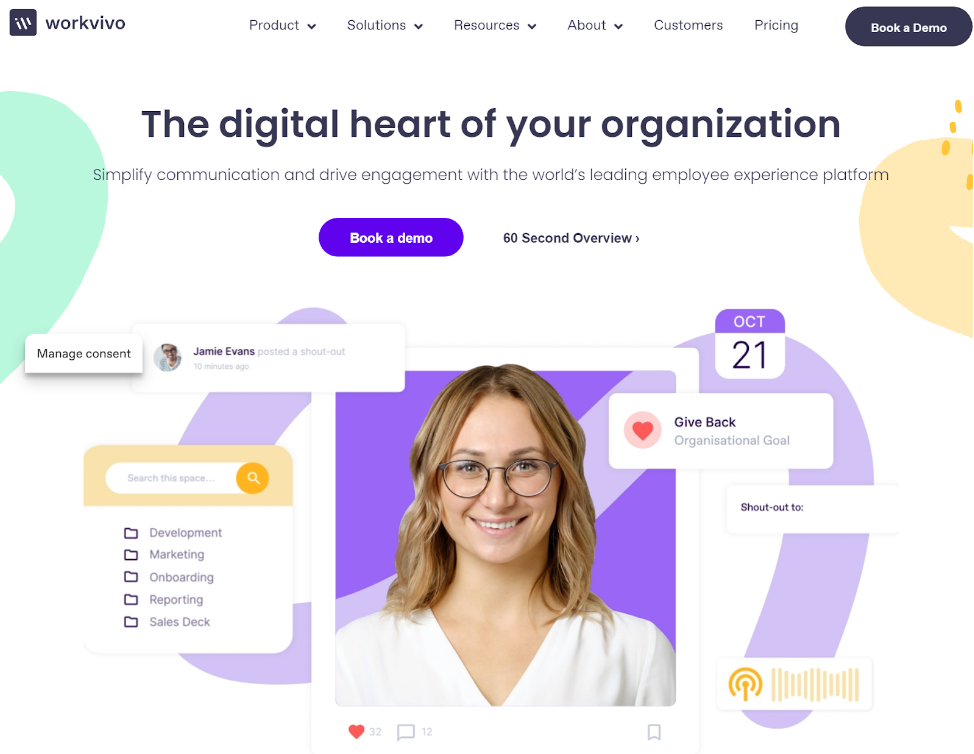 When it comes to intranets and portal systems, Workvivo shines as one of the top options available on the market. It is a leading provider of employee communication and engagement platforms, designed to help businesses create a connected and thriving organizational culture.
Workvivo provides a digital space where employees can connect, share updates, and collaborate on projects. One of the key strengths lies in its ability to create a sense of community within organizations as it allows employees to share achievements, recognize each other's contributions, and build meaningful connections.
Key features
Personalized activity feed
Events calendar
Live streams
Internal news
Push notifications
Scheduled posts
Ghostwriting capabilities
Advanced search
Organizational charts
Content analytics
Who can use Workvivo?
Workvivo can be used by all types of businesses from small companies to large enterprises across various industries. This includes but is not limited to technology, finance, ecommerce, and many others.
Small businesses can use Workvivo to create a unified and engaged work environment. It provides a platform for effective communication and knowledge sharing, promoting a positive company culture.
Medium-sized companies can benefit from Workvivo by fostering team collaboration. The platform offers features like group discussions, document sharing, and employee recognition, enabling effective communication among team members.
Large enterprises can create a sense of community across departments and locations by implementing Workvivo. With its scalable infrastructure, it can accommodate large employee bases and streamline internal communication, making it easier to spread information and promote company-wide initiatives.
8 Real-life knowledge management system use cases
Huawei
Even a company as big as Huawei relies on the magic of a knowledge base system by LiveAgent to provide excellent support for both their employees as well as customers.
Internally, Huawei uses an internal knowledge base system. It acts as a central repository of information that employees can easily access at any time. It acts as a go-to resource for everything from company policies and procedures to technical documentation. It ensures that employees have quick and easy access to the information they need to perform their roles to the best of their abilities.
Externally, Huawei implemented a knowledge base system to provide support and help to their customers. By integrating it, Huawei effectively manages customer inquiries and provides timely assistance. Their user-friendly help center is very easy to navigate and acts as a self-service platform for customers to find answers to common questions. This not only empowers customers but also reduces the burden on customer support teams.
Sony Music
Sony Music is a global powerhouse in the music industry that also harnesses the power of WordPress as their content management system (CMS) to power their website and deliver an engaging online experience to their website visitors. It enables them to showcase their artists, albums, and music videos in a visually appealing manner.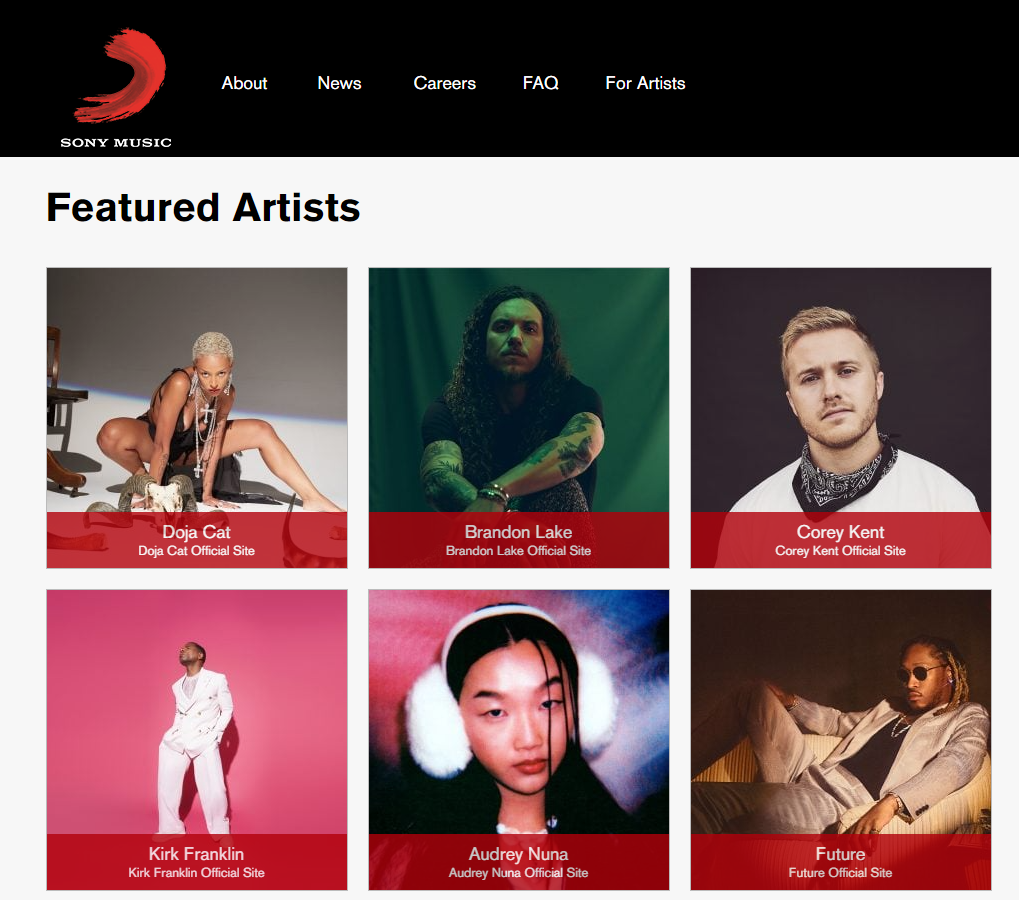 This content management system offers Sony Music a user-friendly and intuitive interface that allows its content creators, editors, and website administrators to easily manage and publish content. Sony Music can create and customize dynamic pages, and easily upload and embed audio and video content, allowing users to immerse themselves in the world of their incredible list of talented artists.
Moreover, the CMS helps optimize the website for search engines, ensuring that their content is discoverable and easily accessible worldwide. From managing meta tags to organizing content hierarchies, it enhances their online visibility and reach.
Roland
Roland is a Japanese company that manufactures electronic musical instruments and software. Their sales and marketing offices are located all over the world, including Japan, China, Australia, and Europe. Before, salespeople were traveling to different locations to deliver in-person training. And while it was great in terms of building relationships, it wasn't an ideal solution in terms of costs and time management. However, the pandemic complicated the already complicated process of training.
Roland had to find an effective solution to move all training online. This is where TalentLMS came to play. Before, training was available only to a certain number of people who would attend the in-person sessions. But after implementing TalentLMS, learning became available to anyone and everyone. TalentLMS elevated the training process and became a key part of everything Roland does.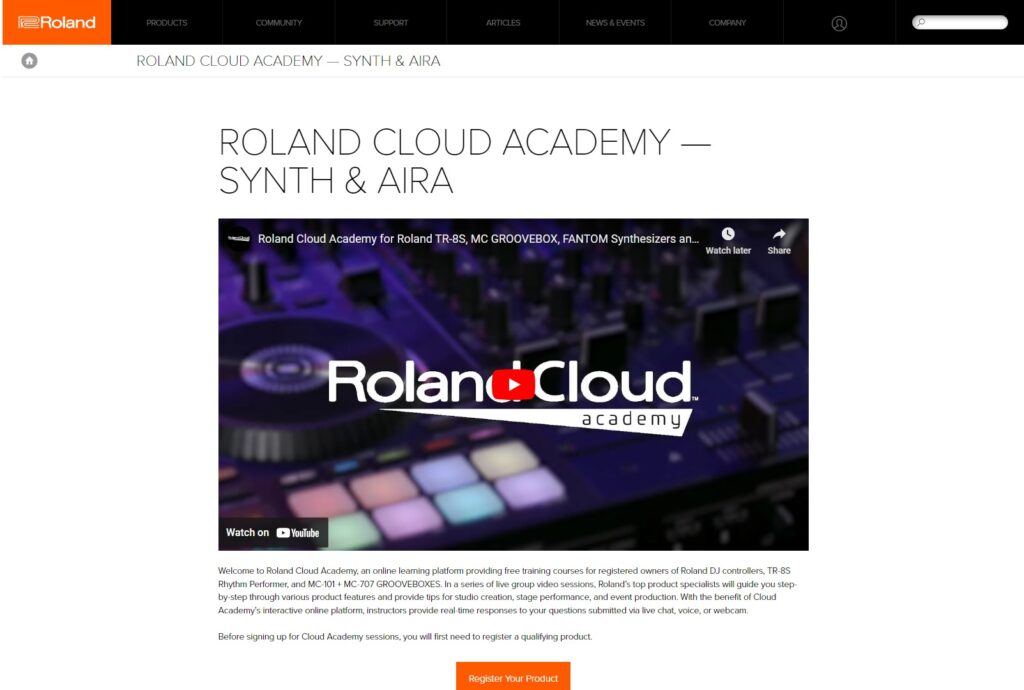 Forge
Forge started using Pipedrive as their CRM system back in 2017 and the benefits that the company experienced have been great for their business. Pipedrive comes with a centralized database that contains important customer and prospect information, providing a 360-degree view of interactions, communication history, and deal status. Therefore, the company no longer has to worry about losing important data.
This customer relationship management system offers automation features that can save valuable time and reduce manual work. Pipedrive also comes equipped with useful integrations which helped Forge to link to other third-party apps the company has been using. This made their work smoother and easier across different systems, minimizing data entry and maximizing productivity.
MetaLab
MetaLab is a leading design agency that makes great use of Notion as their document management system, taking productivity and collaboration to new heights.
The time of relying on several shared drives is over. Notion offers MetaLab a versatile platform to create, organize, and manage all their documentation in one place, making the important information easily accessible to their team members. The document management system allows MetaLab to create different types of documents, such as project briefs, guidelines, presentations, or meeting notes.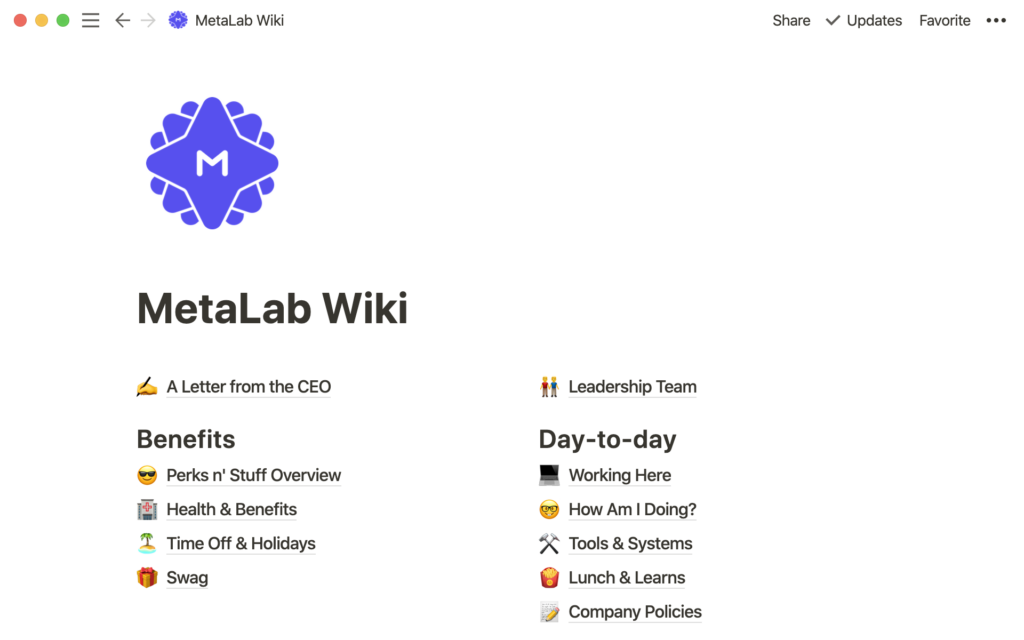 Notion's collaborative features allow them to invite team members to specific documents, fostering real-time collaboration and eliminating the need for endless email threads. Multiple people can work on documents simultaneously, making it easy to brainstorm ideas, collect and share feedback, and keep everyone on the same page.
Canva
A company as creative as Canva knows the importance of efficient project management to boost its performance. In order to accomplish that, they use monday.com as their go-to project management system to keep all of their projects on track.
Monday.com provides a visual and intuitive platform to plan, track, and manage projects from start to finish. It allows teams at Canva to create custom project boards that suit their unique workflows, and design boards with columns, timelines, and task dependencies, enabling them to effectively coordinate their projects and track the progress.
The project management system also empowers team collaboration by providing a centralized communication hub where team members can leave comments, post updates, and share files, eliminating the need for excessive back-and-forth emails and improving transparency.
To put it into perspective, monday.com helped Canva scale its creative production. Here are some numbers to put it into perspective:
Canva tripled their creative output
Reduced their production time by 40%
Reduced process steps from 9 to 5
Domino's
Domino's Pizza utilizes Confluence by Atlassian as their go-to wiki-based system to improve the communication process between their DevOps and Security teams to come up with pizza delivery innovations for customers around the world.
Before implementing Confluence, there were barriers to collaboration between teams and it took hours and hours of meetings to determine security requirements for different projects. Therefore, they decided to use Confluence as a platform that developers could use to submit security information to the security team early in the development process. This reduced what once required hours of meetings to just a few minutes.
Confluence was able to automate their workflow process, break the barriers between these teams, and unlock the possibilities of automation and efficiency.
Kent
When Kent, a leading oil and gas business, acquired an additional 7,000 employees, they faced the challenge of creating a brand new work environment and a new approach to the employee experience. Workvivo provides Kent with a platform where its employees can access important company information, news, and updates. It serves as a virtual hub for communication and collaboration within the organization.
Kent decided to take full advantage of some of Workvivo's specific features: Livestreams and Workvivo TV. Their CEO first used the Livestreams to broadcast an industry event to over 12,000 of their people and since then, Livestreams became a part of their weekly communication process to share progress updates and answer any questions live.
Workvivo managed to drastically improve Kent's internal communication through the Workvivo platform. Here are some numbers to put it into perspective:
In 2022, Kent's Workvivo platform had over 40,000 likes on posts
They made 1,445 posts, including updates, videos, and more
Received 4,685 comments helping colleagues stay in touch
Conclusion
To sum it up, knowledge management systems play an essential role for businesses to organize their knowledge assets but also enable them to leverage their collective knowledge for better decision-making, innovation, and problem-solving.
Through exploring different knowledge management system examples, we have hopefully provided you with a clear overview of the types of knowledge management systems available and how they can be used. Whether it's a document management system, a collaboration platform, or a learning tool, each system has its unique features and benefits.
By highlighting some of the best providers of knowledge management systems on the market, you will be able to look deeper into their success stories and discover what differentiates them from their competitors. These companies have earned their reputation by delivering user-friendly and reliable solutions that cater to the diverse needs of businesses across various industries and of different sizes.
Remember, knowledge is power, but managing that knowledge effectively is equally important. So, explore the world of knowledge management systems, find the one that suits your needs, and unleash the power of collective intelligence in your organization.
Create multiple self-service portals
Have multiple brands or products that you manage with LiveAgent? No problem, create a unique customer portal for each! Try it today. No credit card required.