The world of customer support is evolving at a rapid pace, with artificial intelligence leading the charge, and transforming the way businesses interact with their customers.
We at LiveAgent have something new on the horizon, and as you'd imagine, it's related to artificial intelligence! We are pleased to announce that we are working on one of our most ambitious features which will be powered by artificial intelligence. We will keep announcing the new features as we proceed with the development process, but in the meantime, we can tell you about the very first one you will be able to get your hands on. We are currently planning out an AI-driven feature which will help you by crafting email ticket reply templates based on your existing knowledge base articles.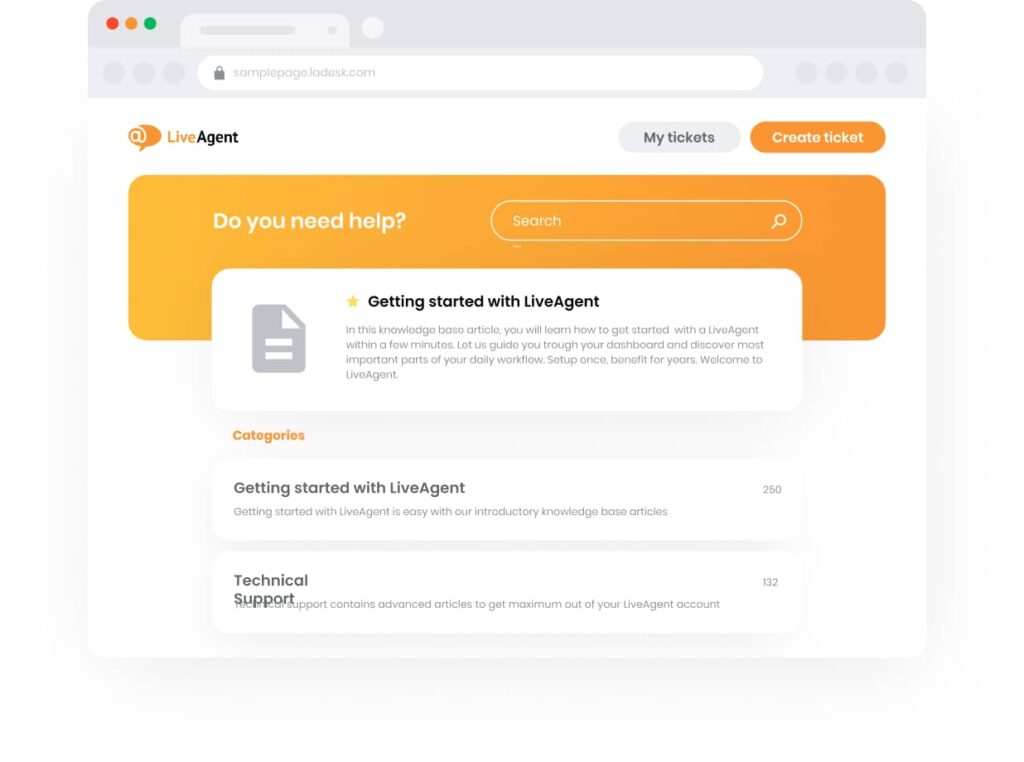 These email ticket reply templates will be tailored to various use cases based on the helpful responses and guides from your articles. That means that all agents will be able to save more time on creating responses to customer queries, and can quickly access information instead of searching through hundreds of articles. This new feature will be able to significantly improve your response times and bring forth an amazing customer experience with better overall satisfaction.
How does the new AI-powered email ticketing reply & templates feature work?
This AI-powered feature will utilize advanced machine learning algorithms to learn, understand, and analyze the content of your entire knowledge base, or multi-knowledge base. It will go through each article to gather information for further analysis and use. Afterwards, the AI will suggest the best and most appropriate answer for an email ticket based on its context. This feature will be designed to work seamlessly with the LiveAgent functionality, and you will be able to access it at any time, depending on your pricing plans.
All agents will have the ability to accept or reject all answers suggested by the AI, but they can also edit them, customize them, or add pieces of text if necessary. The feature won't require any difficult configuration process, but it will need access to knowledge base articles to gain relevant source material to craft appropriate answers.
Benefits of AI-powered email ticketing reply & template suggestions
Improved response time
AI-generated responses are not only smart and perfectly worded, they can also save you immense amounts of time. Instead of researching articles and typing replies on your own, use the AI-suggested reply as it is, make edits and minor changes, or add your own paragraphs to make them more personal. It takes just a short amount of time for the system to generate a reply for you, so you can move forward with that pressing customer issue sooner.
Increased answer accuracy and efficiency
Email responses generated by AI are not only a fast way to move forward with customer communication, they also bring a new level of accurate answers. Pressing issues often require agents to act quickly, and this alone can often create room for human error. Since the AI can correctly identify issues and suggest a proper solution to them, you can avoid many mistakes and focus on solving issues quicker.
Personalized support for each situation
The AI email suggestions and templates are just as good as your knowledge base is, which is why this feature is ideal for providing personalized support which addresses the issues directly. You can rely on LiveAgent to always suggest the correct course of action for your communication.
Ready to improve your customer service?
LiveAgent's AI-powered feature will save you time crafting email ticket replies. This means faster response times and a better customer experience!
Cut costs
While your agents might be trained quick responders, they can handle many more customer inquiries with the AI features to back them up. Save time, cut down costs, and address more issues simultaneously. Another benefit is that all of your agents can focus on taking a much needed break after such a productive day.
Stay tuned for further updates to learn more about the release date of this feature, as well as announcements about new features powered by artificial intelligence.