Support agents are often drowning in a sea of customer inquiries, trying to find and provide the right answers as fast as possible. Why? Because customers can become impatient if it takes forever to resolve their issues. This is what a customer support nightmare looks like for many companies. But don't worry! This is where knowledge-centered service (KCS) comes into play. So let's dive into it.
What is a knowledge-centered service?
Knowledge-centered service (KCS) is a customer support approach that revolves around one golden rule: knowledge is power. It's a method that centers on knowledge during support interactions; as customer issues are resolved, the knowledge is captured and refined for addressing future problems. By consistently expanding and refining its framework, businesses can maximize customer service support outcomes and provide exceptional service.
For example, every time a support agent handles an issue, they check the knowledge base to see if a solution for this problem is already documented. If so, they simply follow the steps, updating it if any of the steps have changed. However, when there is no documentation on this particular problem, the agent resolves the issue and documents the entire process by creating a new knowledge base article that can be used in the future.
Now that you know what a knowledge-centered service is, let's continue and dive even deeper.
Why is knowledge-centered service important?
The importance of a knowledge-centered service cannot be understated. It captures collective knowledge, letting employees build a shared resource they can draw from to solve customer issues more efficiently and make informed decisions.
However, it's important to keep in mind that in order to do so, it needs to be continuously updated based on new insights and customer feedback. This culture of continuous improvement helps organizations evolve based on customer needs, enhancing customer service and experience, which ultimately leads to long-term success.
Uncovering the benefits of knowledge-centered service
Enhanced efficiency and productivity: By building a library of KCS articles filled with guides and solutions, your employees will be able to access accurate information enabling them to respond to customer questions more effectively. This boosts overall productivity and allows customer service teams to handle a higher volume of inquiries, leading to lower resolution times and higher customer retention.
Innovation and improvement: KCS creates a culture of continuous improvement and service innovation. How? By capturing and updating crucial information, organizations will be able to identify patterns, uncover gaps in their products/services, and make informed decisions to enhance what they offer to their customers. This allows businesses to adapt more easily to evolving customer needs and continuously deliver value.
Cost-effective: By implementing KCS and therefore promoting self-service options, customer service reps can quickly find answers on their own and resolve more customer tickets in less time. This means that businesses can serve a higher number of customers without the need to hire more agents and allocate their resources more efficiently.
Employee satisfaction: With easy and quick access to accurate information, agents feel more confident, capable, and satisfied in their work. This enhances employee morale and fosters a positive work environment, leading to higher job satisfaction and retention.
Principles of knowledge-centered service (KCS)
There are a few key principles that lay the foundation for the successful implementation of KCS. Following these principles can also help you create a knowledge-centric culture within your organization and provide exceptional support experiences. So, let's take a second to explore these principle.
Capture knowledge: If you want to build an awesome knowledge base, take every interaction with your customers as an opportunity to learn. It's important to document and capture knowledge as part of the work processes on a daily basis. By making knowledge capturing a seamless part of the work routine, you ensure that valuable information is preserved and shared.
Improve knowledge: However, gathering knowledge should never remain stagnant. Empower support agents, experts, and customers to contribute to knowledge growth by sharing ideas, updating information, and providing new perspectives. By doing so, you can tap into a wider pool of expertise, resulting in a richer knowledge base.
Reuse knowledge: A knowledge base is only valuable if it is easily accessible and actively used. Reusing what has been already learned can help solve problems more efficiently and significantly reduce resolution times.
Develop a rewarding culture: Successful implementation of KCS also requires a shift in mindset by creating a culture that values knowledge collaboration and the sharing of knowledge. To achieve this, promote knowledge-sharing initiatives, and recognize and reward individuals who contribute to the knowledge base.
Measure success: It's important to establish meaningful metrics to measure the impact of KCS. Pay attention to things like knowledge base usage, customer satisfaction rates, agent productivity, and resolution rates, among others. Analyze these metrics regularly and use the insights to identify areas for improvement or for adapting the KCS strategy.
Helpful tips for applying knowledge-centered service
Does it all seem a bit overwhelming? Don't worry, by following these simple tips, you'll be on your way to applying KCS to your business successfully.
Implement an effective knowledge management system: First of all, invest in a knowledge management system that will facilitate easy documentation, organization, and retrieval of KCS knowledge. Features like search widgets and collaborative editing can help you streamline knowledge creation and provide a seamless maintenance process.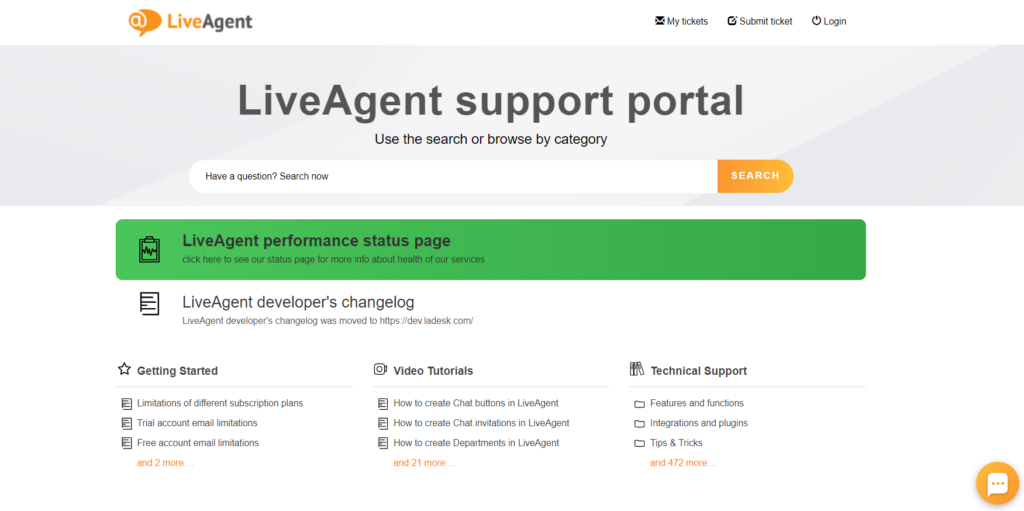 Train your support agents: Provide comprehensive training to support agents on how to use the knowledge base and highlight the business benefits it brings to the table. Show them how to effectively search, update, and contribute to the knowledge base, and empower them to use their expertise to create valuable KCS articles.
Encourage customer engagement: Involve your customers in the knowledge-creation process. Allowing them to share their feedback and experiences will not only enhance the quality of the knowledge base but also foster a sense of community and increase customer loyalty.
Update and improve: Make sure to regularly review, update, and improve the knowledge base articles to ensure the accuracy of knowledge content and relevancy. Use analytic tools to track the usage and effectiveness of the knowledge base and make data-driven decisions to enhance its impact.
How does knowledge-centered service work?
As mentioned before, knowledge management is about capturing, managing, and maintaining the KCS knowledge within your knowledge base. All the knowledge in KCS goes through a double-loop process: solve loop and evolve loop.
Solve loop
The solve loop practices focus on solving customer issues. Support agents can access and reuse the information that is already available in the knowledge base, or, if there is no documentation regarding the issue, they can use their expertise to resolve the issue and capture the process along the way, making it easily accessible for future use.
The solve process goes through 4 stages:
Capture stage – create relevant articles based on the customer's perspective
Structure stage – make sure the article has a structure that is easy to follow for the user
Reuse stage – use the documented business knowledge when an issue arises
Improve stage – make necessary changes and keep the content fresh and up-to-date
Evolve loop
In the evolving stage, the captured knowledge is continuously improved and updated as new insights come to light to ensure accuracy and relevance. This could involve adding new information, refining existing content, or incorporating feedback from your customers.
The evolve process also consists of 4 parts:
Content health – evaluate and maintain the knowledge base to ensure its accuracy, relevance, and usefulness
Process integration – integrate the knowledge base into existing workflows and support processes
Performance assessment – analyze the impact and effectiveness of knowledge-centered practices by tracking key metrics
Strong leadership and communication – provide clear directions, support, and resources to the customer support team, and foster a collaborative environment
To summarize, the double loop process forms a continuous cycle, ensuring that knowledge is continually refined and expanded. As support teams solve customer issues and gather new insights, they incorporate them into the knowledge base to help organizations provide more effective customer support, improve the customer experience, and foster a culture of continuous improvement.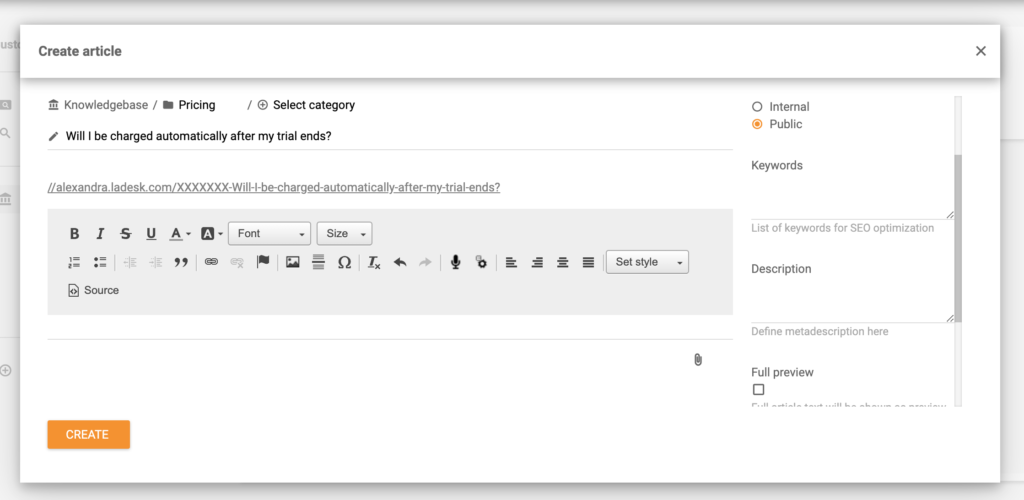 Challenges in implementing knowledge-centered service
While KCS offers numerous benefits, it also comes with its fair share of challenges. Let's now briefly explore some of the common challenges organizations may face.
Change in management: KCS requires a shift in overall mindset and processes. Organizations need to break established habits and embrace new ways of working. Addressing the aspect of change management is key to the successful implementation of KCS.
Quality control: Not ensuring the quality, accuracy, and relevance of the knowledge base, may lead to incorrect support responses. So, to tackle this challenge, you need to set clear processes for knowledge review, verification, and updates.
Identifying knowledge gaps: Identifying gaps in your knowledge base requires effective collaboration between the members of your team. This is one of the many challenges of service teams, but by actively sharing insights and feedback, team members can pinpoint areas that need enhancement and ensure that the knowledge base remains up-to-date and relevant to users' needs.
Knowledge accessibility: The knowledge base must be easily accessible to both support agents as well as customers. This means you have to ensure seamless integration with other platforms such as support channels, self-service portals, and search functionalities.
Adoption and training: You also need to continuously train your team on KCS principles and processes, and ensure consistent adoption of KCS methodologies. Regular training sessions and reminders can reinforce the importance of these methodologies, ensuring that everyone remains aligned and informed.
Customer adoption: Encouraging customers to take advantage of self-service options and participate in knowledge-sharing communities can be also a bit difficult if they're unfamiliar with it. Therefore, businesses need to educate customers on the benefits and accessibility of self-service options.
Real-world examples of knowledge-centered service
KCS can be valuable for any and every organization that focuses on solving their customer's or stakeholder's problems in a timely manner. To give you a better understanding, let's look at some real-life examples to see KCS in action.
Software companies can provide a support center with content on features, FAQs, and troubleshooting guides. This not only helps customers find answers independently but also assists support agents in addressing queries and advanced issues more efficiently.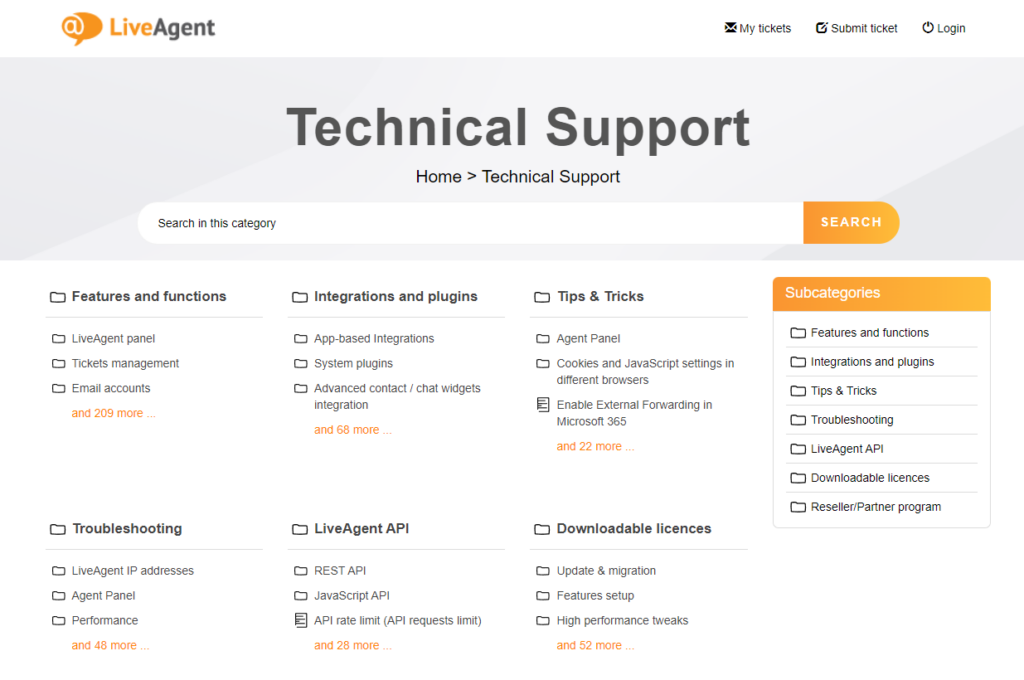 Healthcare businesses can create a knowledge base detailing treatments for various conditions, offering advice, listing professionals with contact details, and guiding customers to wellness programs for better health.
Financial institutions can use the internal and external knowledge base to provide crucial information about changes in their products and services. They can empower their customers to find answers to common banking queries, such as managing accounts quickly and on their own. On the other hand, support agents can access this knowledge base to quickly address customer inquiries.
E-commerce businesses can build a robust knowledge base where they can provide self-service options for customers to find information on product details, shipping, and returns. This can boost the overall online shopping experience.
Embark on a journey through a knowledge base where every article is a stepping stone to a deeper understanding. To ensure you get the most out of your exploration, we've compiled a list of related articles that delve deeper into various aspects of this topic.
How can companies successfully implement knowledge-centered service?
So, after getting a better understanding of KCS, it's now time to implement it into your business. But where to start? Well, here are a few simple steps to help you make KCS work for your business.
Step 1: Set your goals
You can start by asking yourself what are your performance goals and what you want to achieve by implementing KCS. Identify the areas of customer support that you want to improve and define how KCS can help you achieve it.
Make sure to also determine which metrics you want to focus on. Do you want to measure resolution times? Average ticket handling time? Or maybe a customer satisfaction score? Review them regularly and adjust them based on your changing needs.
Step 2: Establish knowledge capture processes
Establish a process for capturing knowledge as part of everyday workflow. This could involve documenting solutions to common customer inquiries, improving existing content, creating templates for new articles, and so on. The important thing is to make it as easy as possible for agents to capture knowledge and integrate it seamlessly into their workflow.
Step 3: Create a structure
Before starting a content creation process, it is important to come up with a system to organize and structure knowledge in a way that is intuitive and easily searchable. Use categories, tags, and metadata to classify articles. You can also use a knowledge management platform or an intuitive knowledge base software, such as LiveAgent, that enables efficient storage, retrieval, and maintenance of knowledge articles.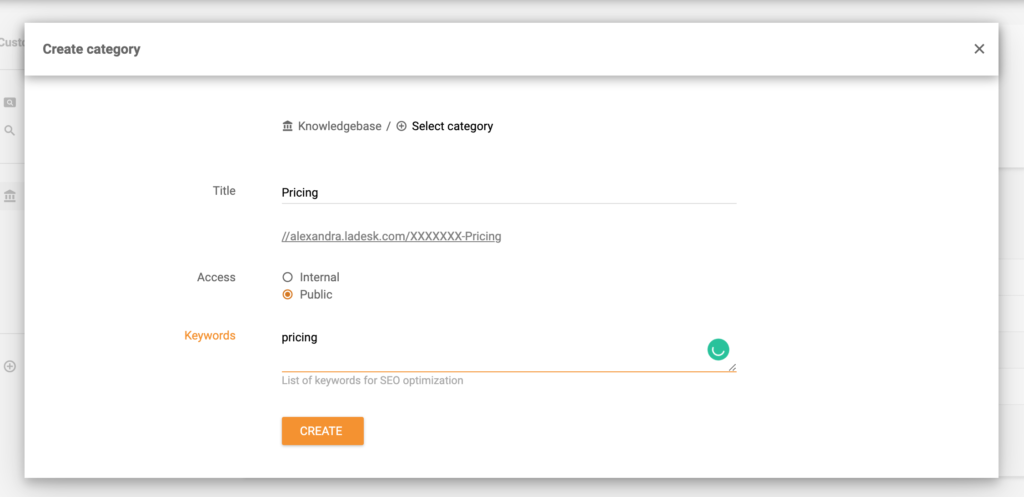 Step 4: Create a knowledge-centered culture
While paramount for success, it's not just about creating and capturing knowledge. You also need to encourage collaboration and knowledge sharing within your company. This involves fostering an environment where the sharing of knowledge is encouraged and recognized, providing resources and tools to document knowledge, and integrating knowledge management practices into daily operations.
Step 5: Provide training
Training and educating your team on the principles and processes of KCS will ensure they understand how to effectively capture, structure, and reuse knowledge. Make it an ongoing process and provide your employees with support and resources to help them navigate the knowledge base, so they can contribute to its growth.
Step 6: Improve and update the content regularly
What's a better way to improve and update your content than by gathering insights and feedback from both support agents and customers? It will allow you to keep it accurate and relevant at all times. At the end of the day, the knowledge base is there for them. You can also track key performance indicators (KPIs) related to knowledge base utilization, customer satisfaction, and support efficiency to identify areas that may need some improvement.
Step 7: Measure and analyze the performance
And last but not least, analyze the impact of KCS on your business. Monitor metrics such as customer satisfaction scores, first contact resolution rates, and knowledge base utilization. Use these metrics to track the effectiveness of KCS and identify areas for further improvement based on this data.
Remember that implementing successful knowledge-centered support is not a one-time project but an ongoing process of nurturing a culture of knowledge-sharing and improvement. With time and effort, your organization can reap its benefits and deliver exceptional support experiences to your customers.
Conclusion
To sum it all up, knowledge-centered service is a powerful approach that sees the value of knowledge in delivering exceptional customer support experiences. By implementing KCS, organizations can tap into the collective wisdom of their teams, accelerate problem resolution, and empower customers through self-service options. The basic principles of KCS include capturing, reusing, improving, and evolving knowledge, as well as creating a culture of continuous learning and improvement.
The benefits of consistency in KCS are clear: reduced demands on customer support agents, improved customer satisfaction, and increased operational efficiency. However, it doesn't come without challenges. Consistency matters. Building and maintaining an up-to-date and healthy knowledge base requires effort, and ensuring the accuracy and relevance of the information can be a continuous task. So, organizations can invest in knowledge management systems to help them streamline the process of creation, collaboration, and communication within the company.
If you're looking to implement KCS in your business and boost your customer support, consider giving LiveAgent a try. With its advanced set of support tools, including a powerful internal and external knowledge base feature, LiveAgent can help you seamlessly implement KCS principles and provide exceptional support. Take advantage of the 30-day free trial to experience the benefits firsthand.
Ready to revolutionize your KCS strategy?
Try LiveAgent's knowledge base to enhance your customer support experience. Level up your support game and deliver exceptional service!
Frequently Asked Questions
What is the KCS strategy?

The KCS strategy is a customer support approach that focuses on capturing, organizing, and reusing business knowledge to provide efficient support. It involves building a comprehensive knowledge base platform where support agents and customers can find answers to common issues and questions, as well as solutions to complicated issues.

What are the 4 KCS principles?

The four key principles of KCS form the foundation of this methodology. The four principles are Abundance, Value creation, Demand-driven, and Trust.

Is KCS a rich methodology?

Yes! Knowledge-centered service is a methodology that goes beyond simply providing customer support. By implementing KCS, organizations can foster a culture of collaboration, empower customers through self-service, and drive efficiency by streamlining support processes.

What is KCS in project management?

By implementing KCS principles and practices in project management, organizations can enhance collaboration, streamline project workflows, and enable continuous learning and improvement for a seamless workflow.