You know, organizing a knowledge base is kind of like organizing a messy closet – it can be discouraging, but also so rewarding in the end. A properly organized knowledge base not only saves you time and headaches, but also empowers your customers, giving them the tools to find answers independently.
With all being said, are you ready to discover the secrets to a knowledge base organization? Then let's dive into these 8 steps that will help you achieve the best knowledge base organization you've ever dreamed of.
Risks of an unorganized knowledge base
But before we dive into the specific steps of effective knowledge base organization, let's take a moment to understand the risks associated with leaving your knowledge base in a state of disarray.
Imagine this simple scenario: a customer is searching for answers to a simple question. They decide to visit your website, navigate to the knowledge base section, and… they find a mishmash of outdated and scattered articles. They become frustrated as they try to make sense of the conflicting and outdated information. Ultimately, this leads to the customer becoming irritated with your company which can cause them to switch to one of your competitors.
And it doesn't stop there. An unorganized knowledge base can have a domino effect on your team's productivity. If your employees are spending hours rummaging through a disorganized sea of files to find the right document, it not only wastes their valuable time, but also affects their ability to provide efficient and effective customer support. It can also lead to poor service quality which harms your company's reputation. Your customers may start viewing your business as unreliable or untrustworthy causing a major blow to customer loyalty and your overall brand image.
But don't just take my word for it. According to a study done by Microsoft, more than half of the customers say that the main reason they cannot resolve a problem on their own is due to lack of information available online which causes major frustration. Another research by Software Advice shows that after just 10 minutes of searching online, more than 52% of customers will give up and contact your customer support team instead. This means that you need to organize your content better in order to facilitate the navigation and availability of your articles.
The bottom line is that an unorganized knowledge base puts your customer satisfaction, employee productivity, and company reputation at risk. But don't worry! Now, we'll explore the simple steps you can take to avoid these risks.
8 Steps to organize your knowledge base
Now that we understand the risks caused by an unorganized knowledge base, it's time to roll up our sleeves and get to work! Let's build a plan to organize your knowledge base and bring order to the chaos. The best part? This process can be applied to different types of content, whether it's articles, FAQs, tutorials, or other additional resources. So, no matter what kind of knowledge you're dealing with, these steps will have you covered.
Step 1: Define clear objectives
First things first, it's important to have a clear vision in mind. So take a step back and ask yourself: what is the main objective of your knowledge base? Is it to provide exceptional customer support and help your customers find solutions to their problems? Or perhaps it's to facilitate onboarding of new employees, ensuring they have easy access to training materials and helpful resources.
Defining the objectives is like setting the destination on a GPS before a road trip. It guides you through the entire process and helps you make informed decisions along the way. Having a well-defined objective will help you determine what kind of information is relevant and how it should be properly categorized and structured.
Step 2: Identify target audience
Now, with a clear objective in place, it's time to turn your attention to those who will be using your knowledge base and benefit from the type of content you create. Stats show that 91% of customers would prefer to use an online knowledge base if it were available and tailored to meet their needs.This means that understanding your target audience is important in order to create an organized platform that fully serves its purpose.
Different groups may have different needs, preferences, and levels of technical expertise. Therefore, tailoring your content structure and language to suit your target audience best is like speaking the language of your customers. Imagine explaining a complex concept to a beginner in the field versus an expert. The approach would be drastically different, right? So, by identifying your target audience, you'll be able to prioritize the information that matters most to them, use the appropriate terminology, and adopt a tone and style that resonates with them.
Step 3: Content audit and inventory
The next step on the journey to an organized knowledge base is content audit and inventory. Think of this step as decluttering your knowledge base from outdated and irrelevant articles that no longer serve their purpose. Remember, the goal is to make your knowledge base tool accessible and user-friendly. So, take your time. Once you are done, it will give you a clear picture of the scope of content that needs to be organized.
Step 4: Create a logical structure
In order to create a knowledge base that is structured and easy to navigate, imagine a tree with different main branches (categories) and smaller branches (subcategories) that extend from them. This structure will create a clear hierarchy of your content, making it easier to find the right information.
For example, if you have a knowledge base for a software company, you might create categories like "Getting Started", "Technical support", and "Billing and payment methods". Within these categories, you can then create subcategories like "Installation," "Common Errors," and "Accepted payment methods." This allows users to follow a logical path as they navigate through the knowledge base.
Creating this logical structure is all about making things easy for your users. So, map out the structure of your knowledge base and ensure it's intuitive and user-friendly.
Step 5: Develop a tagging system
Developing a tagging system involves assigning relevant keywords or tags to each article or piece of content. These tags act as descriptors for the content, helping users quickly identify and filter relevant information.
But you might be asking yourself: why is a tagging system so important? Let's imagine that a user is searching for information about a specific feature. With tags in place, they can simply click on the relevant tag and see all the articles related to that specific topic instead of rummaging through other articles that won't provide the right information. For example, if you have an article about "Common Errors" in your troubleshooting category, you could use tags like "error messages", "bugs", or "technical issues".
Also, it is important to keep your tagging system consistent throughout your platform to ensure that similar tags are used for related articles, making it easier for users to navigate their way from one article to another.
Step 6: Revise and optimize content
Now, it's time to give your knowledge base articles a makeover by revising and optimizing them.
One of the key reasons for revising each article is to ensure accurate answers and clarity. Review the content and make sure that your target audience will be able to easily understand it. Make it your mission to provide clear, concise, and user-friendly information in each article. Additionally, reviewing your articles regularly will ensure that all the information is current and relevant.
Consistency in formatting is another important aspect to look out for during the revision process. Make sure that all headings, fonts, and styles are consistent throughout your knowledge base articles which will give them a more polished and professional look.
Making your content SEO-friendly is also worth mentioning. By using relevant keywords and optimizing your titles, meta descriptions and URLs, you can improve your visibility in search engine result pages. This will help you attract more organic traffic to your knowledge base and improve your brand image.
Step 7: User-friendly titles and descriptions
When it comes to crafting user-friendly titles, put yourself in the shoes of your users. Ask yourself, "What would they search for?" The titles should therefore directly reflect the queries your users might have. For example, if you have an article about troubleshooting Wi-Fi connection issues, a user-friendly title could be something like "Solving Common Wi-Fi Connection Problems: A Step-by-Step Guide". By using keywords and addressing the main problem directly in the title, you increase the chances of your article being relevant and easily discoverable.
In addition to catchy titles, write brief descriptions for each article. These descriptions should serve as summaries of the content, giving users a preview of what they can expect if they click on the article. With a well-crafted description, users can scan through the knowledge base and find what they need in a flash.
Step 8: Implement visual enhancements
We all know the saying "a picture is worth a thousand words" right? Implementing visuals such as images, videos or diagrams into your content will take it to the next level. These elements complement the text by breaking up large chunks of text into more easily digestible parts which makes the text easier to read and understand. Videos are also a powerful tool for conveying information. They provide visual demonstrations, step-by-step tutorials, or showcase product features. Including them in your knowledge base not only adds a dynamic element but also caters to different learning preferences.
When selecting visuals, remember to aim for high-quality. By incorporating them, you'll create a visually appealing and immersive user experience, making your knowledge base not only informative but also enjoyable to explore.
How can you organize your internal knowledge base for different departments?
When it comes to organizing your internal knowledge base, it's important to consider the needs and requirements of each department within your company. Different departments often have their own specific knowledge that they need to store and benefit from. Let's look at four common departments and the types of knowledge they can store in their dedicated sections:
Customer support – The role of customer support agents is to assist customers and answer their questions effectively and efficiently. Therefore, their dedicated knowledge management tool could include articles regarding common troubleshooting issues, frequently asked questions (FAQs), or best practices for providing great customer service.
Sales – The sales department's strengths lie in their product knowledge, sales strategies, and competitive information. Therefore, the knowledge base section dedicated to the sales team could include product feature descriptions, pricing guidelines, sales scripts, or objection handling techniques. By making this information organized and easily accessible, the sales reps can quickly retrieve the information necessary to close deals and achieve a seamless sales process.
Marketing – The main focus of the marketing department is promoting the company and its products or services to potential customers. In order to do their job right and attract new customers, their knowledge base could include branding guidelines, marketing campaigns strategies, market research, competitor analysis, or social media strategies. Having all this information organized under one roof allows the marketing professionals to ensure consistent strategy across different channels and drive successful campaigns.
Human resources – The HR department handles employee-related matters and organizational policies. By having easily accessible knowledge base material, the HR team can provide important information to other employees, ensuring smooth operations and processes within the company. The documentation may include onboarding materials, HR policies and procedures, information about employee benefits, training resources, employment contracts, and more.
Even though each department has its own dedicated section, fostering collaboration and knowledge sharing across departments is key for every successful business. One way to facilitate internal communication is by taking advantage of LiveAgent's features such as internal calls, internal chat, or sharing of attachments, documents and files. These features help employees collaborate on projects, conduct internal meetings, promote seamless knowledge sharing, and cross-departmental cooperation. This also leads to improved productivity and efficiency across your entire organization.
If you would like to give our knowledge base a try, take advantage of the 30-days free trial. You will be able to enjoy many amazing features for free without any strings attached.
Embark on a journey through a knowledge base where every article is a stepping stone to a deeper understanding. To ensure you get the most out of your exploration, we've compiled a list of related articles that delve deeper into various aspects of this topic.
How does a well-organized knowledge base article look?
A well-organized knowledge base article should consist of several key features in order to be valuable to users and for them to quickly find information they need. Let's take a look at some examples of a well structured and user-friendly article.
First of all, the article should have a clear and descriptive title that directly reflects the user's query. In this case the title "How to create a shared inbox in Gmail" suggests that the article is going to guide you through the process of creating a shared inbox.
It also provides a concise introduction that sets the context and outlines what the article is about to address.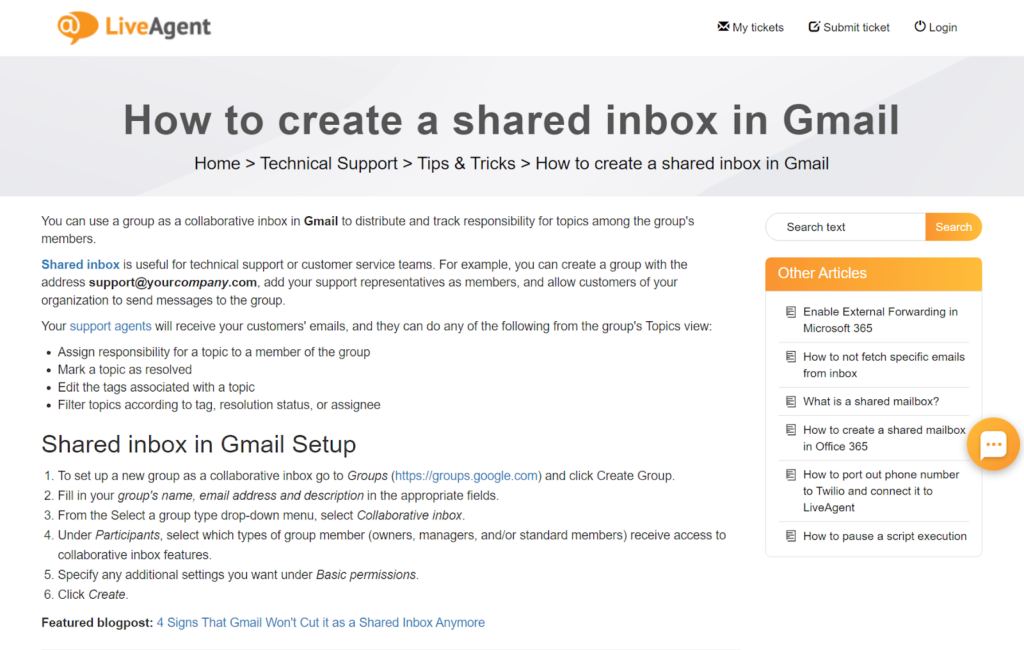 Another important thing is to organize the article in a logical manner and present the information in a step-by-step format or in defined sections. These sections should be clearly labeled and accompanied by relevant information.
Using visual design elements such as images, videos, or diagrams can also make the article easier to understand. In this case, LiveAgent provides video as well as step-by-step instructions with images to show you the entire process of setting up proactive chat invitations.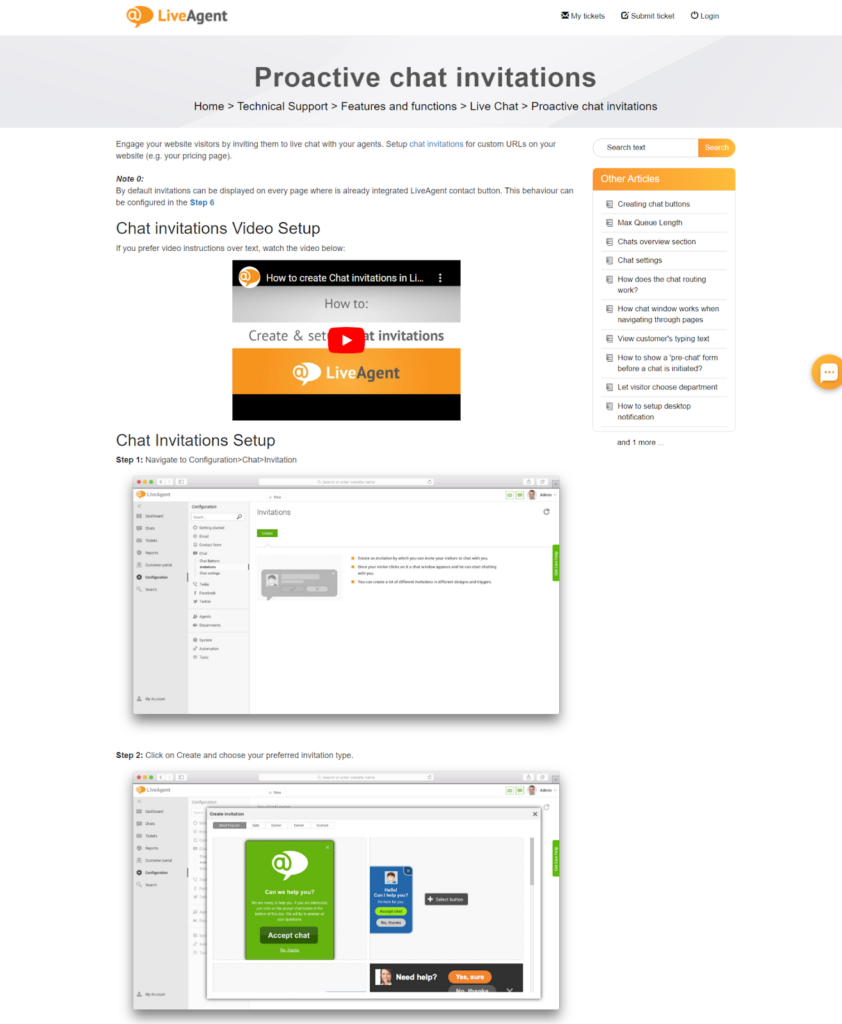 Incorporating internal links and cross-references can help users navigate from one article to another, expanding their understanding of the topic and engaging more with your knowledge base content. However, don't place your internal links randomly throughout the article. Use relevant keywords that will suggest the content hidden behind the internal link, so the user knows what to expect when they decide to click on it.
To provide additional information or to further support users in their quest for knowledge, you can provide links to other related articles. You can create a separate section where you display them and encourage the user to explore more information related to the topic they are interested in.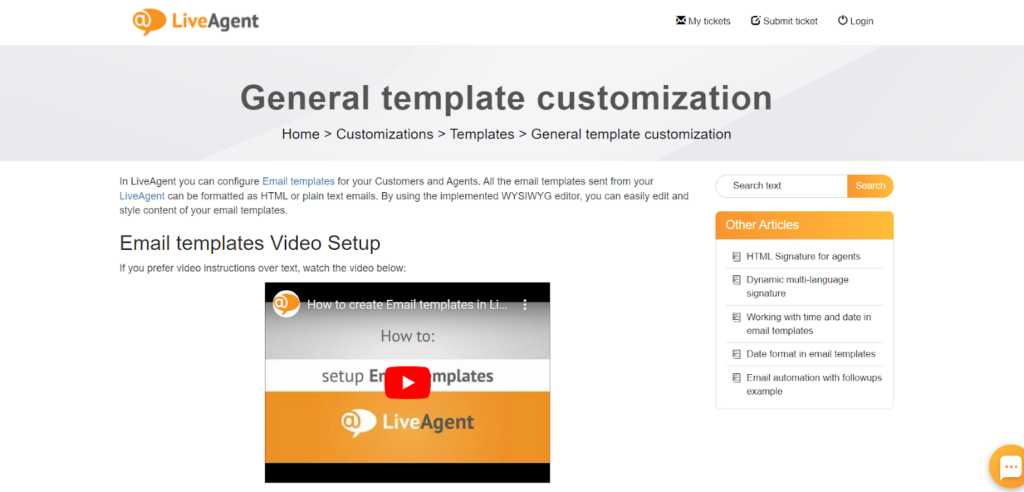 How can you encourage users to explore the knowledge base?
Encouraging users to explore more of your awesome knowledge base can be a game-changer in providing self-service support and reducing the load on your customer service team. However, it can be a difficult task to do.
Therefore, to make your knowledge base enticing and user-friendly, here are a few strategies you can consider:
Design a user-friendly homepage and navigation menu: Your homepage should have a clean and intuitive design. Also, make sure it's visually appealing and showcases the value and benefits it provides. Plus, providing a well-organized navigation menu with clear categories and subcategories will make it easy for users to find the information they need and therefore urge them to explore more.
Showcase featured articles and popular topics: Highlighting a selection of featured articles and popular topics directly on your homepage can pique users' interest and lead them to explore further. These could include the most common issues or in-depth guides that are highly relevant to users.
Interlinking articles and FAQs: Include relevant links to related articles and FAQs in each article. This helps users navigate smoothly and discover additional content. For example, if someone is reading an article about troubleshooting a specific issue, you can include links to related articles about common error messages or FAQs that cover common questions about the topic.
Improve search functionality: Implement a search function that allows users to quickly find the information they need. Make sure a prominent search bar is displayed and provides accurate results based on relevant keywords.
Encourage users to leave feedback and ratings: Provide a way for users to give feedback on the helpfulness of articles. This will give you valuable insights for improving your knowledge base, and also helps users identify reliable and well-rated content.
Conclusion
To sum it all up, understanding the risks of a disorganized knowledge base is crucial because without a proper organization, valuable knowledge can get lost, leading to frustrated users and strained customer support teams.
By following our 8 simple steps, you can transform your knowledge base into a well-organized and engaging resource. Each step plays a vital role in creating a user-friendly experience. But remember, it's not just about organizing your external knowledge base for customers. Internal knowledge base organisation is equally important. Different departments within your company can strongly benefit from having dedicated sections for their specific knowledge needs. Allowing them to share information internally can boost collaboration and efficiency among your team members.
So, take the time to organize your knowledge base, both internally and externally, and watch as users become more engaged and self-sufficient. It is a valuable resource that can streamline support efforts, boost customer satisfaction, and empower users with the information they need at their fingertips.
Unlock your team's potential with our knowledge base software!
Get started now and transform how you manage information.
Frequently Asked Questions
How can I prevent redundant content in the knowledge base?

To prevent redundant content, perform reviews and regular updates to ensure your articles are relevant and up-to-date. Merge similar topics or information into a single comprehensive article to avoid duplicating content.

Should I prioritize chronological or categorical order for knowledge-based articles?

When organizing knowledge-based articles, it is generally more effective to prioritize categorical order over chronological. Categorical order allows users to quickly locate information based on relevant topics, while chronological order may not always be as relevant or intuitive.

What software or tools are best for creating and managing a knowledge base?

When it comes to knowledge management and creation, one popular knowledge base software option is LiveAgent. It offers robust features for creating, organizing, and updating content. However, there are many other software and tools available, so the best choice depends on your specific needs and preferences.

How can multimedia elements be integrated into a knowledge base to make it more engaging?

The multimedia elements not only break up the text but also cater to different learning styles and make the learning experience more enjoyable. Use images to illustrate concepts, video tutorials to provide demonstrations, and interactive graphics to enhance user interaction.

How do you handle multiple languages or regional differences in a global knowledge base?

To handle multiple languages or regional differences, you can use a multi-knowledge base feature like the one provided by LiveAgent. It allows you to create separate knowledge bases. This way, you can provide a seamless customer experience to users worldwide and cater to their language preferences and regional requirements.

How can feedback from users be incorporated to improve the knowledge base?

Actively seeking feedback through surveys, comments, or user support tickets, and analyzing the input can help you identify areas for improvement. Use the feedback to update and enhance articles, address gaps in information, and make the knowledge base tool more user-centric and helpful.