Imagine being a frustrated customer, attempting to troubleshoot an issue with a newly purchased gadget, but finding oneself sifting through endless pages of text without a clear solution in sight.
It can be quite challenging to capture your audience's attention and deliver information in a clear and engaging way. This is where knowledge base videos come in to save the day! These videos help businesses to provide quick and effective support to their customers in a visual and interactive way. But how do you create these videos? And what should these videos look like? Don't worry, we are here to help you figure it out.
In this step-by-step guide, we are going to show you how to create knowledge base videos, what types of videos you can create to meet the needs of your customers and explain the benefits they can bring to your business. So, let's get started!
Embark on a journey through a knowledge base where every article is a stepping stone to a deeper understanding. To ensure you get the most out of your exploration, we've compiled a list of related articles that delve deeper into various aspects of this topic.
What is a knowledge base video?
Before we dive deeper, let's start with the basics: what exactly is a knowledge base video?
Knowledge base videos are a powerful tool to convey ideas in a simple and visual way. Instead of sifting through walls of text, a video allows you to watch, listen, and learn at your own pace. Whether you want to troubleshoot an issue, learn a new skill, or simply explore a complex topic, a video tutorial can be your go-to resource. It breaks down complicated concepts and processes into easy-to-understand chunks to simplify the learning experience.
Various types of knowledge base videos
When it comes to knowledge base videos, there's no one-size-fits-all approach. Informational videos can be created in different forms depending on the content and purpose. Let's look at the various types of videos you can create.
You don't have to choose just one type of video for your knowledge base. By combining them, you can cater to the different learning styles of your target audience. So, which ones will you choose for your next project?
When should you consider using knowledge base videos?
So, the question is: Do you want to bring your knowledge base content to life and find a more engaging way to educate and inform your audience? If the answer is yes, then videos can be a valuable tool in many different situations. Here are a few instances when you should definitely consider them.
Benefits of utilizing knowledge base videos
Creating excellent videos and placing them into your comprehensive knowledge base articles also comes with a multitude of benefits that can positively impact your business. Research shows that 69% of customers prefer videos over text when they want to learn about a product or service.
So let's dive deeper into some of the benefits.
Step-by-step guide to creating a knowledge base video
After going through the types and benefits, you're probably asking: how do you create such videos? It may seem like a daunting task at first, but don't worry – we've got you covered! Let's break it down into simple, manageable steps.
Step 1: Make a plan
Start by determining what kind of information you want to convey. Once you have a clear goal in mind, outline the key points you want to cover in your video. This will serve as your roadmap for the content creation process.
Step 2: Create a video script and a storyboard
Write a concise, conversational, and engaging script. To help you visualize the video, create a storyboard that outlines the visual elements and transitions to ensure a smooth flow and a cohesive visual look.
Step 3: Record and edit
Now get ready to create! Set up your recording equipment, and ensure good lighting, clear audio, and a clutter-free background. Record your video based on your script and storyboard. You can take multiple shots or angles if needed. When the recording is done, edit your video using video editing software, cutting out unnecessary parts.
Step 4: Add visuals, voiceover, or narration
Don't forget to enhance your video with visually appealing elements. You can use text overlays, graphics, animations, and images to highlight key points and make the content even more engaging. But be careful and keep it simple – don't overdo it. Depending on your preference, you can add a voiceover or narration to guide viewers through the video. Make sure the audio is clear, well-paced, and matches the style of your video.
Knowledge Base / Customer Portal Demo | LiveAgent | Live Agent05:07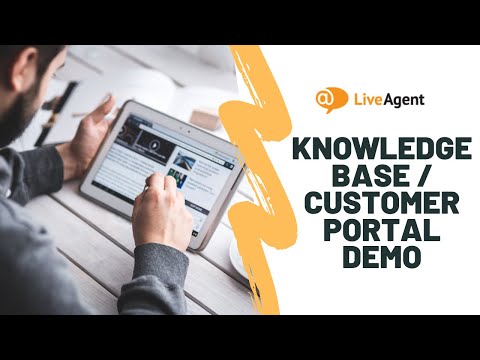 Live Agent
Step 5: Test and optimize
Before you publish your video, test it out. Watch it yourself and share it with a few people. Gather their feedback and make any necessary adjustments to improve its quality and effectiveness.
Step 6: Publish and promote
Now it's time to publish it on your website, YouTube, or other relevant platforms. Don't forget to optimize the video's metadata, including tags and descriptions, to ensure it can be easily found by your target audience. And promote, promote, promote! Use your website, blog, social media, and newsletters to increase its visibility and reach a wider audience.
And that's it! Now you have an idea about how to create a captivating and relevant video that educates, engages, and delights your viewers. So, grab your camera, start scripting, and let your knowledge shine through!
Examples of knowledge base videos
To give you a better idea of how a knowledge article with a video looks like in action, let's take a look at some real-life examples:
LiveAgent
LiveAgent provides a lot of video content on the LiveAgent support portal. The videos include step-by-step video tutorials on using specific features or troubleshooting guides that help customers resolve their issues by themselves. It provides clear explanations and visual demonstrations to assist its customers.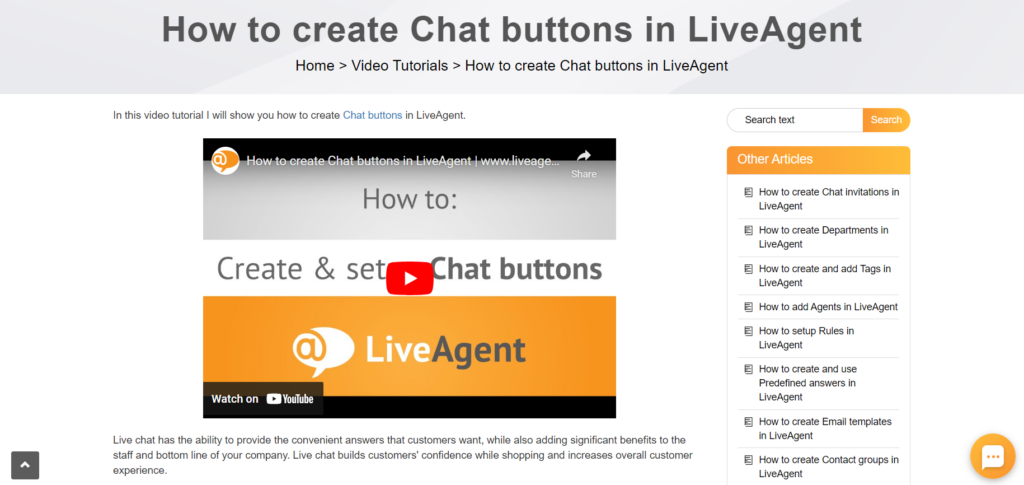 Spotify
Spotify support is another example of a knowledge base that uses videos to help its users get a better understanding through visual content. The videos include a step-by-step guide on how to get started with the app and tutorials on how to use different Spotify features. The videos use nice visuals with clear explanations to make the whole process easier for their users.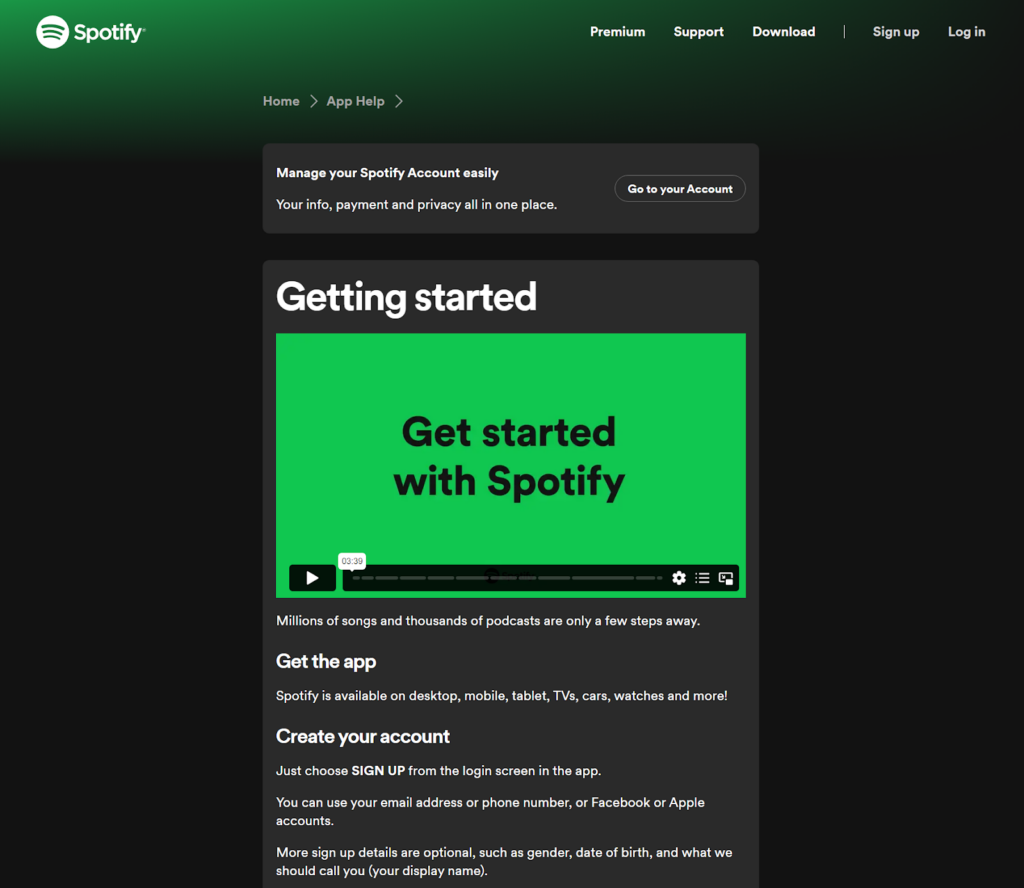 Slack
Slack's knowledge base is neatly designed, and they maintain their recognizable brand style even in their videos. You can find essential guides, introduction videos on how to get started with Slack, videos on how to use a variety of their features, and more. These videos help their users to solve their problems through simple visual content.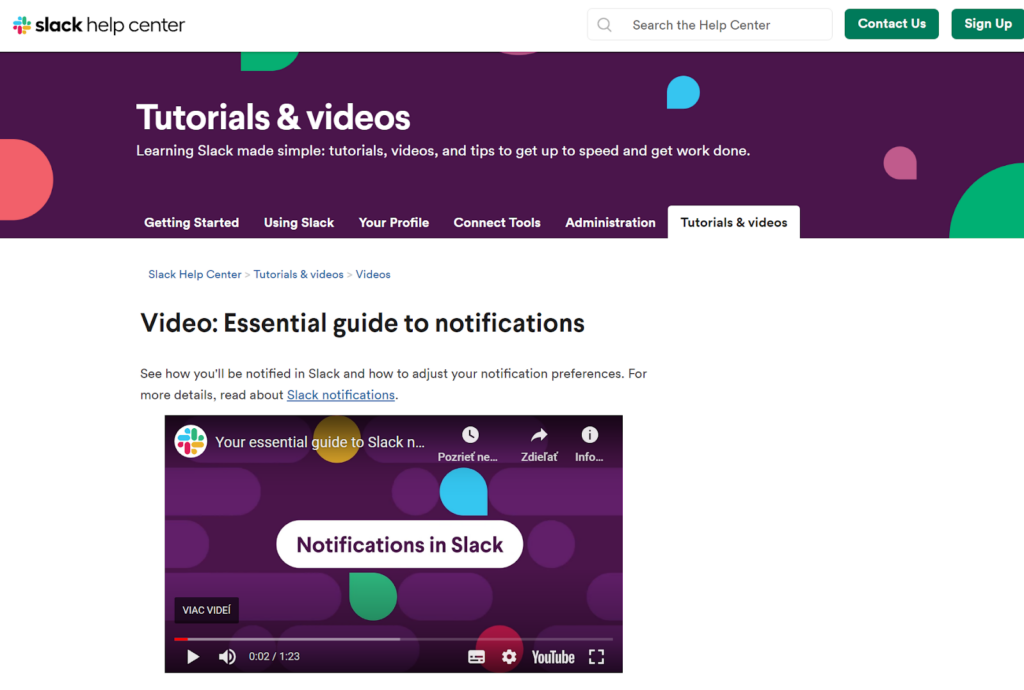 Adobe
Adobe is the software giant behind popular creative tools like Photoshop and Illustrator. On the Adobe help center, you can find knowledge base videos to help users navigate through the Creative Cloud suite. These videos offer step-by-step tutorials, a how-to video on specific features and techniques, and more. By watching these videos, users can improve their design skills and make the most out of Adobe's powerful tools.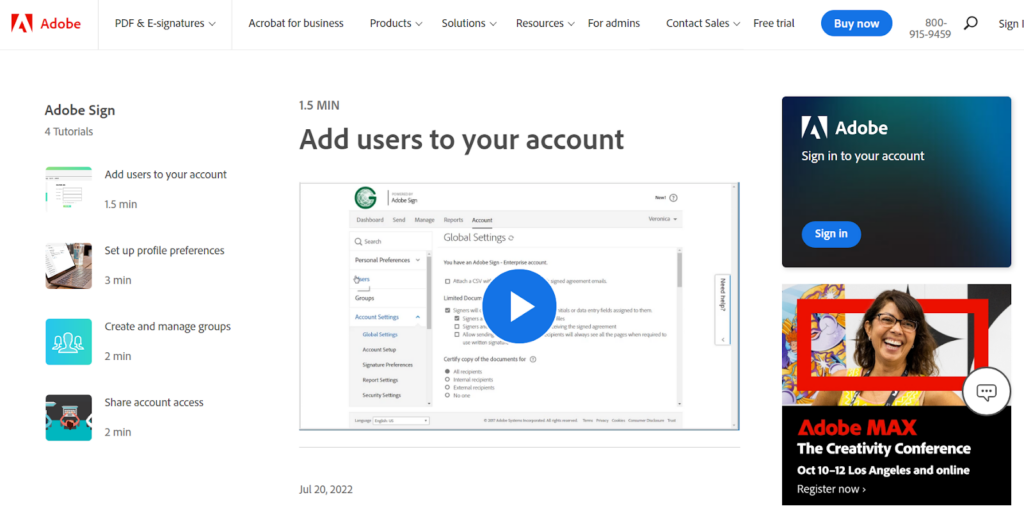 Essential tools for creating knowledge base videos
With the right video creation tools, you will be able to create high-quality knowledge base video content for your articles. Here are some essential tools you will need.
How to properly integrate videos into a knowledge base
So, you have successfully created your video, added visual elements, and are over the moon with the results. Good job! Now it's time to integrate these videos into your knowledge base for everyone to see and learn. In general, the process should be easy if you follow a few simple steps.
Choose the right video hosting platform that can handle your video content. Popular options include YouTube, Vimeo, or even self-hosting on your own website.
If you are using video hosting services such as YouTube, copy the embed HTML code of the video, open "Edit article" and paste it into your article. If you are placing the video straight into the KB article without the video hosting platform, open the article editor and choose the option of adding a media file.
Make sure to check if it's working properly and if so, publish the changes.
It's important to note that this process can be different depending on what knowledge base software provider you use. That's why LiveAgent offers an in-depth guide on how to insert videos into your KB articles easily and effectively. So, go ahead and enrich your knowledge base with the power of videos!
Conclusion
To sum it up, knowledge base videos are a powerful medium that can revolutionize how you educate, engage, and support your customers and audience. From step-by-step tutorials to troubleshooting guides, and explainer videos to product demos, the possibilities are endless. By incorporating KB videos into your content, you can enhance understanding, increase engagement, and provide a more convenient and accessible experience for your users.
However, not all types of videos will be suitable for every piece of content. Take the nature of your information and the preferences of your audience into consideration to determine which types of videos will be the most effective for your business. Each video should have a purpose and align with your content goals.
It's not only about creating fantastic videos if you don't know how to properly integrate them into your content. You need a reliable and user-friendly platform. That's where software like LiveAgent comes in. With LiveAgent, placing videos into your content could not be easier. It's a seamless and efficient way to showcase your videos, ensuring that your audience has easy access to valuable information.
So, are you ready to take your knowledge base to the next level and provide your audience with engaging and informative videos? Then try LiveAgent's 30-day free trial and explore all the features and benefits. It's time to captivate, educate, and engage your audience like never before.
Elevate your customer service
Elevate your customer support with LiveAgent's video knowledge base. Discover the future of knowledge sharing today!
Frequently Asked Questions
How long should a knowledge base video be?

When it comes to the ideal length, aim for a video that is concise and to the point, typically ranging from 2 to 5 minutes. Shorter videos make it easier for viewers to absorb all the information without getting overwhelmed or losing interest.

What skills or expertise are required to create a compelling knowledge base video?

Creating a knowledge base video doesn't necessarily require advanced technical skills or high-level production. However, there are a few key skills that can make a difference, such as effective scriptwriting, clear communication, and basic video editing skills.

What are some common mistakes to avoid when creating knowledge base videos?

There are a few common mistakes that should be avoided. Firstly, avoid using complicated language or jargon that can confuse your audience. Secondly, neglecting to script and plan your video can result in a disorganized and confusing message. Plan ahead and ensure clear delivery of information.

How can knowledge base videos complement other customer service strategies?

Knowledge base videos can complement other customer service strategies by providing an additional layer of support and convenience. They act as self-service resources that empower customers to find solutions independently, reducing the need for direct assistance. By incorporating KB videos into your content, you can enhance the overall customer experience, increase efficiency, provide exceptional customer service, and turn viewers into loyal customers.