Picture this scenario: You're sitting at your office desk, searching for that one last piece of information that you need to complete your project. You know it's buried somewhere in the large amount of documents, but where? Suddenly, a question pops into your mind: Wouldn't it be great if there was a centralized place that could provide instant answers to all your questions?
This is where a knowledge base comes to save the day and save you time, energy, and countless headaches. But you may be wondering, "How on earth do I create one?" Don't worry, by the end of this blog, you'll have all the necessary information to create a comprehensive knowledge base that will revolutionize the way your team works.
What is a knowledge base, and why do you need it?
A knowledge base is like a treasure chest of information, where you can find all the vital knowledge and resources needed to run a successful business. It's an organized collection of articles, documents, guides, video tutorials, and other forms of content that provide answers and guidance to both internal teams and external visitors. Knowledge bases are also a highly popular form of customer service.
According to LiveAgents research, more than 90% of customers expect businesses to provide an online self-service portal. And around 67% of customers try to solve their issues on their own before contacting customer support through self-service portals.
The internal knowledge base is designed for internal use within a company. It provides employees with a centralized repository of resources to support their day-to-day work. An external knowledge base, also known as customer portal, is created to provide self-service support. Here, your customers can quickly find answers to their queries and common questions without contacting your customer support team.
Let's take a look at the LiveAgent knowledge base as an example. Imagine you're a customer with a question about a product. Instead of having to contact customer support and wait for a response, you go to the LiveAgent support portal. There, you find a comprehensive library of articles that cover a wide range of topics, from troubleshooting guides to frequently asked questions. With just a few clicks, you're able to find the information you're looking for on your own.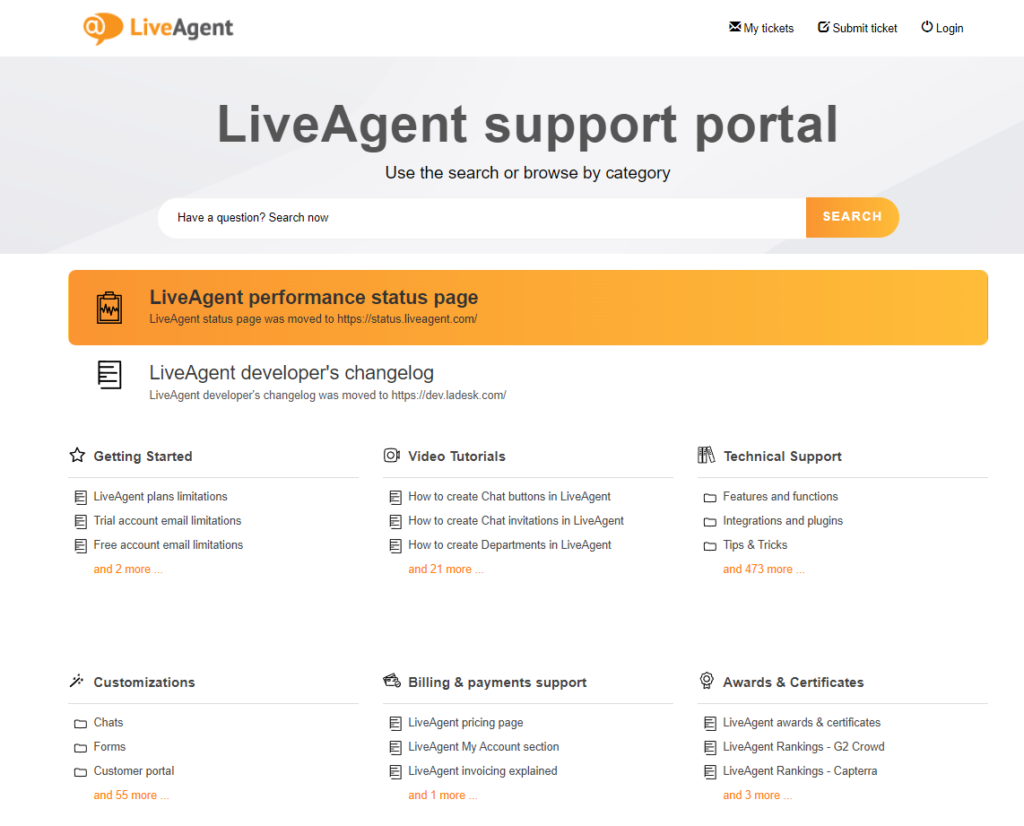 Now, let's explore a few reasons why a business needs a product knowledge base:
Empowers self-service: A knowledge base allows customers and employees to find answers to their questions quickly and independently. Providing easily accessible information reduces the number of support tickets, allowing your team to focus on more complex issues.
Enhances customer experience: By investing in a knowledge base, you're providing your curious customers with a valuable resource that is accessible 24/7. This leads to faster service and resolution times and a better customer experience.
Streamlines internal processes and knowledge sharing: A knowledge base is also a game-changer for employees. By gathering information and resources in one place, employees can quickly find the information they need to carry out their tasks. They can also share their insights, best practices, and industry knowledge with their colleagues. This helps foster a culture of continuous learning and innovation.
Facilitates onboarding and training: Training new employees can be a time-consuming process. With a knowledge base, you can create dedicated sections for onboarding materials, training videos, and step-by-step guides which reduce the learning curve.
How to create a knowledge base in 6 simple steps
Creating your knowledge base can seem like a daunting task. But, it can be as simple or as complex as you want it to be. Let us guide you through six simple steps that will give you an outline of the entire process.
1. Choose knowledge base software that will fit your needs
The first step is to choose the right knowledge base software that will fit your needs. However, make sure that the software allows easy creation and organization of articles, video content, and other knowledge base components. Then, look for features like customizable templates, a user-friendly interface, and the ability to categorize your content. Additionally, you can consider integration options with other tools your team already uses to ensure seamless workflow.
One software solution that ticks all these boxes is LiveAgent. It offers a user-friendly interface that allows you to easily create and structure your knowledge base. Its customizable templates and intuitive navigation simplify the process of organizing and updating your content. It also offers seamless integration with other tools like live chat and ticketing systems, to provide a comprehensive solution.
2. Select the essential components of your knowledge base
After finding the right knowledge base solution for your business, it's essential to choose components that will make it functional and user-friendly. Here are a few key elements you may consider:
Frequently asked questions (FAQs): FAQs are considered a foundation of any knowledge base. They serve to address common queries and provide quick answers to common issues. LiveAgent allows you to easily create, update, and categorize them, ensuring that your customers and team members can find the answers they need with just a few clicks.
Procedural content: This includes step-by-step guides, tutorials, and instructional articles that walk users through specific processes. When it comes to this type of content, it should be visually appealing and easy to follow.
Troubleshooting guides: These guides assist users in resolving common errors or basic issues they may encounter. For example, LiveAgent's search functionality also helps users to quickly find relevant troubleshooting guides, saving them time and frustration.
Multimedia: To enhance the effectiveness of your knowledge base, include multimedia elements such as videos and images. LiveAgent supports multimedia integration, allowing you to create engaging content that offers visual demonstrations of procedures or concepts.
Search bar: A search bar makes it easy for users to search for the specific thing they're looking for to save their time and avoid senseless searching through countless amounts of content.
3. Prepare content for your knowledge base
Now that you have the foundation in place, it's time to prepare the content for your knowledge base. Creating targeted, user-friendly, and SEO-optimized content is crucial to ensure your knowledge base adds value to both your customers and your team.
The best way to start is by understanding your audience's needs. Take your time to research common questions, pain points, and areas where they typically seek support. Talk to your team about the topics they would like to be included in the documentation and check any saved replies that your support agents regularly send to the customers. This will give you an understanding of the type of content that directly addresses frequent concerns and provides solutions.
When it comes to crafting your content, focus on creating high-quality articles that are easy to understand. Use a clear writing style, breaking down complex information into manageable chunks. Use headings, bullet points, and other visual elements to improve readability and make it easier for users to navigate. To optimize your content for search engines, perform keyword research and place relevant keywords naturally throughout your articles. This will increase your visibility in search results and bring more organic traffic to your knowledge base.
Add visuals to your content
Incorporating visual content can greatly enhance user understanding and engagement. Visuals such as pictures, screenshots, videos, and diagrams are powerful tools that help convey information in a more visual and interactive way.
For example, pictures and screenshots can provide step-by-step visual instructions, making it easier for users to follow along, and clarify more complex processes. Video content is another excellent way to engage users and provide them with clear demonstrations. Whether it's a tutorial, a product overview, or a troubleshooting guide, videos can be a valuable addition. Diagrams can help users grasp complex ideas more easily. Use flowcharts or graphs to simplify information and present it in a visually appealing manner. However, remember that visuals should not replace written content, but rather complement it and provide additional context.
4. Organize knowledge base content
Now that you have created content for your knowledge base, it's time to organize it in a way that is easy to access and navigate. Proper categorization and structuring are crucial to maximize usability.
Creating divisions and subdivisions based on topics or themes gives a hierarchical structure that helps users quickly find the information they need. In addition, take advantage of tags to further classify your articles. By implementing tags, you create an additional layer of organization and make it easier for users to locate specific information across different categories. Tags can represent keywords, product names, or any other relevant criteria that will help in searching for content. For example, LiveAgent allows you to create various categories, so your users won't get lost in the sea of content.
Speaking of search, a robust search widget is also an essential feature for a functional knowledge base. Users should be able to enter keywords or phrases into a search bar and receive relevant results quickly. LiveAgent also offers a powerful search box tool to help your visitors find specific answers or topics within a few seconds. By offering an easy search function, you can assist your customers to find articles easily and decrease the number of support tickets. You can also help your agents find answers for common customer issues and therefore improve response times.
5. Publish your knowledge base and update it regularly
Now it's time to publish your knowledge base articles and make them accessible to your team and customers. Publishing your knowledge base can be as simple as creating a dedicated webpage on your company's website or using a knowledge base platform such as LiveAgent that offers built-in publishing functionality. With LiveAgent, you can easily customize the appearance of your knowledge base to match your branding, ensuring a professional user experience.
However, remember that publishing your knowledge base is not the end of the journey but rather the beginning. To maintain its usefulness, it's important to perform regular updates because information can quickly become outdated. To make this process easier, consider establishing regular reviews and updates of your knowledge base. By consistently updating your content, you ensure that the information remains accurate and valuable to your users. This will contribute to their satisfaction and increase the efficiency of your team's workflow.
Let's look at how easy this process is with LiveAgent:
Adding content in LiveAgent is simple. By selecting an option from the drop-down menu you can create relevant articles, categories, forums, and suggestion categories. It is very important to take into consideration the structure you wish to have. Therefore, it's convenient to create various categories for different products or services that your company provides.
By choosing "Category", you can choose from the list of existing categories under which the category you are creating will be placed. You can choose whether the category (and all the articles in it) will be publicly available or should remain as an internal article visible only to your team. After clicking the 'Create' button, you will see the link by which the particular category can be reached.
Once you have created some categories, it's time to create the content. From the options of the 'Create' button click on "Article". It provides you with a full-featured WYSIWYG editor, while it also gives you the option to switch to HTML edit mode by clicking the "Source". You can decide whether the article becomes "Internal" (visible only to agents) or "Public" (visible to all customers). While you are writing or modifying an article, it is convenient to set its status to "Draft". Once it's ready, click "Save" and set it to "Published".
And that's all. Simple as that!
6. Analyze and improve your articles
The final step in creating a successful knowledge base is analyzing and continuously improving your content. Measuring their performance and gathering feedback can help you identify improvement areas, allowing you to provide maximum value to your users.
You can use analytics tools like Google Analytics or Google Search Console to track key metrics such as page views, bounce rates, and search terms that lead users to your knowledge base. These insights will give you an understanding of which articles are the most popular, how users navigate through your knowledge base, and which search terms drive the most organic traffic. Analyzing this data is crucial to identify high-performing articles or areas that may need your attention and improvement.
Encourage users to provide feedback and ratings. Including a rating or feedback feature at the end of each article allows users to rate whether the information was helpful or if they encountered any issues. This feedback can help you identify knowledge gaps in your content. By improving your articles, you ensure that your knowledge base remains valuable and up-to-date, leading to enhanced customer satisfaction and an empowered user base.
Embark on a journey through a knowledge base where every article is a stepping stone to a deeper understanding. To ensure you get the most out of your exploration, we've compiled a list of related articles that delve deeper into various aspects of this topic.
What are the common errors to avoid when creating a knowledge base?
In order to have an effective knowledge base in place, try to avoid these common errors:
Lack of organization
One of the most common errors is failing to properly organize content. Without clear divisions, sub-divisions, and tags, users may struggle to find the information they need. LiveAgent provides robust organization features, allowing you to categorize and structure your knowledge base effectively, making it easy for users to navigate.
The whole point of using a knowledge base solution is for it to be easy to navigate. However, the more content you have, the more it can get chaotic. This can lead to dissatisfaction and frustration from both your employees as well as customers. Therefore, LiveAgent allows you to create various categories and divide content to make your knowledge base structure impeccable.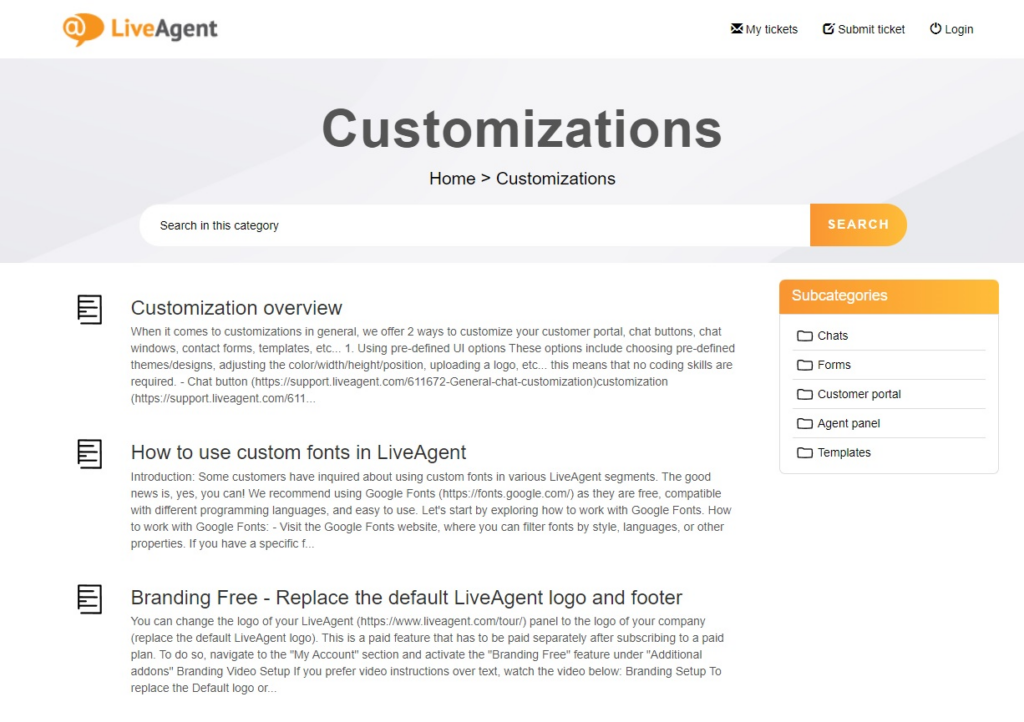 Poorly written content
Content that is overly complex or lacks clarity can frustrate your users. Therefore, it's crucial to write in a way that is easily understandable by your target audience.
It's also important to pay attention to formatting your articles. Organize and categorize sections with headings, highlight important words, and use appropriate fonts. Optimizing the SEO settings is also crucial because it makes the article more visible in search engines such as Google. Use relevant keywords and phrases, optimize article titles and meta descriptions, and structure your knowledge base in a way that is easy to read and navigate. This will increase its chances to appear at the top of SERPs.
Lack of visuals
Failing to include visuals such as screenshots, pictures, or videos can make your knowledge base design less eye-catching and engaging which limits its effectiveness. LiveAgent supports the integration of attachments into your articles, making them easier to comprehend and also make them more entertaining. You can add pictures, screenshots, audio files, or even video files and embed videos from services like YouTube.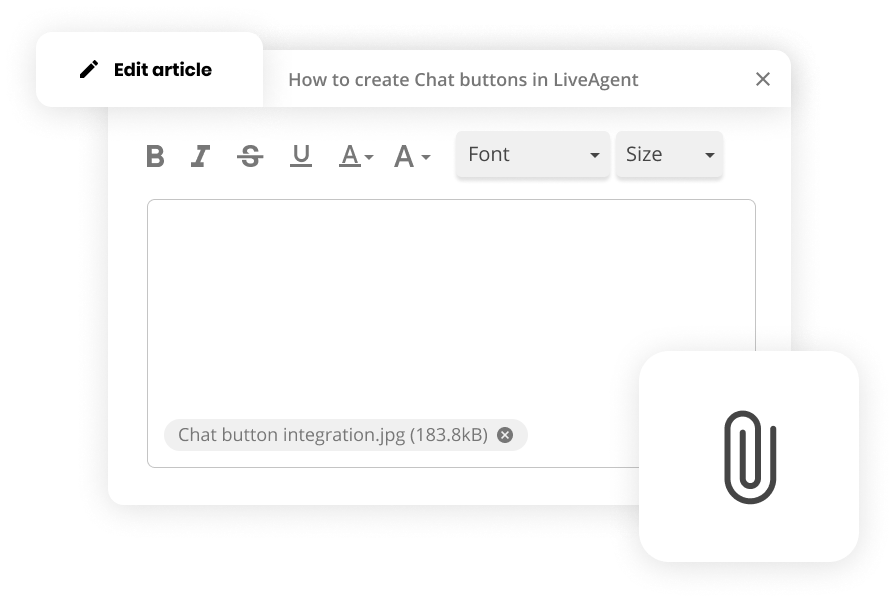 Inadequate search functionality
If users cannot find what they're looking for, they may give up and leave without answers. However, offering them a robust search feature can be a game-changer. LiveAgent's search box helps users to quickly find relevant resources, maximize their experience, and minimize the frustration of not being able to locate specific information.
Lack of regular updates
There is nothing worse than finding outdated information that is no longer accurate after spending time looking for it. This only leads to frustration and disappointment. To prevent this from happening, ensure that you always update your content with the latest information about your products or services. This way you will be able to build trust with your customers, help your team to resolve issues more quickly, and improve overall satisfaction.
How to effectively use a knowledge base in customer service?
Using a knowledge base solution in customer service can greatly impact the support experience for both your team as well as your customer. But how do you use it effectively? Here are some tips on how to make the most out of it:
Train your team
Your customer service team needs to be well-trained on how to effectively use the knowledge base. They should have a deep understanding of the articles and be able to navigate through the content easily to increase their productivity. Training your team also plays a key role in providing an exceptional customer experience which is crucial for every business. Around one-third of customers would consider switching to another company after going through just one poor customer service experience. This can have a huge effect on your business as well as your reputation.
Empower customers with self-service
Encourage your customers to take advantage of the knowledge base as a self-service tool and find answers to common customer questions without the need to contact your customer support agents. Make it easily accessible and provide them with a seamless self-service experience that will increase their satisfaction and experience. Studies show that the resolution rate for customer portals can be as high as 95% if it's properly created and updated on a regular basis and the average customer satisfaction rate (CSAT) of a customer portal is 92%.
Integration with other customer service channels
For maximum performance, the knowledge base solution should be able to integrate with other customer service channels for a seamless support experience. Therefore, LiveAgent offers comprehensive integration capabilities, allowing you to connect the knowledge base with your ticketing system, live chat, email, social media, and more. This ensures that your team has quick access to relevant knowledge base articles while assisting customers across various channels.
Track the performance
Track the knowledge base performance, monitor metrics like article views, search terms, and user feedback to identify areas for improvement for the best results.
Conclusion
So, to wrap everything up, creating a knowledge base is a valuable investment if you are looking to provide exceptional customer service and support. By following the 6 simple steps, you can create a knowledge base that is organized, easily accessible, and adds value to your team and customers.
Don't be afraid to add pictures, screenshots, or video content to enhance the documentation, organize it effectively, and perform regular updates to keep the information relevant. Analyze and improve your articles based on customer feedback and analytics to ensure continuous improvement and deliver a seamless support experience.
To make the process even easier and more efficient, choose the right provider that will fit your needs and requirements. You can start by giving LiveAgent a try! Take advantage of the 30-day free trial and create a highly effective and user-friendly knowledge base that will empower your team and provide an excellent experience for your customers.
Transform your customer support
Take your customer support to the next level with LiveAgent's knowledge base software. Try it for free and experience the difference for yourself!
Frequently Asked Questions
How can you measure the effectiveness of your knowledge base?

You can easily measure the effectiveness of your knowledge base by tracking the knowledge base metrics such as article views, search terms, user ratings, and feedback. Additionally, analyzing customer satisfaction levels (CSATs) and the reduction in support ticket volume can also indicate its effectiveness.

How to integrate a knowledge base into your existing business processes?

Smooth integration can be achieved by assessing your current processes and identifying areas where implementing knowledge management can enhance efficiency. This may involve training employees on accessing and utilizing the knowledge base, incorporating it into customer service platforms, and establishing regular update procedures to keep the information up-to-date and relevant.

How can you create a multilingual knowledge base?

To create a multilingual knowledge base, you can use a platform like LiveAgent to create a separate website knowledge base in different languages by using the multi-knowledge base feature. Each knowledge base can have its own settings, content, or design to reach a global audience and meet their needs.

How to create a knowledge base for employees?

To create an effective knowledge base for employees, start by identifying the key topics and information that your team needs to access. Organize the knowledge base content into clear categories, making it easy to navigate and quickly find the right information. Use a knowledge base platform like LiveAgent that offers customizable templates and permission settings to ensure that only authorized employees can access the information they need.

What are some real-life examples of effective knowledge bases?

Some of the best knowledge base examples include Amazon Web Services' knowledge base is extremely simple and straightforward, which is precisely what its audience would like. 
Spotify's knowledge base is visually appealing but also extremely easy to navigate and understand. It has a prominent search bar at the top and it also includes some top questions directly visible in the same section.