Customers want to be empowered to find the answers to their problems independently, and only want to use the help of technical support representatives as a last resort. Generations that are the most active across various markets (millennials, Gen Z) are highly independent, tech-savvy, digital natives. Therefore, navigating the web to find answers is no problem for them. In fact, 89% of millennials use a search engine to find answers before making a call to customer support. According to research from Forrester, both existing and prospective customers prefer to find immediate solutions to simple questions on their own, rather than waste time by contacting customer support.
Why is this important? Data from Forrester shows that 53% of consumers are likely to abandon an online order if they can't find a quick answer to their question regarding a product they're interested in. Considering these statistics, companies should strive to provide excellent customer support, minimizing the need for human interaction to keep customers satisfied.
To start providing this kind of "self-service", businesses need to prepare simple, straightforward user manuals with clear instructions. In addition, it's great to provide a community platform where users can come together to ask questions and receive answers from other users. In other words, you need to create an intuitive, modern, and user-friendly knowledge base, where customers can find answers to their questions in seconds, with no need for external help.
What is the knowledge base?
A knowledge base is a centralized database that allows you to collect, organize, search, and share information about numerous topics. Knowledge base articles and documents can be accessed by internal and external users alike, as the knowledge base can have useful information for both existing and prospective customers. A knowledge base can include how-to articles, guides, tips, and tricks on how to utilize your products and services, frequently asked questions (FAQs), forums and more.
Why is it important to create a knowledge base?
As mentioned above, both existing and prospective customers want to be able to find solutions to their queries on their own. However, that's not the only reason you should create a knowledge base within your organization. Let's look at the other business benefits that a knowledge base can bring to your company.
1. Provide answers to clients without delay
The era of traditional customer service is now history. Today, users not only want to look for answers independently –they want answers immediately. When a customer has a question about your company (such as "How do I upgrade my account?" or "How can I start using the new "X" feature?"), they will assume that searching for that question or similar keywords on your website will yield a large number of answers in seconds.  However, they won't be happy if their search yields no relevant answers, or alternatively countless unrelated pages.
2. It's useful for your agents too
Realistically, your technical support team can't address absolutely every query that comes their way, as the number of tickets is constantly on the rise. If you eliminate the need for customers to contact you with absolutely every single issue they come across, you'll be doing your customer support team great service. Agents will be able to focus on bigger issues that actually require the attention of technical specialists, instead of focusing on problems that have an easy fix.
Moreover, as mentioned multiple times above, your customers will be happy with the fact that they have a way to get answers on their own, without having to waste time by contacting customer support. If you're not convinced that your customers want to find answers on their own, consider the following statistic. According to Forrester, 81% of adults who use the Internet have consulted knowledge bases and FAQ pages for finding answers to their questions in the past.
3. Creating a knowledge base is a piece of cake
If you can't immediately offer your customers information that is vital to them, they're likely to turn to a competitor who will be able to do so. While creating and managing a knowledge base can seem like a daunting and complex task for most, it's actually quite simple.
Think about the questions your customers have asked in the past, as well as the questions you've asked yourself. If you have trouble thinking of questions, analyze your support tickets to determine what are the most common issues. Over time, your team will be able to build a knowledge base that will contain answers to these frequently asked questions and serve as the primary source of information for your customers.
What should you keep in mind while creating a knowledge base?
Tip #1: Check what you already have
Many people panic because they think they will have to start building their knowledge base completely from scratch. In reality, there will almost always be some kind of pre-existing resources available to get you started. Look around for existing content you can tap into. For example, check out your service desk tutorials, business transcription assets, employee onboarding training, or the "tips and tricks" section of your project documentation.
Tip #2: Keep it simple
Start with something quite simple, such as your top ten most frequently asked questions.  Think about the things your support staff is asked to fix every day. For example, no matter what type of organization you work for, you'll always be asked certain questions such as "How do I reset my password?" Once you come up with your 10 questions, write out step-by-step resolution guides complete with screenshots and diagrams, if applicable.
Tip #3: Use customer questions to produce relevant content
When creating the FAQ section of your knowledge base,  it's essential to use the customer's "own words" to capture both the question and the answer. If your knowledge base articles are full of technical terms, it will be difficult for your users to find, understand, and leverage the provided information.
Tip #4: Encourage your teams to participate
Turn your support teams into leading advocates of knowledge management by making it worth their while to create quality articles.
Whether it's by keeping score or providing gift vouchers for the best publication of the month, encourage agents to submit knowledge articles in various forms. This contribution will make them feel more immersed in your organization and will be a nice change from their list of daily tasks. Most importantly, your agents are the ones who resolve customers' queries daily, so they know the pain points, challenges, and difficulties that customers face. This type of "know how" that your agents have will help them create relevant content for your knowledge base.
Tip #5: Encourage collaboration between teams
Most companies encourage senior employees to share their knowledge and expertise with their colleagues. For example, senior IT technicians can make their knowledge available to less experienced support agents, helping them to answer customers' toughest questions. All insights can then be gathered in a shared internal knowledge base.
Tip #6: Don't forget about common bugs
Problem management shouldn't focus only on permanent solutions, but also on temporary solutions, such as redirecting network traffic or having a regular server restart. Make sure that all solutions are documented, shared, stored, and labeled with the appropriate service or configuration item so that everyone has access to them.
Tip #7: Make your content easy to access
There's no point in creating a great knowledge base if no one is using it. Have one, centralized place to share knowledge so that it is visible to everyone. Make sure your articles are easy to find and labeled accordingly. Search widgets are an awesome solution that make every knowledge base easy to use and navigate. You can place them anywhere on your website, and while a user is typing into the search widget, it suggests suitable articles in real-time.
Tip #8: Keep up the good work
Create a review cycle in your knowledge base creation process to ensure that articles are always correct, relevant, and add value. Add links to related content to drive traffic to the right places. Look for opportunities to be proactive, for example, by creating FAQs for upcoming new services.
Examples of extraordinary knowledge bases
Canva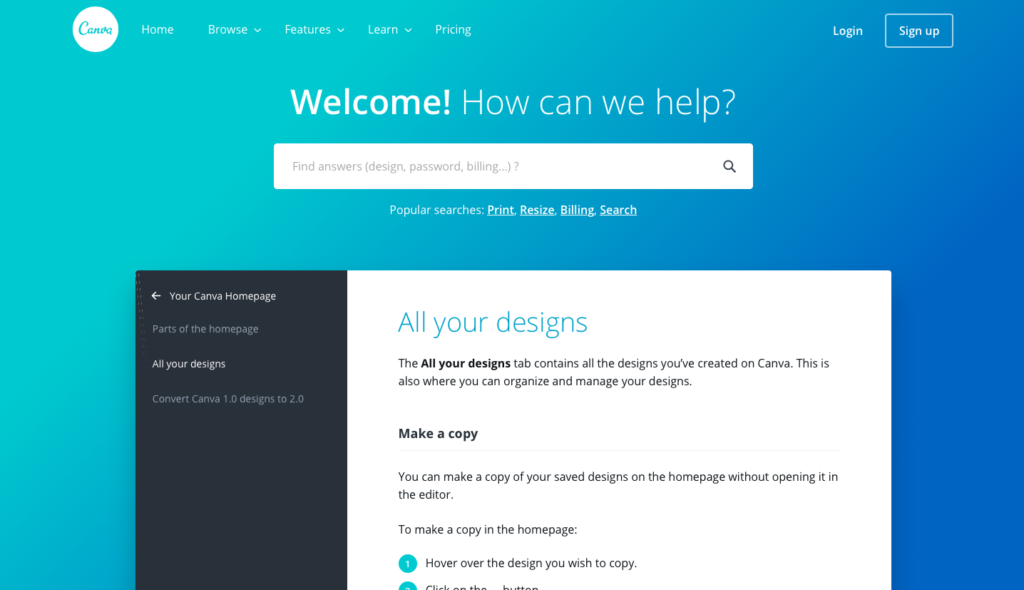 The Canva support page has a simple and aesthetically pleasing design that makes it easy to find the information you need quickly. Each main category includes subcategories, and each of these, in turn, includes additional categories. This type of knowledge organization makes it easy to find exactly the resource you need. Remember,  the easier a knowledge base is to use, the fewer customer queries you'll receive.
LiveAgent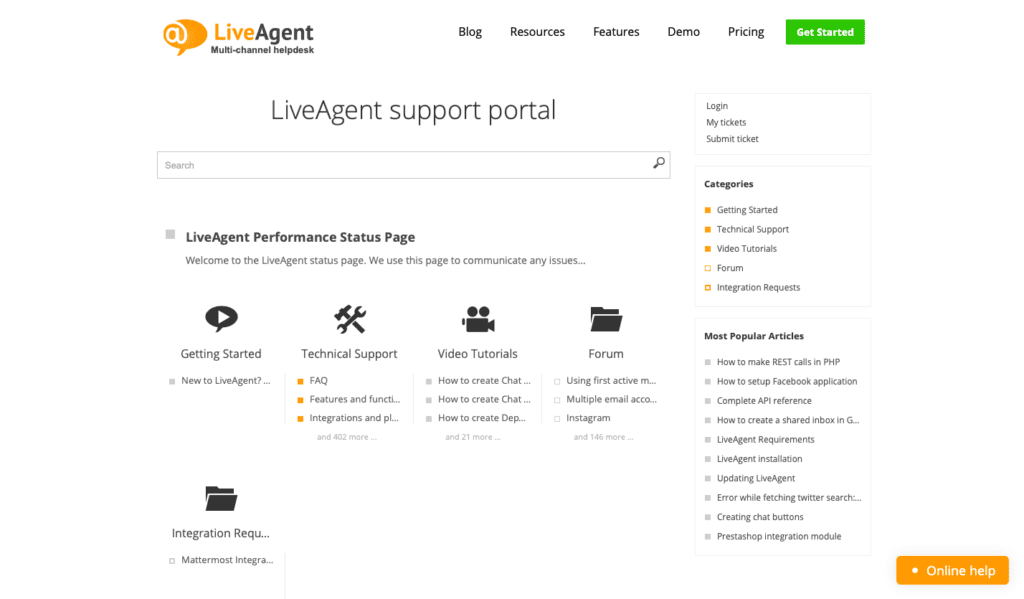 LiveAgent offers its customers a comprehensive knowledge base, which is called a support portal. Its design is really intuitive. It enables users to navigate through the portal in a few ways– such as using the search widget, by clicking on icons placed in the main menu, or by using a list located on the right-hand side. There's also a "Must Popular Articles" section. Content is divided into categories that relate to different levels of product knowledge (Getting started vs. Technical Support) and includes various types of content (video, articles, forums).
Lyft
When it comes to providing a knowledge base for drivers, Lyft exceeds all expectations. Instead of including a simple search bar that provides solutions based on keywords entered by the user, Lyft has a large number of blog articles that offer handy tips for drivers. Among the most prominent are posts such as: "Hard to deal with? How to report it" or "Quick quiz: Can I give a ride to someone on the street?".
The titles are thought-provoking, and the information is condensed into just a few paragraphs, which is ideal for drivers with no time to waste. Lyft also has an independent knowledge base specifically for its passengers. By providing knowledge bases for different types of users, the information in each knowledge base is more relevant to its users.
Conclusion
I hope this article resolved any doubts you previously had about the role and importance of a knowledge base in your company. If you have more questions on how to implement this solution or need assistance to create your perfect knowledge base, reach out to LiveAgent or check out our knowledge base software site.