Welcome to knowledge base 101, where we'll explore every nook and cranny of knowledge bases and show you how to harness it for your business. Whether you're a pro or completely new to the concept, this article will give you the essential knowledge you need to build an effective knowledge base for your business.
Knowledge base and customer portals became one of the most sought-after channels in customer service. Our research shows that a well-designed knowledge base attracts between 2-4 times more customers than live chat, social media, or phone support. Around 67% of customers also claim that a self-service knowledge base is their preferred method when it comes to solving issues and finding answers to questions.
So, what exactly is this knowledge base? How does it work? And why do you need it? Don't worry, we are going to get down to the nitty-gritty and answer all your questions.
What is a knowledge base?
In simple terms, you can think of a knowledge base as a digital library where you can store and organize all the valuable information about your products, services, guides, processes, and best practices.
There are different types of knowledge bases. Some are designed for AI training and serve as the primary resource for AI models (such as chatbots) to learn and understand specific topics, tasks, or processes. It is like their information database that feeds an AI's brain in order to gain expertise and make intelligent predictions or recommendations.
The other type focuses on providing information to human users. It contains valuable information such as FAQs, step-by-step tutorials, troubleshooting guides, videos, and much more right at your fingertips. Whether you're looking for help navigating a software feature, troubleshooting a technical issue, or learning how to use a product, the knowledge base has got your back.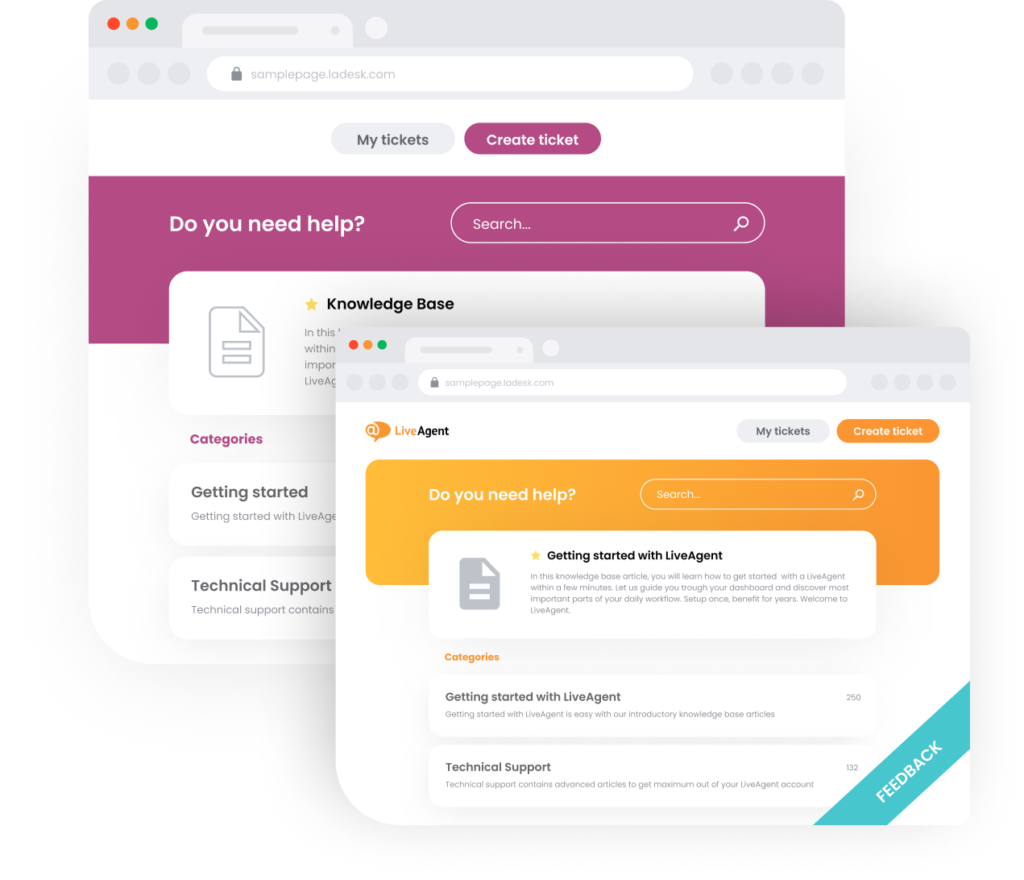 What are the types of knowledge bases?
When it comes to knowledge bases for human users, there are two main types: external and internal. Let's dive into each type and explore their unique characteristics.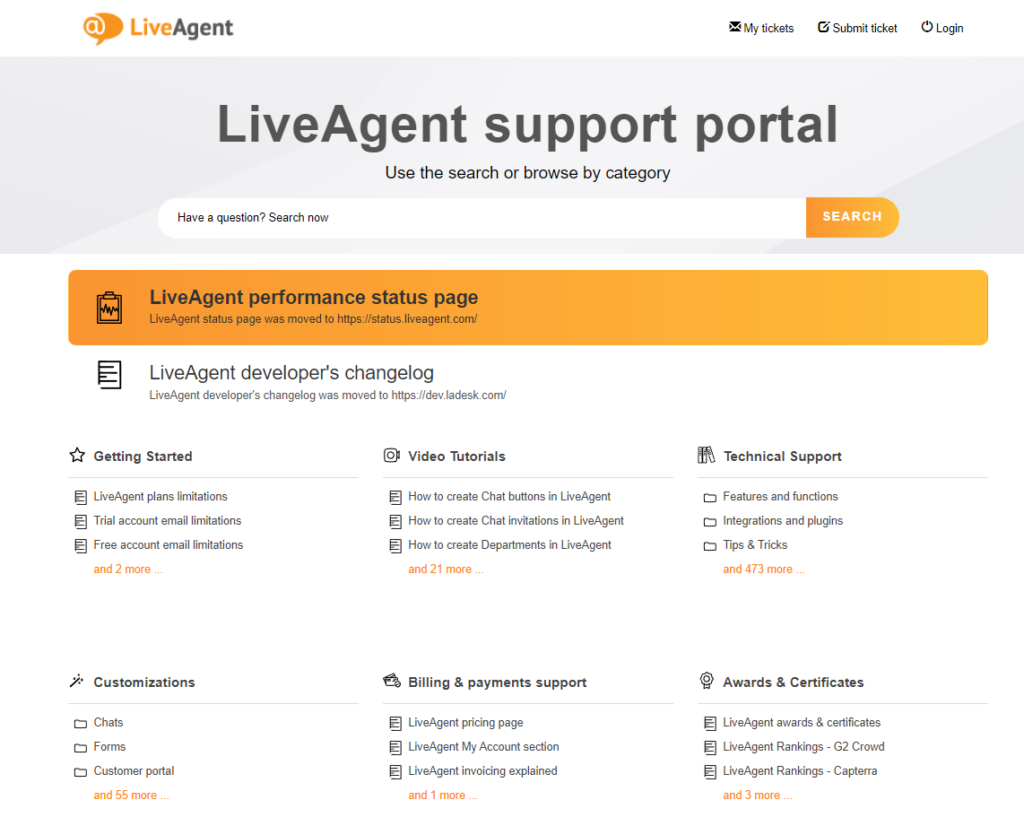 External knowledge base
An external knowledge base is publicly accessible to your customers and is specifically designed to provide them with self-service resources. It's available 24/7, ready to answer any questions they may have.
Examples of external customer support knowledge base include:
Frequently asked questions
Product information
User guides
Troubleshooting articles
Video tutorials
Let's just say a customer faces an issue with your software. But, instead of reaching out to support and waiting for a response, they can simply search the external knowledge base for a solution. It saves their time and your agents are able to focus on more complex issues.
Internal knowledge base
An internal knowledge base, or company knowledge base, contains all the insider knowledge and best practices unique to your company. But, unlike the external knowledge base, the internal knowledge base is only accessible to your team members.
Examples of internal knowledge base components include:
Employee onboarding materials
Training resources
Project documentation
Company policies
Organizational structure
How-to guides
News
Just imagine a new employee joining your team. Instead of asking their colleagues a million questions, they can use the internal knowledge base to learn about the company culture, processes, and guidelines. It can easily and quickly guide them through the entire onboarding process.
Benefits of a knowledge base
A knowledge base is more than just a repository of information – it's a tool that can bring many benefits to your business. Let's explore some of the key advantages, both for external and internal knowledge bases:
Benefits of an external knowledge base:
Better customer support: It provides round-the-clock assistance to your customers, allowing them to find answers to their questions quickly and independently regardless of the availability of your agents. It also reduces the need for contacting customer support which leads to a smaller amount of support tickets.
Insights into customer needs: Analyzing the search patterns within your external knowledge base provides insights into customers' needs and pain points. You can identify trends, content gaps, and areas where customers require further clarification. This helps you make product improvements, create more helpful content, and come up with better customer service strategies.
SEO opportunities: Fill your knowledge base with informative articles and FAQs, and improve your search engine optimization (SEO). Having optimized content in your knowledge base increases the chances of your website appearing in search results. This helps drive organic traffic and exposes more potential customers to your brand.
Benefits of an internal knowledge base:
Collaboration and knowledge sharing: A knowledge base facilitates collaboration among your team members by providing a centralized platform where employees can learn from each other, contribute their expertise, share best practices, and work together on projects. This fosters innovation and creates a culture of continuous learning.
Knowledge retention: You can store valuable information and make it accessible to all team members, making sure that the knowledge is retained even if employees leave your company.
Efficient onboarding: Internal knowledge bases also help new employees get up to speed by providing them with a centralized resource to learn about company processes, guidelines, and best practices.
For SaaS companies specifically, implementing a knowledge base tool can be crucial for success. It serves as a hub of information for their customers to learn how to effectively use the software, troubleshoot issues, and get the most out of their subscription. It also reduces the workload of support teams, allowing them to focus on inquiries that are more complex and need their personal assistance.
For a deeper dive into the benefits of a knowledge base for SaaS companies, you can check out our separate in-depth article about the best SaaS knowledge base platforms.
What can you include in your knowledge base?
When it comes to creating a knowledge base, the type of information you include may vary depending on whether it's designed for internal or external use. However, there are some common elements that both types can benefit from.
FAQs: Ask your customer support agents about the most common questions your customers have and include them in your knowledge base. The answers should be clear and concise.
Step-by-step and how-to guides: Break down complex processes into easy-to-follow steps. It will guide users through each stage with clarity and simplicity.
Video tutorials and demonstrations: Sometimes, a picture is worth a thousand words, and a video can take it one step further. Visual demonstrations can effectively convey complex concepts, making them easier for users to understand.
Troubleshooting instructions: Troubleshooting instructions and guides enable users to resolve common issues on their own without the need for external assistance, leading to faster issue resolution.
Company information: Include a comprehensive overview of your company, its mission, values, and culture. By sharing company information, users can better understand the context and purpose behind your products or services.
News and updates: Keep your knowledge base fresh and relevant by regularly sharing updates, announcements, and new features. Staying updated allows users to take full advantage of the latest developments and enhancements your business has to offer.
How to build a knowledge base?
Building a knowledge base may seem like a difficult thing to do if you don't know how to start. But no worries! We are going to look at the key steps that will help you create a perfect knowledge base. So, let's dive right in, shall we?
Step 1: Determine your goals
Before you start building your knowledge base, it's important to sit down and identify your goals and what you want to achieve. Are you looking to improve customer support? Do you want to enhance employee training, or streamline internal processes? Having a clear vision will help you create a structure for your knowledge base.
Step 2: Choose your approach
There are several different approaches to building a knowledge base. One of them is a shared document system like Google Docs or Microsoft SharePoint. These systems allow multiple team members to collaborate and contribute their knowledge.
Another alternative is to use wikis and intranets, where you can easily create, edit, and access different types of information. Finally, there are dedicated knowledge base software solutions, such as LiveAgent, that are specifically designed to streamline the process and provide advanced features.
Step 3: Gather information and create a structure
Now it's time to gather all the information that will form the foundation of your knowledge base. Once you have your content, create a clear structure, and organize it into categories and subcategories. This will make your knowledge base easy to navigate.
Step 4: Create articles
When it comes to content creation and writing articles, it's important to make them engaging and easy to understand. Remember to use a conversational tone, break information into smaller, easily digestible chunks, and include relevant visuals such as screenshots or videos.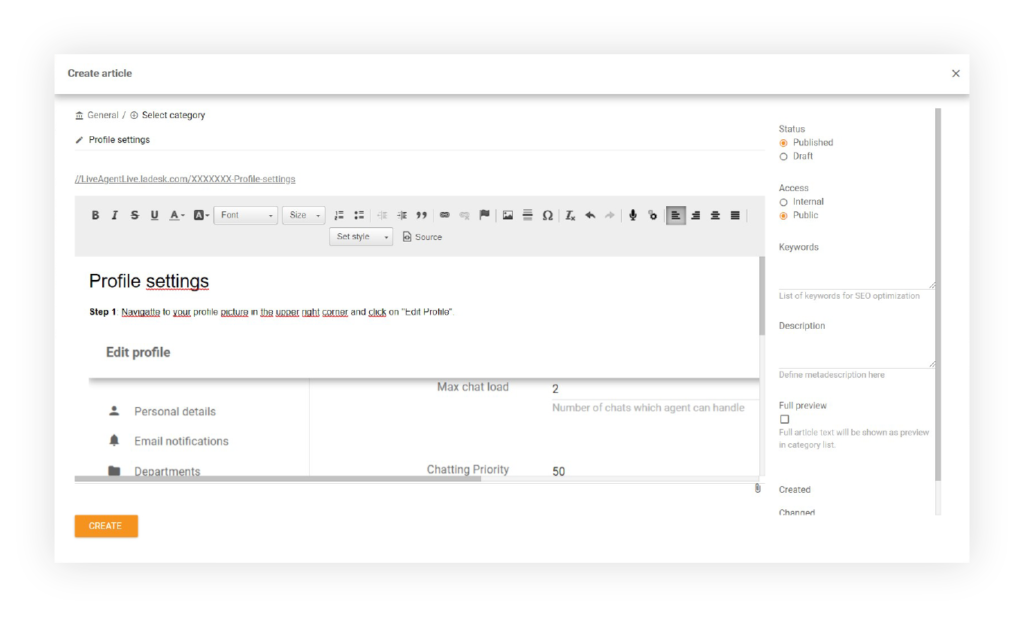 Step 5: Keep it up-to-date
Knowledge bases require ongoing maintenance and updates. Make sure to review and revise your articles on a regular basis to ensure that they remain accurate. You can also encourage your team to contribute their knowledge to foster collaboration and let everyone play a part in enriching the knowledge base.
And there you have it! Following these simple steps will set you on the path to building an effective knowledge base for your business. But, this is just a tip of the iceberg, and there are specific technical details that may differ depending on the approach you choose.
If you would like to find out more information on how to create a knowledge base using software, we have an article about how to create a knowledge base in 6 easy steps, just for you!
What are the common knowledge base challenges and solutions?
Building an effective knowledge base comes with certain challenges. But every challenge has a solution to overcome them. These are the most common challenges you may experience.
Challenge 1: Information overload
How do you make sure your knowledge base doesn't become confusing with the vast amount of information? The solution lies in effectively organizing and categorizing your content into logical categories, and using search functionalities and filters to help users quickly find the information they need.
Challenge 2: Outdated information
As time goes on, information becomes outdated, and keeping it up to date can be a challenge. So what's the solution? Regularly review and update your articles, and encourage your team to contribute new information and insights.
Challenge 3: Lack of adoption
Building a knowledge base that no one uses is pointless. The solution is to create awareness and promote adoption. When people see the value it brings, they'll be more likely to embrace it. So, train your team on how to use it, highlight its benefits, and motivate them to contribute and share their knowledge.
Challenge 4: Language barriers
If your organization operates globally, language barriers can become a challenge. The solution is to offer translation options, allowing users to access information in their preferred language. Make sure that everyone can benefit from the knowledge base regardless of their language proficiency.

Challenge 5: Confusing user interface
An interface that is not user-friendly can discourage users from using the knowledge base. So, make sure the design of your interface is intuitive, visually appealing, and easy to navigate. Consider incorporating features like related articles or search functions to enhance its usability.
Challenge 6: Lack of engagement
A knowledge base should be more than just a storage place for information. As mentioned before, it should be a place for fostering engagement and collaboration. The solution? Create a dynamic knowledge base that encourages user feedback, ratings, and comments on articles. Allow your employees or customers to contribute their insights and ask questions.
These are some of the common challenges you may encounter when building a knowledge base. But, if you want to learn even more about the different challenges and how to overcome them, check out 11 knowledge management challenges and effective solutions for more details.
What is knowledge base software, and how do you choose one?
Knowledge base software is a tool designed to help you create, manage, and deliver a knowledge base that is easily accessible and enhances the efficiency of your company and customer service. So, what is a customer service knowledge base exactly? It's a specialized version of a KB that focuses on providing information and resources to support customer inquiries and issue resolution.
But with so many options in the market, how do you know which one is the right one for you? It all comes down to the features it offers. So, let's explore some of the key features to look for.
User-friendly interface: A good knowledge base tool should have an intuitive and user-friendly interface that makes creating and organizing articles a breeze. It should also allow users to find information quickly without the need to rummage through the immense amount of knowledge base documents and information.
Search functionality: Look for search widget features that enable users to find relevant information quickly. It should support keyword searches and provide suggestions or related articles.

Customization options: Choose software that allows you to customize the knowledge base to align with your brand identity. Features like customizable themes, logos, and branding elements are something to look for in a good knowledge base software.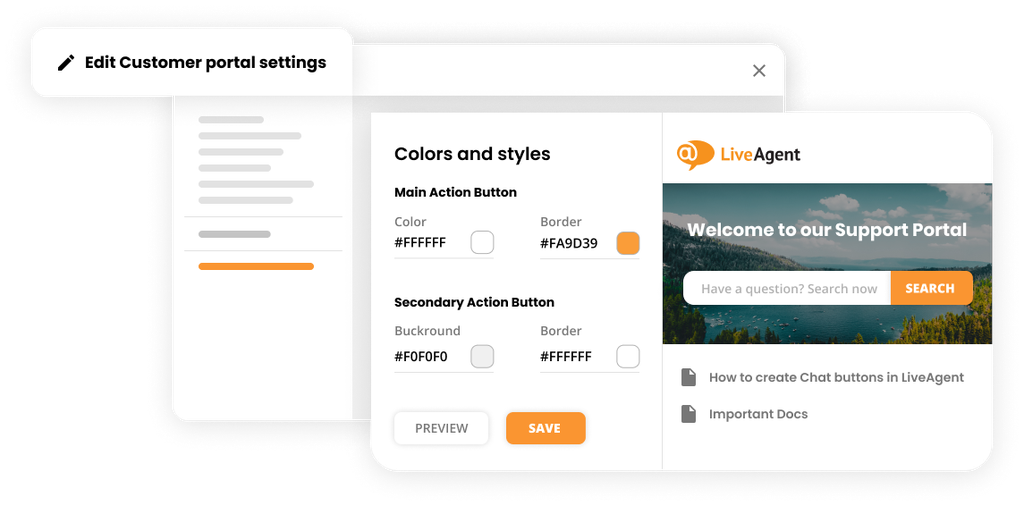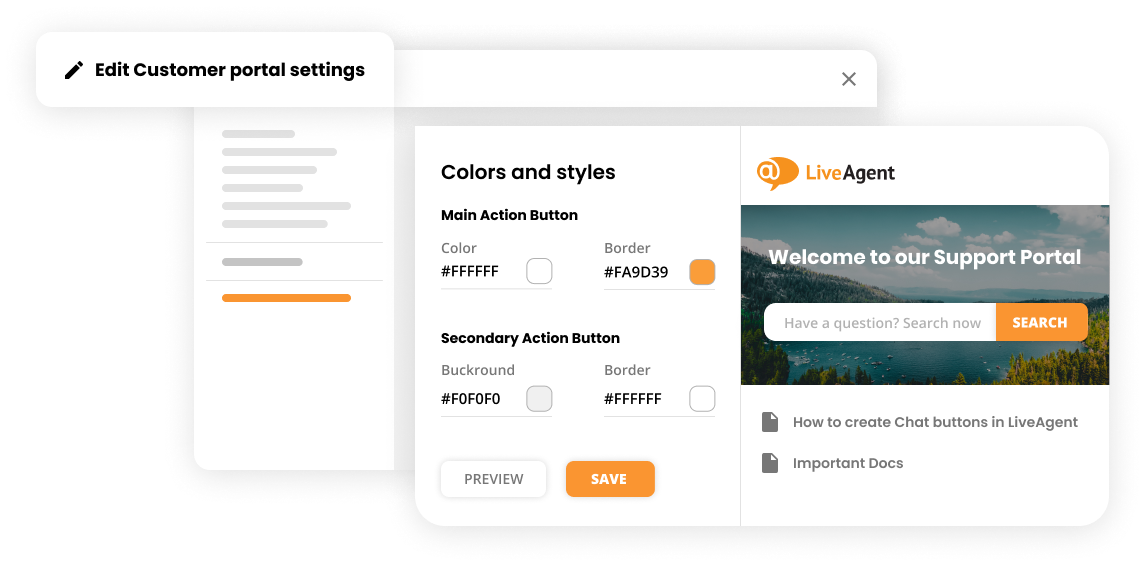 Feedback and suggestions: Make sure you encourage your users to give you new ideas and opinions in order to make improvements and future knowledge base developments. You can do so by simply adding a "Feedback and suggestions button" to your website.
Forum: Create a place where people can discuss the company's products, services, or their preferences. Whether it's an internal forum for your employees or an external forum for your customers, you can use this information to communicate with them and address any issues or ideas they may have.
Analytics and insights: Having access to analytics is important to track the performance of your knowledge base, identify popular topics, and understand user behavior. Therefore, look for software that provides statistics and reporting capabilities.
If you would like to find out more about different knowledge base software options, you can take a look at our in-depth article called "Best 20 knowledge base software in 2024", where we compiled a list of the best options on the market and compared them based on various criteria.
Advantages of knowledge base software:
Centralized information: Knowledge base software allows you to store all your information in one centralized place, making it easily accessible to your team and customers which promotes consistency, accuracy, and efficiency.
Customer self-service support: KB software also empowers your customers to find answers to their questions independently, reducing the load on your support team.
Integration with other tools: Many knowledge base software options integrate with other customer support tools. For example, LiveAgent also offers live chat, a ticketing system, and a call center. This offers an even more seamless customer experience and efficient cross-functional support.
LiveAgent provides a comprehensive customer support solution, including knowledge base software. It's equipped with essential features to build a strong knowledge base for both customers and team members. You can give it a try for free with our 30-day free trial and experience the benefits firsthand.
However, if you find yourself wanting to dive even deeper and explore more about specific aspects of this topic after reading, we've compiled a list of related articles just for you!
Best practices for your knowledge base
Now, it's time to discuss the best knowledge management practices for keeping it in top shape. Let's explore them to help you maintain its success.
Regular updates: Keep your knowledge base accurate and up to date by regularly reviewing content. Nothing is worse than providing inaccurate information that will only lead to confusion and frustration.
Searchability: Ensure that everything in your knowledge base is easy to find. Implement robust search functionality that allows users to quickly find what they need. Consider adding tags, keywords, and filters to make the search process as easy as possible.
Clear organization: Structure your knowledge base by using logical categories and subcategories to help users navigate through the information with ease. Consider using a hierarchical system to maintain and expand your content as your knowledge base grows.
Clear documentation: When you create your content, use clear and concise language that is easy to understand for the average reader. Avoid jargon or advanced technical terms that may confuse your audience. After all, the goal is to make information accessible to everyone, regardless of their background or level of expertise.
Promotion and training: Raise awareness of your knowledge base and provide necessary training to your team members. Explain its benefits, and how it can support their work. Prepare different tutorials or workshops to demonstrate how to use the knowledge base effectively.
Standard operating procedures: Set consistent guidelines for creating and maintaining articles. Define the standards for formatting, language, and tone to ensure a cohesive and professional look throughout your knowledge base.
The best practices serve as a foundation for maintaining your knowledge base successfully. But keep in mind that each business is different, so feel free to adapt them to fit your specific needs and goals.
Make sure to check out the top 11 knowledge management best practices to find out additional tips and tricks to take your knowledge base to the next level.
How to properly organize and design your knowledge base
Now, you may be asking why proper organization is so important. As mentioned before, organizing and designing your knowledge base ensures that it is easy to navigate, which then leads to a seamless user experience. With that being said, here are some tips on how to organize a knowledge base effectively.
Categories and tags: The importance of creating categories, subcategories, and tags cannot be overstated. They give your knowledge base a clear structure and categorize articles to make them easily searchable. This is a great way to improve the overall organization and make everything easy to find in a matter of seconds.
Intuitive user interface: Design a clear and consistent menu structure, breadcrumbs, and a search bar that is prominently placed for quick access. The goal here is to make it as effortless as possible for users to find what they're looking for, without having to click through numerous pages.
Clear and concise article titles: Use descriptive and concise titles for your articles that accurately represent the content that is hiding behind them. Plus, including relevant keywords in your titles can improve search engine optimization (SEO) and help users instantly grasp the topic of the article.
Content layout and formatting: Don't forget about the visual aspect of your knowledge base! Create your content in a visually appealing and easily digestible format. Break down information into sections with subheadings, bullet points, and numbered lists. Use relevant images, screenshots, or videos to enhance understanding and boost user engagement.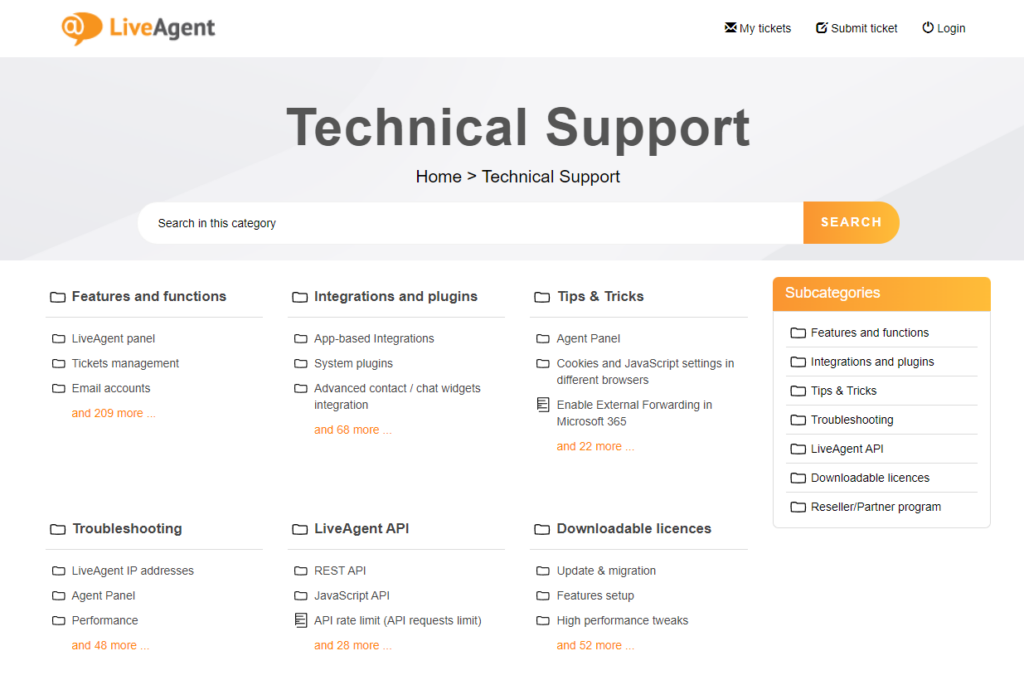 By following these tips and focusing on good knowledge base design, you can build a user-friendly platform. This will enhance user experience and help everyone get the most from your knowledge base.
To find out more, check our article about the 8 steps for the best knowledge base organization, where we dive deeper into the nitty-gritty of this topic.
How to measure the impact of your knowledge base
After creating your knowledge base and filling it with articles and content, it's important to measure its impact on your business. Let's explore why measuring the impact is important and how you can do it.
First and foremost, measuring the impact allows you to assess whether your knowledge base is achieving its intended goals. Are customers finding the information they need? Are team members successfully accessing and using the knowledge base for their work?
By looking at the different metrics you can identify areas of improvement, make data-driven decisions, and validate the value of your knowledge base investment.
So, how can you measure it? There are several tools and metrics you can utilize:
Usage metrics: They provide insights into how frequently the knowledge base is being accessed. Tools like Google Analytics or even a built-in analytics tool within your knowledge base software can track different types of metrics such as page views, unique visitors, and time spent on specific articles.
Search queries: Another aspect worth analyzing is the search queries performed on your knowledge base platform. Are users finding what they're looking for? Are there recurring search queries that indicate gaps in your content? Make sure you understand user search behavior and improve the relevance of your knowledge base based on your findings.
Feedback: Gathering user input from customers or employees can also give you great insights into its impact. You can implement surveys or feedback forms within your knowledge base to collect their opinions and constructive feedback which will serve to identify areas that need improvement.
Resolution time: This metric shows you how quickly customer support tickets or internal inquiries are being resolved. If you notice that resolution time gets shorter, it could be an indication that your knowledge base is effectively providing solutions, reducing the need for contacting your customer support for further assistance.
Key Performance Indicators (KPIs): It's also a great idea to define specific KPIs aligned with your knowledge base goals. For example, if your goal is to reduce support tickets, keep an eye on the decrease in ticket volume after implementing your knowledge base. Other KPIs can include customer satisfaction ratings, employee training efficiency, or reduction in costs related to employee training.
Take inspiration from these knowledge base examples
If you still need some help, take inspiration from a few businesses that are doing it right. Take a look at the following companies and what their knowledge base looks like.
LiveAgent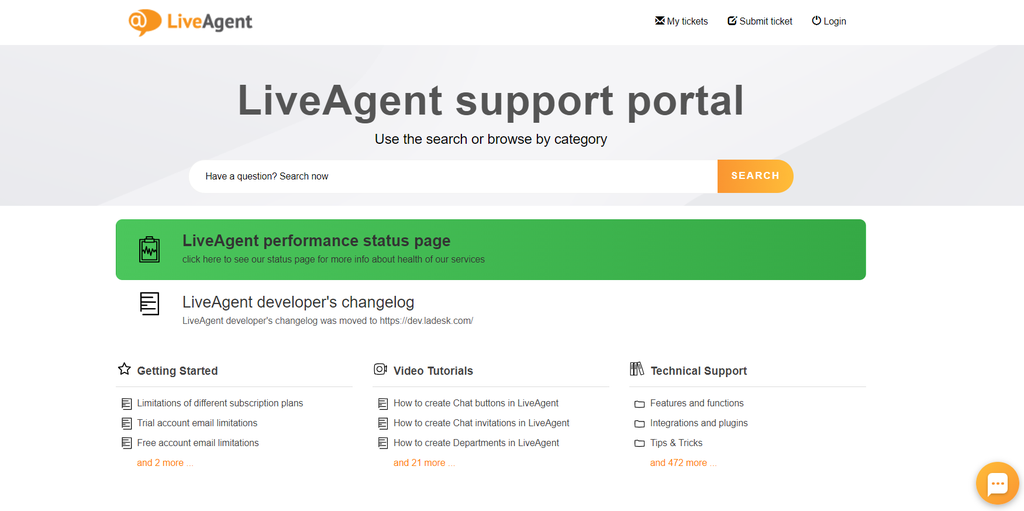 LiveAgent's knowledge base is one great example of how to do it right. The knowledge base has a simple design that is easy to navigate thanks to its organization. There are multiple categories and subcategories that help you find exactly what you are looking for. Do you need to know how to start with their software? Take a peek at the "Getting Started" category. Do you have a technical issue such as slow loading time? Then check the "Technical support" category to find a solution. Another thing you can do is take advantage of the search bar at the top of the page and simply search for what you need through a keyword or a phrase. It's that simple!
To give the users a better understanding, LiveAgent provides many video tutorials and step-by-step guides with images to help guide the users through every process smoothly. But what if they are interested in more similar topics? LiveAgent has it covered. They provide "Related articles" that allow users to explore even more about a specific topic without having to browse through the knowledge base. Take note, everyone, this is how you do it!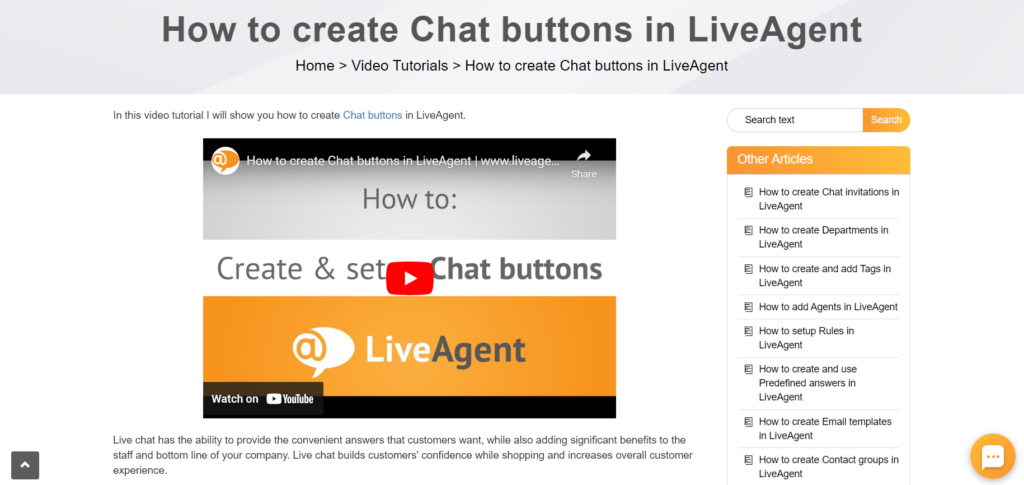 Canva
Another great example of a well-structured knowledge base is Canva. Their knowledge base supports multiple languages which is a great benefit. It has a simple design and thanks to its organization of content, its users finding what they need is a breeze. Each category has many other subcategories which makes it easy to navigate, plus they also include their top-searched topics at the top of the page under the search bar for easy access.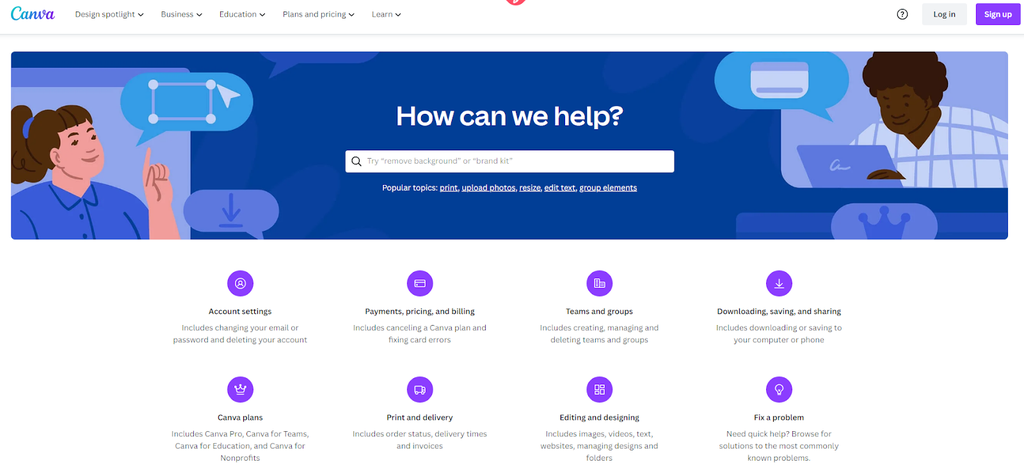 Canva also provides multiple step-by-step guides and tutorials with visual content. They adapt these guides based on the type of device you use, so there is a separate guide for desktop users and a different guide for mobile users. However, if their users feel like there could be some improvement made, they can leave their feedback and let Canva know if the article was helpful or not. This allows Canva to make continuous improvements and keep its users happy and satisfied.
Spotify
Now, let's talk about another successful company that offers an exceptional self-service portal: Spotify. Their knowledge base design aligns with their brand and offers a simple, yet intuitive design. They also divide their content into multiple categories for easy navigation. Thanks to their search bar, users can quickly find what they need by searching for a keyword or a specific phrase. There is also a "Quick help" at the bottom of the page that includes their most commonly asked questions.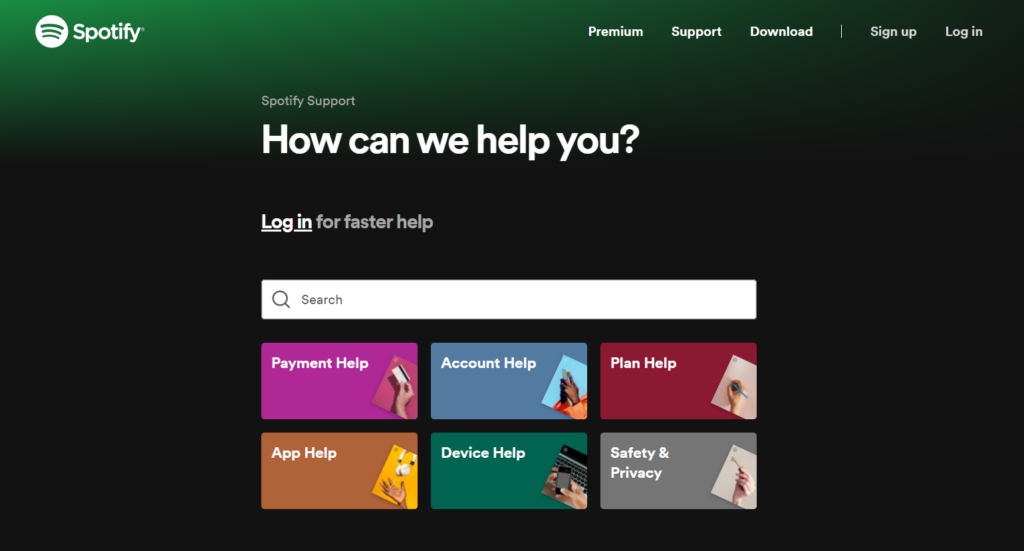 Spotify's knowledge base includes many video tutorials, images, and step-by-step instructions for better understanding. And that's not all. If you want to explore more on a specific topic, they provide a list of related articles.
To help them improve their knowledge base platform, they ask a simple question at the bottom of each article "Was this article helpful?" – users can answer "YES" or "NO". This gives them the necessary user input which allows them to improve their content when necessary.
Zoom
Last but not least, let's look at Zoom's knowledge base. When it comes to design, it's very clean and simple with a prominent search bar right at the top of the page. Right underneath, you can find multiple categories such as "Getting Started", "Audio and Video", "Learning Center" and more. This allows their users to easily and quickly find what they are looking for. There are also common troubleshooting topics located under the search bar. In case you still need further assistance, they offer live chat which will connect you to their customer support team.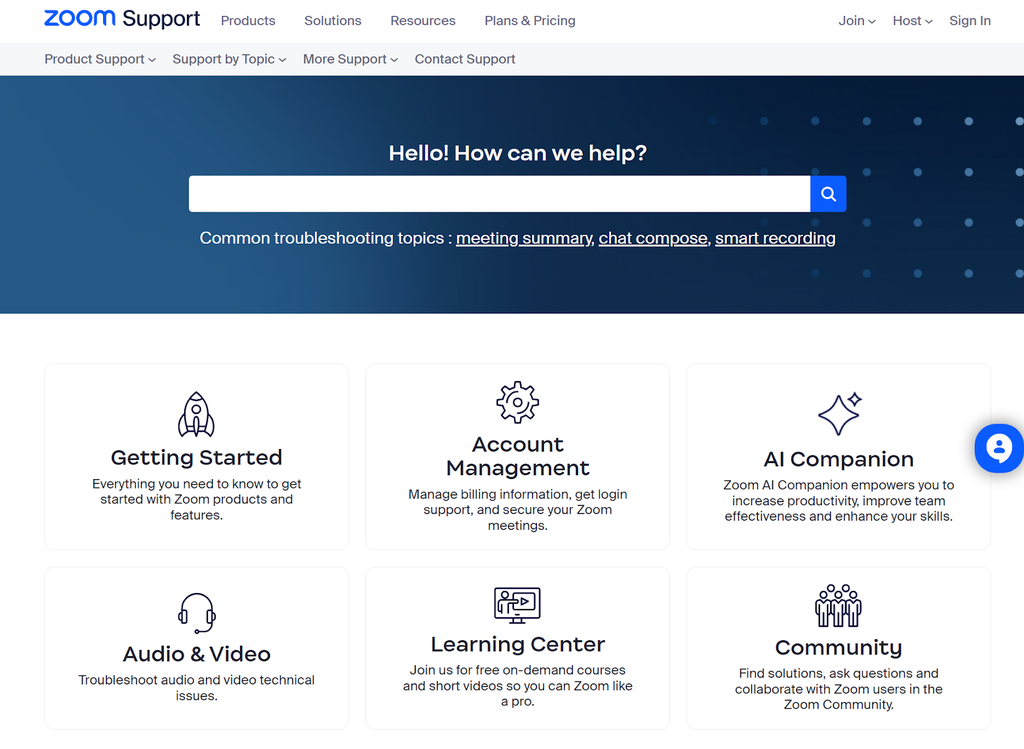 Zoom's knowledge base is updated on a regular basis, you can even see the date of the last update which helps them avoid any inaccurate or outdated information.
Would you like to see more of this? Check out our separate article dedicated to showcasing various knowledge base examples. It will give you a deeper understanding of how different companies have implemented their knowledge bases, highlighting the unique approaches to providing valuable information and support to their users.
What is the role of artificial intelligence in the knowledge base?
You've probably heard of AI. It has found its place comfortably in many sectors and industries, and customer support is definitely one of them. In the realm of knowledge bases, it can transform the way we access and utilize information.
With AI, your knowledge base becomes a dynamic entity, constantly learning, adapting, and evolving. It's like an intelligent assistant that not only automatically organizes and categorizes your platform, but also understands your queries, provides real-time support, and continuously learns and improves.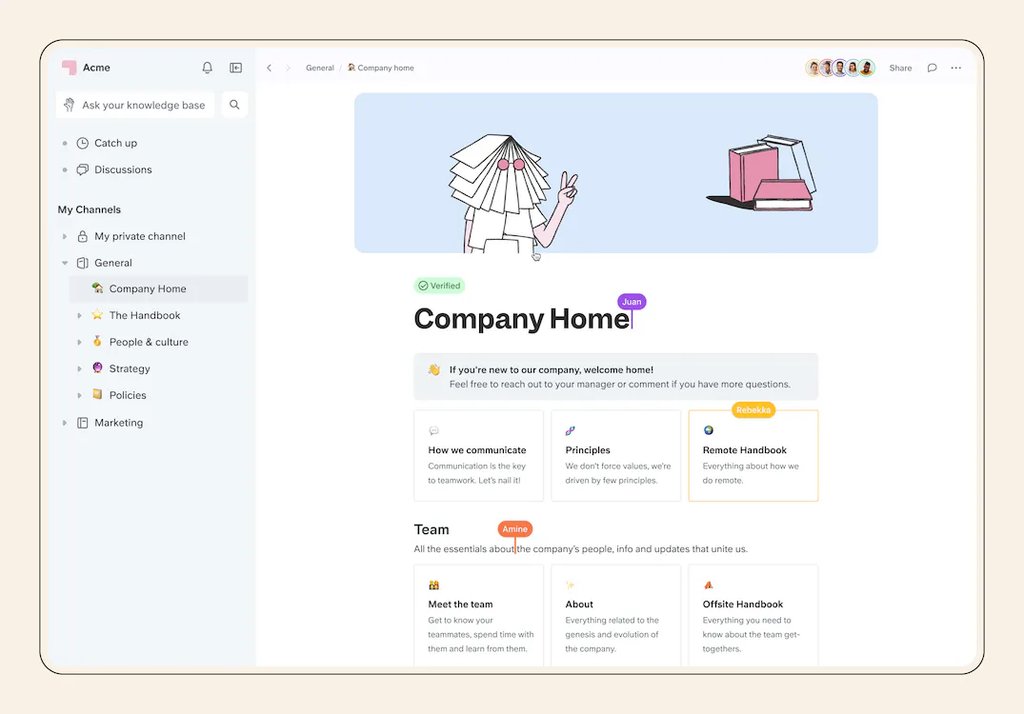 Do you want to take your knowledge base from ordinary to extraordinary? Then let's talk about the various benefits AI brings to the table.
Improved user experience: AI-powered knowledge bases are able to provide more personalized and tailored experiences, delivering the right information to the right users at the right time.
Boost efficiency: What if your team could save their valuable time and energy? It's now possible by implementing AI that automates processes and streamlines workflows. Your employees don't need to spend hours manually categorizing articles anymore. Instead, they can focus on creating valuable content and providing exceptional support to those customers who need it.
Improved content: You can use AI to improve your articles. It can automatically translate your articles into different languages so it can reach a wider audience, fix spelling errors, change the tone of the article, simplify the language, and more. Make your content stand out and keep your visitors engaged.
Advanced analytics: AI can also gather and analyze user data which provides insights into user behavior, search behavior, and trends or popular topics. This data can help you identify gaps, optimize your content strategy, and make decisions to continuously improve your knowledge base.
Scalability: As your business continues to grow, so does your knowledge. AI-powered knowledge bases can easily handle the increasing amount of information and adapt to changing demands accordingly.
If you want to learn more about the world of AI in knowledge bases, be sure to check out our in-depth article, AI knowledge base: Your gateway to more efficient operations, dedicated to this topic. It's packed with valuable information and tips on how to leverage AI to take your knowledge base to another level.
What are the advantages of LiveAgent's knowledge base software?
LiveAgent's knowledge base software comes equipped with an amazing set of features, providing advantages that set it apart from the competition. Let's explore them and discuss why they can be the ideal choice for your business.
Easy-to-use interface: LiveAgent's knowledge base software comes with a user-friendly interface that makes creating, organizing, and managing content a breeze. With its intuitive design, you don't need to be a tech wizard to start building a perfect knowledge base for your business.
Internal and external knowledge bases: With LiveAgent, you can have both an internal knowledge base for your team and an external knowledge base for customers under one roof. This allows you to store and share information securely within your organization while also providing valuable resources to your customers.
Multi knowledge base: Do you have multiple products or services? No problem. LiveAgent allows you to create separate KBs for different departments, products, or customer segments. You can tailor them to specific needs, ensuring that information is organized and easy to find.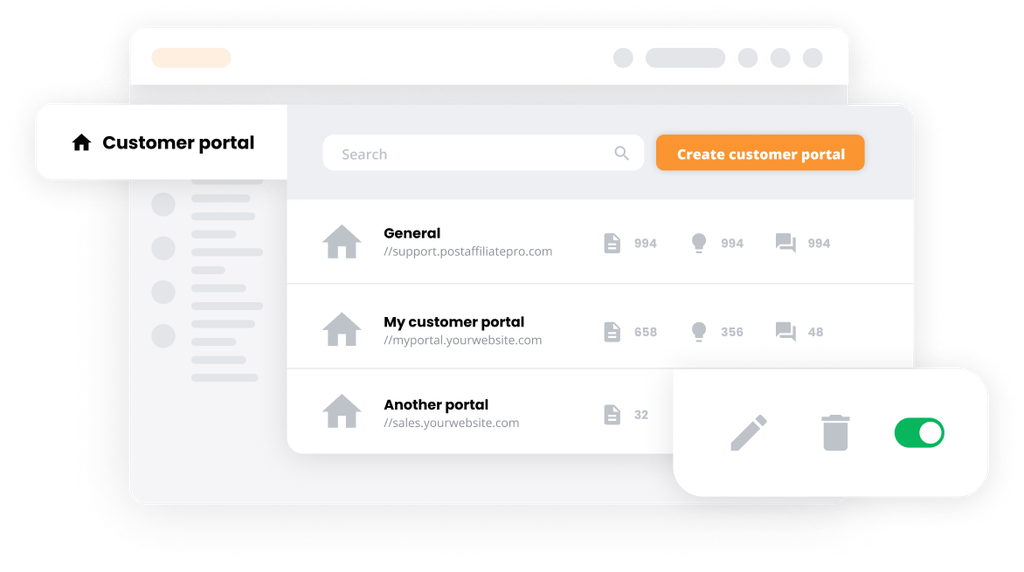 Powerful search widget: The search widget is an important feature that should be included within your KB platform because it enables users to quickly find relevant articles by typing in keywords or phrases. Say goodbye to endless scrolling and hello to instant search results, saving time and evading frustration.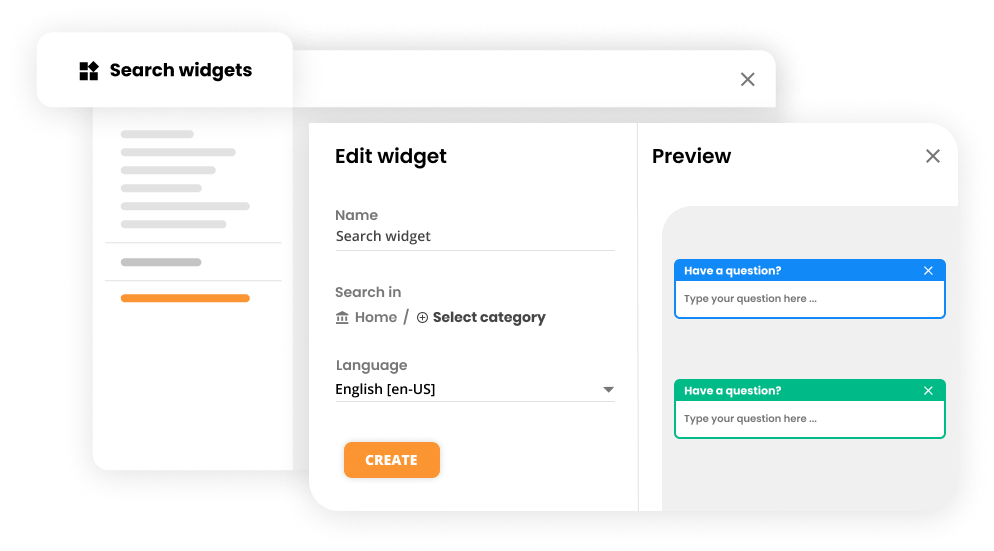 WYSIWYG editor for articles: LiveAgent makes it super easy to create visually appealing and well-structured articles with its What You See Is What You Get (WYSIWYG) editor. This drag-and-drop editor allows you to format text, and add images, videos, and other multimedia, making your knowledge base articles not only informative but also engaging.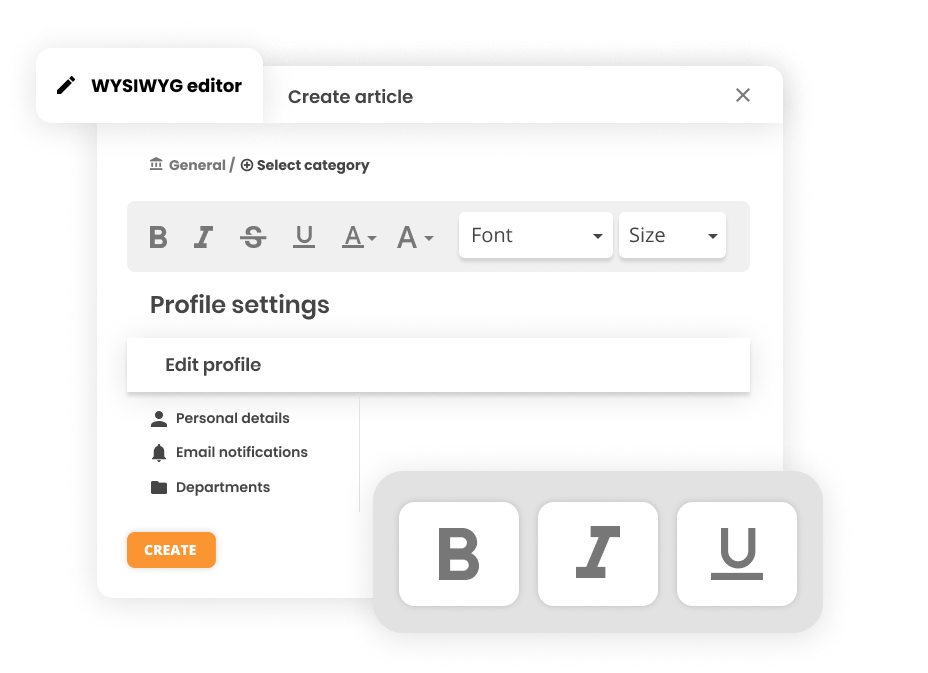 But there's more! LiveAgent's software also offers features like customizable templates, analytics, reporting, and customer feedback options. Plus, it integrates seamlessly with LiveAgent's full support suite, including the ticketing system, call center, and live chat.
Here's the best part: LiveAgent offers all these features and benefits at an affordable price, making it a cost-effective solution that doesn't compromise on functionality or quality.
Conclusion
Congratulations, you've reached the end of our Knowledge Base 101 journey! Let's quickly recap the key takeaways from this article.
A well-built knowledge base is a powerful tool that can revolutionize the way your business leverages knowledge and information. From streamlining customer support to empowering employee training, it's the secret ingredient that drives productivity and success. Provide your team and customers with an easily accessible resource that can save time, improve resolution times, boost efficiency, and promote collaboration within your team.
Remember, a good knowledge base should be organized and tailored to your specific goals. It should provide engaging and informative articles, making your users feel empowered and supported. Performing regular updates and improvements will ensure its relevance and effectiveness in addressing evolving challenges.
But this article is just the tip of the iceberg. So while you're at it, we have a plethora of interesting content waiting for you. Why not further explore the possibilities and discover additional strategies to optimize your knowledge base journey?
Looking for the ultimate knowledge-sharing solution?
LiveAgent's knowledge base software unlocks the power of collaboration, efficiency, and seamless information access. Don't let valuable knowledge go to waste - try LiveAgent today!
Frequently Asked Questions
What is the difference between knowledge management and a knowledge base?

Knowledge management is a broader concept that refers to the strategies, processes, and technologies used to acquire, organize, and share knowledge within an organization. A knowledge base is a specific tool or system that houses the collection of knowledge and information. 

What is the difference between a database and a knowledge base?

A database is a structured collection of data that is organized and stored for easy retrieval and manipulation. It typically consists of raw data that is used for various purposes. On the contrary, a knowledge base is a repository of articles and information designed to provide knowledge and resources for specific purposes, such as customer support, employee training, or self-help resources.

What are the top 5 knowledge base software?

Some of the top knowledge base software options available today include LiveAgent, Zendesk, Freshdesk, Help Scout, and Confluence. These platforms offer robust features to create, organize, and share knowledge base content.

What is the difference between KMS and CMS?

In short, a Knowledge Management System (KMS) is focused on capturing, organizing, and sharing knowledge within an organization. A Content Management System (CMS) is primarily used for managing and publishing content on websites. It is geared towards presenting content to external audiences.

What is the role of artificial intelligence in knowledge management?

Artificial intelligence (AI) plays a crucial role in knowledge base management by automating processes, enhancing search capabilities, and extracting valuable insights from large amounts of data.