As the digital landscape broadens, so does the informational maze that organizations navigate daily. An illustrative example of this complexity can be seen in call centers, where about 10% of calls undergo escalation and an average caller is transferred roughly 2.6 times before reaching a resolution. These specific figures not only highlight the intricacies faced by customer service representatives but also hint at a wider organizational need for enhanced knowledge management tools and practices.
Crafted to tackle these prevalent issues, LiveAgent's Knowledge Base software steps into this very gap. It provides a methodical and user-centric platform, allowing organizations to efficiently categorize, store, and access essential information, streamlining workflows and heightening efficiency.
Why is it important to track knowledge management metrics?
Knowledge management metrics serve as a litmus test for understanding how effectively an organization is sharing and utilizing its collective wisdom. When knowledge is trapped in silos or not disseminated correctly, it hinders innovation, slows down processes, and poses financial risks.
It's been observed that Fortune 500 companies, some of the largest and most successful enterprises globally, collectively face losses amounting to at least $31.5 billion annually due to knowledge-sharing inefficiencies. And if that isn't concerning enough, reports further show that employees across various organizations dedicate nearly 20% of their workweek searching for internal knowledge or connecting with colleagues for assistance. This additional statistic not only underscores individual challenges but also emphasizes the universal urgency for better knowledge management solutions.
However, while these metrics offer invaluable insights, it's essential to recognize that not every metric applies universally to every business. To reap the most benefits from tracking, businesses should prioritize metrics that align seamlessly with their unique objectives and the specific needs of their customers.
Overview of knowledge management KPIs
Before diving into the specific metrics, it's vital to understand the relevance of knowledge management KPIs. These are overarching goals or objectives that a company sets, with the metrics serving as the quantifiable values that assess progress towards these goals. Setting KPIs beforehand ensures a focused tracking process, avoiding data overload.
| KPI metric | Details |
| --- | --- |
| Article use frequency | A reflection of the relevance and currency of the knowledge base. By observing this metric, knowledge managers can ensure a balanced growth rate in articles and make necessary updates over time. |
| User training effectiveness | By gauging how effectively users can navigate and utilize the knowledge base after training sessions, managers can optimize training modules and methods. |
| User feedback on articles | This metric, often collected through likes/dislikes or comments, offers insights into the clarity, usefulness, and relevance of specific articles. |
| Knowledge base search trends | Monitoring the most searched terms or topics can uncover gaps in the knowledge base or emerging user needs. |
| Time taken to resolve using knowledge base | Evaluates the efficiency and effectiveness of the knowledge base. Better resolution rates may indicate a more effective knowledge management system. |
| Number of articles created vs. retired | Gives an insight into the growth and relevance of the knowledge base. A higher rate of retirement may suggest outdated or irrelevant content. |
The 12 knowledge management metrics every organization should track
1. Popularity of articles
Tracking article popularity is pivotal for businesses aiming to fine-tune their knowledge base. By monitoring which articles garner the most visits, companies can discern user preferences and evolving interests.
It's not merely about numbers; it's about understanding the topics and information users deem essential. These insights enable a proactive approach to content strategy, ensuring that the most sought-after information remains updated, relevant, and easily accessible.
Actionable tip:
Elevate top-performing articles on your knowledge base's homepage to provide immediate value to visitors.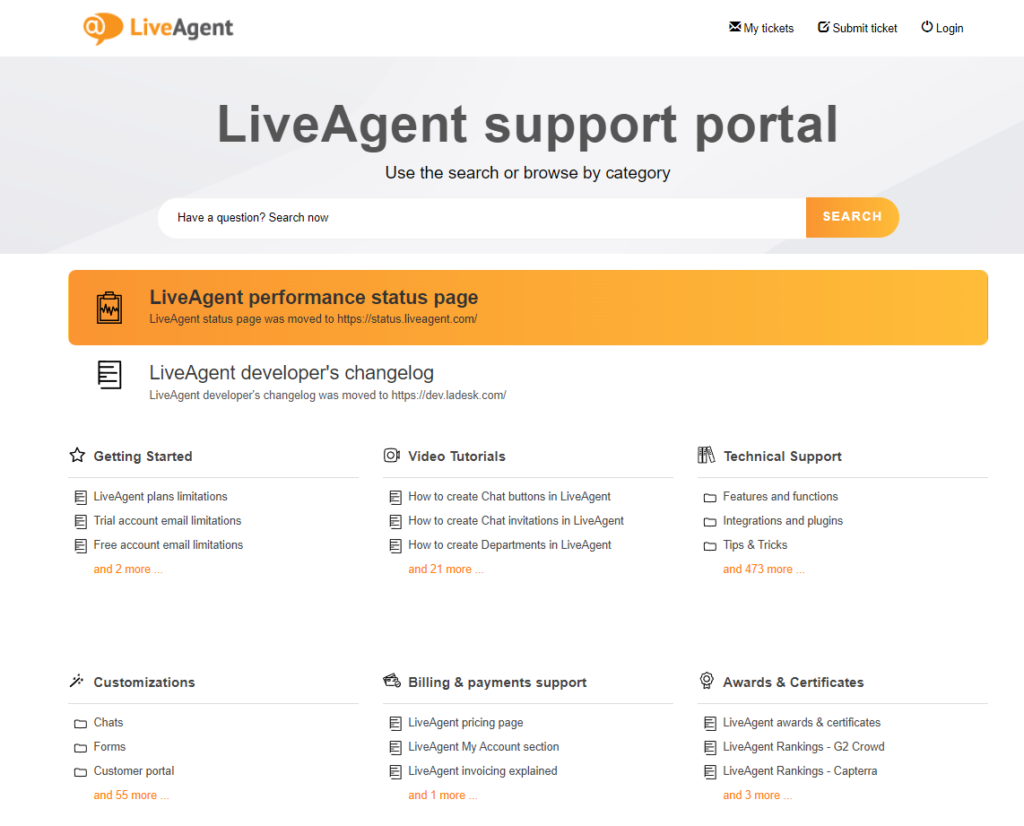 2. Knowledge base citation in support replies
When support teams often point to the knowledge base in their replies, it shows the content is doing its job. The more a support team uses the knowledge base, the better and more relevant the content likely is.
On the flip side, if they rarely use it, there might be gaps in the content or it might not match what customers are asking about.
Actionable tip:
Encourage support staff to always reference relevant knowledge base articles in their replies.
3. Most searched keywords and search failures
Understanding the terms users frequently search for provides valuable insights into their immediate needs. However, just as crucial are the moments when these searches fall short, leading to search failures.
Such instances can act as red flags, signaling gaps or ambiguities in the knowledge base. By closely monitoring these patterns, organizations can discern which topics or answers might be missing or inadequately addressed, ensuring the knowledge base evolves to meet users' expectations and needs more precisely.
Actionable tip:
Use a search analytics tool to regularly review sought-after terms and identify recurring search failures. Prioritize content creation or refinement based on these findings to optimize user experience.
4. Knowledge base page surveys
Embedding surveys on knowledge base pages offers a direct channel to gather user feedback, acting as a pulse check on the content's clarity, relevance, and effectiveness. When users take a moment to provide their insights or express their frustrations, it presents an authentic reflection of their experience.
Evaluating this feedback doesn't just highlight areas of improvement; it also underscores what's working well. Consistent positive feedback on certain articles or topics can guide content strategies, while recurring criticisms can pinpoint where refinements are most urgently needed. Overall, these surveys are instrumental in ensuring that the knowledge base aligns with user needs and maintains a high standard of user satisfaction.
Actionable tip:
Place concise, intuitive surveys at the end of articles, focusing on both qualitative and quantitative feedback. Analyze the responses methodically to make informed content adjustments and ensure users feel heard and valued.
5. Contact-to-visit ratio
The contact-to-visit ratio is a critical measure of a knowledge base's efficiency. By juxtaposing the volume of users visiting the knowledge base against the number reaching out for direct support, organizations can gauge how well the knowledge base meets user needs.
A low ratio indicates that users are largely finding the answers they seek, rendering fewer support requests. Conversely, a higher ratio could signal gaps in the content or issues with its accessibility. An aligned metric to delve deeper into this is the Ticket Deflection Rate, which specifically looks at how effectively a knowledge base can reduce direct support tickets.
Actionable tip:
Regularly analyze the contact-to-visit ratio in conjunction with the Ticket Deflection Rate to identify areas for enhancement. Make critical articles more visible and continuously update content to boost the knowledge base's efficiency and reduce support inquiries.
6. Employee contribution frequency
Regular input from employees plays a pivotal role in maintaining a robust and up-to-date knowledge base. As they often interact directly with products, services, and customers, their insights and experiences can be invaluable. Their frequent contributions ensure that the knowledge base remains current, capturing the latest challenges, solutions, and updates.

Moreover, an active employee participation rate signifies a proactive culture of internal knowledge sharing. By continually refining the content based on real-time feedback and new learnings, companies ensure their knowledge base remains an authoritative and comprehensive resource for users.
Actionable tip:
Foster an environment where employees feel empowered to share insights. Implement a structured schedule or incentivize regular contributions to ensure the knowledge base evolves alongside the company's offerings and customer needs.
7. Content recency
Keeping content fresh is paramount for any knowledge base. As industries evolve, products get updated, and best practices shift. Naturally, the content needs to mirror these changes. Regularly updated content not only reflects the company's commitment to accuracy but also ensures users receive the most current information.
A stale or outdated knowledge base risks misinforming users, undermining trust, and potentially leading to operational inefficiencies or customer dissatisfaction. On the other hand, timely content revisions reinforce the knowledge base as a go-to, reliable source for pertinent information.
Actionable tip:
Set a recurring schedule to review and update key articles. Using automated tracking tools or setting reminders can help ensure content remains in sync with the latest company developments and industry standards.
8. Response to updates
Every update to the knowledge base is an attempt to better serve the users, but how do we measure the impact of these changes? By monitoring user interactions post-update, we can discern if the edits hit the mark. Are users spending more time on the updated articles? Are they rating them higher? Or, conversely, are they leaving feedback indicating confusion?
Evaluating these responses offers a tangible measure of how well an update aligns with users' needs. A positive shift in user interaction underscores the update's effectiveness, while any downturns signal areas for further refinement. Regularly assessing the response to updates ensures that the knowledge base remains an optimal resource, continuously molded by user feedback and needs.
Actionable tip:
After implementing changes, solicit direct feedback on those specific updates. Consider using A/B testing for major revisions, comparing user responses between the old and new versions, to make informed adjustments
9. User time spent per article
The time a user spends on an article offers insights into content quality and relevance. Extended interactions may reflect valuable, engaging material, while brief visits might suggest confusion or unmet needs.
By gauging the average time spent, organizations can assess the content's appeal and its efficiency in conveying information. To fully grasp this metric's significance, it's beneficial to view it alongside other indicators such as feedback or follow-up questions.
Actionable tip:
Combine time-spent metrics with user feedback forms at the end of each article to pinpoint areas for improvement, whether it's clarifying complex sections or deepening the content where necessary.
10. User navigation path
Understanding the navigation path users take through the knowledge base is crucial in pinpointing potential areas of friction or confusion. By mapping out these paths, organizations can discern whether users can effortlessly move from one topic to another or if they frequently backtrack, suggesting content organization may not be intuitive. A streamlined navigation path ensures users find relevant content quickly, minimizing the need for external support and enhancing overall user satisfaction.
Actionable Tip:
Regularly analyze user paths to detect commonalities or patterns. If specific paths are recurrent, consider restructuring the knowledge base layout or enhancing inter-article links to create a more fluid user journey.
11. Video view rates and social shares
In today's digital age, videos play a pivotal role in conveying complex information succinctly. When users frequently view and share knowledge base videos on social platforms, it's a clear indicator of their effectiveness.
High video view rates often suggest the content is engaging, well-understood, and resonates with the audience. Similarly, when users actively share these videos, it amplifies their appreciation and trust in the content, while simultaneously expanding its reach to a broader audience.
Actionable tip:
Monitor video analytics and social sharing metrics. If certain videos garner high engagement, consider featuring them prominently within the knowledge base and using similar content strategies for future creations.
12. Resources download rate
A high resources download rate from the knowledge base is a strong indication of the material's relevance and utility. Whether they're PDF guides, templates, or tools, frequent downloads signify that users find them beneficial, aligning with their needs and queries. Not only does it measure user engagement, but it also gives a clear picture of which resources are most valued, guiding future content development and updates.
Actionable tip:
Keep tabs on the most downloaded resources and prioritize their accessibility. Consider creating more similar resources, ensuring that users continually find value in your knowledge base offerings.
Embark on a journey through knowledge management where every article is a stepping stone to a deeper understanding. To ensure you get the most out of your exploration, we've compiled a list of related articles that delve deeper into various aspects of this topic.
What tools can you use to measure knowledge management in an organization?
Measuring your knowledge management efforts effectively requires a blend of tools tailored to capture distinct aspects of content performance and user engagement. Google Analytics stands out as a comprehensive solution for tracking user interactions, providing insights into which parts of your knowledge base are resonating with the audience.
On the other hand, Google Search Console offers a window into how well your content performs in search, highlighting opportunities for better visibility. For a more holistic approach, LiveAgent seamlessly integrates customer service metrics with knowledge base functionalities. As both a responsive customer service platform and a knowledge management assessment tool, LiveAgent offers organizations a dual advantage in both assessing content and enhancing user support experiences. LiveAgent also offers a comprehensive 30-day free trial to everyone who wants to unlock these benefits. Try LiveAgent now!
Conclusion
Knowledge management plays a pivotal role in shaping user experiences, influencing customer support outcomes, and fostering continuous learning within organizations. Through metrics like article popularity, citation frequency, and user search behavior, organizations can tap into the pulse of their knowledge base, ensuring its relevance and effectiveness.
Other important metrics to utilize are feedback from surveys, content recency, and resource engagement, all of which offer valuable insights that should be taken into consideration. By leveraging integrated solutions like LiveAgent, businesses can navigate the intricacies of their knowledge base, driving optimal content strategy and bolstering customer satisfaction.
Improve your sales communication
LiveAgent is not just a fully-featured help desk software, it's use cases go far beyond that. Take advantage of LiveAgent's communication capabilities and improve your sales.
Frequently Asked Questions
Are there any recent trends in using knowledge management metrics?

Recent trends emphasize artificial intelligence to predict user behavior and offer real-time adjustments. There's also a shift towards personalized user experiences and holistic metrics that include qualitative feedback.

How to handle the challenges in implementing knowledge management metrics?

To tackle challenges, ensure metrics align with business goals and invest in tools that simplify data collection. Training and fostering a culture of continuous improvement are also key.

What's the relationship between knowledge management metrics and customer satisfaction?

Knowledge management metrics are vital for customer satisfaction. They ensure accurate, efficient, and personalized support. Metrics identify areas for improvement, maintain consistency, reduce friction, and help in understanding individual needs. When customers receive reliable, tailored assistance, it leads to higher satisfaction, loyalty, and positive recommendations.

What is the knowledge management matrix?

The knowledge management matrix is a vital tool for organizations to map their knowledge assets. Comprising four key quadrants - Internal, External, Institutional, and Individual - it aids in identifying knowledge gaps, streamlining processes, and enhancing performance. This structured approach helps organizations pinpoint areas needing improvement, ensuring they align efforts effectively to achieve future goals and improve their overall performance.