Picture this: You're walking into a busy office, coffee in hand, ready for the day. But as you step inside, you're bombarded with questions from your team, each of them needing your expertise and opinion. Does it sound familiar? Well, this is where knowledge management comes to save the day! Knowledge management is like having a secret weapon, ready to unleash its power and drive the success of your business. So, let's explore the benefits of knowledge management and figure out how you can apply it to your business practices.
Embark on a journey through knowledge management where every article is a stepping stone to a deeper understanding. To ensure you get the most out of your exploration, we've compiled a list of related articles that delve deeper into various aspects of this topic.
What is the concept and significance of knowledge management?
Knowledge management is a concept that involves organizing, storing, and sharing knowledge within an organization. It's all about making sure your team has easy access to the right information at any time. Think of it as a treasure chest full of valuable insights and expertise that your team can tap into whenever they need.
Now, you might be wondering why knowledge management is so important. Well, imagine this scenario: You've just hired a new employee who wants to contribute to your team. The problem is, that they might struggle to find the information necessary to excel in their role. This can result in wasted time, reduced productivity, and a steep learning curve. However, implementing knowledge management can help you solve this problem by giving the employee access to knowledge and all the necessary information.
Moreover, with effective knowledge management, you can create a culture of knowledge sharing and collaboration within your entire organization. Your team becomes empowered with the tools and resources to make informed decisions and solve problems efficiently.
So, knowledge management importance cannot be overstated, as it lies in its ability to encourage innovation, enhance productivity, and improve decision-making processes. By effectively organizing and sharing knowledge within a company, your business can also unlock a multitude of benefits. In the next sections, we are going to look into the specific benefits of knowledge management. So, buckle up, and let's dive in!
20 Benefits of knowledge management
After a quick introduction to what knowledge management is, let's look at some of the core benefits it can offer to businesses that implement it.
1. Improved organizational efficiency
When you effectively organize, store, and share your knowledge among your employees, you allow them to work more efficiently and effectively.
To give you a real-life example, imagine this: a large company that operates in multiple locations and across various departments can struggle to collaborate and share information. They may spend a lot of time sending countless emails back and forth to communicate and share necessary information. However, after implementing a centralized database where employees can store and retrieve relevant information at any time, suddenly, the team improves their efficiency, productivity, and performance.
2. Increased productivity
Another significant benefit of efficient knowledge management is the increase in productivity. When employees have easy access to relevant information and resources, they can complete their everyday tasks faster, leading to higher productivity levels.
Now, to show you this benefit as a real case in point, let's take a software development company with multiple development teams working on different projects. Without knowledge management, these teams may struggle to find the right code snippets, troubleshoot techniques, or find documentation about specific functionalities. However, if the company decides to implement a centralized knowledge base where they can share their learnings, code snippets, or best practices, developers have a place where they can easily find the information they need, saving them significant time and effort in their day-to-day work.
3. Fosters innovation
The ability to foster innovation is another benefit of knowledge management. When knowledge is shared and easily accessible, it can spark creativity, encourage collaboration between employees, and enable them to generate new ideas and come up with new solutions.
Imagine a technology company that wants to stay ahead of the competition in the industry by continuously innovating and developing new and groundbreaking products. Without knowledge management, many valuable ideas may get lost within different teams and individuals. But, if the company decides to introduce this solution into the equation, employees will have a platform where they can share their ideas, industry trends, and other important information.
They will have a centralized hub where they can share their knowledge, discuss ideas, and build on them further. It also allows them to contribute their unique perspectives and expertise, creating a culture that nurtures innovation and creativity.
4. Streamlines operations
Take a global retail company with many branches and a complex supply chain as an example. Each branch may have its own way of managing inventory which can result in many inconsistencies. To resolve this problem, the company decided to implement a centralized knowledge management system that enables all branches to access standardized inventory management processes and procedures. By having direct access to real-time data, everyone can be on the same page, which helps to streamline their operations and find areas that need improvement.
As a result of streamlined operations through knowledge management, your company can experience improved management processes, reduced processing times, and enhanced customer satisfaction. Therefore, it allows you to respond quickly to changing market demands, ultimately driving growth and profitability.
5. Enhanced customer satisfaction
Keeping your customers satisfied is a key to the success of your business. Happy customers not only lead to repeat business and increased loyalty but can also act as ambassadors for your brand, spreading positive referrals.
Implementing knowledge management can significantly enhance customer satisfaction. By creating an internal knowledge base, employees have access to accurate and up-to-date information, enabling them to provide quick responses to customer inquiries. Similarly, an external knowledge base, such as a self-service portal, empowers customers with easy access to relevant information, enabling them to find solutions on their own, thereby improving their overall experience.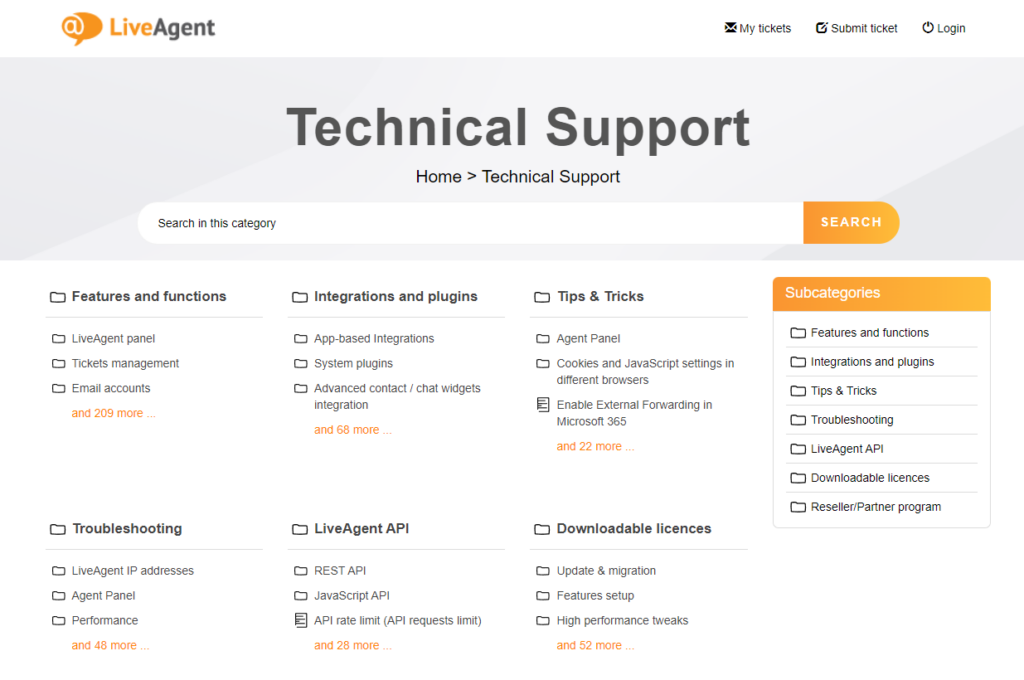 Take a telecommunication company as a good instance of this point. This type of company receives numerous customer inquiries on a daily basis. Without a knowledge management system, customer service representatives may struggle to provide quick responses which can lead to dissatisfied and frustrated customers. After implementing a centralized knowledge base system, customer service representatives can access answers to frequently asked questions, access troubleshooting guides, or share strategies for resolving issues with other colleagues. This empowers them to provide a top-notch service and keep their customers happy.
6. Facilitates decision making
Knowledge management provides easy access to relevant information and insights which empowers businesses to make informed choices in their decision-making processes.
As a demonstration, let's take an organization that is looking to invest in a new technology. Without proper knowledge management, people in charge of decision-making processes may struggle to gather comprehensive information about all the available options, their pros and cons, and the potential impact the technology can have on their clients.
However, by implementing the knowledge management system, the organization can centralize information such as research studies, use cases, expert opinions, reviews, and more. This way, decision-makers can access the wealth of information and make informed business decisions that align with the organization's goals and priorities. They can weigh the pros and cons, consider potential risks, and analyze the impact on clients. As a result, they can confidently select the technology that will have positive outcomes for their customers.
7. Boosts employee engagement
Boosting employee engagement is important for every business that wants to be successful because engaged employees are more likely to be motivated and committed to their work. Thus productivity and performance improve, which leads to a better work environment, customer service, and satisfaction.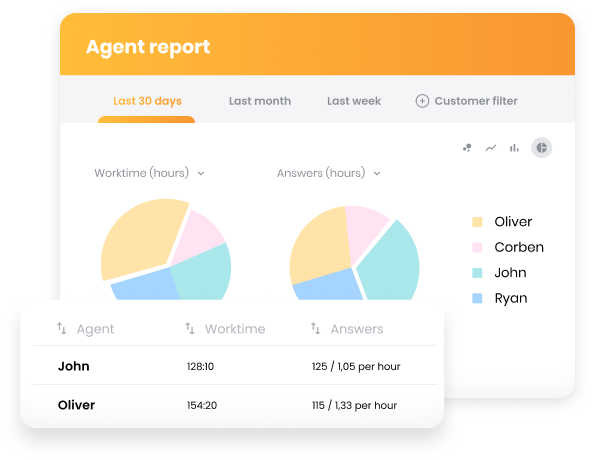 Let's delve into a real-life example. Imagine a marketing agency with multiple teams handling various client accounts. Without a reliable knowledge management system in place, valuable insights and success stories may remain isolated within individual teams, making it difficult for other employees to learn from each other and collaborate.
Now, let's introduce a knowledge-sharing platform where employees can document their learnings, best practices, and case studies. Suddenly, there is a centralized space for teams to share their successes, challenges, and learnings with one another. This enables other teams to learn from each other's experiences, gain inspiration, and generate new ideas.
8. Encourages continuous improvement
Encouraging continuous improvement is a key benefit of knowledge management. Imagine a manufacturing company that realizes the need for continuous improvement in order to stay competitive in the market. By introducing knowledge management into the equation, the entire company has a platform where employees can document their improvement projects, processes, and outcomes.
For instance, if one team successfully optimizes a production process to reduce waste and improve operational efficiency, they can document their findings and make them accessible to others. This enables other teams to implement similar improvements in their respective areas. As a result, knowledge sharing allows for cross-functional collaboration, where teams can combine their expertise to identify innovative solutions and drive overall process improvement.
9. Ensures compliance & risk management
Ensuring compliance and risk management is crucial for an organization to maintain legal and ethical standards, eliminate potential risks, and protect the business from financial and reputational harm. Having a knowledge management system can help centralize and organize relevant company policies, procedures, and regulations, making them easily accessible to employees. It enables efficient documentation of compliance activities and ensures consistent distribution of information and updates to employees, helping them make informed decisions and reducing the likelihood of compliance breaches.
To understand this benefit more concretely, we can take a financial institution as a case in point. This type of institution operates in a highly regulated industry with strict compliance requirements. Without a comprehensive knowledge management system, keeping up with ever-evolving regulations can be a daunting task. However, if the institution implements a robust knowledge management system that tracks and updates regulatory changes, compliance policies, and risk mitigation strategies, it allows employees to access the latest guidelines and procedures, ensuring obedience to industry standards.
10. Fosters knowledge sharing & collaboration
To grasp this benefit, let's look at a real-life example. Picture a global consulting firm with team members spread across different countries and time zones struggles with sharing their best practices, and important industry insights. This leads to missed opportunities for growth and innovation.
However, by introducing a knowledge management system, the consulting firm implements a knowledge-sharing platform where consultants contribute their expertise, case studies, and research findings. This allows individuals from other teams and locations to tap into this collective knowledge, benefiting from the expertise of their colleagues.
Moreover, teams can collaborate on projects, using shared knowledge to drive better decision-making and outcomes. Having easy access to a centralized knowledge base, collaboration becomes seamless, and the collective intelligence of the organization is harnessed.
11. Speeds up the problem-solving process
Effective problem-solving is a key benefit of knowledge management. It promotes a proactive approach to addressing challenges and preventing them from escalating into larger problems. Additionally, it encourages innovation and creativity, allowing for the development of new and improved processes, products, and services that contribute to the overall growth and success of the entire organization.
Take a software development company as an illustration of this point. This company encountered a critical bug in its latest release. Identifying the root cause and finding a solution could become a time-consuming and frustrating process for everybody. However, because the company recently implemented a knowledge management system, developers started documenting their experiences, troubleshooting techniques, and solutions related to previous bugs and issues.
This gave them a platform where they could now look for potential solutions or insights from similar past experiences. As a result, the company experiences faster resolution times, and its developers spend less time troubleshooting and more time creating new features and improving the overall product quality. This not only leads to increased customer satisfaction but also boosts the productivity of the development team.
12. Reduces operational costs
Knowledge management also offers a significant benefit of reducing operational costs. By organizing and sharing knowledge effectively, your company can streamline processes, avoid unnecessary expenses, and make quick and informed decisions.
For example, a manufacturing company can implement a reliable knowledge management system that offers a centralized database of equipment manuals, best practices, and maintenance schedules. The knowledge repository also allows employees to easily access the information they need to keep the machinery running smoothly.
For instance, when a machine encounters an issue, maintenance technicians can refer to the knowledge base and find step-by-step instructions or even video tutorials that guide them through the repair process. By reducing the need for external service calls and optimizing supply chain processes, the company can minimize downtime, waste, and associated costs, ultimately improving its profitability and competitiveness in the market.
13. Aids in employee onboarding & training
Knowledge management also plays a crucial role in employee onboarding and training processes. Enabling new employees to access relevant knowledge and resources allows them to quickly become productive members of the team. You can implement an onboarding program where they can learn from past projects, go through successful strategies, and engage in self-paced learning.
To give you a sense, a consulting firm that frequently hires new consultants can use this system to streamline their onboarding process. By providing new employees with access to a centralized knowledge base containing documentation, case studies, how-to guides, and training resources, the company enables them to quickly grasp internal processes, learn best practices, and contribute effectively to projects. The knowledge base becomes a valuable tool for interaction with experts, and participation in virtual training sessions, ensuring efficient onboarding and boosting employee satisfaction and retention.

14. Boosts competitive advantage
Introducing knowledge management can boost the competitive advantage of your business by capturing and leveraging knowledge to gain insights and outperform the competition. It allows you to analyze customer feedback, industry trends, and competitor strategies to identify opportunities and differentiate yourself in the market.
For instance, a fast-food restaurant chain can use knowledge management to stay ahead of the competition. Collecting and analyzing customer feedback can help them develop better menu options that align with changing consumer preferences. Additionally, studying competitor strategies and market trends helps them come up with innovative marketing campaigns and optimize pricing strategies, attracting and retaining more customers, and maintaining a strong position in the industry.
15. Helps in retaining company knowledge
Knowledge-sharing platform or system helps organizations capture and preserve company knowledge, their expertise, best practices, tacit knowledge, and lessons learned by employees. This prevents the loss of crucial information when your employees retire or leave the company for other reasons.
One good example to demonstrate how a knowledge management system helps retain a company's knowledge is shown in the following case: a manufacturing company has experienced engineers and technicians who can document their knowledge and techniques. This ensures that future employees have access to this valuable information, reducing the learning curve and maintaining operational excellence. By implementing a knowledge-sharing platform, the company protects its knowledge, eliminates the risk of knowledge loss, and ensures the smooth flow of upcoming projects. It also prevents valuable insights from walking out the door and facilitates a seamless transition when new employees join the team.
16. Stroke for business growth
Knowledge management can fuel the growth of your business by unlocking new opportunities, driving innovation, and enabling efficient scaling. You can easily capture and leverage the collective knowledge of your teams, making informed decisions and adapting to market trends to achieve sustained growth. All this is possible thanks to a comprehensive knowledge management platform.
As a case in point, an e-commerce start-up can use knowledge management to accelerate its growth. By encouraging employees to document their experiences, customer insights, and successful strategies, the marketing team can share their learnings from successful campaigns, enabling the creation of data-driven marketing strategies that resonate with the target audience.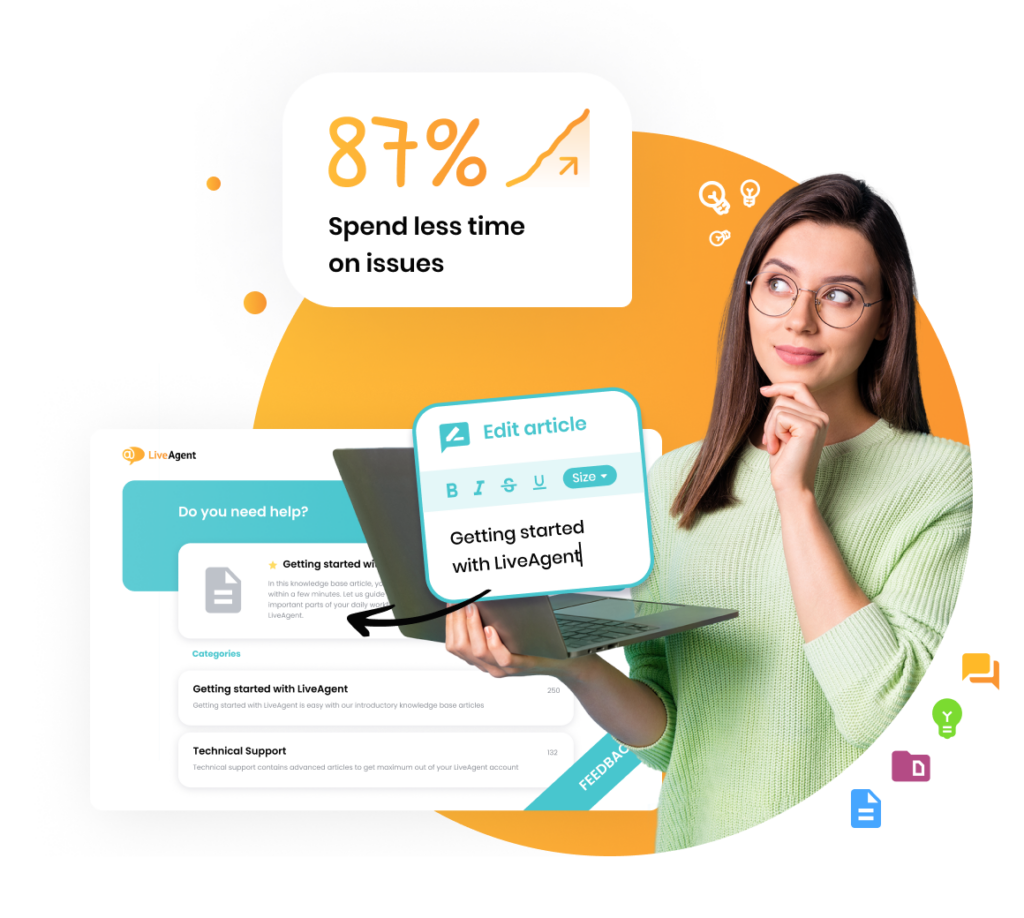 The sales team can contribute their knowledge about customer preferences and purchasing behaviors, helping to refine product offerings and improve the overall customer experience. As the company expands, the knowledge management system facilitates communication, collaboration, and organizational learning, ensuring the company remains proactive and able to seize growth opportunities in a competitive industry.
17. Supports strategic planning
Strategic planning is like a roadmap for success. It involves setting clear goals, identifying the steps needed to achieve them, and allocating resources effectively. Strategic planning also provides a framework for evaluating opportunities and risks and ensuring that all aspects of the business are working towards a common goal. Implementing knowledge management into your business can have a positive impact on your strategic planning efforts.
Take a retail company that is looking to expand internationally as an example. This company can take advantage of knowledge management to gather market research, competitor analysis, and consumer insights. Employees can also contribute their findings, creating a centralized hub of knowledge that facilitates strategic planning. By accessing data on consumer preferences from different countries and reviewing best practices from other global retailers, the company can tailor their marketing campaigns, and make data-driven decisions regarding market entry strategies, product offerings, pricing, and distribution channels.
18. Enhances quality of products/services
Another significant benefit of knowledge management is that it can enhance the quality of products or services offered by a business. Knowledge-sharing platforms help organizations leverage past experiences to continuously improve their offerings, leading to higher customer satisfaction and loyalty.
To demonstrate the potential of quality enhancement, imagine a luxury hotel chain implements a centralized knowledge-sharing platform where employees from different locations contribute their best practices and guest feedback. This enables all hotels to learn from each other and implement changes that lead to effective knowledge management strategy creation.
Hotel managers can share innovative approaches to personalized guest services, leading to improved guest experiences across the chain and higher customer satisfaction. The hotel chain can also proactively address customer pain points and areas for improvement, ensuring a consistently high level of quality. This gives the company a competitive edge, attracting more customers and solidifying its reputation for delivering exceptional experiences.
19. Encourages cultural change
Knowledge management can also encourage cultural change within your organization. Implementing these practices can foster a culture of collaboration, learning, and innovation, leading to positive shifts in the way your employees work and interact with each other.
To illustrate this benefit, let's assume a traditional law firm adopts knowledge management practices and creates an online platform where lawyers share legal insights, case studies, and best practices. As lawyers begin to actively participate, a cultural shift occurs, transitioning the firm from a competitive environment to a collaborative one. Junior lawyers can learn from seniors and find innovative solutions to complex cases. This fosters a sense of community, leading to improved client service and a reputation as a forward-thinking law firm. Over time, the firm became known for its collaborative and client-focused approach, driven by a culture of knowledge sharing and collaboration among employees.
20. Creates a learning organization
Lastly, one of the remarkable advantages of knowledge management is its ability to create a learning organization. By promoting continuous learning and knowledge sharing, you can foster a culture where employees are encouraged to develop new skills and expertise. This leads to personal growth and organizational improvement.
For instance, a technology company can create a learning platform where employees have access to online courses and can easily collaborate with colleagues. As they engage with the platform, a culture of continuous learning takes shape. Employees can learn new technologies, leverage shared knowledge, and stay updated on industry developments.
This collective knowledge enhances the skills and expertise of the workforce, making the organization more adaptable and innovative. As a result, the organization attracts top talent, retains skilled professionals, and cultivates a culture of excellence. By doing this, the company gains a competitive edge and positions itself as a leader in the industry.
What are the returns on investment (ROI) of knowledge management initiatives?
Are you curious if your knowledge management efforts are worth it and if the time and resources you're investing are bringing any returns? Calculating the ROI of knowledge management can help you find out.
To calculate the ROI, you need to identify the costs associated with running your business and implementing a knowledge management platform. These costs can include:
Employee time
Training and onboarding
Technology expenses
Then, compare these costs to the benefits it brings. The benefits may include things like:
Improved productivity
Increased innovation
Reduced costs
Keep in mind that calculating the ROI is an ongoing process that requires consistent tracking. By monitoring the ROI over time, you can make informed decisions about your knowledge management program and assess the impact of changes you make.
According to McKinsey & Company, employees spend around 20% of their time looking for crucial information that is necessary to do their job. By implementing and taking advantage of a knowledge management system, you can reduce this time dramatically by allowing them to have easy access to information that is available to them in one centralized space.
Based on research done by Gallup, over 70% of employees feel like they are missing out on important company information. By implementing a centralized hub where they can communicate, share knowledge, and collaborate, employees can feel more engaged and know what is going on within their organization. Another research shows that implementing and utilizing knowledge management can result in up to a 15% increase in productivity. Moreover, you can also drop your support costs from 20-40% which makes knowledge management a valuable asset for your organization.
How is knowledge management implemented in organizations?
Implementing new knowledge management can seem like a daunting task, but with the right approach and tools, it can be an easy and seamless process. To get started, here are a few useful tips to take into consideration.
Assess your organization's needs: Understand what type of knowledge is critical for your operations and identify the areas of existing gaps in knowledge. Also, consider the potential impact of the knowledge gap on your team's performance.
Establish a strategy: Create a roadmap that outlines your organizational goals, business objectives, and desired outcomes. This will help to guide you in selecting the right knowledge management tools for your business.
Choose the right tools: By identifying your goals and objectives, you will be able to choose knowledge management tools that will help you effectively reach these goals. One tool that is worth considering is LiveAgent. It offers an internal knowledge base where employees can access relevant information, guidance, and best practices. They can contribute their expertise, share insights, and update information in real time. It also offers an external knowledge base that allows businesses to provide self-help resources to customers.
Encourage a knowledge-sharing culture: Implement processes and practices that promote knowledge-sharing among employees. This can include regular team meetings, cross-training programs, and creating incentives for sharing knowledge.
Evaluate and improve: Regularly review the effectiveness of your knowledge management. Listen to feedback from your employees and customers to identify areas for improvement and make necessary changes.
Conclusion
In conclusion, there are many benefits of knowledge management that cannot and should not be ignored. By implementing these practices, you can enhance your decision-making abilities, foster innovation, boost productivity, and create a culture of continuous learning within your organization. Each benefit contributes to the overall success and growth of your business. And let's not forget, knowledge management can also have a positive impact on your return on investment.
Choosing the right knowledge management tools is also one of the key factors in creating a successful knowledge management strategy. But remember, the success goes beyond just implementing the right tools. It requires a commitment to creating a culture of knowledge sharing and continuous improvement. Encourage your entire team to contribute, collaborate, and document their expertise.
Whether you're just starting out or looking to take your business to the next level in 2023, don't underestimate the power of knowledge management. It's like having a secret weapon that can revolutionize your operations, drive innovation, and ultimately pave the way for success. So, embrace knowledge management and unleash the full potential of knowledge within your organization. The possibilities are endless!
Ready to implement a knowledge base?
Empower your business with our knowledge base software. Try it for free!