I think we can all agree that the modern world is flooded with copious amounts of data. Our lives are filled with information spanning from your favorite lasagna recipe to corporate know-how and research data. The tricky part is to develop a strategy that allows you to efficiently leverage all this information for your business success.
In this article, we are going to thoroughly examine knowledge management techniques to help you start your KM journey. Whether you're a small business owner or a leader in a large corporation, this guide will provide you with the tools and insights needed to manage your organization's knowledge effectively, streamline operations, and foster a culture of continuous learning and improvement. Let's dive in!
What is a knowledge management strategy?
An organization's knowledge management strategy outlines how it will manage, distribute, and utilize its knowledge resources. In addition to improving efficiency, this strategy fosters innovation and enhances decision-making processes for businesses. Knowledge management involves identifying the company's knowledge, determining its value, and devising ways to effectively share and utilize it.
To give you an example, a tech company might have a knowledge management strategy that includes a centralized database where it stores all technical documentation. This database could be accessible to all employees, allowing them to quickly find the information they need to solve customer issues. Another part of their KM strategy might be conducting regular training sessions to ensure all employees are up-to-date with the latest product information.
Importance of having a KM strategy
An effective knowledge management (KM) strategy is vital for any business since it facilitates the systematic management, creation, sharing, and application of knowledge. Essentially, it is a strategic approach that utilizes tacit and explicit knowledge within an organization.
Let's look at the most pressing reasons you should consider implementing a KM strategy in your organization.
1. Decision-making
Decision-making capabilities are one of the primary reasons why KM is a must-have. With a well-established KM program, information is readily accessible to the right people at the right time. This enables them to make informed decisions quickly and efficiently. An organization can greatly benefit from this in terms of productivity and efficiency. In fact, according to McKinsey, employees can save up to 35% of their time if a searchable knowledge base is available, so they don't have to scramble for information.
2. Culture of innovation and improvement
A well-established knowledge management framework also promotes innovation and encourages the free flow of ideas. It provides a platform that acts as a source of ideas and community, fostering a culture of innovation and creativity. This can lead to the development of new products, services, or processes that give the organization a competitive edge.
3. Increased efficiency
KM strategies can lessen operational inefficiencies by reducing the duplication of work and the time you and your team might otherwise spend searching for information. The process is also a safeguard preventing the loss of valuable knowledge when your teammates leave or retire.
4. Improved customer experience
The implementation of a knowledge asset management strategy can also enhance customer satisfaction. Leveraging the collective knowledge of the organization results in providing better customer service, faster issue resolution, and more accurate predictions of customer needs. This approach can improve customer satisfaction and loyalty, which ultimately drives business growth.
5. Risk prevention
Risk management is another area where explicit and tacit knowledge management shines. A proactive approach to risk management and challenge management depends on the ability to capture and analyze the knowledge and experiences of your employees. By identifying potential risks, organizations can develop strategies to mitigate them and prevent larger consequences.
Understanding various strategies for knowledge management
When it comes to an efficient knowledge management strategy, there is no one-size-fits-all solution. Each organization has a unique flow of knowledge combined with its individual needs and preferences. Covering knowledge gaps can come in different forms, so feel free to combine the strategies mentioned in this section. After all, the knowledge implementation plan you choose must suit you and your organization.
5 strategies for knowledge management
Having said that, let's discuss the five most common company knowledge management approaches and their impact on your current systems of KM.
1. Centralized strategy
This strategy refers to a system where all knowledge objects are stored, managed, and controlled from a single, centralized repository. This strategy allows for better control, consistency, and accuracy of information. It also ensures all employees can access the same information, reducing discrepancies and misunderstandings. However, this approach may limit creativity and innovation as it doesn't encourage diverse perspectives and ideas.
2. Decentralized strategy
This is a system where information and relevant knowledge are not stored or controlled from a centralized location, but rather, they are distributed across various nodes or individuals within an organization. This strategy encourages collaboration, innovation, and participation from all members of the organization from frontline employees to subject matter experts.
The decentralized strategy allows for faster decision-making and problem-solving as knowledge is not bottlenecked through a central authority. It also reduces the risk of knowledge loss as it is spread across the organization rather than being held by a few key individuals.
3. Network-based strategy
Using a network-based knowledge management strategy, organizations can create, store, retrieve, and disseminate information using interconnected systems and technologies. By leveraging extranet and intranet software, and the internet, this strategy facilitates seamless communication and collaboration between employees, departments, and even external stakeholders. It can include the use of social networks, cloud-based platforms, and other digital tools to enhance knowledge sharing and innovation.
4. Knowledge-focused strategy
This approach emphasizes the creation, storage, and application of knowledge within an organization. This strategy focuses on developing systems and business processes to capture and share both explicit and tacit knowledge.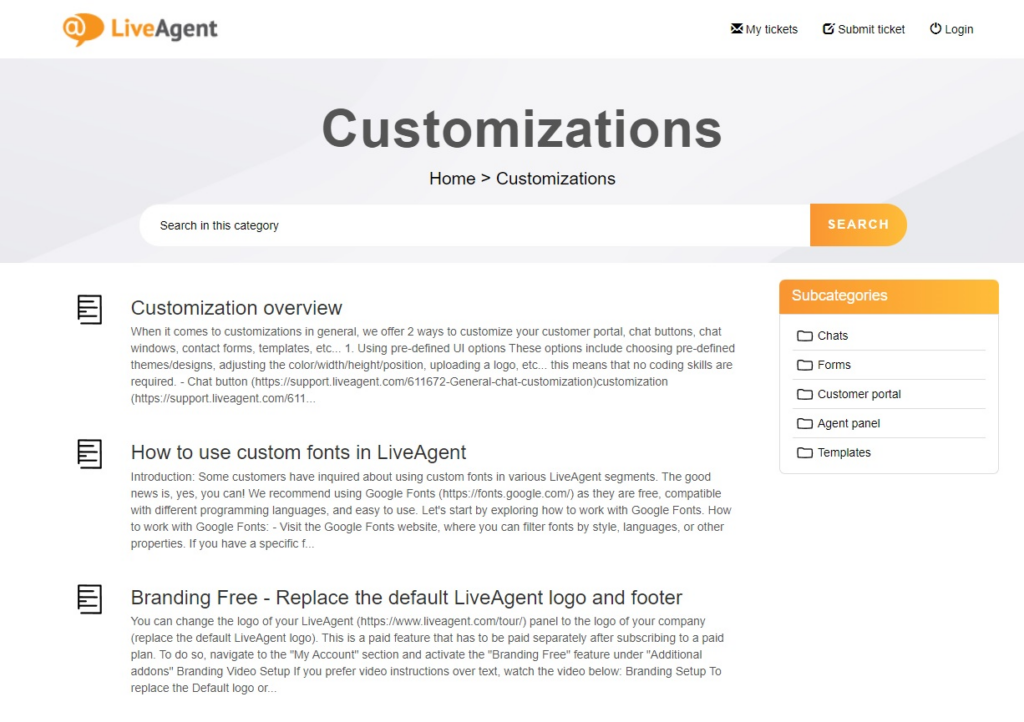 It involves creating a knowledge repository, promoting a culture of knowledge sharing, and implementing knowledge management tools and technologies. The goal is to apply collective knowledge in organizational processes to drive innovation, make better-informed decisions, and achieve business goals.
5. Customer-focused strategy
A customer-focused knowledge management strategy is a business approach that prioritizes understanding and meeting the needs of customers by leveraging data and information about them. This strategy involves collecting, analyzing, and using customer data to improve products, services, and overall customer experience.
It can include understanding customer behavior, preferences, feedback, and more. The main goal with the customer-focused strategy is to enhance customer satisfaction, loyalty, and ultimately, business profitability.
What are the 10 steps for creating the best knowledge management strategy?
At this point, you might be wondering, how can you set up and implement a knowledge management strategy. Don't worry, we've got you covered.
In the following section, we'll outline the 10 steps you can take to successfully develop and implement your own knowledge management strategy. Let's get started.
Step 1: Identification of the organization's KM needs
Before you run to the drawing board coming up with ideas and planning the implementation process, you need to identify your organization's knowledge management needs. This involves understanding your organizational goals, processes, and the knowledge gaps that exist. It's about determining what knowledge is necessary for the organization to function effectively.
You should start with understanding your business's strategic objectives. What are the goals of the organization? What does it aim to achieve? This will help to identify the kind of knowledge objects that are needed. For example, if the organization's goal is to develop a new product, it will need knowledge about market trends, customer needs, product development processes, and so on.
It's also necessary to consider your organization's culture and structure. How is knowledge shared and managed in the organization? Is there a culture of knowledge sharing, or is knowledge hoarded? Are your organizational processes structured in a way that facilitates knowledge flow, or do they hinder it? For example, if the organization has a hierarchical structure, it might hinder the flow of knowledge from the lower levels to the upper levels.
Step 2: Evaluation of current knowledge management practices
A knowledge management evaluation involves assessing how effectively an organization captures, organizes, and uses its collective knowledge. This process can be complex, as it requires understanding both the technical systems in place and the human behaviors interacting with those systems.
Identify the key knowledge resources within your organization. These could include databases, documents, human resources, such as employee skills and expertise, and any other sources of knowledge your company possesses. It's important to understand what knowledge resources are available, how they are currently being used, and how they could be better utilized to support the organization's objectives.
The evaluation should also consider the organizational processes and tools used to capture and organize knowledge. This might involve reviewing the methods used to document and store information, such as databases, intranet systems, or internal knowledge bases. During the evaluation, you should also consider how well these knowledge management tools integrate into employees' daily work routines. If the tools are difficult to use or not easily accessible, they may not be effectively supporting knowledge management.

To successfully conclude the evaluation stage, you should consider the outcomes of the knowledge management practices. This might involve assessing how well your organization uses its collective knowledge to make decisions, innovate, or train employees. To measure this, you can use metrics such as the speed of decision-making, the number of new ideas generated, or the effectiveness of training programs.
Step 3: Setting KM strategy goals
At this stage, you can get excited about the future outcomes. Based on your previous evaluation, set specific knowledge management goals. These goals should be SMART:
Specific
Measurable
Achievable
Relevant
Time-bound
Knowledge management goals should be clearly defined, along with ways to measure progress towards them and a timeframe within which they are expected to be reached.
For example, a company might set a goal to improve its product development process by better utilizing their employees' knowledge and expertise. They could start by setting up a system for capturing and sharing employee ideas and feedback, and incorporating this knowledge into the product development process. Furthermore, the company could set a specific goal to implement this system within six months and to achieve a certain percentage increase in the number of employee ideas that are incorporated into new products within a year.
This goal is specific (implement a system for capturing and sharing employee ideas), measurable (a certain percentage increase in the number of employee ideas incorporated into new products), achievable (the company has the resources to implement the system), relevant (it supports the company's objective to improve its product development process), and time-bound (to be achieved within a year).
Step 4: Choosing the right tools for knowledge management
Choosing the right tools for knowledge management is an invaluable step in developing a successful KM strategy.
Firstly, identify the type of knowledge that your organization possesses. Knowledge can be either tacit or explicit. Tacit knowledge is personal, context-specific, and often hard to formalize and communicate. It comes in the form of intellectual assets people remember without documenting it. Explicit knowledge, on the other hand, is knowledge that can be easily communicated, stored, and shared. It's the kind of knowledge that can be written down in documents, manuals, and procedures.
If your organization primarily deals with explicit knowledge, you might need a tool that excels in document management, like Microsoft SharePoint.
Alternatively, if your organization primarily deals with tacit knowledge, you might need a tool that facilitates knowledge sharing and collaboration, like Slack.
Secondly, you need to consider the size and complexity of your company. Larger, more complex organizations might need more sophisticated tools with advanced features for knowledge management. Smaller, less complex organizations might be able to get by with simpler, less expensive tools.
Finally, you need to consider the technical capabilities of your organization. Some knowledge management tools require a significant amount of technical expertise to set up and maintain. If your organization doesn't have this expertise in-house, you might need to choose a tool that's easier to use or consider outsourcing the technical aspects of knowledge management.
A great knowledge management software example is LiveAgent's knowledge base builder. It's a reliable solution that covers most of your needs whether you run a large corporation or a startup. Suitable for serving as an external and internal knowledge base, it can help you capture and share explicit and implicit knowledge across your organization.
Knowledge Base / Customer Portal Demo | LiveAgent | Live Agent05:07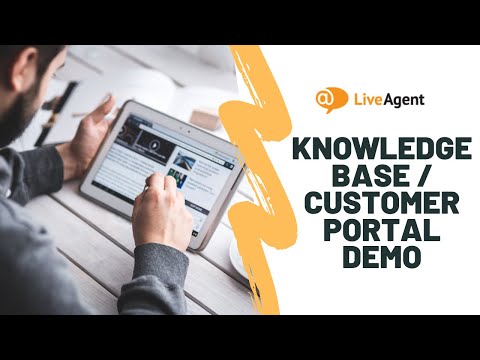 Live Agent
Step 5: Employee training and awareness on KM strategy implementation
Once you've chosen and implemented a knowledge management tool, it's time to start teaching your staff how to use it effectively. This is a multi-step process that might require some time and patience. However, your knowledge management efforts would not be successful without it.
The first step is to train your employees properly on how to use the knowledge management tools you have chosen. The best way to do this is through hands-on training sessions where employees are given the opportunity to use the tools in a controlled environment. For example, if your company uses a document management system, employees can be trained on how to upload documents, how to search for information, and how to collaborate with others using the tool.
Aside from training, it is also important to make your company aware of the implementation of a knowledge management strategy. You can do this through regular communication with your project teams and other staff. For example, you can send out regular updates about the progress of the implementation, share success stories, and provide tips and tricks for using the tools effectively.
Step 6: Creating a knowledge-sharing culture
So, you have implemented the tools, and you trained your staff. Now comes the crucial step of fostering a culture of knowledge sharing, where information and expertise are freely exchanged, and where learning and development are prioritized.
Leadership plays a crucial role in creating a knowledge-sharing culture. Your company leaders should model the behavior they want to see, by openly sharing their own knowledge and actively seeking to learn from others. They should also recognize and reward those who share their knowledge to incentivize this behavior.
Moreover, creating a safe and trusting environment is key. If people feel valued and respected, they are more likely to share their knowledge as making mistakes won't be punished. Communicating openly, encouraging feedback, and learning from mistakes can help achieve this.
For example, a software development company might create a knowledge-sharing culture by setting up a wiki where developers can document and share their coding practices and solutions to common problems. The company's leaders could contribute to the wiki themselves and regularly highlight valuable contributions in team meetings. The company could also foster a safe and trusting environment by encouraging developers to ask questions and seek help when they need it, and by treating mistakes as opportunities for learning rather than failures to be punished.
Step 7: Managing the knowledge management system effectively
Now that you've set everything up and all your staff are on board, it's time to effectively manage your institutional knowledge.
Firstly, identify the knowledge that needs to be managed. This could be anything from company policies and standard processes, to customer data, to industry research. Remember, the knowledge should be relevant and useful to the organization.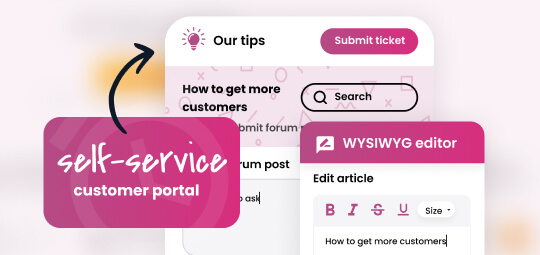 Once you have identified the knowledge, it needs to be organized in a way that makes it easy to access and use. This might involve categorizing the knowledge, tagging it with relevant keywords, or storing it in a searchable database.
Next, the knowledge needs to be shared with the people who need it. This could involve distributing it via email, posting it on a company intranet, or holding training sessions. The goal is to ensure that everyone who needs the knowledge can access it easily.
Finally, the knowledge needs to be updated regularly to ensure it remains accurate and relevant. This could involve frequent knowledge audits, soliciting feedback from users, or monitoring changes in the industry.
Step 8: Measuring the success of the KM strategy
One of the most common ways to measure the success of a knowledge management strategy is through the use of key performance indicators. KPIs for knowledge management might include measures such as the number of documents created, the number of times a document is accessed, or the number of collaborative activities that take place.
Another way to measure the success of a knowledge management strategy is through surveys and feedback. This can help to gauge the satisfaction of employees with the knowledge management system and can provide valuable insights into areas that may need improvement.
Alternatively, you can measure the success of a knowledge management strategy by assessing the impact on business outcomes. For example, if the goal of the strategy was to improve customer service, then measures such as customer satisfaction scores, the number of customer complaints, or the time taken to resolve customer issues could be used to assess the success of the strategy.
Step 9: Continuous improvement and updating of the KM strategy
It's vital you stay updated with the latest trends and advancements in knowledge management. This could involve attending seminars, webinars, or conferences, reading relevant literature, or networking with other professionals in the field. This way you can ensure you're always in the loop and aware of industry trends and best practices.
To start your review process, assess the current knowledge management strategy. This involves evaluating the effectiveness of the current strategy, identifying any gaps or areas of improvement, and understanding the needs of the employees and the organization as a whole.
Involve your staff in the process of improving and updating the knowledge management strategy. Conduct regular meetings, workshops, or brainstorming sessions. Employees are the ones who use the knowledge management system on a daily basis, so their input and feedback are invaluable in improving the strategy.
Moreover, it's crucial you continuously monitor and evaluate the effectiveness of the updated strategy. You can do this by regularly tracking KPIs, conducting surveys, or getting feedback from employees. If the updated strategy is not delivering the desired results, you and your team should be ready to make further adjustments.
Step 10: Ensuring ongoing support and resources for the KM strategy
The last step in this lengthy, although rewarding process, is to ensure ongoing support and resources for your new knowledge management strategy.
Ensuring continuous executive support for your KM strategy is crucial. Share your KM strategy's success with your company's higher-ups. This will help them understand the importance of the KM strategy and the need for its ongoing support. Moreover, you should engage stakeholders and showcase your results. The goal is to secure the resources for your future knowledge management endeavors, be it monetary, or not.
Last, but not least, you should continuously encourage the culture of knowledge sharing within your organization. Spend time communicating with your staff to continuously improve team collaboration and foster a creative environment.
Embark on a journey through knowledge management where every article is a stepping stone to a deeper understanding. To ensure you get the most out of your exploration, we've compiled a list of related articles that delve deeper into various aspects of this topic.
3 Real-life examples of effective knowledge management strategy
To put all this theory into practice, here are three examples of successful companies that heavily rely on knowledge management.
1. Siemens
Siemens, a global powerhouse in the fields of industry, energy, healthcare, and infrastructure, has a knowledge management strategy that includes a comprehensive digital platform for sharing knowledge and best practices among its employees. This strategy has helped Siemens deliver high-quality products and services to its clients and maintain its influential position in the market.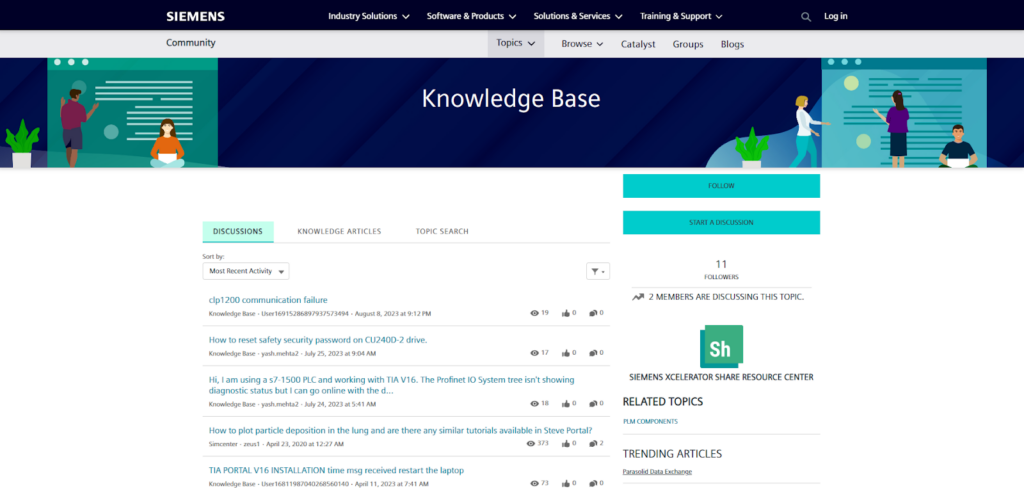 2. Tata Steel
Tata Steel's knowledge management strategy includes a practice known as "Knowledge Harvesting" where the knowledge of retiring employees is captured and passed on to the younger generation. This strategy has helped Tata Steel to preserve its institutional knowledge and maintain its competitive edge.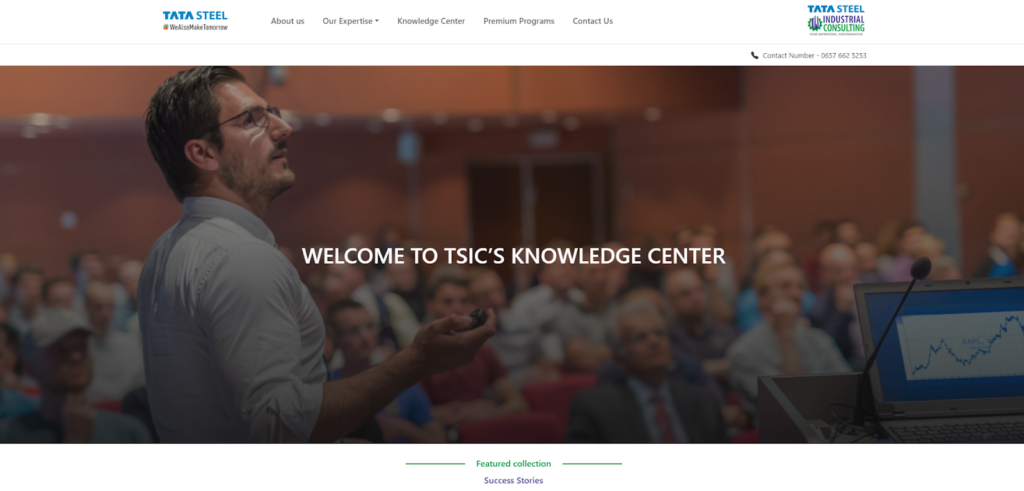 3. Amazon
Amazon's knowledge management strategy includes a comprehensive internal (as well as external) knowledge base, forums for employees to share and discuss ideas, and a system for tracking and managing intellectual property. This strategy has helped Amazon maintain its position as a leading e-commerce company.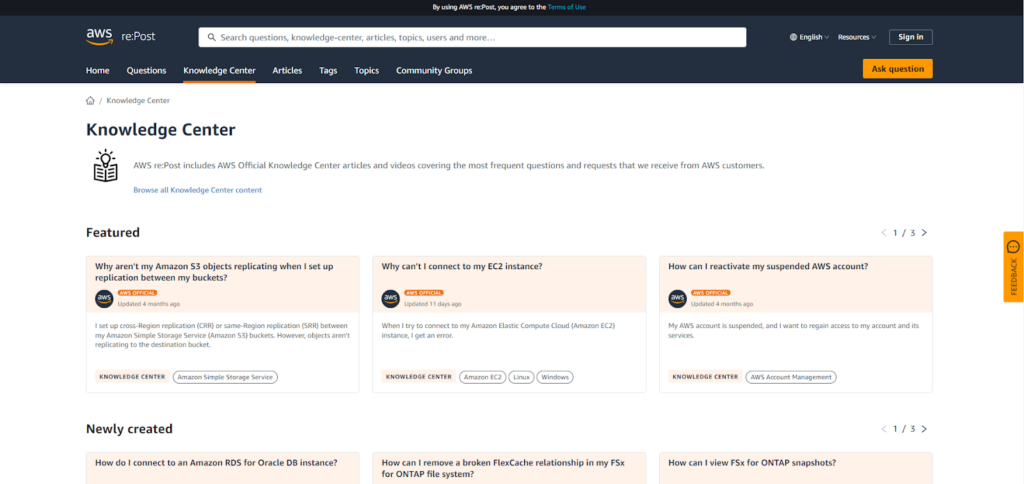 Is a knowledge management system necessary for implementing a knowledge management strategy?
To simply answer the question, yes. A reliable knowledge management system is an invaluable part of a knowledge management strategy. Here's why.
Firstly, a KMS helps in reducing operational costs. By having a centralized repository of information, employees can quickly find solutions to their problems without having to consult others, thereby saving time and resources.
Secondly, it promotes a culture of continuous learning and improvement. When you have a tool to document explicit and tacit knowledge, employees can learn from past experiences and best practices, which can lead to better decision-making and problem-solving.
Thirdly, it enhances customer service. With a KMS, customer service representatives can access the information they need to answer customer queries quickly and accurately, leading to improved customer satisfaction and loyalty.
Now you might be asking, how do you choose a knowledge management platform for your business? Let's discuss an example of a reliable KMS. LiveAgent is a comprehensive customer service platform that includes a robust knowledge management system. It allows you to create a knowledge base where you can store FAQs, guides, and other helpful resources.
Moreover, LiveAgent's knowledge base software is easy to navigate, making it user-friendly and accessible for your team, reducing employee training costs. It also integrates seamlessly with other tools and platforms, ensuring a smooth flow of information across your organization.
You can give LiveAgent a try with a 30-day no-strings-attached free trial.
Conclusion
Creating a knowledge management strategy is a crucial step for any organization aiming to leverage its collective knowledge to achieve business success. From identifying your organization's KM needs to ensuring ongoing support and resources for your KM strategy, each step plays a vital role in the successful implementation of your knowledge management strategy.
By fostering a culture of knowledge sharing, choosing the right tools, and continuously evaluating and improving your strategy, you can enhance decision-making, foster innovation, and ultimately drive business growth. Remember, the journey to effective knowledge management is a continuous one, but with the right strategy in place, the rewards can be significant.
Ready to transform your knowledge management strategy?
Sign up for LiveAgent today and unlock the power of effective knowledge management!
Frequently Asked Questions
How often should a knowledge management strategy be updated or revised?

You should update or revise your knowledge management strategy as often as necessary to keep up with changes in your organization's goals, processes, industry trends, and technological advancements. Typically, this could be annually or bi-annually. However, significant changes in the business environment may necessitate more frequent revisions.

Can a company function effectively without a knowledge management strategy?

A company can function without a knowledge management strategy, but it may not be as effective or efficient. Without a KM strategy, valuable information may not be properly shared, stored, or utilized, leading to potentially missed opportunities or redundancies.

Are there industry-specific knowledge management strategies or is a one-size-fits-all approach best?

Yes, there are industry-specific knowledge management strategies. Different industries have unique needs, challenges, and regulatory requirements that can influence how knowledge is managed. For example, the healthcare industry requires strict compliance with patient privacy laws, which influence how patient data is stored and shared. This requires a specific knowledge management strategy.

Does the size of a company affect its knowledge management strategy?

Yes, it does. Larger companies often have more complex structures and diverse knowledge needs, requiring more sophisticated and comprehensive knowledge management systems. Smaller companies, on the other hand, may have simpler structures and fewer employees, allowing for more informal and direct knowledge-sharing strategies.

How does a knowledge management strategy impact customer interactions and satisfaction?

Having a KM strategy in place leads to more informed and effective customer interactions. It ensures that customer service representatives have the necessary information at their fingertips, reducing response times and improving problem-solving capabilities. This results in improved customer satisfaction as issues are resolved quickly and accurately.