In an increasingly interconnected and digital world, the volume of information a company generates and utilizes has grown exponentially. Managing and leveraging this wealth of knowledge becomes a challenging task, but that's where the role of a knowledge manager comes into play.
What is a knowledge manager?
A knowledge manager is a dedicated professional tasked with overseeing the organization, storage, and distribution of corporate knowledge within an enterprise. The responsibilities of a knowledge manager extend beyond simple data management – they involve developing a knowledge management strategy that enables the efficient storage, easy retrieval, and effective capture of new knowledge. They also evaluate the knowledge program effectiveness and are constantly looking for ways to improve it.
The fundamental goal of a knowledge manager is to ensure information flow among departments, and that all employees have streamlined access to the knowledge resources they require, thus enhancing their performance and, consequently, the success of the company.
Why does your company need a knowledge manager?
Companies that value knowledge as an asset understand the pivotal role a knowledge manager plays. A knowledge manager facilitates the optimization of resources by improving access to knowledge, thereby significantly boosting workplace productivity and reducing downtime. They foster innovation and growth by capturing new knowledge and ensuring the organization stays updated with industry developments.
In addition, knowledge managers play an essential role in shaping a positive corporate culture. They do this by making sure employees understand their tasks and have the support they need to excel in their roles. Simplified training methods, improved internal processes, and better training for new hires are also among the numerous benefits a knowledge manager brings to the table.
Which industries commonly employ knowledge managers?
Knowledge management initiatives are crucial in nearly all industries, given the universal need for information access and sharing. However, some sectors stand out as having an especially heightened need for knowledge managers, primarily due to the complex and often rapidly changing nature of their operations. These include:
Information technology: In this industry, developments and updates occur at an astonishing pace. Knowledge managers play a pivotal role in organizing vast amounts of complex information, ensuring that crucial data is readily accessible, and enhancing the flow of knowledge. This is instrumental in driving innovation and technological advancement.
Finance: Financial institutions have data-driven and information-heavy departments that are awash with data related to markets, clients, investment strategies, and more. A knowledge manager in this dynamic fast-paced environment is essential for organizing this data and making it readily accessible for decision-making, improving efficiency and the firm's competitive edge.
Consulting: As an industry whose primary commodity is knowledge itself, consulting firms greatly benefit from a dedicated knowledge management role. Knowledge managers ensure consultants have immediate access to the latest industry insights, best practices, and case studies, enabling them to deliver high-value, informed guidance to their clients.
Governmental organizations: Knowledge managers in government play a crucial role in organizing and distributing vital information related to policies, regulations, and public services. This facilitates efficient decision-making and organizational knowledge delivery, enhancing overall public administration.
What does a knowledge manager do?
The knowledge manager job description is diverse and far-reaching, cutting across several knowledge management aspects of an organization's operations.
Tasks and responsibilities in a typical day
A typical day in the life of a knowledge manager may involve a range of activities. These include maintaining the company's knowledge base, a centralized hub that stores and organizes information for internal use, as well as deciding which type of knowledge base to use. The knowledge manager also sets up searchable resources that simplify access to data and company knowledge. The delivery of knowledge management updates and strategies is another responsibility of the knowledge manager.
A significant part of their role is fostering a culture of knowledge sharing within the organization, promoting expertise, training, and communication. Through meetings and training sessions, they educate employees on how to use their knowledge management system and also monitor the staff's ability to engage with new concepts and procedures across all skill levels.
A knowledge manager often has to collaborate with company leaders and coworkers to optimize information storage and distribution. They also value feedback from coworkers to continually improve information access and communication within the company.
Qualifications and skills
A successful knowledge manager needs a unique set of qualifications and core skills. They typically have a degree in business management, information management, or a related field, along with a good understanding of IT systems.
Knowledge managers have to be able to connect subject matter experts with program managers and make sure that the communication flows. For this reason, soft skills, such as excellent communication and leadership skills, are equally important, along with critical thinking skills and the ability to solve complex problems. Proficiency in using knowledge management tools and a clear understanding of how to convert intangible knowledge into tangible information assets is also critical for this role.
Who makes a good knowledge manager?
A good knowledge manager is often defined by a combination of their functional skills and their softer, interpersonal abilities. These professionals are knowledgeable, adaptable, and collaborative, demonstrating a proactive approach to updating and reviewing company knowledge to ensure its accuracy and relevance. Good knowledge managers also display a degree of creativity and ingenuity, as well as project management skills, enabling them to develop innovative solutions for managing and distributing corporate knowledge.
How to set your knowledge manager up for success?
Hiring a knowledge manager for your organization is the first step. However, to fully tap into the potential benefits that a knowledge manager can bring, it's essential to provide them with the right environment, resources, and support. Your knowledge manager is a key driver of innovation and productivity in your company, and their success is intrinsically linked to the success of your business. Let's explore some strategies to set your knowledge manager up for success.
Set them up with the right technology
The first step towards ensuring the success of your knowledge manager is providing them with the right tools for the job. This goes beyond just physical resources; it also includes access to the necessary digital assets and platforms. Investing in robust internal knowledge base should be a top priority.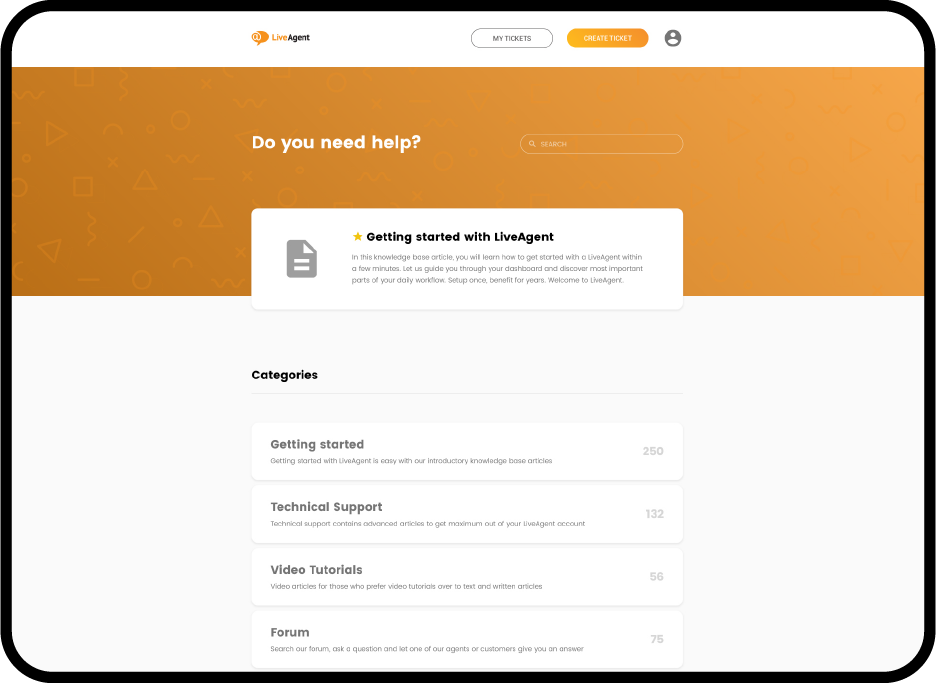 An internal knowledge base is a centralized digital repository where organizations store, organize, and retrieve essential information. It aids in keeping the company's institutional knowledge secure, standardized, and easily accessible to employees, streamlining processes and enhancing communication.
Prioritizing investment in robust internal knowledge base software is paramount. Such platforms not only automate numerous tasks but also elevate operational efficiency, allowing the knowledge manager to zero in on the strategic elements of knowledge management.
Create a conducive environment
Knowledge managers flourish in a supportive workplace that champions continuous learning and knowledge sharing. Implementing tools like LiveAgent's internal chat streamlines communication, minimizing the need for external apps and bolstering confidentiality. With its integrated internal notes, agents can append vital details to tickets, fostering efficient, personalized support. This culture of open communication and collaboration, paired with such advanced tools, not only enhances knowledge management effectiveness but also reinforces the value of the knowledge manager's role.
Provide adequate training and support
Training and support are crucial in setting your knowledge manager up for success. This may involve specific training on the use of new tools or software, or broader education around the latest trends and best practices in knowledge management and other essential skills. Additionally, providing support in the form of a dedicated team or additional resources can also contribute significantly to the success of your knowledge manager.
Align their role with company goals
A knowledge manager's role should not exist in a vacuum. Their goals and objectives should align with the broader objectives of the company. This alignment ensures that the work of the knowledge manager contributes directly to the company's success. Regularly review these goals and make adjustments as necessary to keep everything on track.
By implementing these strategies, you're not just setting your knowledge manager up for success, but also paving the way for increased efficiency across departments, improved decision-making, and greater innovation in your organization.
Tips to become a good knowledge manager
Becoming an excellent knowledge manager involves a strategic and dedicated approach. Here are some key tips:
Tip 1: Prioritize security measures
Knowledge managers handle vast amounts of sensitive company information. Prioritizing robust security measures and access controls is essential in protecting these valuable knowledge assets.
Tip 2: Foster a culture of knowledge sharing
Encourage a culture that values the sharing and exchange of knowledge. This not only enhances continuous learning within the organization but also boosts overall productivity and innovation.
Tip 3: Stay updated with the latest technologies
The landscape of knowledge management programs and tools is constantly evolving. To stay effective, make it a point to stay updated with the latest advancements in these technologies. This not only equips you to perform your tasks more efficiently but also helps you to provide your team with the best resources available.
Tip 4: Enhance communication skills
As a knowledge manager, you'll often find yourself liaising between various departments and levels of the organization. Strong communication skills will enable you to convey information effectively and build solid relationships. It's not just about speaking clearly; active listening and understanding are equally crucial for successful communication. This might be the most critical skill for a knowledge manager.
Tip 5: Develop leadership qualities
Effective knowledge managers are also great leaders. They have the ability to motivate, inspire, and guide their team toward shared goals. Developing your leadership skills can also help in fostering a positive culture of knowledge-sharing within the organization.
Ready to optimize your company's knowledge management framework?
Equip your knowledge manager with LiveAgent's internal knowledge base software today.
Frequently asked questions
What does knowledge management do?

Knowledge management is the systematic approach organizations use to capture, store, and share knowledge. The goal is to ensure that individuals within the organization can readily access and apply collective knowledge, enhancing efficiency, fostering innovation, and maintaining a competitive edge.

What is the difference between a knowledge admin and a knowledge manager

A knowledge admin focuses on daily maintenance of knowledge repositories, such as updating documents and managing user permissions. In contrast, a knowledge manager strategically oversees the broader implementation of knowledge management, designing frameworks and promoting knowledge sharing.

What are some recommended knowledge management tools for an enterprise?

Enterprises can utilize various tools, including Document Management Systems like SharePoint, Knowledge Base Software like LiveAgent, Collaboration Platforms such as Slack, and Enterprise Social Networks like Yammer.

What are the main three tasks of knowledge managers?

Knowledge managers design and oversee a knowledge management framework, maintain a centralized knowledge base, and foster a culture of knowledge sharing within the organization.
Expert note
<p>Knowledge managers play a crucial role in capturing, storing, and sharing knowledge within an organization to enhance efficiency and innovation.</p>

Andrej Saxon
Sales manager