What is jitter buffer?
A jitter buffer is a way of managing the voice packets on a VoIP call. When the process works smoothly, VoIP traffic is smooth. Most VoIP callers will never notice the jitter buffers. Sometimes, a jitter buffer has problems due to network congestion. Using a jitter buffer is an excellent way to improve your voice call quality during VoIP calls. Making calls with a VoIP jitter buffer means your audio quality will be higher.
What does a jitter buffer do?
The best way to explain the role of a jitter buffer functionality is by using an example. When you have a VoIP call, your conversation is converted into a series of small pieces of data called "packets." When these packets arrive at the other end of the call, they are reassembled into proper order.
Now imagine your call involved 100 packets of data. If packet 90 arrived before packet 10, the conversation would be out of order and confusing. Imagine the conversational difficulty of understanding someone if their words arrived out of order! Proper real-time communication with customers is impossible when excessive jitter occurs.
To prevent this type of problem, jitter buffer functionality uses delay time. This delay time allows all the VoIP packets to arrive and get appropriately organized before you hear anything. Specifically, the system temporarily stores packets so that they can all be organized. Start with the default jitter buffer setting first and see if that resolves your jitter issues. If the problem continues, ask your network administrator for tips.
Since network congestion varies so much during the day, using an adaptive jitter buffer is helpful. An adaptive jitter buffer can organize your data in different ways to avoid buffering details.
All-in-one communication platform
LiveAgent offers virtual call center that works with VoIP phone system.
Where is jitter buffer needed?
Similar to acoustic echo cancellation, a jitter buffer is commonly used to improve audio quality in VoIP systems. There are a few specific situations where it makes sense to use a jitter buffer. Before changing your VoIP service provider to boost communication quality, use these tips first.
When multiple users and devices use the same network connection, the network may struggle to keep up. In this situation, a jitter buffer can boost audio quality. If you have a poor internet connection over time, you may want to upgrade your internet service. You can monitor your current network conditions by using a free tool like speedtest.net. This free tool will measure your download speeds, upload speeds, and other factors.
On LiveAgent's side, the agent's bandwidth is only used once your chosen VoIP provider establishes a connection with our servers. Follow this link for more information.
Also described as lag, network latency can cause packet loss and jitter. Your max latency should be 150 milliseconds for the best performance, but lower is better in terms of VoIP latency.
A video conferencing session takes a significant amount of bandwidth. As a result, even a small amount of network congestion can disrupt your video. Ask your video conferencing provider if they have a jitter buffer solution designed for the needs of video. Even the most amazing HD video conferencing solution can suffer if your internet speed is overloaded.
If you noticed that your download speeds are slow during bandwidth tests, using a jitter buffer may help to improve poor voice quality problems. It is also helpful to avoid unnecessary bandwidth usage (e.g., video streaming) when making voice calls or conference calls.
It is also important to note that there are other causes of poor call quality. For example, your sound quality may suffer if you are using a wireless connection. In that case, using an ethernet cable can make your video calls and overall voice quality much better.
Completely browser-based video calling
Benefit from both chats and calls with LiveAgent's video call feature
How to set up a jitter buffer?
Putting a jitter buffer in place is usually relatively straightforward. Start by contacting your VoIP provider and ask them to turn on the jitter buffer. In many cases, the VoIP provider can handle the technical details for you.
In some cases, additional steps may be needed to turn on jitter buffer functionality. For example, your company may need to request access to VoIP networks. If many people in your company use the VoIP service to make calls, making a formal request to your network administrator is a smart idea. Setting up a jitter buffer for the first time may briefly cause a poor Internet connection for other users.
Provide a fantastic call center experience using VoIP services
LiveAgent offers over 50 integrations with a leading VoIP providers.
Watch a video about jitter
Jitter buffer is a technology that helps to improve packet loss and reduce latency over IP networks, especially during VoIP conversations. LiveAgent help desk software is a customer service tailored platform that provides businesses with an omnichannel support environment to deliver consistent customer experiences. It is used to automate customer service processes, as well as provide tools for helpdesk agents to answer customer inquiries and manage customer data more effectively. Both tools can be used together to create a reliable customer service support infrastructure.
What is Network Jitter and How Much is Acceptable? | United World Telecom02:48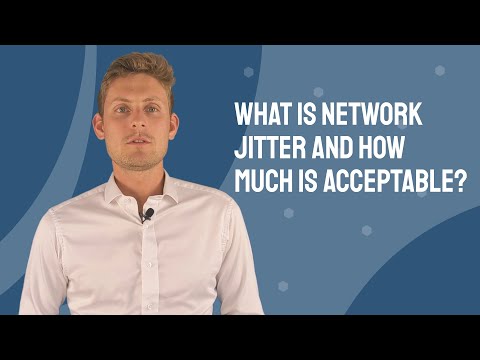 United World Telecom
Topics
network jitter
acceptable standards for jitter levels
impact of high levels of jitter on call/audio quality
ways to reduce jitter
Video summary
In this video, Luke with United World Telecom discusses network jitter and its impact on voice quality during VoIP calls. Jitter occurs when certain data packets are dropped during transmission or sent out of order, leading to jumbled, muffled, or missing audio. Acceptable standards for jitter levels include levels below 30 milliseconds, less than 1% packet loss, and less than 150 milliseconds of network latency in each direction. High levels of jitter greatly affect call and audio quality, making it a big problem for real-time communication such as VoIP calling or video conferencing. Ways to reduce jitter include upgrading internet connection, using jitter buffering, upgrading ethernet cables, reducing unnecessary bandwidth use, and scheduling device updates outside of office hours.
Frequently Asked Questions
What is a jitter buffer?

A jitter buffer is a way to prevent choppy audio and to improve sound quality on VoIP calls. Jitter buffer technology works by adding a minimal delay to your incoming voice packets and outgoing voice packets. By using this technology, you avoid packet loss problems. Note that a jitter buffer comes in several forms, like static jitter buffers and dynamic jitter buffers. To avoid problems, keep your jitter to an acceptable level (i.e. 30 milliseconds). Residential VoIP users may be willing to tolerate acceptable jitter over 30 milliseconds if they have a budget Internet connection.

What does a jitter buffer do?

A jitter buffer prevents packet loss on your audio calls. Each part of your conversation's audio stream is stored in the buffer briefly. As a result, the specific packet arrival times do not impact your audio quality. With this technology, packet loss can disrupt your conversation. You can carry out an analysis of jitter data to improve performance on VoIP calls.

Where is jitter buffer needed?

Your network administrator may suggest using a jitter buffer for several levels. For example, you might not have the option to use an ethernet cable. In that case, your audio quality might suffer if your WiFi signal is weak. By using a jitter buffer, you can avoid quality degradation problems. If other people are using video streaming during your real-time communication, using a jitter buffer can help. A jitter buffer can also help you maintain a quality call if network performance has variability over time.

How do you make a jitter buffer?

There are a few ways you can use a jitter buffer mechanism to avoid problems. If you work in a company, you might ask coworkers to avoid using the most common sources of jitter such as online gaming, video streaming, and other large data downloads during the workday. Next, contact your network administrator and tell them about your voice quality problems during your calls. Once the network administrator understands your situation, you can suggest using jitter buffer functionality.
Expert note
A jitter buffer is a way of managing voice packets on a VoIP call, improving audio quality by organizing packets before playback.

Andrej Saxon
Sales manager