Who are the call center supervisors?
Effective communication is the linchpin of every successful organization. Despite being slowly replaced by other advanced technology, traditional phone support is still heavily utilized today. It allows for more personalized customer care and helps in solving problems quicker. In fact, according to a report, 44% of customers prefer to resolve their issues via phone. This proves that call center support is still essential for a great customer experience.
Call center supervisors are vital to the customer support team. As part of their duties, they train the agents and monitor their performance to ensure the company's goals are met.
What are the duties and responsibilities of call center supervisors?
The call center supervisor's duties encompass several activities that ensure a smooth customer service experience and, in turn, help achieve call center goals.
Overlook daily activities
Managing the day-to-day operations of the call center is one of the main duties of a call center supervisor. This includes maintaining the database, managing agents, taking calls from customers, dealing with operational issues, monitoring and tracking inbound calls, ensuring the effective operation of services, and keeping the quality of service in check.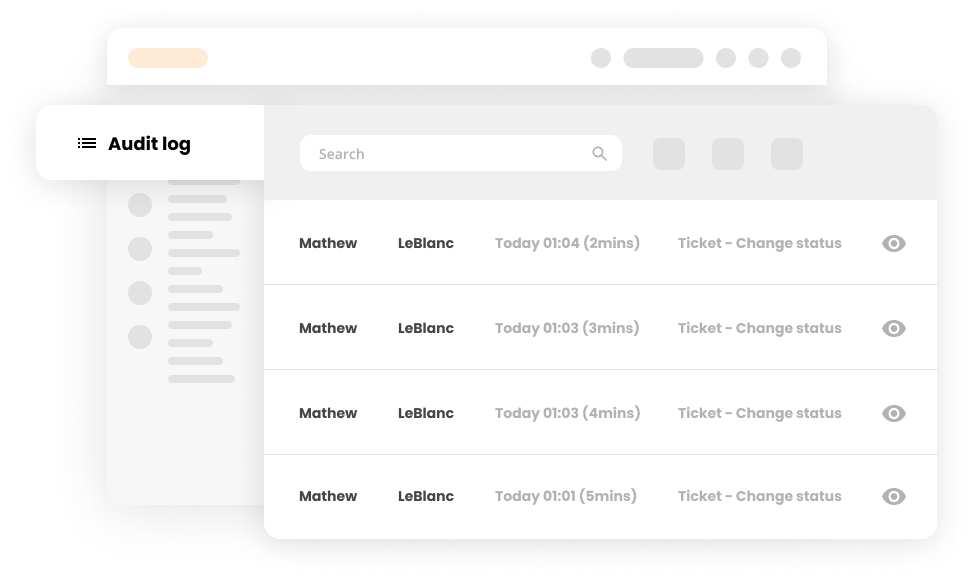 Customer service management
Call center supervisors overlook and ensure the smooth operation of the call center. Often they step in when the call agents are unable to resolve customer issues. They also provide guidance and assistance to the team on managing customer relations.
Performance evaluation
Center supervisors are responsible and help in the preparation of monthly, quarterly, and annual performance reports. They regularly keep call centers' results in check and ensure adequate performance evaluation procedures. This could include measuring performance against KPIs such as calls in waiting and call interruptions.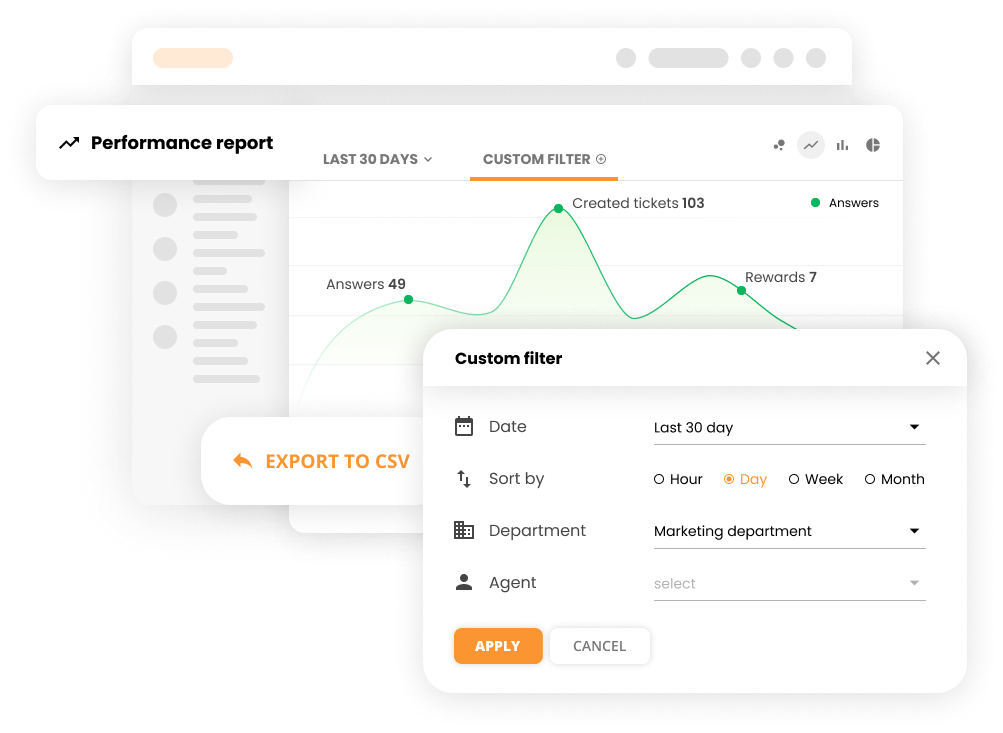 Assistance to employees
Supervisors are also responsible for arranging coaching sessions. These allow employees to share ideas or frustrations. Then, they can solve problems that arise with any grievances passed to senior management. To carry out these sessions, they must possess leadership qualities and be aware of the relevant coaching techniques required for an effective session.
They are also in charge of onboarding new employees and their training process. They should regularly participate in educational opportunities.
Achievement of business goals
Supervisors should be well aware of the company policy and ensure its implementation and compliance. Their individual goals should be in line with that of the organization and they should work towards accomplishing these goals. This is done by laying out plans to meet targets and informing senior management about recurring issues.
Why is it important to hire a skilled call center supervisor?
The success of contact center representatives depends on the performance of the contact center supervisors. It is easier for businesses to find individuals capable of handling the role by using talent assessments that identify supervisors' core skills. With the right mix of managerial skills and call center skills, supervisors positively influence agent performance.
Here are 3 center supervisor skills you need and why:
Management skills
To effectively manage call centers, agents, etc., as well as perform other tasks, supervisors heavily rely on their management skills. These can guide them towards improving their overall customer service skills as well. The right management ensures the proper handling of intensive workloads. Those that have good management skills often thrive in the contact center management position.
Excellent communication skills
Whether written or verbal, a supervisor must communicate courteously and professionally.
Additionally, the supervisor formulates clear instructions to improve the support team's performance. Positive communication can result in the faster achievement of goals, improved efficiency, and employee engagement.
This also involves having negotiation skills. These are vital when developing strategies, plans, and communicating with call center agents, customers, or senior management.
Leadership qualities
An excellent call center supervisor must possess the traits of a leader and act as a motivator for employees. To demonstrate leadership, supervisors need to keep their staff motivated and engaged.
A contact center agent's responsibility is to make and attend calls or do any work that is directed by their superior. Employees need a mentor who can guide them towards a more successful future.
How do you identify the qualities of a good call center supervisor?
A supervisor's job involves balancing several tasks. From managing company expectations to leading call center agents, driving success, and ensuring customer satisfaction, to occasional disciplinary actions. Furthermore, supervisors often have a difficult time motivating agents and fostering a culture of retention. A Gallup study indicates that managerial influence is partly responsible for around 75% of voluntary turnover.
Unfortunately, there are no one-size-fits-all criteria for a good call center supervisor. So, if you want a supervisor who will have the necessary skills and personality traits to handle the challenges of call center culture, where do you begin?
Ideally, before placing an individual in a role, you need to identify the most critical qualities and characteristics required in your specific organization.
Critical thinking
As you evaluate situations and take action, you should remain objective. Critical thinkers can make sound decisions emotionally and non-emotionally while being able to deal with angry customers, superiors, or subordinates.
Critical thinking goes hand in hand with analytical skills. These are some of the most important skills to have in today's business climate. Consequently, the need for this skill, especially among supervisors that are working in difficult, stressful environments, allows leaders to respond quickly and effectively to sudden change and new challenges.
Effective decision-making skills
In the face of uncertainty, good leaders take initiative and make timely decisions. They communicate their goals clearly and effectively. Good supervisors need to know when to proceed, and when to weigh evidence against intuition. Also, they should be able to use their supervisory experience to deal with various situations that may arise in the workplace.
Desire for self-improvement
This is an essential quality a supervisor must possess. Leaders must stay up-to-date in order to care for their employees. This includes the willingness to partake in training sessions.
Multi-tasking ability
The responsibilities of supervisors range from assisting customers, ensuring service standards, to assisting agents. Therefore, multitasking is a skill they should have under their belt to run the call center effectively.
In the long run, multitasking ability testing can lead to increased employee retention and better job performance.
Problem-solving quality
Proactive managers prevent situations from escalating and resolve conflicts before they affect their organizations.
The ability to step back and see a situation from a broad perspective is an incredibly important quality of a good leader. They utilize circular vision – the ability to see past the obvious and recognize different aspects of the problem at hand.
In fact, the best leaders see problems as opportunities. Thus, having the ability to evaluate and resolve issues is crucial in this environment.
Good communication skills
Having adequate communication abilities is perhaps one of the most important qualities a supervisor can possess. Having good communication skills will allow a supervisor to not only inspire call agents but allow for a faster and better solution to problems.
Setting up call center?
LiveAgent gives you the power to choose from variety of call center tools and features which will make your customer support faster and more effective. Curious about all the opportunities?
Frequently Asked Questions
Who are the call center supervisors?

They help to organize and direct the staff, assess their performance, carry out audits, and provide feedback when required.

What are the duties and responsibilities of call center supervisors?

Some of their prime roles and responsibilities include overlooking daily activities, customer service management, performance evaluation, assistance to employees, and aiding in the achievement of business goals.

Why is it important to hire a skilled call center supervisor?

They are likely to have the necessary qualities required for the smooth functioning of the department. These could include outstanding communication and negotiation abilities, leadership skills, and management skills.

How do you identify the qualities of a good call center supervisor?

There are some critical traits that a good call center supervisor possesses. It includes thinking critically, having effective decision-making skills, a desire for self-improvement, the ability to multitask, good communication skills, and a problem-solving quality.
Expert note
Effective call center supervisors are essential for successful customer support operations. They oversee daily activities, manage customer service, evaluate team performance, and ensure business objectives are met.

Andrej Saxon
Sales manager