What is a customer satisfaction rating?
Customers can provide feedback after their ticket has been solved using a simple questionnaire with 2 options: good or bad rating. Customers can also leave a comment if they want to express their opinion. Customer satisfaction rating is a great way of seeing the efficiency of your agents and can be effectively managed through a guest satisfaction tracking system.
Ratings can only be provided by customers and not by agents, even if they have requested the ticket.
Implementing a complaints management system in your business ensures a streamlined process for handling customer feedback and improving overall customer satisfaction, as well as monitoring the performance of your agents when it comes to handling customer feedback.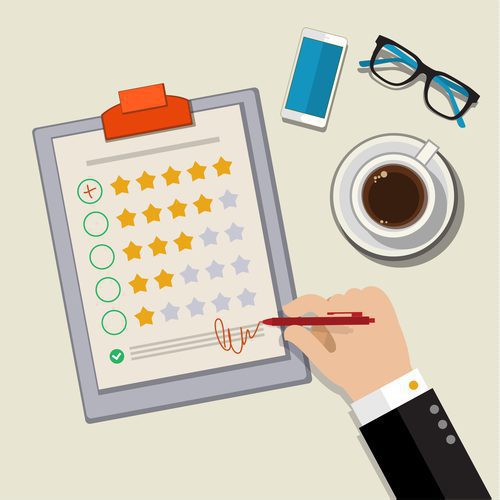 Frequently asked questions
What is customer satisfaction rating?

The customer satisfaction rating is a measure that shows us how satisfied the customer is with customer service. They may provide answers to this after their report is resolved by an agent. This is usually done with a simple questionnaire where you can indicate whether the assessment is good or bad.

How to calculate customer satisfaction rating?

The customer satisfaction rating can be calculated, for example, by means of a simple questionnaire that will be made available to the customer after resolving their request. The customer gives a positive or negative rating and on the rating scale from customers we can assess whether customers are satisfied with the service.

How to improve customer satisfaction rating?

To increase your customer satisfaction rating, you need to develop your customer service. Remember to treat your customers individually and pay attention to them as individuals. Give your customers the opportunity to be contacted through a variety of channels to choose the best one for them. Respond to customer problems as quickly and easily as possible. Collect feedback and ratings from customers. Use them to improve your actions.
Expert note
<p>Customer satisfaction rating is a critical measure of business success and a reflection of customers' trust in products and services.</p>

Andrej Saxon
Sales manager