What is a trouble ticket?
A trouble ticket literally means a request for assistance, traced by a computer support service management system. It can be also called issue tracking system, trouble ticket system or support ticket.
It is a computer system that manages and registers lists of requests for assistance or problems, organized according to the needs of the service provider. Trouble ticketing tool is often linked to a database that contains customer information, products and solution to common problems.
When you receive a new request, tickets are created or open and the goal is to close or fix them, providing the solution to the reported problem.
The main objective of a trouble ticketing tool is to streamline the process of resolving reported problems, ensuring that customer issues are addressed and resolved in a timely manner. By utilizing a reliable tool, businesses can enhance their customer support operations and deliver satisfactory resolutions to customer problems.
What is the trouble ticket process?
A trouble ticket process is a structured approach for managing and resolving customer-reported issues or service requests. It starts with customers reporting problems through various channels. A customer service representative creates a trouble ticket, documenting details like contact info, issue description, attachments, and priority.
Each ticket receives a unique ID and is directed to the appropriate support team. The assigned person reviews and addresses the issue, updating the ticket's status as it progresses (e.g., "Open," "In progress," "Pending," "Resolved"). Communication with the customer occurs to provide updates.
Once the problem is resolved, the ticket is closed with a summary of actions taken. Some companies perform post-incident analysis for improvements. In essence, the trouble ticket process ensures structured and efficient problem resolution, enhancing the customer experience.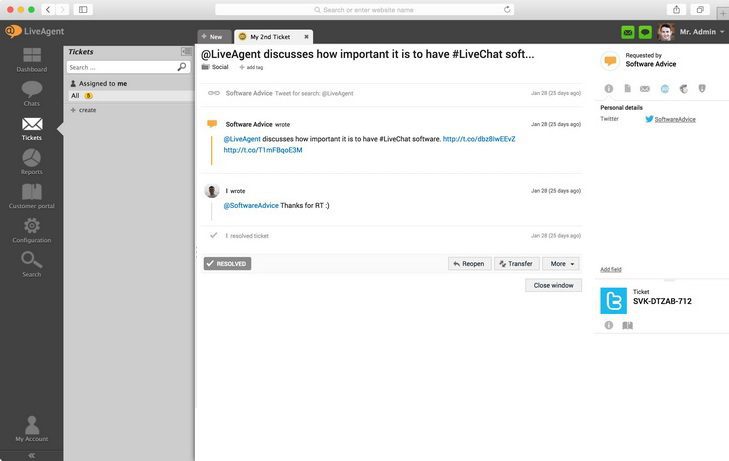 Frequently Asked Questions
What is a trouble ticket?

What are the types of trouble tickets?

Trouble tickets may concern questions about products or services before making a purchase, submitting a complaint after a purchase, reporting a defect in a product or service used by the customer. To effectively manage and address customer concerns, you can use a trouble ticketing tool that is a part of a ticketing software.

Can LiveAgent be considered a trouble ticket system?

LiveAgent can be considered a bug reporting system. It allows agents to manage requests, support clients in their problems and automate their work.
Expert note
Trouble tickets are essential for efficient customer support. They unify customer queries, prioritize tasks, and improve response times, leading to satisfied customers and improved brand reputation.

Andrej Saxon
Sales manager