No matter what type of business you run, ensuring your customers get the support they need is one of the most important factors of success. As your business keeps growing, maintaining a good workflow can become a huge challenge, and failing to meet this challenge can negate all the work you did as a team to move forward.
Even though you have managed to engage more leads than usual, your ability to maintain growth depends a lot on the efficiency of your customer support. This is especially true since new customers or clients might initially need assistance as they adapt to your products and services. That's where a ticket system software can help you a lot. While not entirely new technology, ticketing systems are still cutting edge when it comes to customer support. Most modern businesses, especially online businesses, wouldn't be able to function without them.
What is a trouble ticket system?   
A trouble ticketing system is a customer support platform that helps improve the overall workflow of your customer support team. It allows clients and customers with issues to submit customer support tickets which can be prioritized based on urgency, resolved with templates if it is a simple matter, or even routed to specialized team members if it's something more serious. 
Since most customers don't like to contact customer support if they don't have to, ticketing systems come with options for customers to try and resolve issues themselves. This is why they come with FAQ sections, knowledge bases, how-to articles, and chatbots for customers to use when they hit a wall.
A trouble ticket system also gives your team a clear overview of the current workload, helps them prioritize tickets based on urgency or time they have been waiting on a response, route issues to specialized personnel, and more depending on its features. 
The ticketing system is an excellent way of streamlining your customer support, ensuring that everyone gets their problem solved as quickly as possible. Most trouble ticket systems use contact forms as a primary means of contact, which can be additionally modified to suit your branding and ensure easier ticket submission.
Why use a trouble ticket system in your business?
Taking care of your customers might not seem like a problem when you first open your business, but keeping up with hundreds of requests can become very difficult as you keep growing. After all, customer satisfaction is tied in with some of the essential business success metrics like conversion, retention, customer loyalty. Still, it also impacts brand reputation in a broader sense, so it's an important goal for any business. 
While no company has perfect customer service, what sets them apart from each other is how they handle issues. Customers are usually reasonable people and understand that setbacks are a part of any business. Still, if you can't keep them in the loop, give them a timeline to resolve their ticket or fail to respond to their inquiries; they will become annoyed and might even take their business elsewhere.
With the right helpdesk software, you can make sure that your customer service teams address every customer issue on time. A trouble ticket system achieves this through automation, a well-organized UI, and providing a unified inbox for service requests regardless of their source. In other words, your customer support team won't have to think about multiple problems at once but rather fix issues one at a time. Moreover, choosing the best it helpdesk ticketing system for your business will ensure that you provide excellent customer support and maintain a high level of customer satisfaction.
Here's a quick overview of the benefits you get with the right helpdesk tool:
Customer service solution
The goal of an automated ticketing system is to help you solve your customer's problems much more efficiently. This is crucial for smaller teams or teams that deal with thousands of requests daily. The system will distribute critical tickets between your employees, leading to faster ticket resolution time as requests will be routed to the first available agent.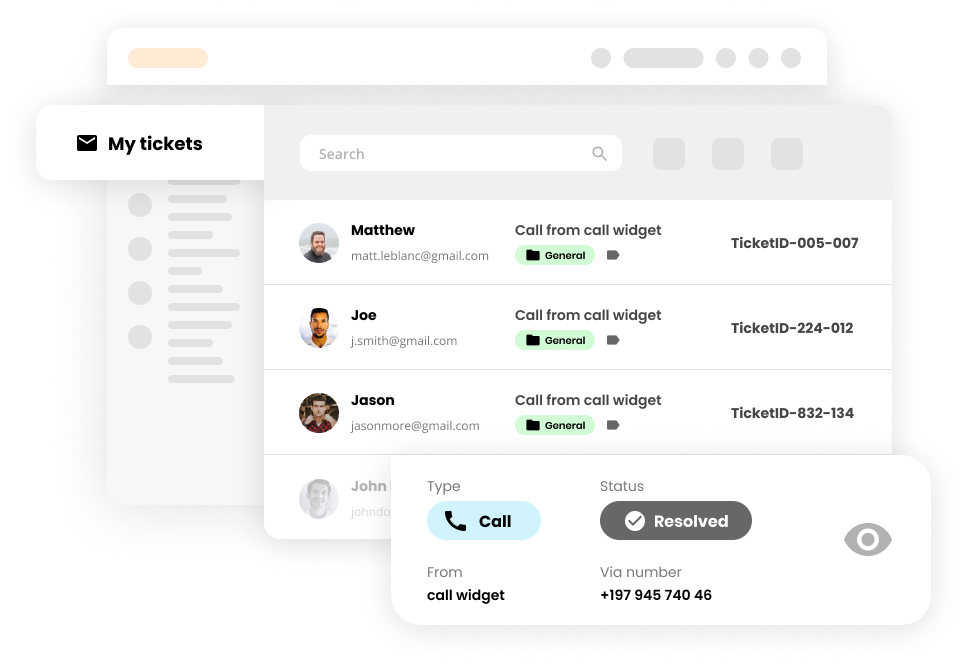 While most problems will be common issues you can resolve quickly, some might require more complex solutions. As your employees keep solving problems, the customer service platform will keep track of all customer inquiries. That allows you to improve your overall customer support further by creating a database of resolved issues that agents can refer to in order to provide quick ticket resolution.
Customer relationship management
Communication is vital when it comes to successfully running a business and building trust with your customers. If their requests fall on deaf ears, you won't get far with them in terms of trust.
Helpdesk ticketing systems provide agents with all the tools needed to establish conversation continuity with specific customers. In other words, it creates a database of all previous conversations and problems the client faced. Then, any agent can pick up where the previous one left things off and avoid annoying the customer and making them feel like their issues don't matter to the brand.  They can also gain insight into a customer's character, so they can be extra careful with ones that tend to be overbearing.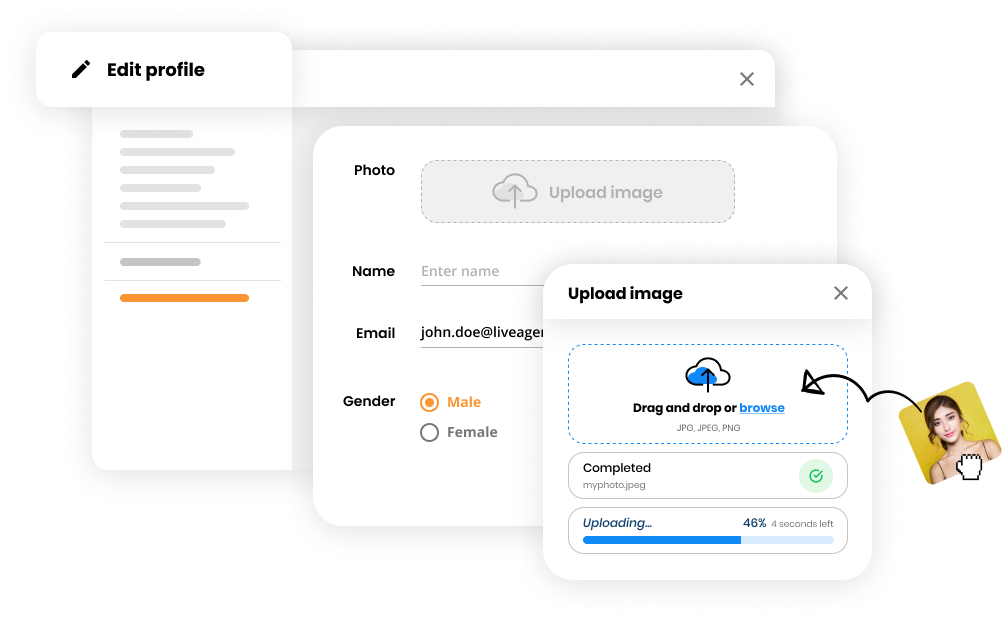 Of course, all of this data can be accessed in real-time. This means that agents can quickly jump in, get up to speed, and provide excellent support experience regardless of who handled the client previously. In some cases, customer ticket history will even give them an instant solution to a problem as some issues are repetitive. 
Not all customer issues are the same, so it's important to prioritize whom to help out first. A trouble ticket system will help you prioritize all incoming emails through automation rules which, in most cases, your team can set up to suit their priorities. It is essential to understand that priorities change based on current situations, and it's a significant advantage to be able to customize what is considered to be one. 
By using customer service ticketing solutions, you provide a quick way for customers to seek out help for their problems. You can easily unify diverse communication channels in one place, leaving the customers to use the channels they prefer to seek out help while keeping it nice and neat for the agents.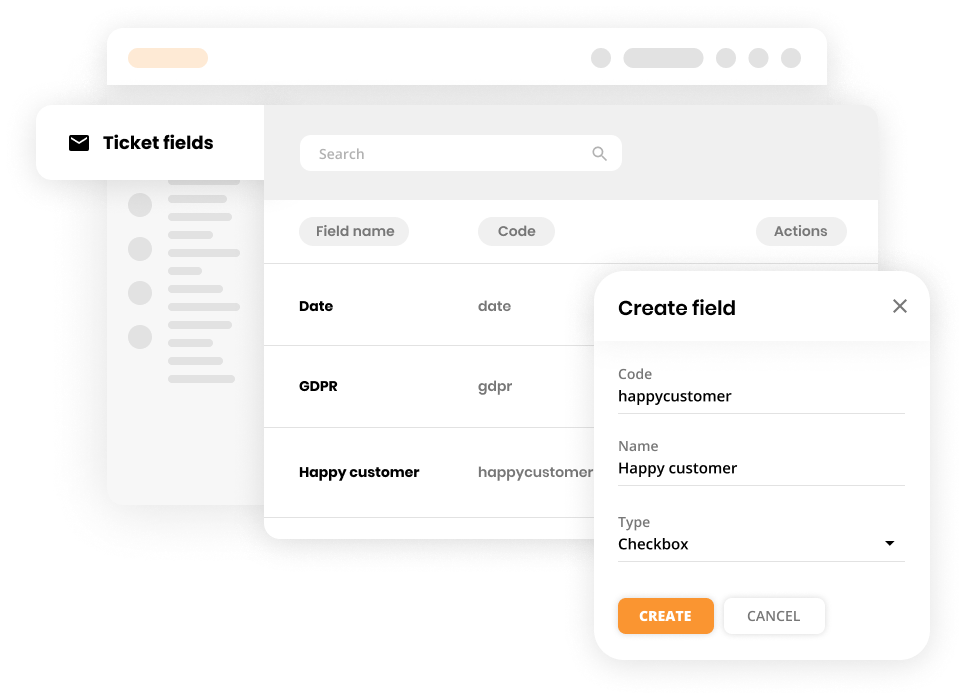 Once one of your customers submits a ticket, you can set up an automated message about what happens next. Usually, it's that their issue will be resolved as soon as a member of the support team reaches their ticket, but it can be more than that. You can give them a timeline, notify them when their ticket is resolved, ask for feedback, further information, etc. All of this will speed up your workflow and help build trust with your customers. 
Customer reports also have more than one benefit. They are there to help agents track customer ticket history and previous contacts but can also be used to identify weak points in your customer support approach or even point to recurring issues that need to be resolved. For example, we can keep track of software bugs through customer reports, allowing developers insight into its performance in practice. This means that they can be used to improve your service as a whole, not only by resolving individual issues.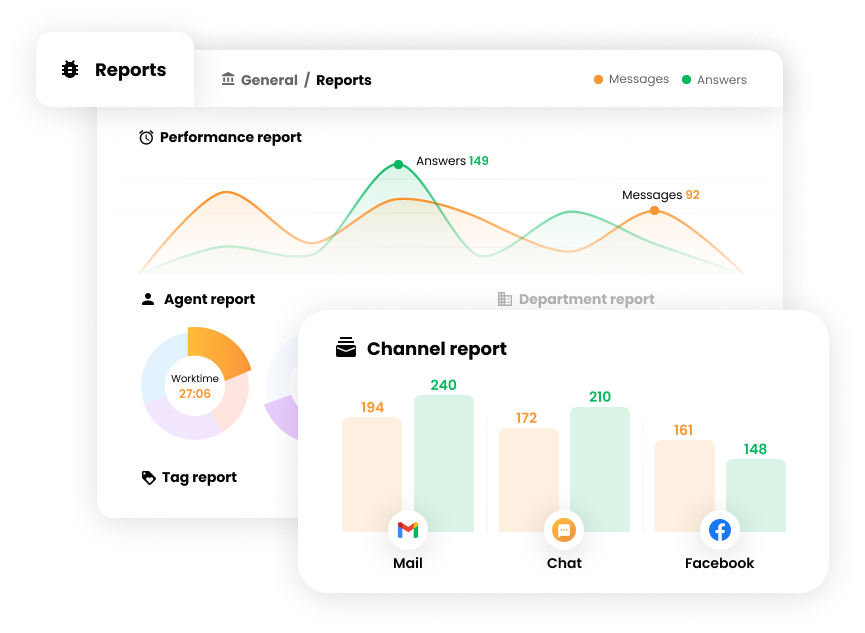 You'll be able to see if you need more staff to keep everything running smoothly. You'll also be able to look at performance reports to see which issues are problematic for your team to handle.
With a trouble ticket system, your employees will be able to organize their daily tasks much more efficiently and effectively. As opposed to being pulled in many different directions during a normal workday, your employees will handle each issue in order of priority. 
In addition, agent productivity will increase drastically, since they will be able to track every individual ticket and resolve issues efficiently. Agent performance is another important factor when providing customer support since you want everyone to be as efficient as possible.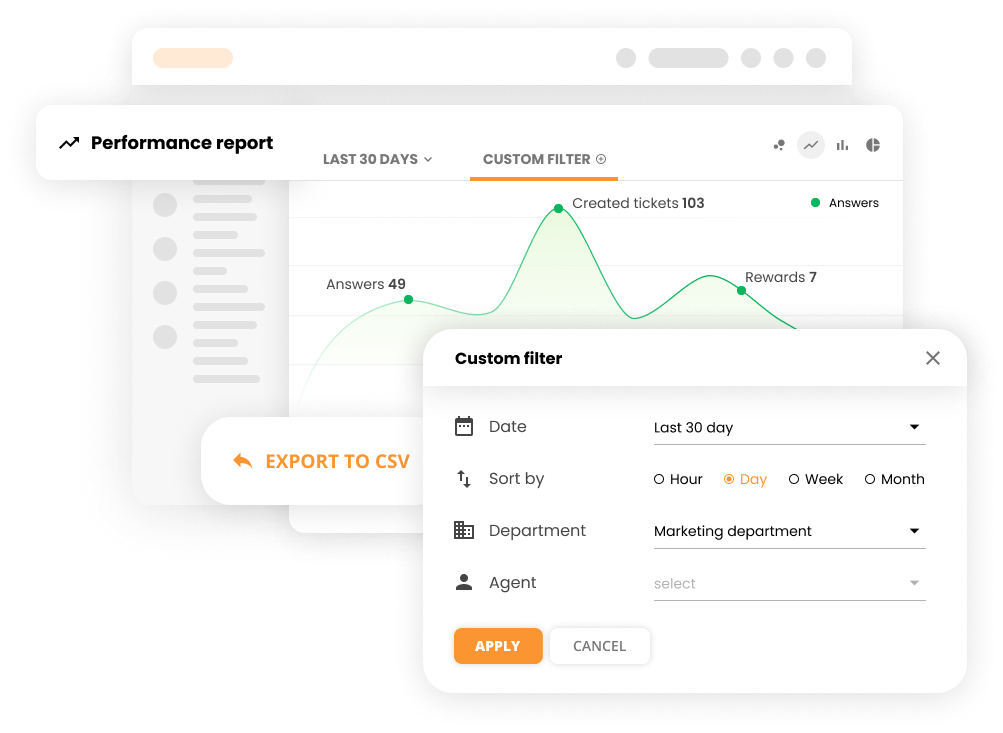 The trouble ticket system allows you to track the performance of every internal user and generate detailed customer service reports. By doing so, you'll be able to identify which employees require additional training and whether you need to hire more employees. Rating their performance immediately will allow you to see how it changes over time.
Most high-end ticketing system software solutions come with a built-in knowledge database that allows you to set up self-service FAQs. In case a customer has a common issue that happens all the time, they can simply find a solution without submitting a ticket. An external knowledge base offers a win-win situation for both sides. It helps your customers get the answers they need without having to wait for your customer support to respond. It also lowers your overall costs as you don't need an agent to handle every little thing.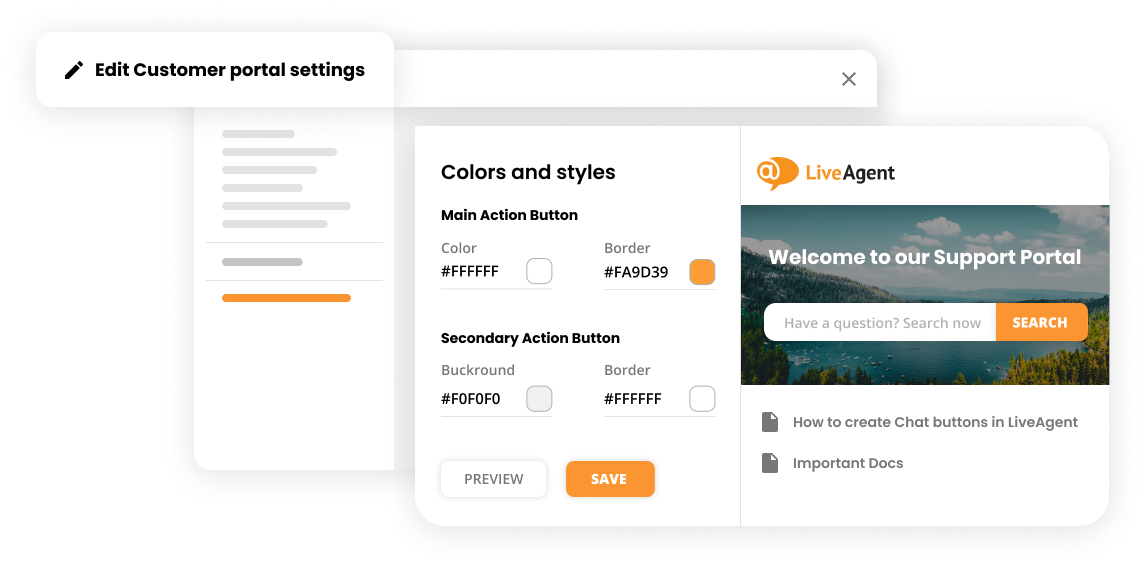 An internal customer support knowledge base can also be set up for your team. All of your IT team members can access the information they need from one dashboard once the system is in place. 
A knowledge base is not included with every solution, but you can always add third-party integrations to make it accessible.
The customer portal is usually the central piece in a brand's customer support setup. It features some things that we already mentioned, like the FAQ section, and the knowledge base but it is usually the place users visit to submit their tickets. The customer portal, in most cases, also provides ticket tracking allowing customers to remain in the loop without actually contacting someone.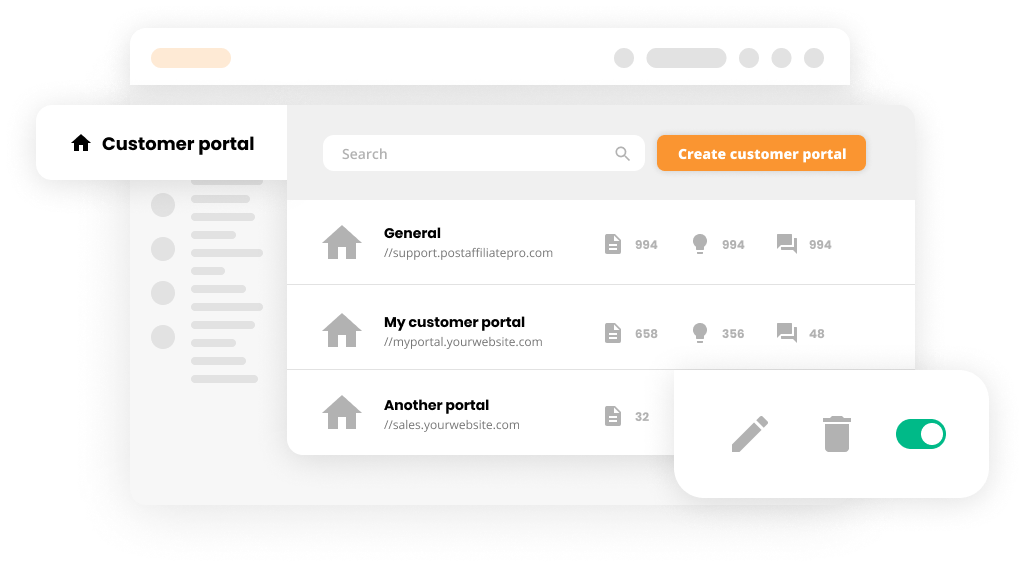 Customer portals have another important characteristic – brand awareness. Unlike other forms of ticket submission, such as emails, social media, and phone calls, customer portals allow you to fully customize what your clients see. Through this, you'll be able to reaffirm your brand message and ensure that it matches the branding guidelines you are trying to project. 
Customer portals are the starting point for most customers that face a problem as it is the official core of your customer support process, so it needs to be on point.
Most high-end helpdesk software solutions also offer full integrations with other software. Additionally, native integrations with your existing CRM enable you to track your customer's purchase history and contact information and avoid double data entry. Overall, this simplifies the entire process. Once your support team knows more details about a customer, they will be able to provide personalized support.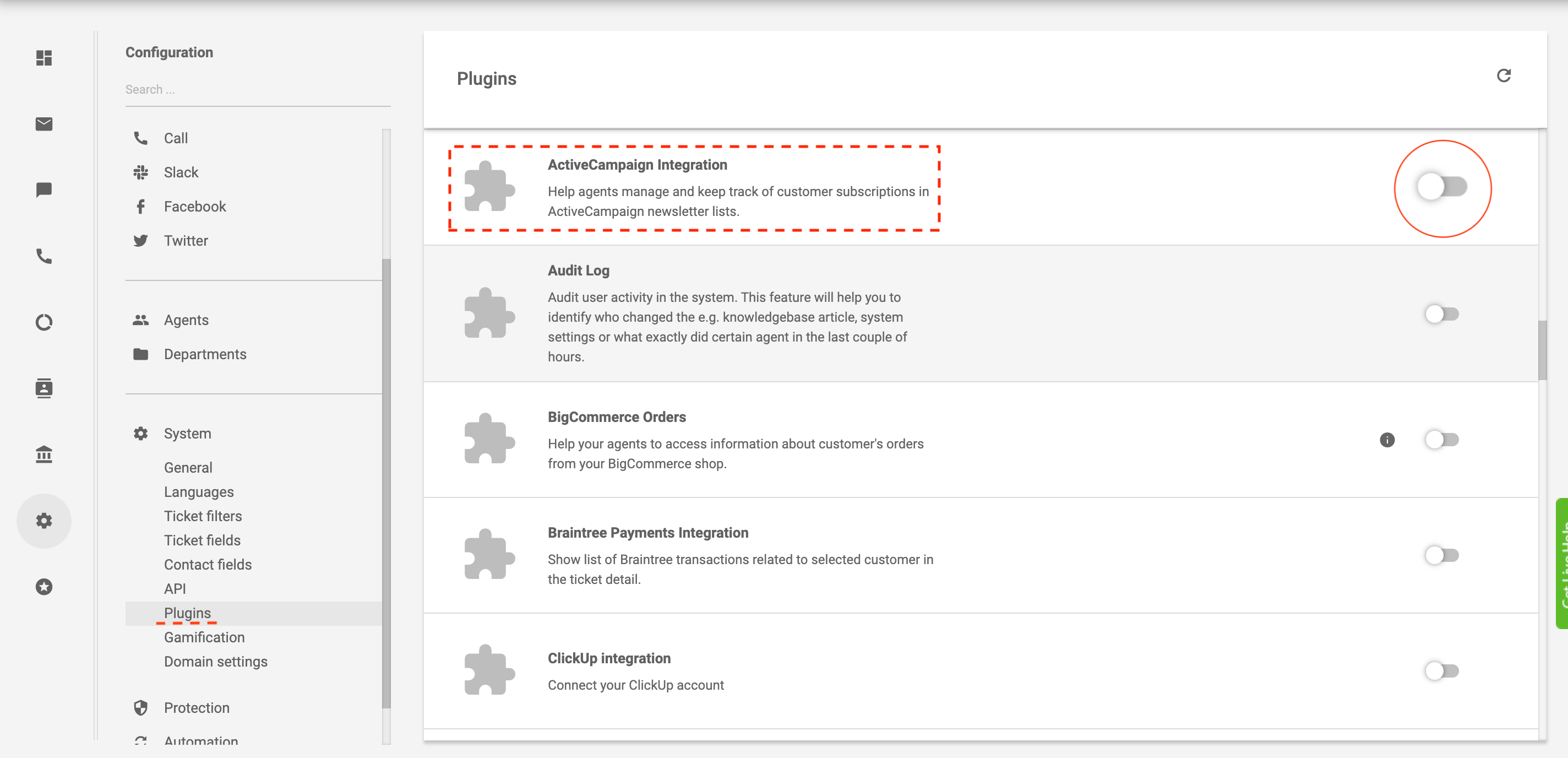 Aside from CRM integrations, most popular helpdesk solutions offer an abundance of other third-party integration options. The list will differ depending on the helpdesk software you use, but in most cases you can use integrations to provide specific assistance to your customers. This can mean adding things like surveys, forms, automation integrations, Google Sheets, chatbots (if it doesn't have one already), team chat like Slack, project management tools like Trello, and so on.
Integration options are usually quite diverse, and picking a helpdesk will partially be tied to the availability of integrations you need on a day-to-day basis.
No trouble at all
Improve the efficiency of your customer support and ensure that every issue is dealt with as soon as possible by using LiveAgent.
Best trouble ticketing system features
You can find hundreds of different helpdesk ticketing systems today, so finding the best one is often easier said than done. Many of these software solutions offer dozens of features, so you must understand which of them are critical to your operation. Here's a quick overview of all key features you should always look for when choosing helpdesk software for your company.
Universal inbox
A universal inbox is perhaps the most important feature of any ticketing system because it helps unify all customer support channels into one. In other words, it will help you streamline tickets from email, social media, live chat, phone, and so on. All customer support members will be able to access the universal inbox to review inquiries and manage tickets.
The hybrid ticket stream will help increase your team's productivity by providing agents with a way to track all interactions regardless of the source. So if the customer initially contacts the support through a chat but switches to email for his next interaction, your agents will still have access to all interactions in one place. 
Automation of ticketing distribution is another crucial advantage of the universal inbox. By setting up your own automation rules for the ticketing process, you avoid agents spending time prioritizing requests and allow them to focus on resolving issues. The fact that you can set your own time rules, action rules, priorities, set responsibilities of particular agents and departments adds to the flexibility of this feature.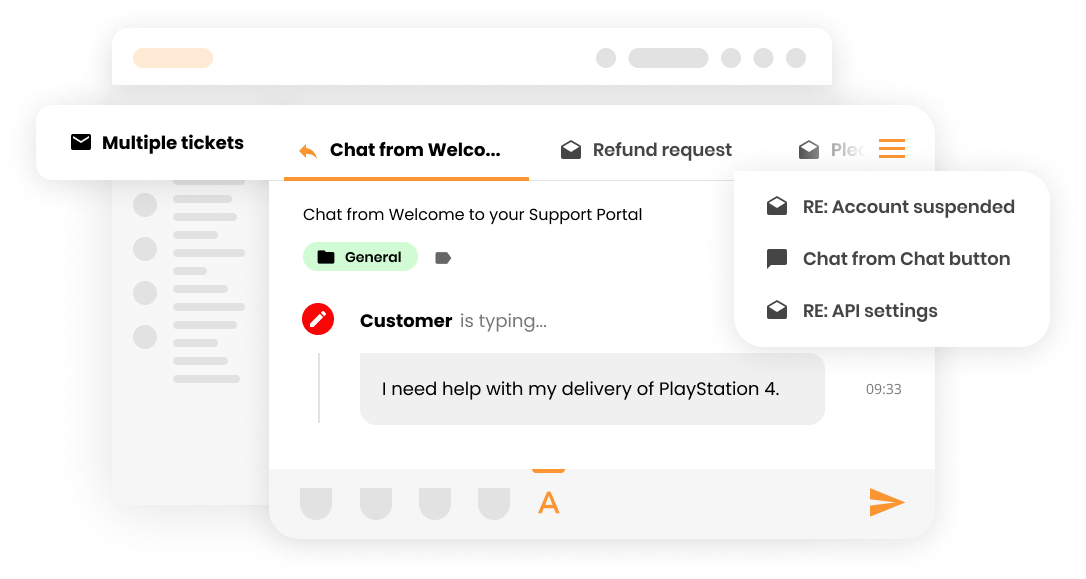 Mass actions
The software you choose should come with advanced ticketing options that allow you to manage your tickets properly. For example, advanced automation enables you to do the following things on mass: 
Resolve tickets
Transfer tickets
Delete tickets
Mark tickets as spam
Mark tickets as not spam
Add and remove tags
Change SLA levels
Send emails
Add and remove notes
Call URL(s)
Purge tickets
Postpone tickets
Send replies
Of course, your team members will also be able to change things manually if need be.
The obvious example of using mass actions is handling spam. Automated bots usually handle spamming business emails and customer support channels with bogus requests – if you get a bunch of them, you can simply mark all of them as spam and send them to the trash.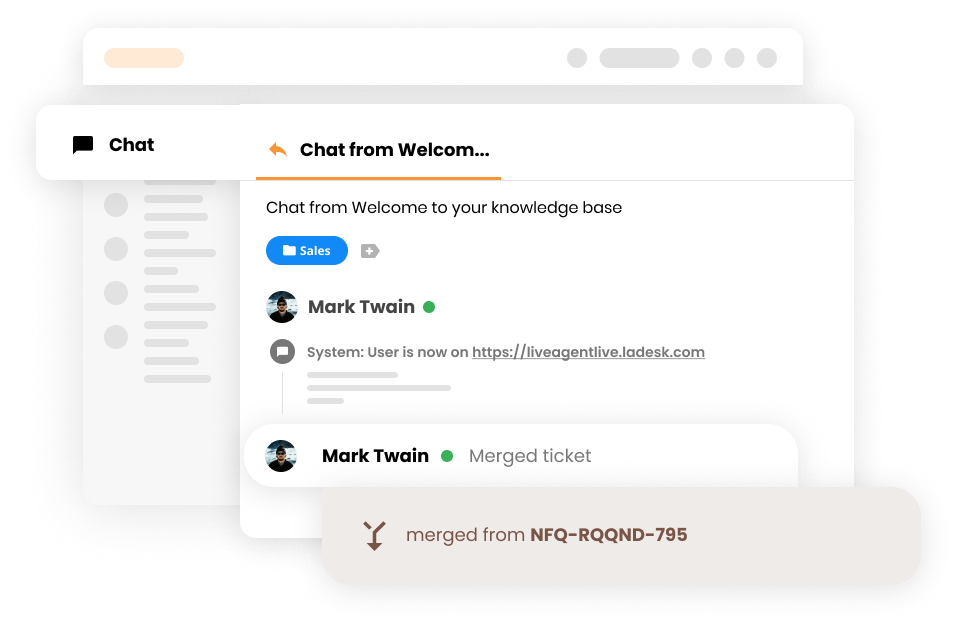 All of these features will allow you to fully streamline your customer support and scale it up if needed. Once your customer support team creates custom categories, they will be able to solve problems much more efficiently. 
Filters
As businesses grow, tickets tend to become more numerous but also more nuanced and diverse. Categorizing and filtering through requests is essential for customer support teams that aim to provide the best service possible. 
Filters will allow them to segment tickets and prioritize them based on their point of origin, current SLA level, waiting time, and the gravity of the situation.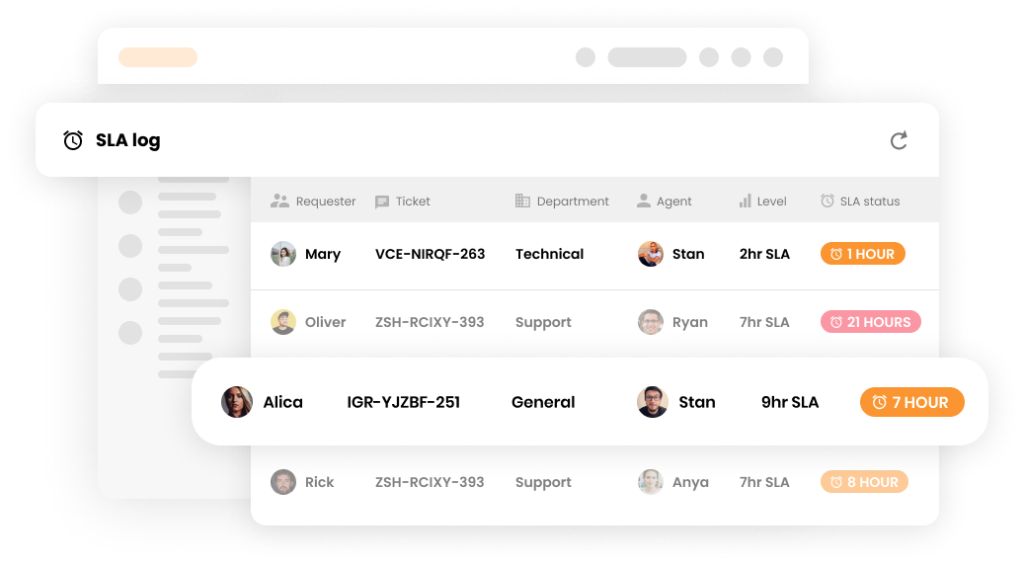 Moreover, they will be able to start resolving a ticket, go home, and simply return to where they were the next day. By segmenting tickets into correct categories, your customer support team will be able to answer all inquiries quickly because it will be evident to them what ticket needs their attention right now.
Email templates
Email templates are also a feature that makes a huge difference. 
With this option, you can create custom templates that include auto-populated responses. This will significantly cut down ticket response time. This list of prepared responses, also known as canned answers, enables agents to solve repeating issues faster by having an answer ready in advance.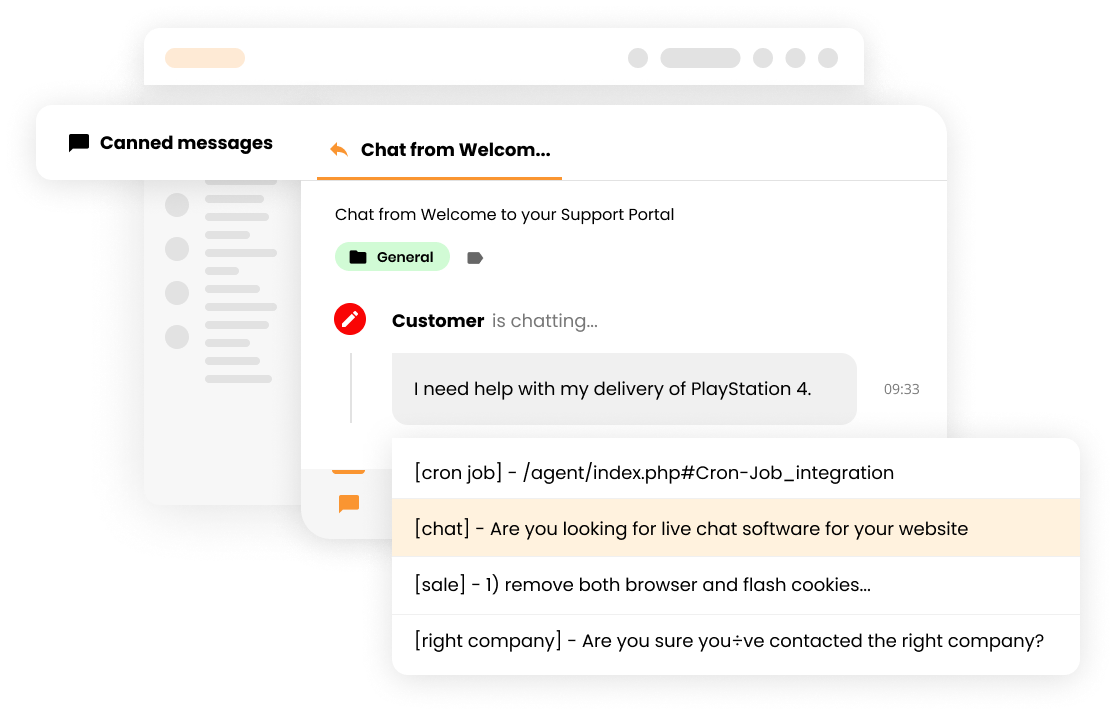 Whenever a ticket with this description appears, the agent can search their database for an appropriate answer, paste it and then close the ticket as soon as it has been approved. It's quick, requires little to no effort, and works consistently. 
CRM
Every customer service platform is built to help you improve the overall relationship with your customers. CRMs or customer relationship management tools should allow you to organize your contacts, review their online ticket history, and segment customers according to multiple criteria.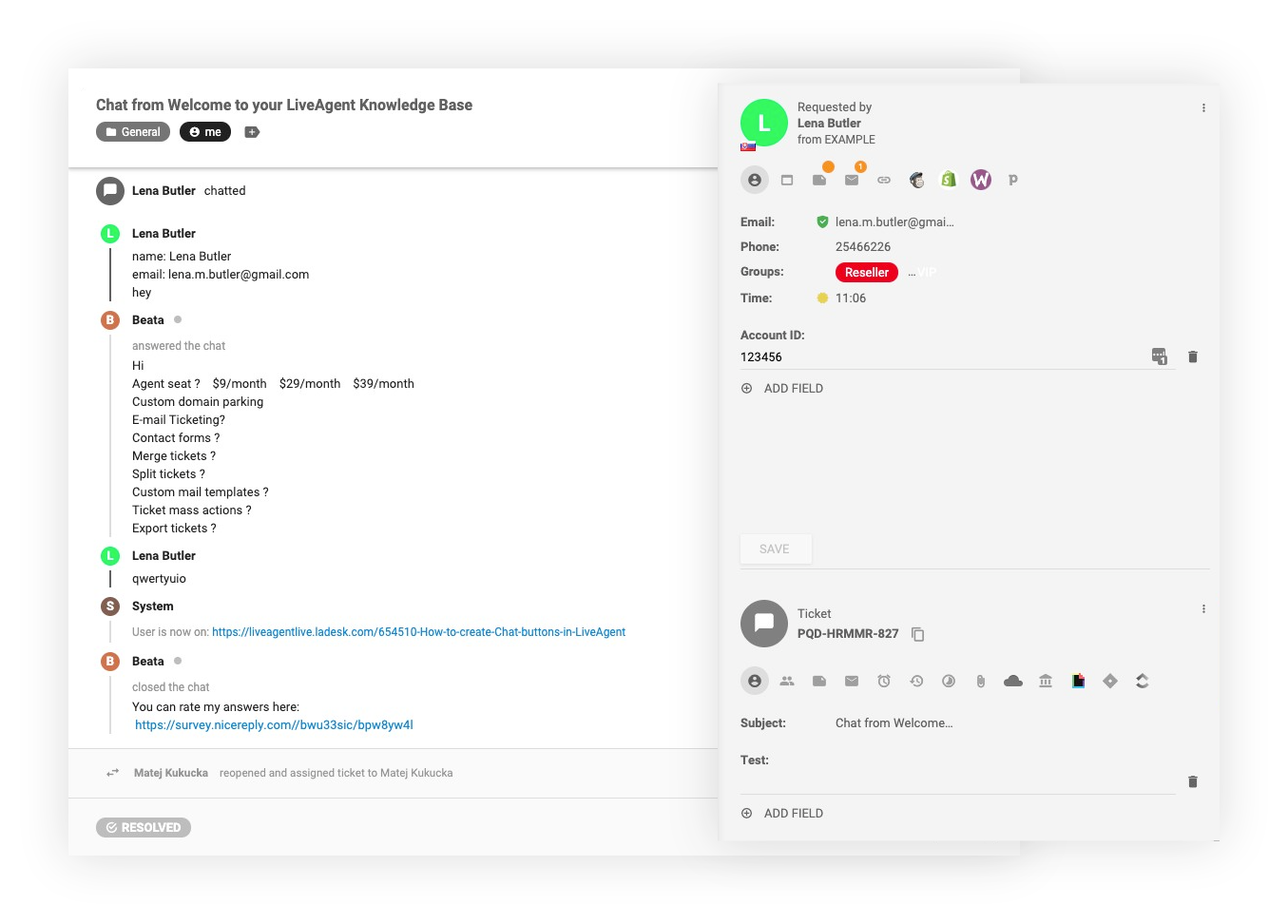 Team CRMs streamline contact management, ticket history, and agent notes, helping teams keep their ever-growing database organized, accurate, and easy to manage.  
There are many different options that help you to fully organize your customers into contact groups, contact fields, or companies, depending on what you need. 
Reporting
Regardless of the tools you use, your customer support team is as good as the agents themselves. If you aim to put together a team of people who really care about customer services, you will have to keep track of their performance. The reporting feature is crucial when it comes to this as the helpdesk can track agent performance and provide you with an all-encompassing report so you can gain insight into their efficiency. Naturally, this will also help you figure out if your current team has reached its limit and if you need to hire additional help.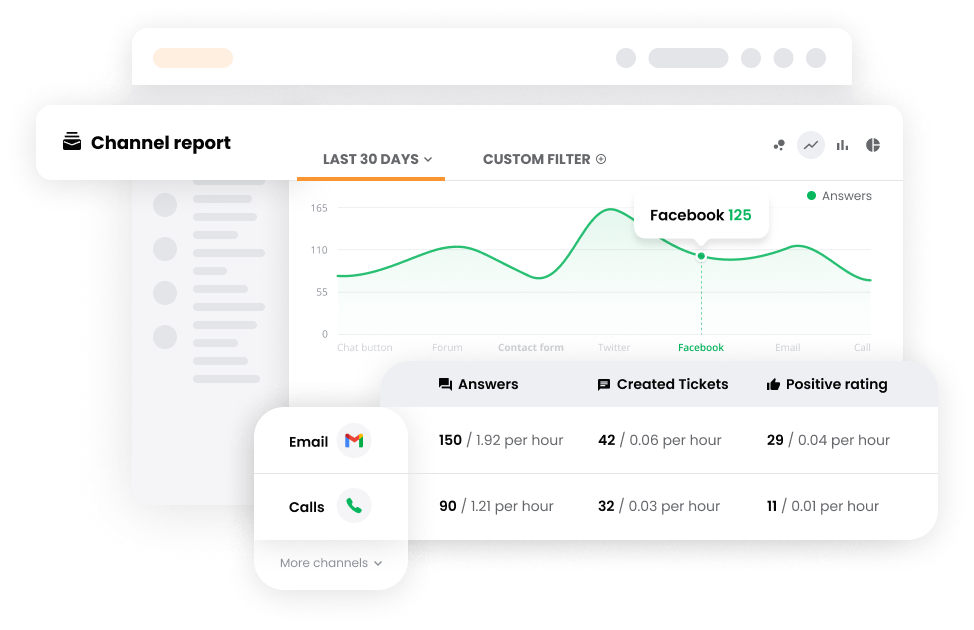 The bottom line is that you'll have a complete analytics overview of the entire operation. From individual agent reports to department reports and channel reports, you'll be able to keep a close eye on everything that goes on. That will not only help you eliminate potential issues but will also help improve the overall customer experience.
Features overview
There is no doubt that you'll run into a ton of different helpdesk tools you can try, but many of them won't have all of the features you need. That's why you should always consider only those tools that have built-in features such as:
Multi-channel communication
Email integration
A built-in real-time chat function
Simple call center management that distributes all calls to available agents
Direct social media integration that pulls customer inquiries from your social media pages
A self-service portal that helps reduce the number of tickets
Routing to set up a queue management system for quick ticket completion. Make sure that all types of routing are supported
Easy employee time-tracking, as well as the ability to optimize your operation workflow by finding weak links on time
A detailed reporting tool for easy customer support performance assessment
Automation to speed things up
Routing to relevant departments for specific tasks
SLAs (Sample Service Level Agreements)
Tags for easier ticket segmentation
 A task manager to help with prioritization
CRM integration
Business hours to notify customers when you handle tickets
Contact forms for easier ticket submission and follow-ups
Other third-party integration
Your goal should be to select a helpdesk tool with as many of these features as possible. Now, depending on your situation, you might not need all of these features. Still, most of these are standard in the helpdesk industry, and even though you might not need all of them now, you probably will once the number of tickets coming in starts climbing. 
How much does a trouble ticket system cost?
Most helpdesk ticketing systems offer a few different pricing plans for businesses of various sizes when it comes to overall costs. Of course, they all have different prices, depending on the features you select, as well as the ticketing system you choose. With that said, you should always check how prices are calculated before making a purchase.
The price of some helpdesk software is based on how many users it has per month, while others offer a custom pricing model, which is ideal for large enterprises. If you run a smaller business, you will probably have to calculate your price per user per month. To ensure you are getting the best result, the best thing you can do is to contact the software provider and ask them to send you more details or simply to compare the options yourself.
Top 20 Providers
1. LiveAgent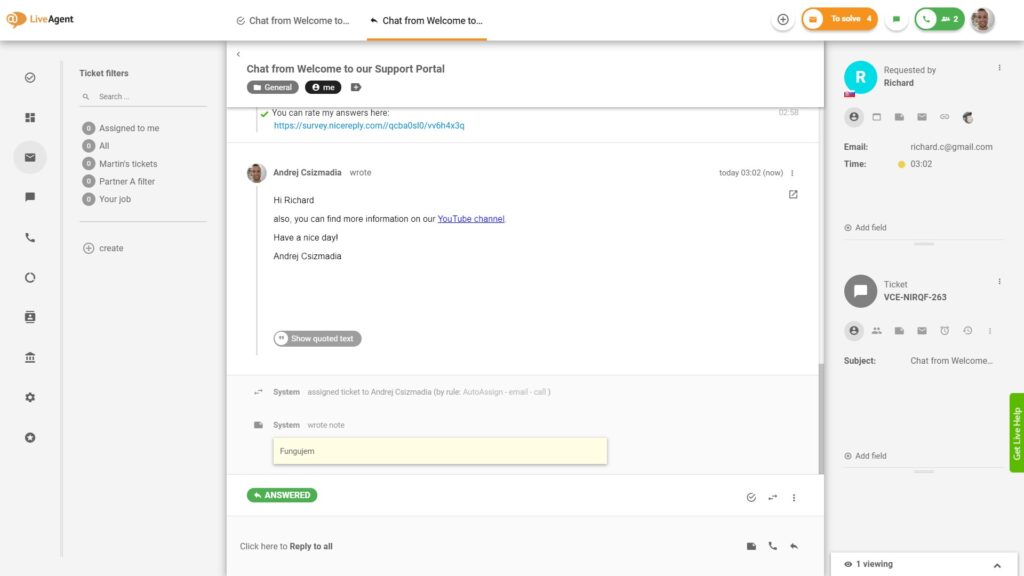 LiveAgent is one of the most commonly used help desk support solutions out there. It's a completely cloud-based solution. It has over 180 features and a user-friendly interface. Apart from offering excellent integration with, for example, Zapier, Google Analytics, MailChimp, CRM, CMS, it's also ideal for scaling your customer support. You can expect a smooth-performing solution and an excellent customer support platform with all essential features.
LiveAgent: Ticketing Software Demo | Live Agent03:21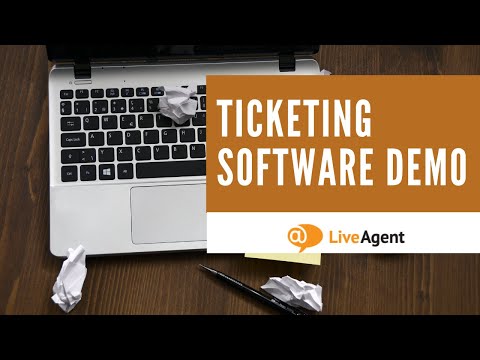 Live Agent
Key Features:
Unlimited number of agents
Universal inbox
Hybrid ticket system
Tags
Assign and transfer tickets between agents and departments
SLA
Custom contact groups
Filters, notes, email templates
Omnichannel communication
Contact forms
Knowledge base
Live chat
Social media
Call center
Reporting
Gamification
Ticket splitting and merging
Mobile apps
Agent collision detection
Agent ranking
Pros:
Intuitive dashboard
Over 180 features
Built-in CRM
Cons: 
No chatbot
Confusing for beginners
Price:
Apart from a free version with limited features, the Small pricing plan starts at $9 per agent per user.
A trouble ticket system is just one part of a complex help desk solution
Learn all about LiveAgent by signing up for a 30-day free trial. Just click here to get started now.
2. HubSpot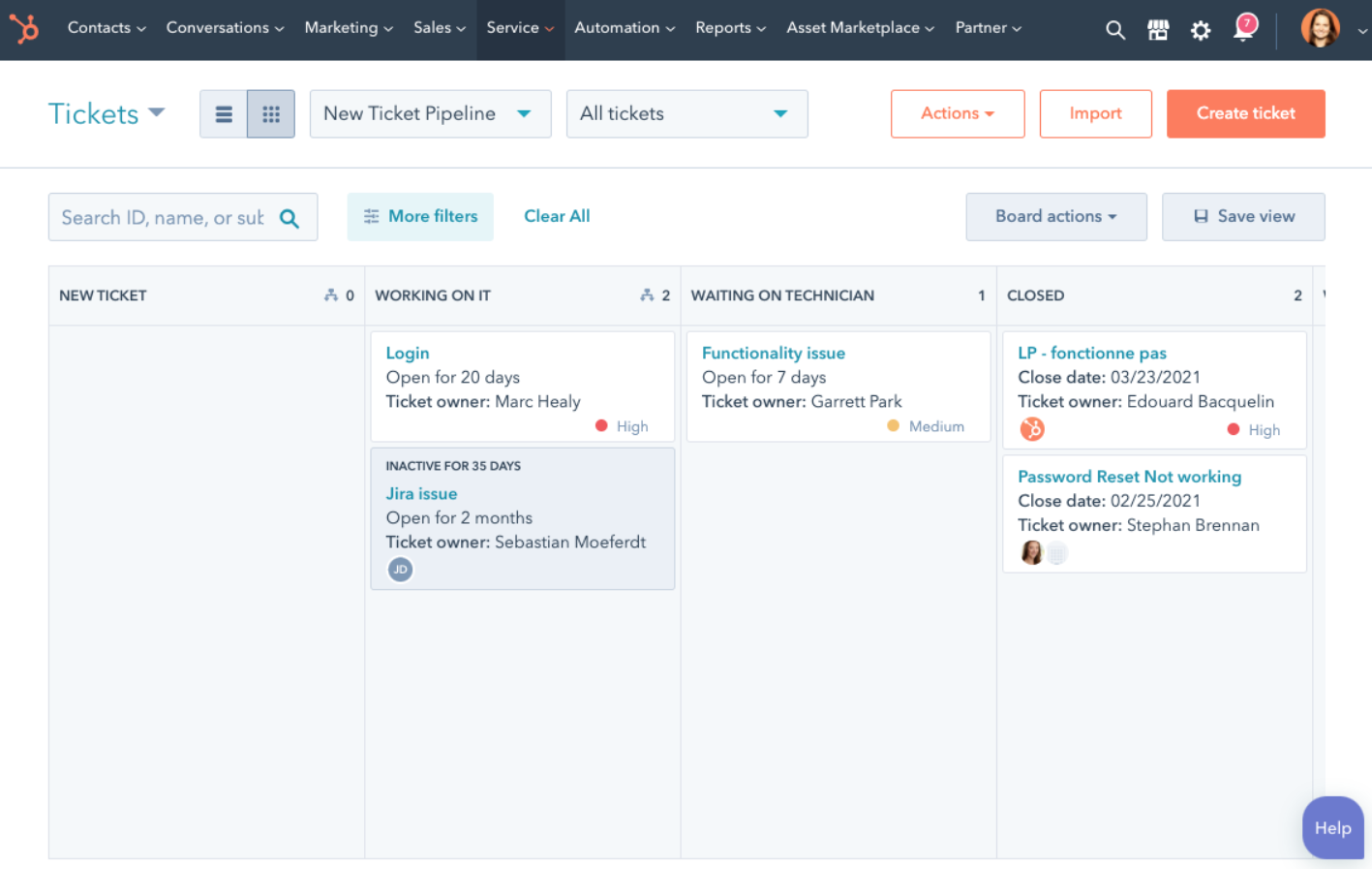 HubSpot is one of the most popular customer service software. While it works well as a self-service tool, it also helps your team be more productive. This system is perfect for building your own knowledge base to store internal documentation, and it is also ideal for creating customer feedback surveys. With features such as an easy-to-use drag and drop pipeline, bots, automation, and integrations, your team will reach a whole new level of customer service. 
Key Features:
Detailed customer issue tracking and ticket organization
Automate tickets
Request prioritization for faster problem resolving
Custom reports for every agent
Integration with HubSpot's free CRM
Omnichannel support
Easy routing
Ticket analytics
Pros:
Excellent CRM
Popular features of customer service software ( ticketing, team email, email and chat to ticket, ticket creation bots)
Self-service options
Easy to use
Cons:
You need to pay for technical support
It can be a bit pricey 
Prices:
HubSpot's premium customer service software costs $45.00 per month per two users, with the option to upgrade to Professional and Enterprise packages. Each comes with additional features.
3. ProProfs Help Desk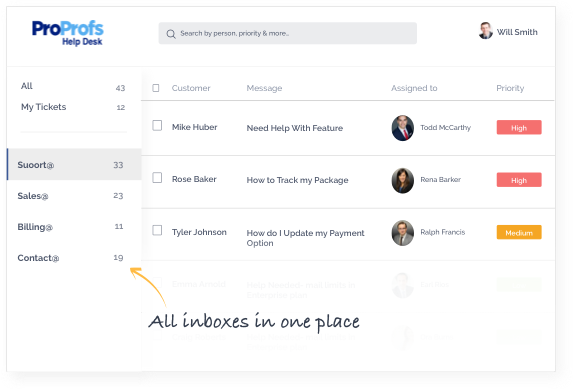 ProProfs Help Desk is another excellent help desk ticketing system with advanced features and an easy-to-use interface. Using it, the agents have access to a shared inbox, so they can easily track what is being done. Furthermore, tickets can be sorted, prioritized, tagged, and assigned according to the rules you specify. You can use it to create a detailed internal and external knowledge base to help your customers 24/7. Tickets can be divided into sub-tickets in case you have more than two customer support teams.
Key Features:
Access and management of all conversations via the shared inbox
Canned responses
Agent collision detection feature prevents sharing tickets
Automated surveys for easy feedback generation
Tracks and reports all agent performance in real-time
Pros:
Shared inbox
Excellent knowledge base options
Live chat support
Performance tracking
Cons:
Not enough integrations
Not ideal for larger businesses
Price:
The pricing starts at $15 per month per agent.
4. Freshdesk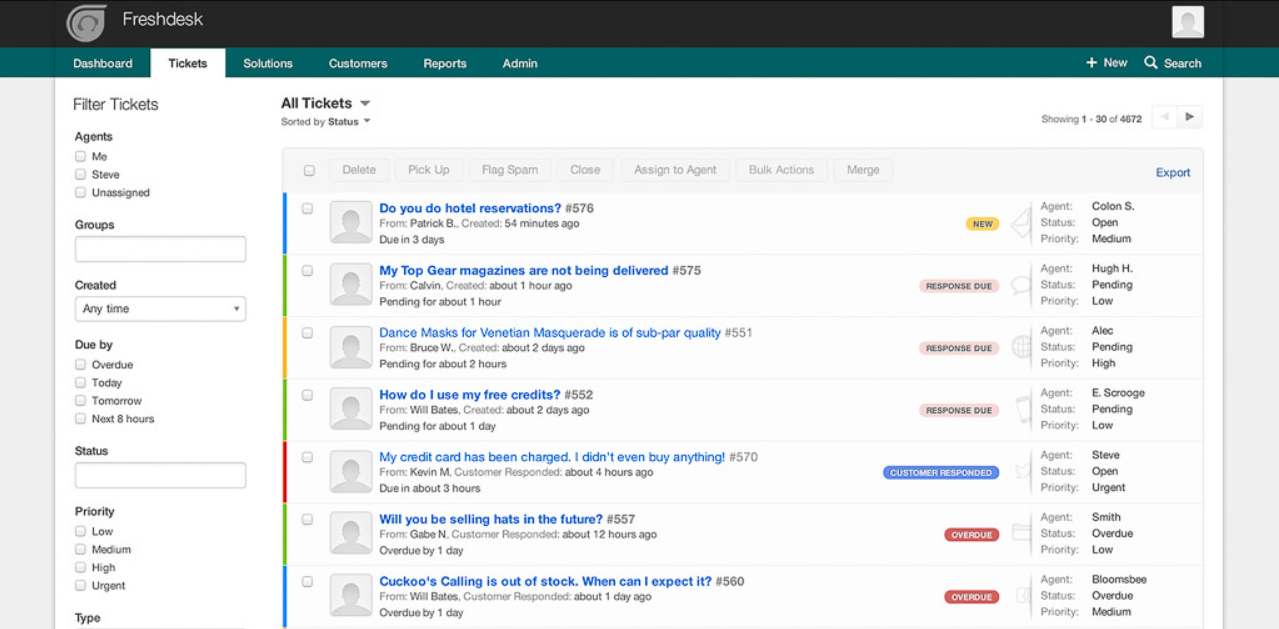 Freshdesk was created in 2010 to help businesses reach out to customers in need. It has been improved and expanded over the years into a complete help desk ticketing system. The software focuses on boosting your team's efficiency and streamlining workflows. With features like a shared team inbox for easy ticketing management, omnichannel support, canned responses, and many others, it's one of the favorite help desk solutions on the market. 
Key Features:
Ticket appointment and assignment management
Automated routing
Detailed cataloging and contact categorization 
Built-in collaboration tools
Content creation and management
Customer complaint tracking and segmentation
Pros:
Fully customizable ticketing system
Detailed tracking of all activities
Very easy to set up and integrate with other software tools
Team collaboration on the highest level
Cons:
Lack of granular pricing options for basic users
It can be difficult to get used to
Price: 
The starting price is $15 per month per agent.
5. Zendesk Support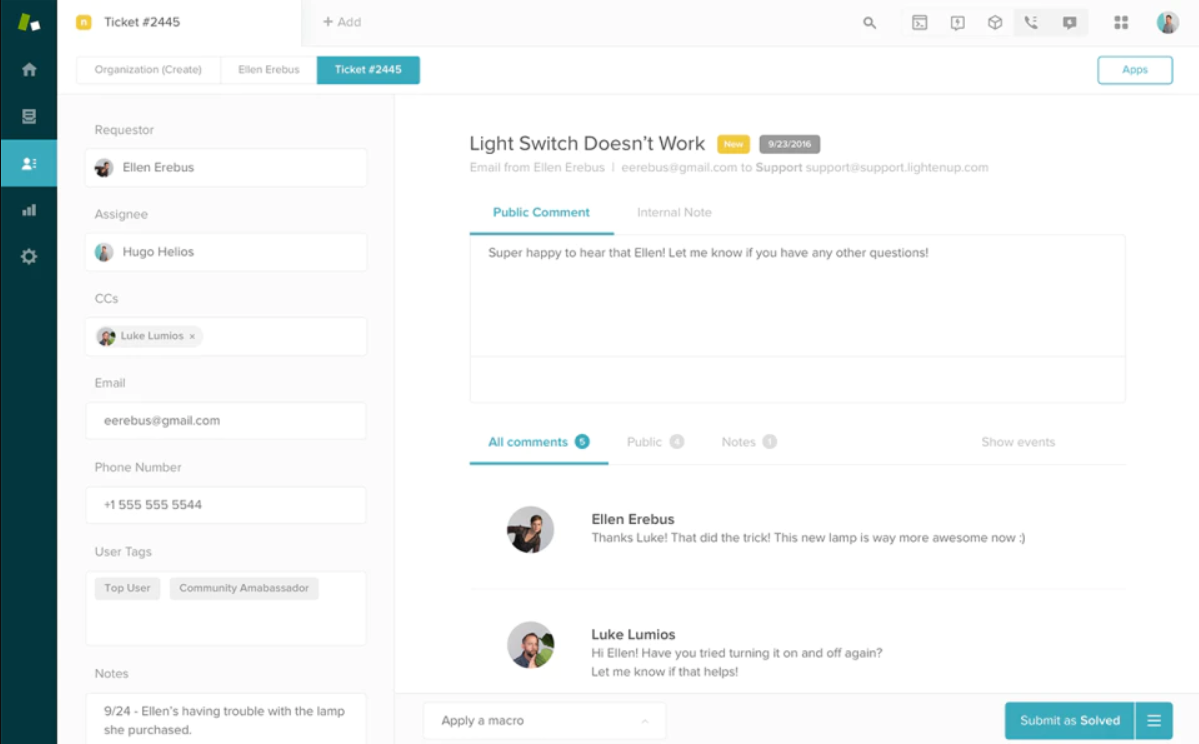 Zendesk Support is one of the more trusted brands when it comes to customer support. The software comes with a variety of customer support options packed neatly in one easily accessible database. Once you set everything up, you will be able to manage tickets, provide predefined responses, and generate feedback through integrated surveys. Apart from that, it also offers excellent performance reports and employee tracking.
While Zendesk Support has built a reputation as a trusted brand in customer support, businesses looking for an alternative to Zendesk should take into account factors such as pricing and their specific feature requirements. Exploring other options present viable alternatives to meet these specific needs.
Key Features:
Full account management and tracking
Appointment and assignment management
Call logging, recording, and reporting
Built-in call center
Omnichannel ticketing
Knowledge base
Customizable ticketing
Pros:
Easy to use
Excellent integrations
Works well on mobile devices
Cons:
Some functions cost extra
Their customer support can sometimes take too long to respond and may have a robotic approach
Price:
Pricing starts at $19 per month per user. 
6. RingCentral Contact Center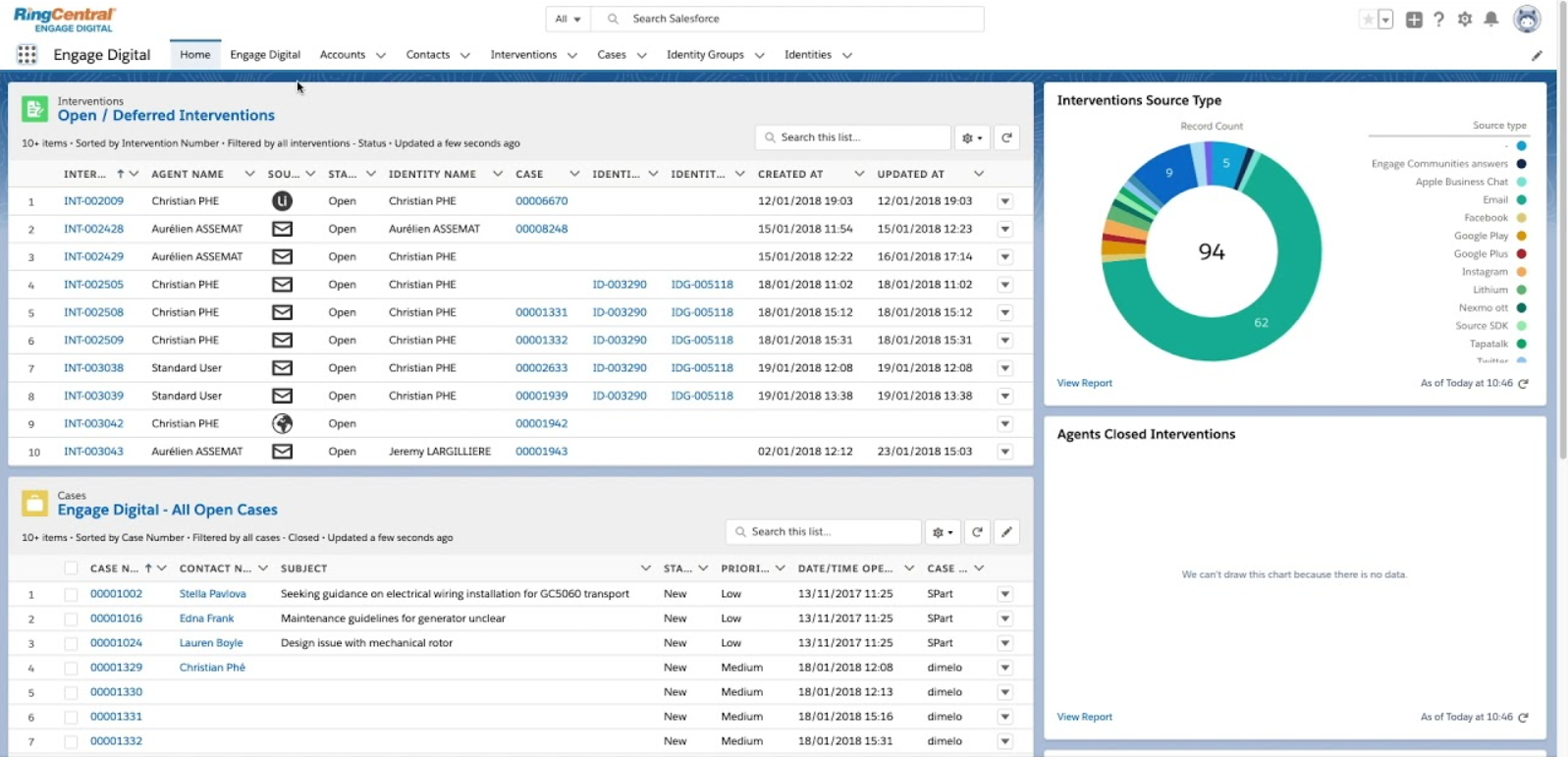 RingCentral Contact Center is a cloud-based helpdesk software solution that offers a complete set of features needed to provide high-quality customer support. It can help you track customer inquiries from multiple channels, as well as the performance of your team members. The main focus of the software is on team collaboration, and it allows your agents to find the information they need quickly. It also integrates perfectly with platforms such as SalesForce, Oracle, Service Now, and many others. 
Key Features:
Alerts / Escalation
Built-in call center, call logging, recording, and scripting
Voice recognition
Complete queue management
Real-time chat
Detailed reporting tools
Pros:
Excellent team communication features
Many different routing options and detailed tracking
Easy ticket management
Many integration options
Cons:
Lack WhatsApp integration
Occasional lagging (although this can be an individual problem as we use user reviews for this information)
Price:
Pricing starts at $19.99 per user per month.
7. SolarWinds Service Desk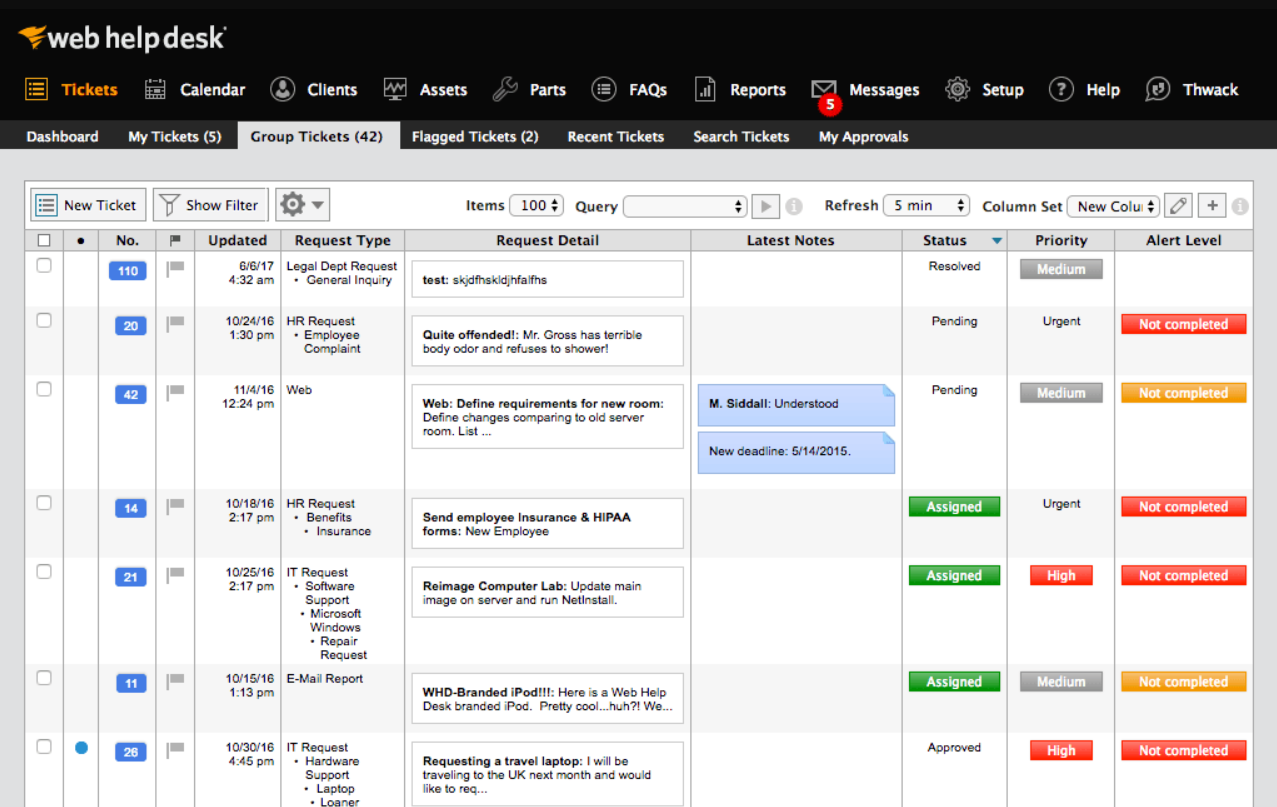 The SolarWinds Service Desk is another excellent help desk software solution, ideal for medium and large businesses. It's a cloud-based solution that comes with features such as smart ticketing, workflow automation, and full customer support management. You can use it to track infrastructure and software performance within your entire company, ensuring that everything is in perfect working condition. With advanced asset management and detailed analytics, you will quickly improve your workers' performance and keep your customers satisfied.
Key Features:
Asset tracking and management
Automated routing
Omnichannel ticketing
Customizable branding
Call center and incident management
Employee tracking
Knowledge base management
Fully customizable templated responses
Pros:
Low cost
Support in multiple languages
Free for three agents
Cons:
High hardware requirements
It can be pricey for some users
Price
You can use the free version for up to three agents. The paid plan starts at $20 per agent.
8. Request Tracker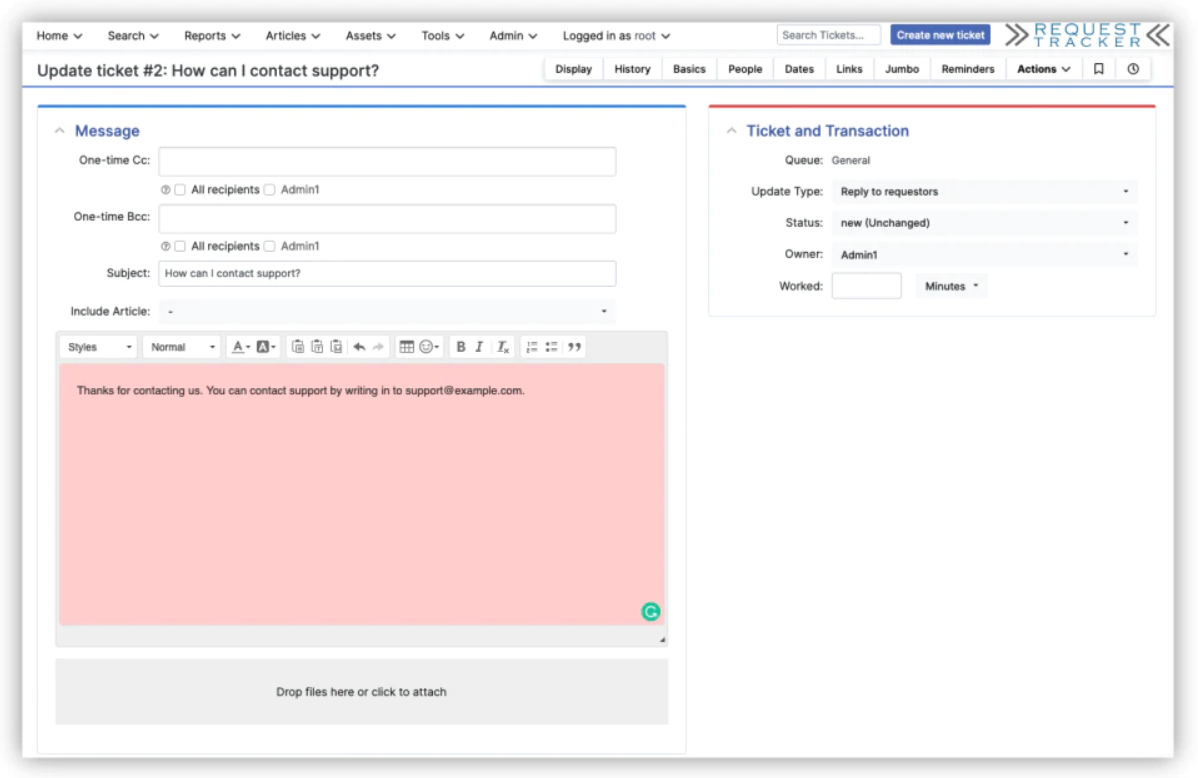 If you're looking for a free help desk ticketing solution for your small business, Request Tracker is an excellent choice. It's open-source, which means you can modify it to track tickets and improve your overall workflow. This interface is simple to use and works perfectly on all devices. The software also offers full PGP support for file management. It looks outdated, but it gets the job done for free.
Key Features:
Team collaboration tools
Simple dashboard
Knowledge base management
Reporting and analytics tools
Ticketing management
Time tracking of all team members
Pros:
Free for everyone
Good for small businesses
Omnichannel ticketing
Cons:
A complicated and outdated UI
Price:
The software is free with limited features. The PRO version starts at $125 per month per feature.
9. Spiceworks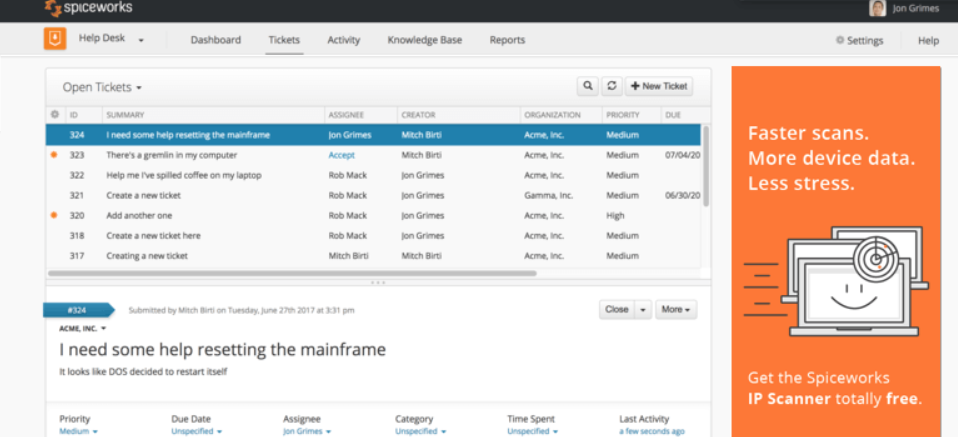 Spiceworks is a free ticketing service that offers plenty of features and is quite flexible. It is a customer support software solution that offers full integration with numerous different apps. Spiceworks is perfect for inventory management and employee monitoring. It works as a cloud-based solution or an on-premise program and also offers a smartphone app. Contact forms can be fully customized, and there is no limit on the number of tickets you can handle or devices you can connect to a single account.
Key Features:
Free of charge
Customizable submission forms
No limitations when it comes to the number of tickets you can handle or devices you can connect to your account
Access control and monitoring
Automated routing 
Customizable branding
Capacity management
Pros:
Free of charge
Easy to use and set up
Provides support on all devices
Excellent functionality
Cons:
They compensate for being free by displaying ads
Can't transfer data from the cloud to local servers
Price:
Spiceworks is completely free.
10. Samanage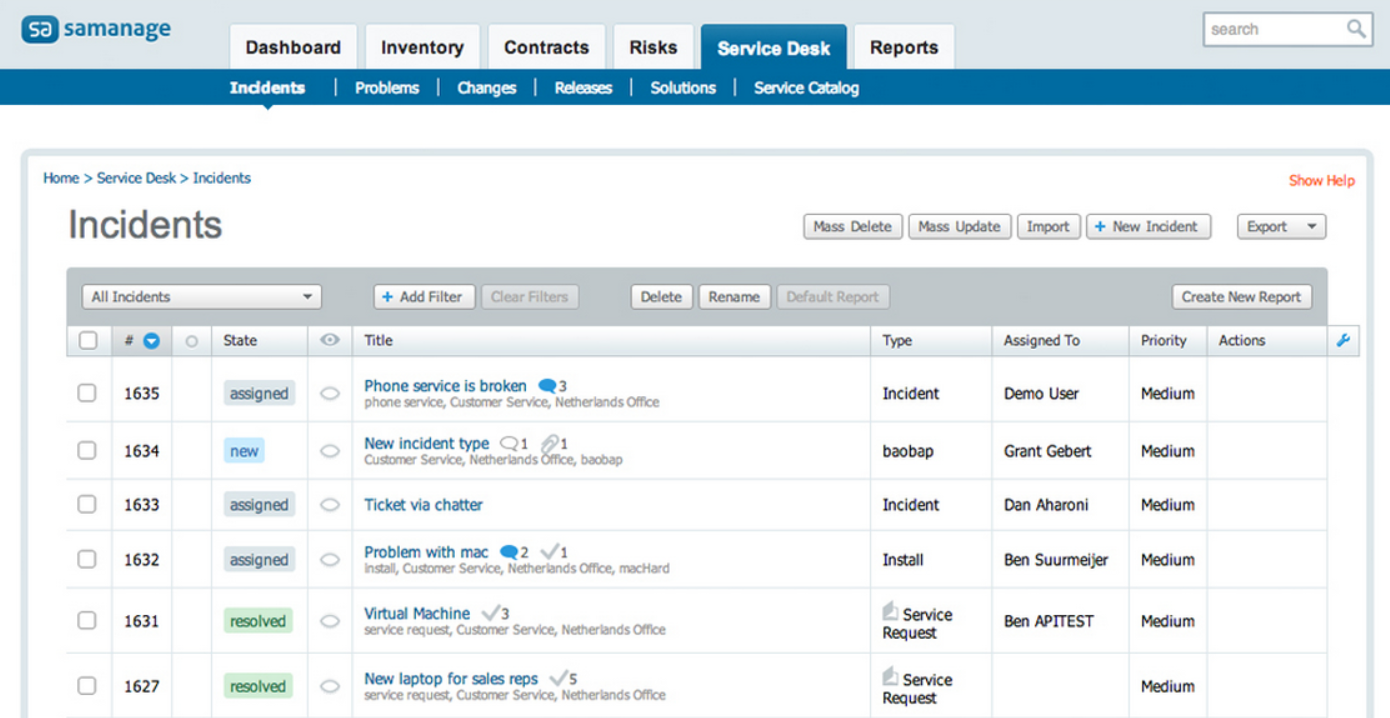 Samanage is a customer ticketing platform that makes sure that your support team has everything they need to provide a high-quality service. The service portal is fully customizable, and it allows your employees to address requests and generate detailed reports on every incident quickly. It also allows you to set your own automation rules for ticket routing, problem management, and so on. Lastly, it offers a fantastic knowledge base with detailed self-serving support options.
Key Features:
ITIL ready help desk
Excellent dashboards and detailed reporting
Asset lifecycle tracking
Detailed self-service portal, knowledge base, and service catalog
Scalable for businesses of all sizes
Pros:
Easy to use and organize
Ticket tracking and easy communication
Powerful reports
Easy ticket assignment 
Customizable features for a better workflow
Cons:
No automatic ticket status updates
Groups and permissions can be difficult to set up 
Price:
The price starts at $19 per month per agent.
Provide a holistic customer service experience
With LiveAgent, you can go beyond of what a standard ticketing system can offer.
11.  osTicket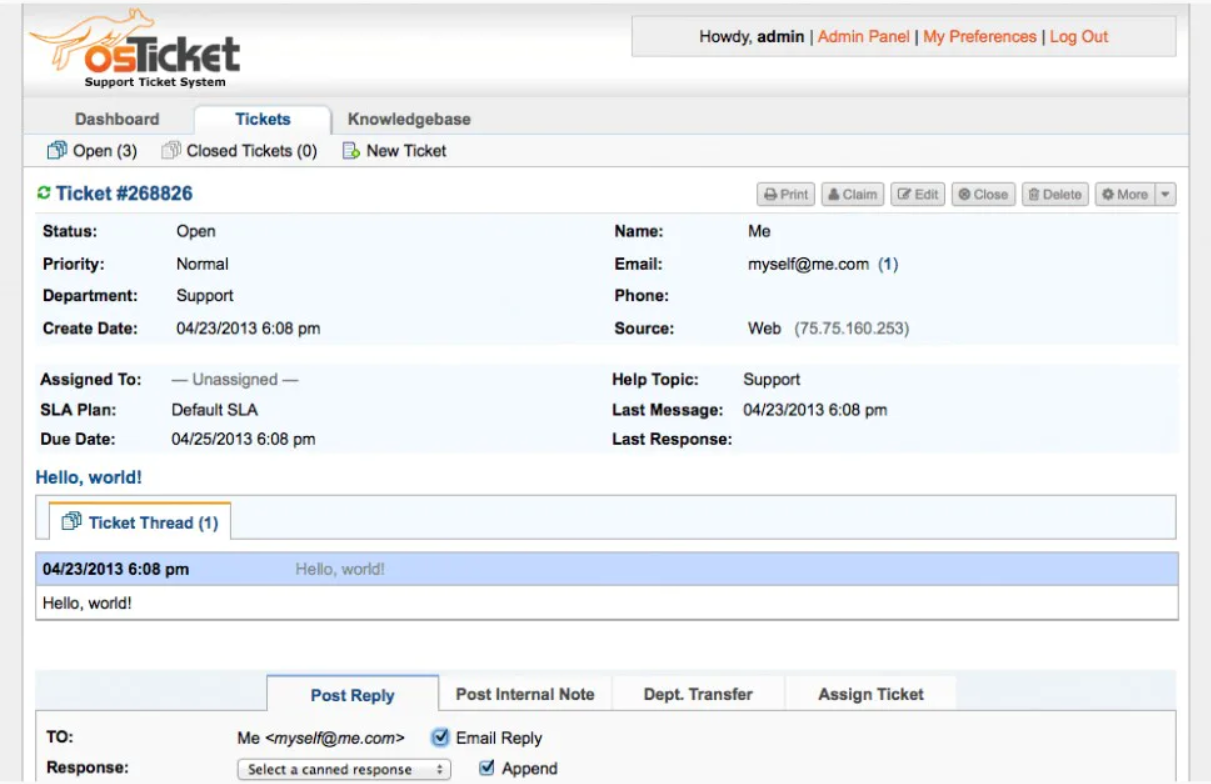 osTicket is a support ticket system that features all necessary features you can fully customize to your business's needs. Apart from the standard ticket management features, this software does a great job of triaging incoming requests. You can use it to set up custom fields, groups, forms, and queues. The software will recognize the ticket and send it to the right agent automatically. The basic version is free, but the cloud-based version costs $9 per month per user.
Key Features:
Automated routing
Excellent self-service portal 
SLA management
Basic ticket management
Workflow configuration
Pros:
Simple ticketing software ideal for small businesses
New features are added with each update
Allows creation of web and email tickets
Fully customizable
Easy to set up
Cons:
No mobile app
Requires a PHP and Apache proficient webmaster to set up
Price:
The on-premises software is free, while the cloud-based version costs $9 per month.
12. Zoho Desk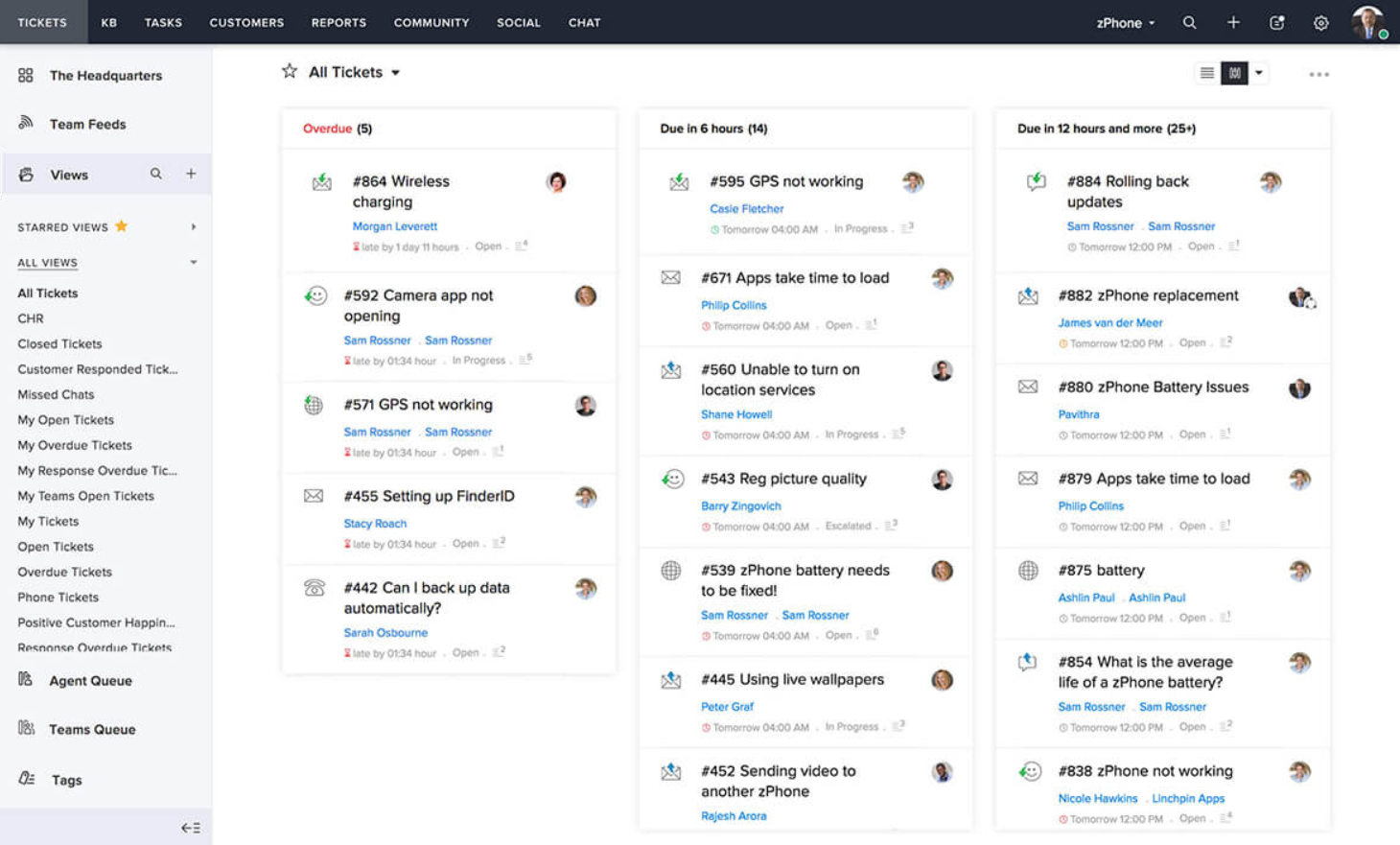 Zoho Desk is another complete ticketing system that gives your customer support team everything they need to fix issues quickly and efficiently. It's the perfect addition if you're already using Zoho CRM, as it allows you to fully sync the database, allowing you to review all existing users' activities and ticket history. Some of the features include ticket prioritization, detailed tracking, and a helpful knowledge base. It also allows mobile app support.
Key Features:
Customizable self-service portals
Omnichannel ticketing, including social media networks
Automated ticket tagging and sentiment analysis
Easy integration with Zoho CRM and other business tools
Multilingual support
Pros:
Three agents can use the software for free
Real-time chat
Ticket management
Cons:
No tracking 
The free version is available to only three users
Price:
If you have more than three agents, the pricing plan starts at $12 per agent per month. 
13. HappyFox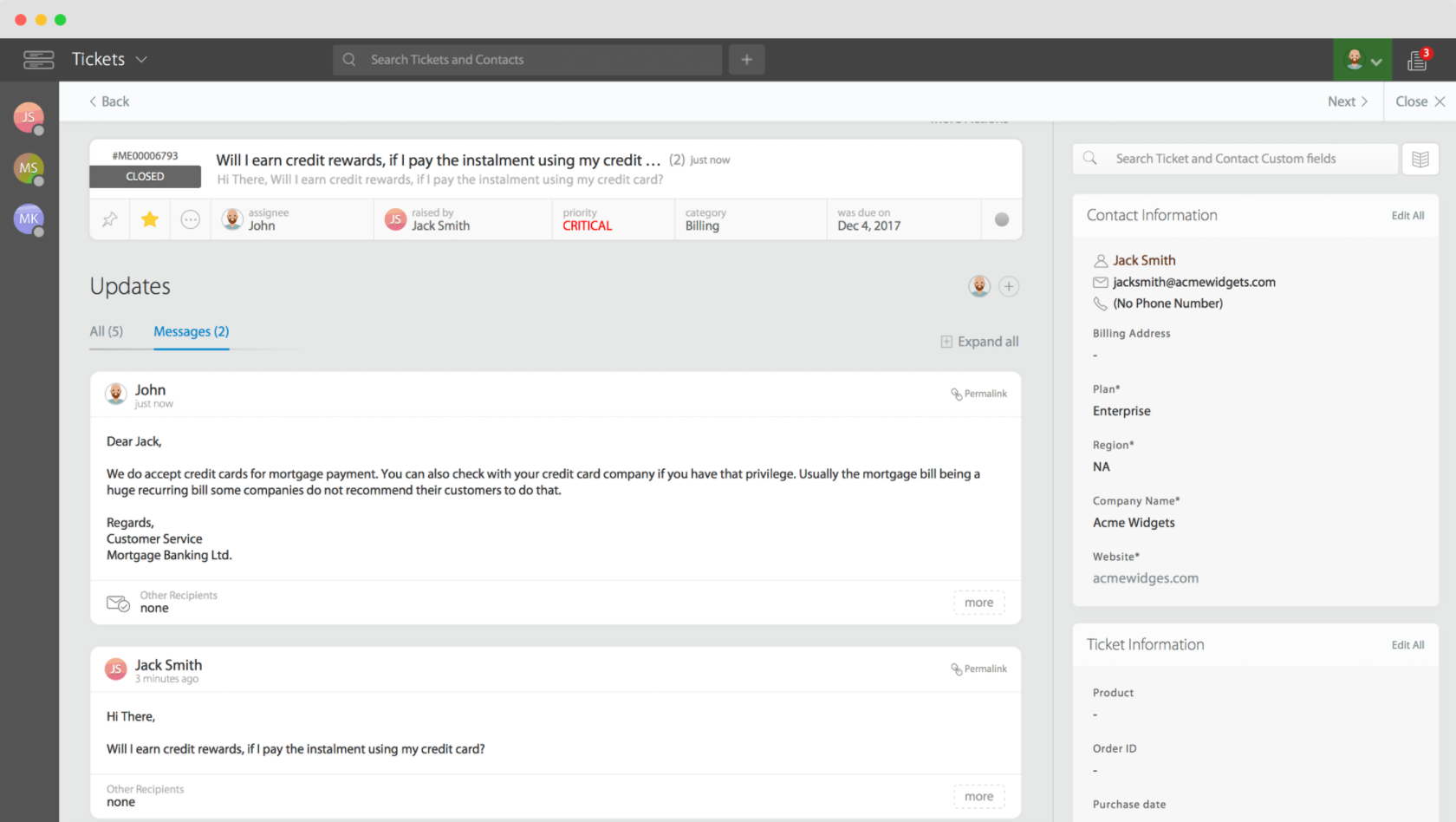 With HappyFox, your agents can receive tickets through multiple channels and address problems from a single dashboard. All incoming tickets are displayed on a special page where all of your agents can see current inquiries. The premium version allows you to manage all assets in your organization, create custom tickets, and respond to each ticket faster with canned actions. You can also use it to set up a knowledge base to improve the user experience further.
Key Features:
Excellent ticketing system and ticket management
Canned actions for faster responses
Easy ticket management
Ticket monitoring, analytics, and reporting
Customizable self-service pages
Ticket automation
Complete asset management tool
Pros:
Easy ticket sharing between departments
Customizable smart rules
Tagging priorities and automatic tag assignment
Ticket tracking
Cons:
Some users report that basic features are hidden behind a paywall
Price:
They don't have traditional pricing, but you can contact them to get a quote based on your requirements, which is an advantage for some users.
14. Jira Service Desk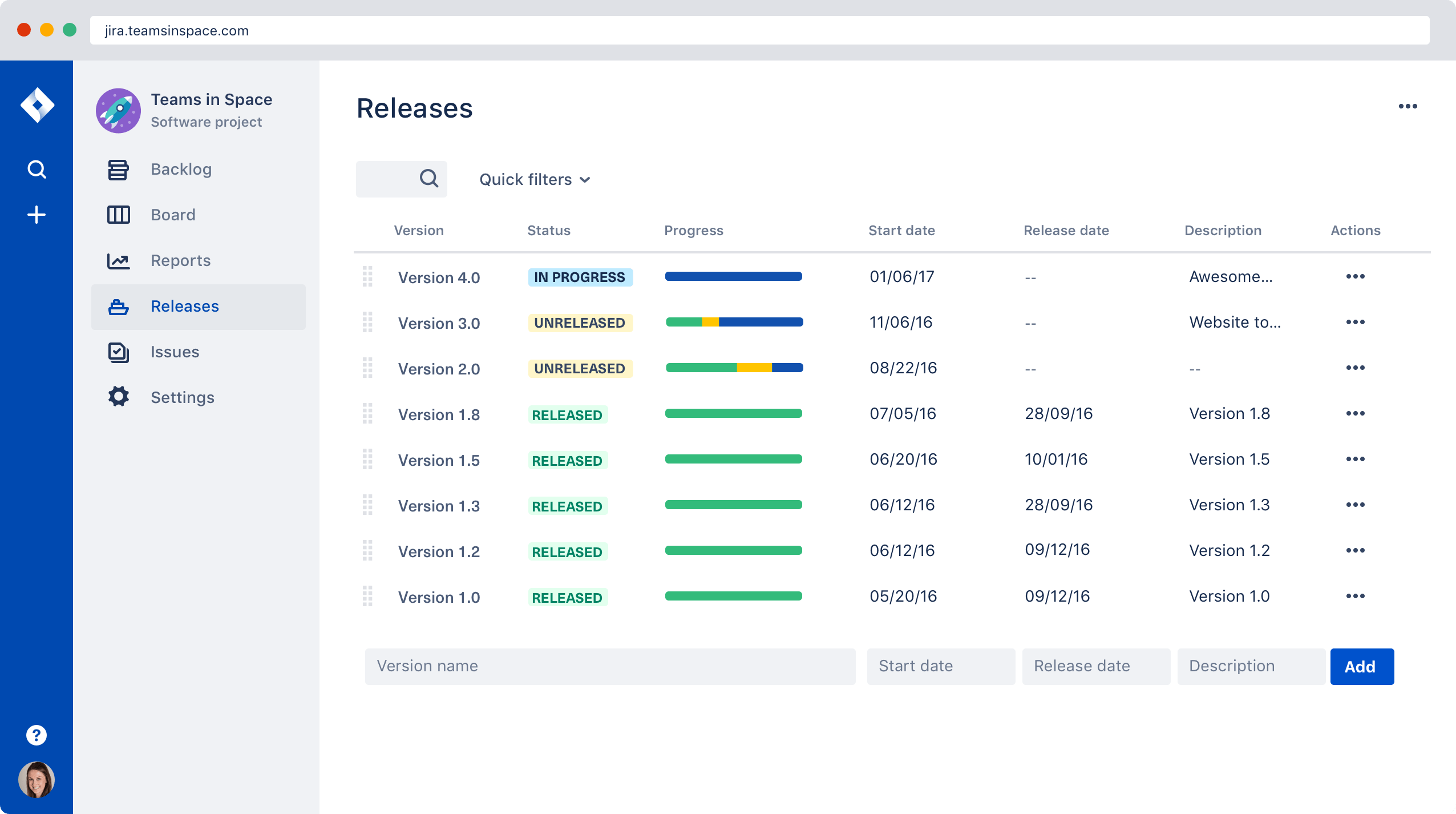 Jira Service Desk is the best choice if you want to create, manage, and organize multiple projects at once. It makes it easy to provide support for multiple products or departments as you can create specific projects for every topic. With the use of Confluence, you can build an impressive knowledge base for all internal documentation. 
Key Features:
Request & incident management
Asset tracking and management
Incident grouping 
Smart features for a better workflow
Knowledge management with Confluence
Pros:
The ability to create custom dashboards and filters
Can handle multiple projects at once
Easy task management
Easy to use
Integration with Confluence
Cons:
Slow loading speeds
Creating new request types is too complicated
Price:
The starting pricing plan is $19 per month.
15. Mojo IT Helpdesk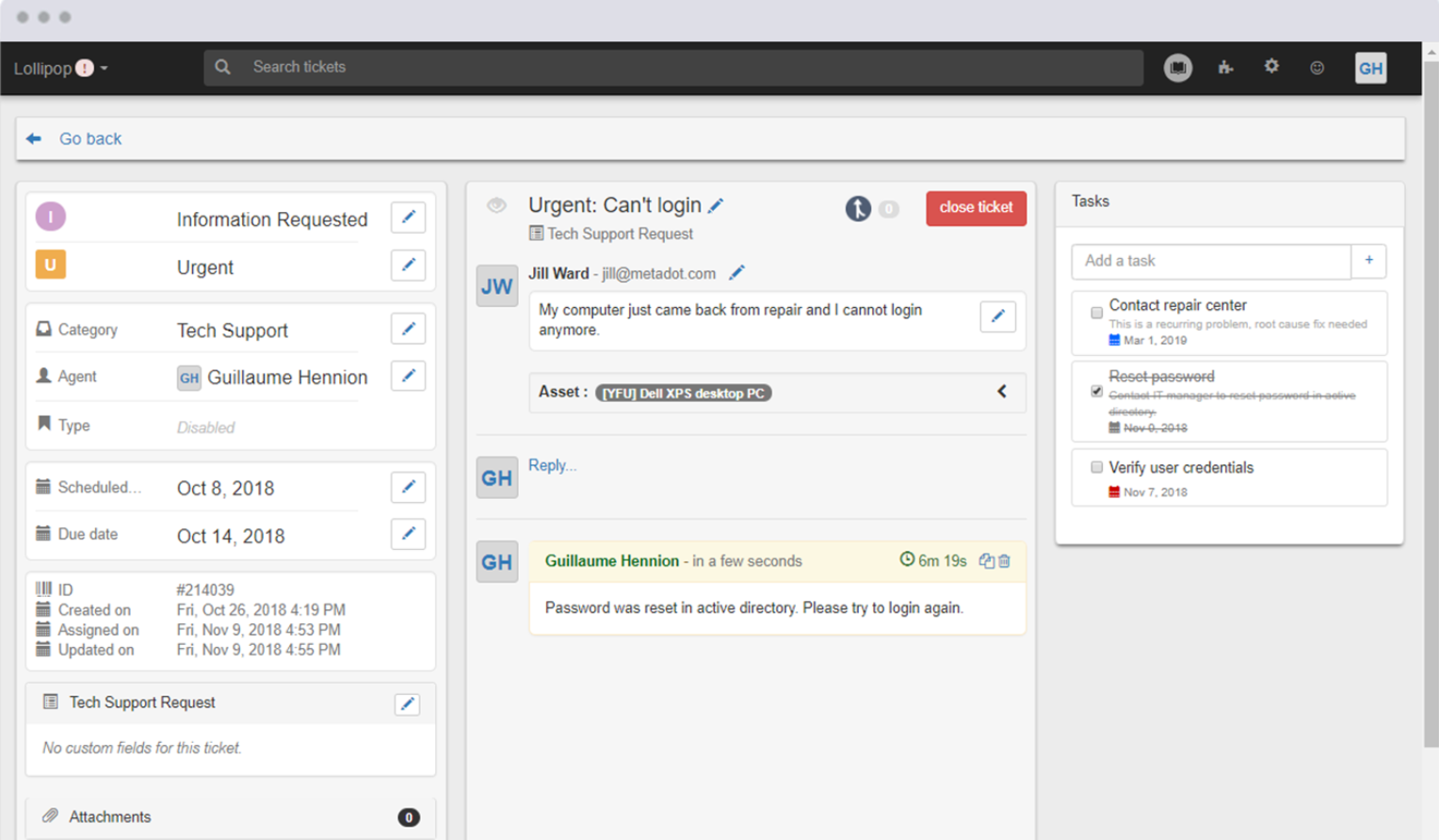 Mojo IT Helpdesk is the best option for G Suite users as it offers perfect integration with the platform. You can set it up to assign tickets through multiple channels and manage everything from a single dashboard. It can also help you track your inventory, assign tickets to agents, and generate detailed reports.
Key Features:
Easy ticket tracking through multiple channels
Customizable branding
Knowledge base storage for internal documents
IT asset and inventory management
Network monitoring
Excellent self-service portal
Pros:
Easy to use and setup
Built-in reporting tool with customer satisfaction measurements
New features are added constantly
Excellent customer support
Cons:
No customizable ticket priority
Price:
The pricing plan starts at $29 per month for ten agents.
16. Freshservice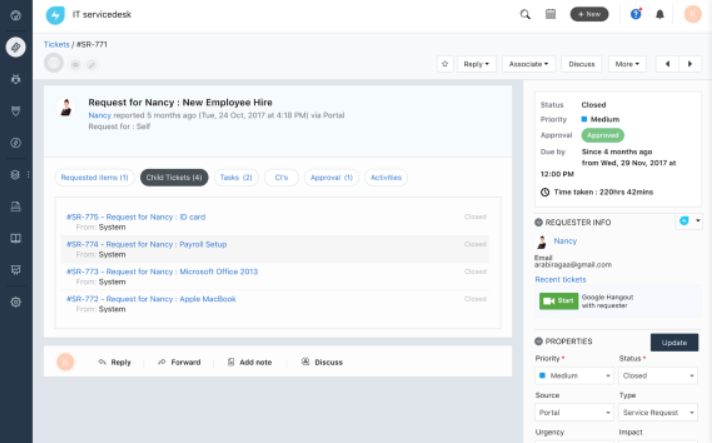 Freshservice is a ticketing system software built to improve your overall customer support. It features many different ticket management options, but it also helps you track all assets and set up a self-service external database. The dashboard offers detailed information about every agent's performance, allowing you to find weak spots and improve your customer support even further.
Key Features:
Omnichannel ticketing
Excellent SLA management based on priority
Customizable knowledge base and canned responses
Simple automation functions
Self-service portal
Pros:
Custom customer portal and ticketing system
Integration with Freschat live chat feature
Easy asset tracking and integration
Mobile app support and ticket tracking
Cons:
Some features require coding to set up
Price:
The starter plan is available for $19 per month per agent.
17. Vision Helpdesk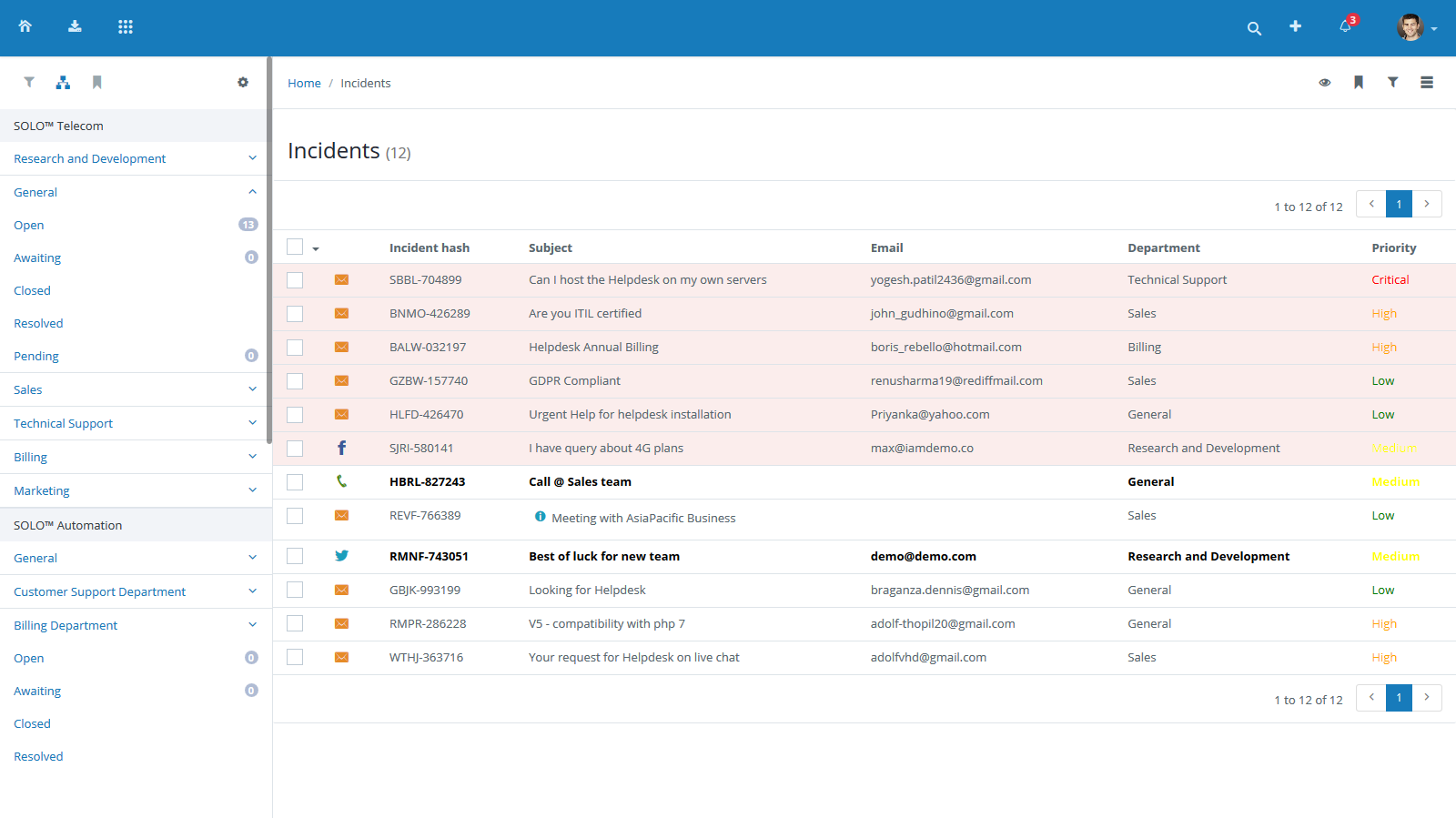 Vision Helpdesk is another reliable solution that has been battle-tested by plenty of users. The software allows agents to work together to resolve complex issues faster, and it allows daily task assignment management. It's straightforward to use, and it's able to boost your team's productivity. 
Key Features:
Provide full support through email, phone, or chat
Customizable automate rules and criteria
SLA and escalation rules for a better workflow
Alert rules
Automate multiple ticket operations 
Ticket tracking, assignment, and notifications
Pros:
Affordable
Multi-channel
Task management
Easy team communication
Integration with social media plugins
Cons:
Complex integration with other platforms
Not enough integrations
Price:
The starting pricing plan is $12 per agent per month.
18. ManageEngine ServiceDesk Plus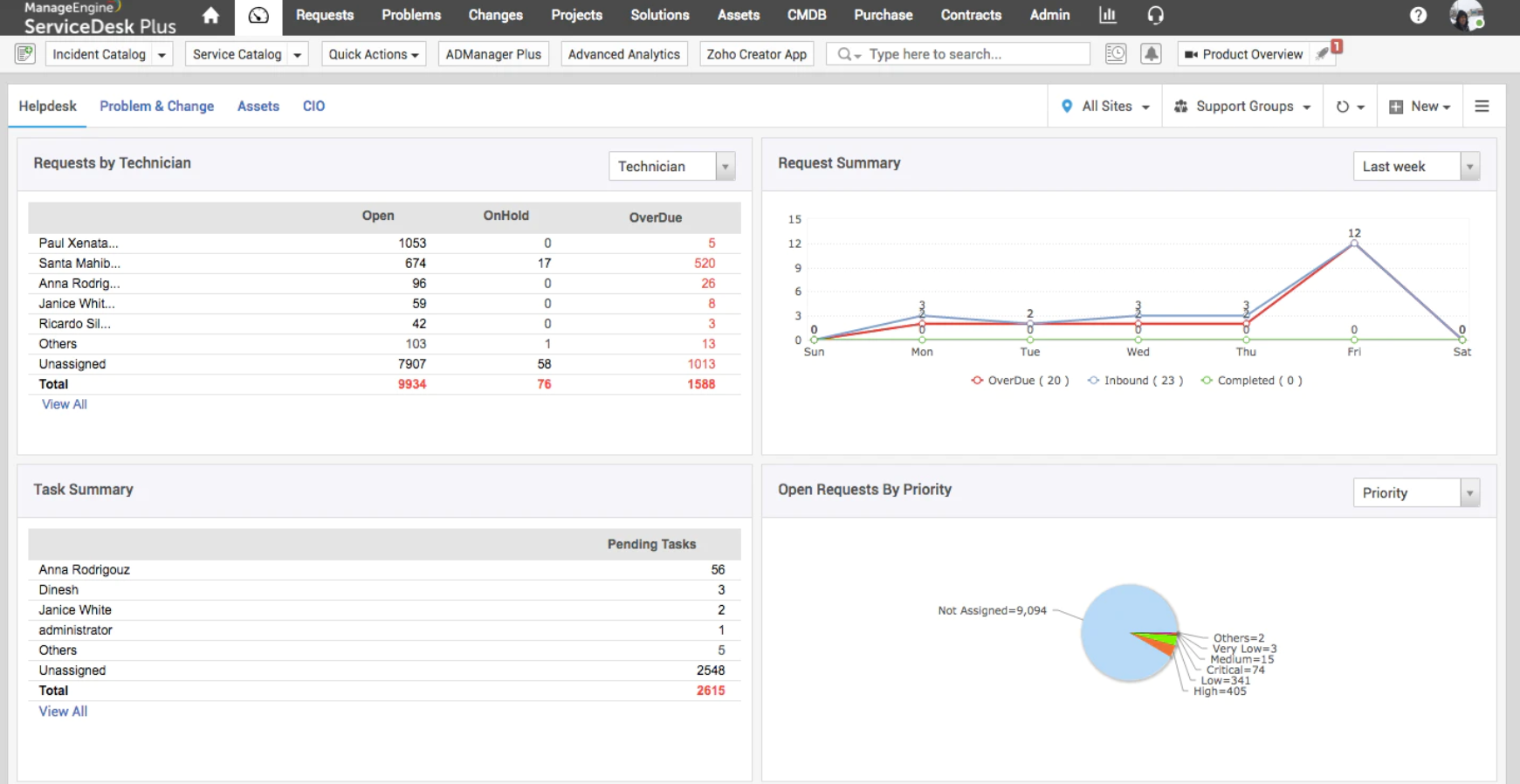 ManageEngine ServiceDesk Plus is an advanced ticketing system you can install on your device or run from a cloud. It's a very flexible platform ideal for large customer support teams as it offers add-ons such as live chat, incident management, project management. If you decide to get the premium plan, you'll be able to address your customer's inquiries in real-time via remote access.
Key Features:
Best practice ITSM workflows
Integrations with IT management apps
Smart automation
Extensive reporting
Fully customizable
Pros:
Easy to use
Remote access solutions
Can extend options with add-ons
Excellent for large support teams
Cons:
Complicated user management
No auto assigning
Limited reporting tools
Price:
The starting pricing plan is $10 per user per month.
19. Jitbit
Jitbit is by far one of the simplest helpdesk ticketing systems you can get. It's a breeze to set up, and it allows you to manage all tickets in real-time. You'll be able to track all ticket activity and even open attachments simultaneously without switching tabs or asking your team members for extra information. It comes with a mobile app that allows you to access all information on the go.
Key Features:
Email-oriented help desk
Simple setup
Powerful management tools
Mobile app for easy access
Shared mailbox
Powerful automation triggers
Canned responses and knowledge base
Pros:
Super-easy to set up and use
Clean interface
Excellent analytics and metric tracking
Good for beginners
Cons:
No free version
Clunky at times
Price:
The starting pricing plan is $29 per month per agent.
20. LiveChat
LiveChat is a helpdesk software solution that helps your customers as well as your sales teams. It has an interesting chat widget feature that you can add to your website to provide instant support to your customers. Other than that, LiveChat offers omnichannel management from one, simple to use dashboard. It has numerous third-party integrations which expand its functionalities considerably. 
Key Features:
Tons of useful features
Integration with multiple platforms
Easy to use
Single shared dashboard
Customizable 
Easy ticket routing
Pros:
Integration with social media networks and other platforms
Easy routing options
Omnichannel ticketing
Single shared dashboard
Cons:
Delay on agent monitoring
It can be a bit pricey for some 
Price:
The starting plan is available for $16 per month per agent.
Top 5 trouble ticket systems compared
We gave you everything you need to know about the best trouble ticketing systems above. Now it's time to take a look at the top five options and what makes them an excellent choice.
1. LiveAgent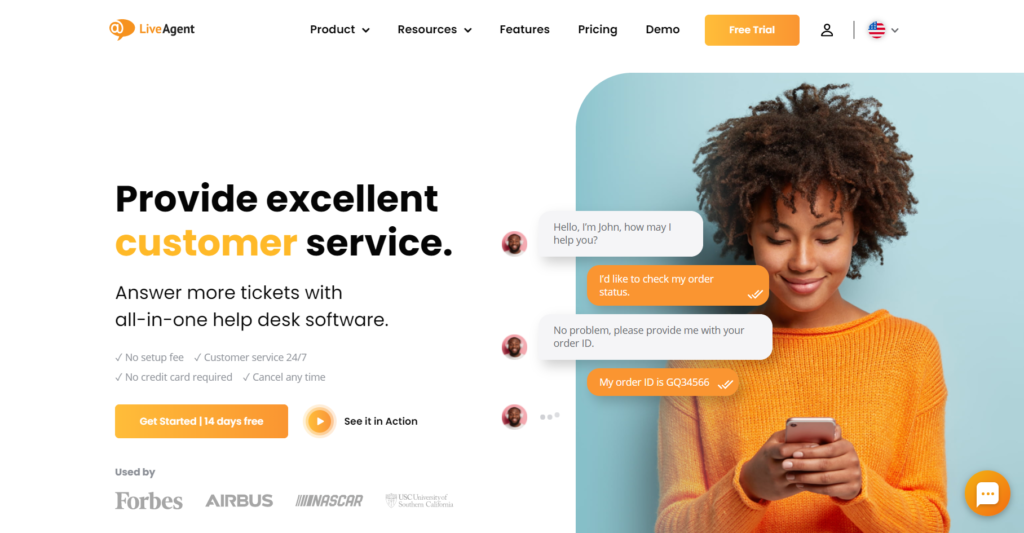 LiveAgent deserves the top spot because it's the ticketing system that offers the most features. The only software that can come close to what it has to offer are LiveChat and Freshdesk. LiveAgent offers a complete trouble ticketing system with omnichannel support, a shared inbox, and is known as the all-in-one help desk system. 
It has won multiple awards, including the best value help desk software on Capterra, and it's widely used by businesses and organizations all over the globe. It offers everything you need at an affordable price.
Provide a holistic customer service experience
With LiveAgent, you can go beyond of what a standard ticketing system can offer.
2. Freshdesk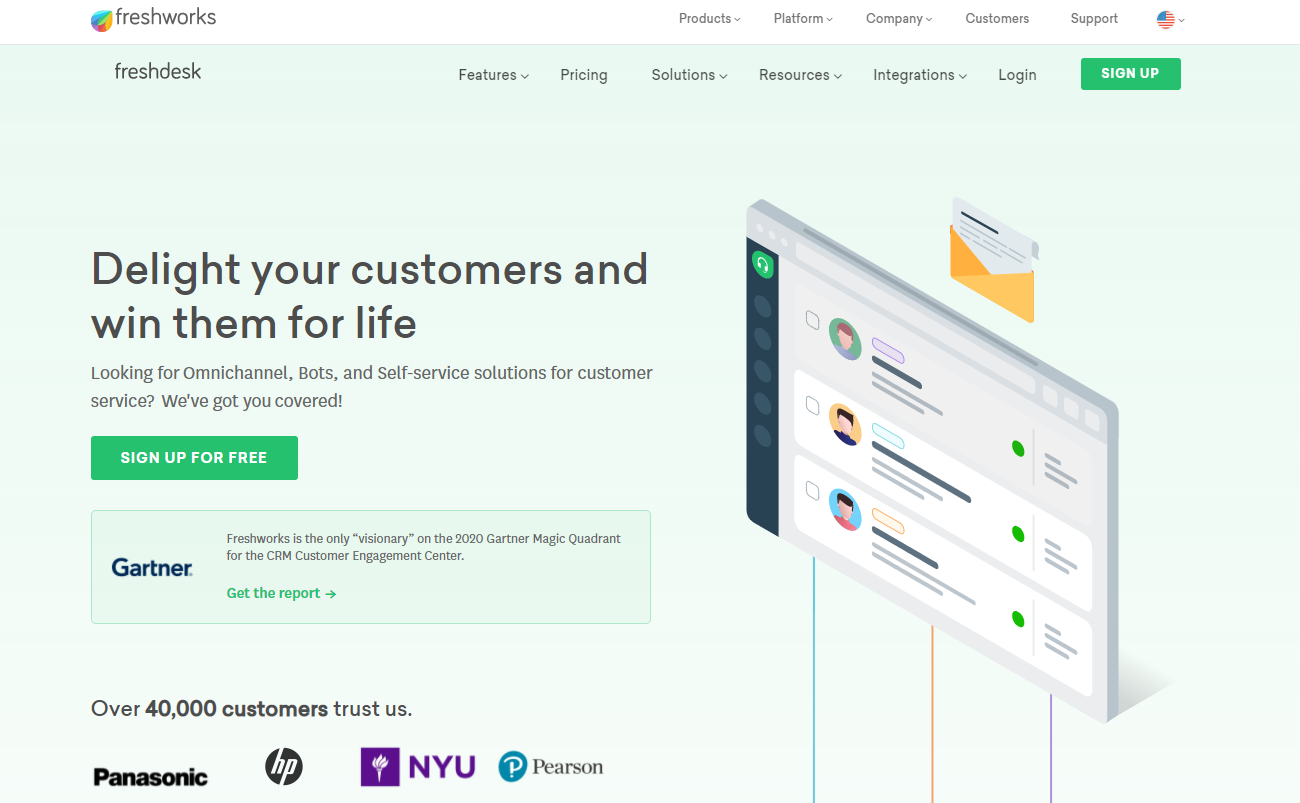 Freshdesk is another popular help desk software designed to make customer service more efficient. It offers many good features, but it has limited integration options and doesn't work well with SalesForce. Other than the issue with not being able to filter spam emails, the software offers all essential features for better customer service.
Still, it made our top five list because it's straightforward to use, and it's ideal for businesses of all sizes.
3. Zendesk Support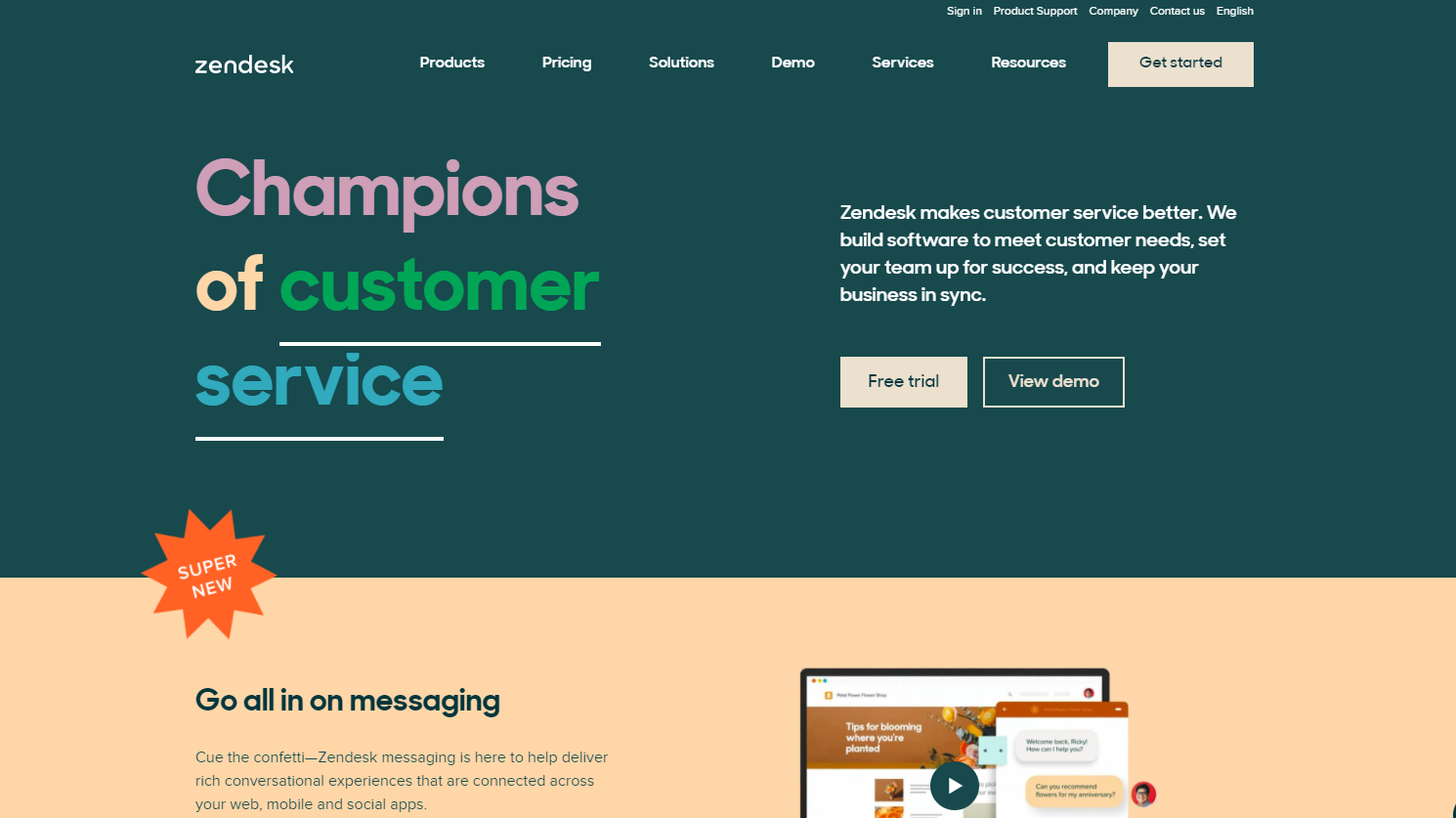 As we've mentioned earlier, Zendesk Support is the market leader among helpdesk systems, but it comes with limited features. Zendesk requires you to purchase add-ons to get the best features which can be good for organizations seeking a basic setup but is not ideal for those that want to unlock its full potential. You might have a hard time contacting their customer support, but other than that, it's very good at what it does.
Furthermore, it comes with complicated reporting that might be difficult to interpret and pull out valuable information from.
4. LiveChat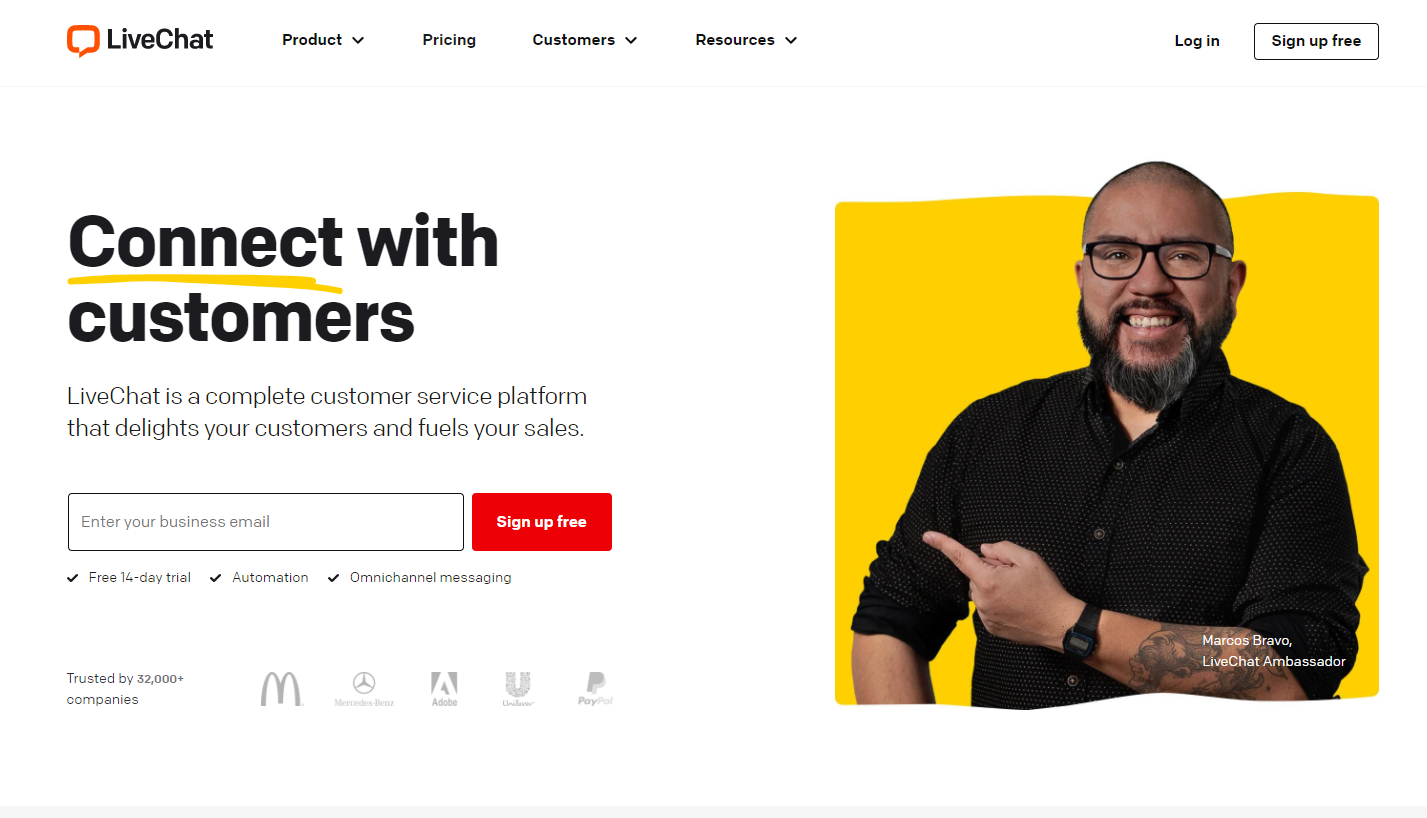 LiveChat is another top-rated help desk solution among businesses all over the planet. It offers excellent integration with popular platforms, and it comes with features such as easy routing, customizable dashboards, and omnichannel support. However, it is a bit costlier, and its dashboard is a little too complex for new users. 
It also doesn't have a cloud-based version and has to be installed on your device. 
5. Jira Service Management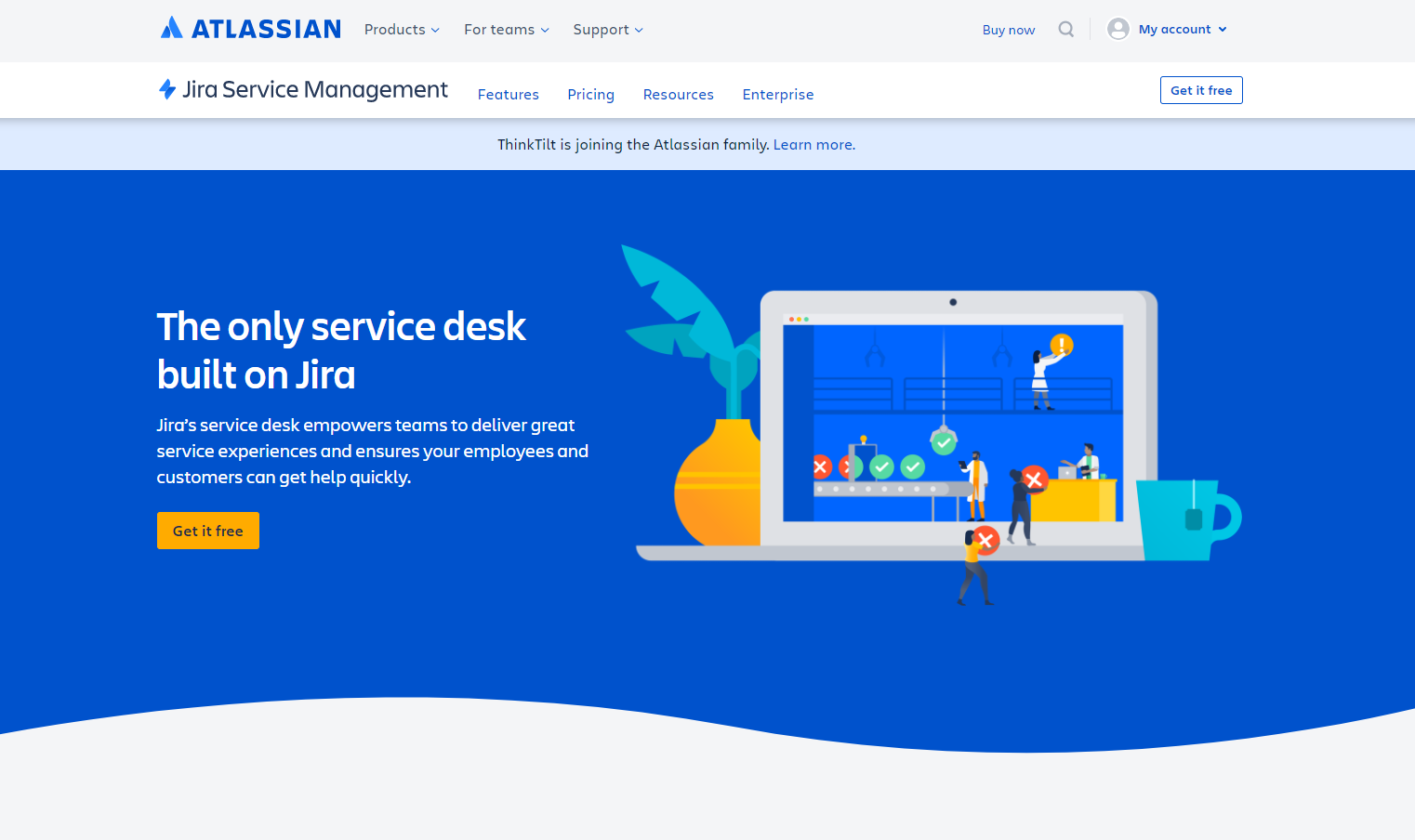 Jira Service Management is an excellent option for large support teams that have to cope with huge amounts of tickets every day. It focuses on running multiple projects at the same time from a single dashboard. While it does offer some excellent features, it's an on-premise software, so your communication options are more limited. 
While it is not a cloud-based helpdesk system, it still offers a number of valuable features to consumers.
Top 5 trouble ticket systems compared
| | | | | |
| --- | --- | --- | --- | --- |
| Email support system | Capterra Rating | Free version  | Free trial | Starting price  |
| LiveAgent | 4.7/5 (approx. 1K reviews) | YES | YES | $9 per agent/mo |
| Freshdesk | 4.5/5 (approx. 2.3K reviews) | YES | YES | $18 /mo |
| Zendesk Support | 4.4/5 (approx. 2.6K reviews) | NO | YES | $19 /mo |
| LiveChat | 4.6/5 (approx. 1.1K reviews) | NO | YES | $16 /mo |
| Jira Service Management | 4.4/5 (270 reviews) | YES | YES | $16 /mo |
Dated 10th of August
Conclusion
In order for you to pick the best trouble ticket system for your needs, you have to consider a lot of different features. Here's a quick Q&A guide that will help you make the best decision possible.
Which trouble ticket system is right for your business?
The answer to this question depends on the needs and goals of your business. Smaller businesses might get what they need from free software solutions, while larger enterprises require more features and a package for many more agents. Generally speaking, LiveAgent is an excellent pick because it's ideal for all business sizes and easily scalable. 
The best all-in-one trouble ticket system solutions
If you're looking for a jack of all trades among helpdesk ticketing systems, our vote has to go to LiveAgent and LiveChat. Both of these solutions offer a wide range of features, many different routing and management options needed to provide the best customer support possible.
The best trouble ticket system with built-in live chat, call center, social media, and customer portal 
As the best all-around ticketing system, LiveAgent is definitely the best and most complete solution you can get. You can use it to reach out to your customers through multiple channels, and you can also create detailed customer profiles for an even better user experience. 
The best trouble ticket system feature-wise
Again, LiveAgent takes the spot as it offers around 200 features aimed at providing high-quality customer support.
The best value for money trouble ticket system
Since LiveAgent offers so many features and won the best value award on multiple websites, it's definitely the best option for your money.
The highest-rated trouble ticket system
LiveAgent has an overall rating of 4.7 on Capterra, so it's definitely the highest-rated trouble ticketing system you can get.
The easiest trouble ticket system to setup & use
There are plenty of easy ticketing systems you can use, but LiveAgent does an excellent job of combining ease of use with advanced features.
Experience LiveAgent today
Take a tour or book a demo and explore how LiveAgent works.
LiveAgent Product Tour | Live Agent02:25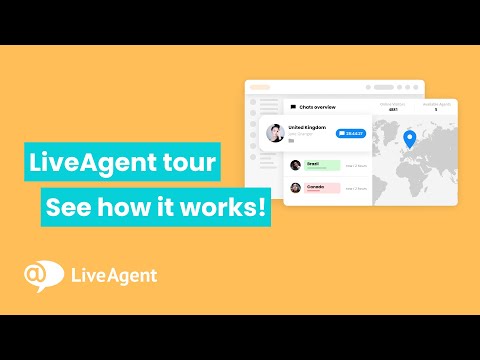 Live Agent
Frequently Asked Questions
What is a trouble ticket system?

A trouble ticketing system is a special type of software designed to help manage and maintain customer inquiries. It's a tool designed to help streamline your customer support team and allow them to provide the highest level of support faster and more efficiently. Using the right support tickets system, this can be achieved with minimal effort.

What is an omnichannel trouble ticket system solution?

An omnichannel trouble ticketing system solution is a software solution that is able to collect all customer inquiries into a single dashboard. That way, all inquiries will be answered in a timely manner, regardless of where they originate from.

What is the difference between a trouble ticket system and an email?

Email support is a popular method of communicating with customers, but it's not nearly as efficient as a trouble ticketing system. A helpdesk software solution is able to collect user inquiries from multiple platforms, not only emails, making sure that all customers are helped on time. These systems are able to save your organization a lot of time and money while helping build your brand's identity and relationship with your customers.

What are the benefits of using a trouble ticket system?

A trouble ticket system provides a lot of benefits, some more visible than others. However, the biggest benefit is making sure that all of your customers get the high-quality support they deserve. It's an ideal tool for building strong customer relationships as well as your brand's identity. It can also help you get the most out of your customer support team by organizing tickets. Once your team fixes an issue, the system will remember the solution, allowing you to create a self-service portal.

What are the key features of an effective trouble ticket system?

Every effective trouble ticket system offers full integration with other platforms, omnichannel ticketing, easy-to-navigate shared dashboard, automation features, and so on. It also needs an excellent knowledge base that will further improve the efficiency of your support team in the future.

Why is help desk software important?

The software you choose to use when providing customer support is very important. Not all software solutions offer the same features and capabilities. You want to get a system that is able to improve the overall user experience in every way possible. These special software programs are designed to do exactly that. You can always try out free ticketing software and see for yourself how useful they can be.

What's the difference between cloud-based and on-premise trouble ticket systems?

Some trouble ticketing systems are available in both options, but generally speaking, a cloud-based solution is always a better option. Since both your data and ticketing require you to be online, you can provide full customer support from anywhere in the world in real-time. An on-premise system limits your team member's options to only one device or location.

How much does the trouble ticket system cost?

The best trouble ticketing system software costs depend on your business's needs. The final cost depends on its features, how many agents you need, the number of channels it supports, and its flexibility. LiveAgent won the best value award multiple times, so it's the safest bet.

How do you manage queues in the trouble ticket system?

Managing queues can be very complicated, especially when you have thousands of inquiries every day. However, advanced software systems like LiveAgents are able to help you streamline your entire operation by organizing all tickets into one dashboard. Once you set up your external and internal knowledge databases, you can create a self-service portal to speed things up even further. That way, your customers will be able to sort all minor issues alone, leaving more room for your team to address the more complex issues. With automated workflows and the right monitoring practices, your support team will be able to answer far more inquiries than without using this software.

How does trouble ticket system software work?

A trouble ticket system collects all user inquiries from multiple channels and sorts them according to the rules you choose in one shared dashboard. Your support agents can then resolve one issue at a time, making sure that all customers are answered and helped as soon as possible. Most of these software solutions offer advanced features designed to help you improve the workflow even further. The bottom line is – the same number of people can help far more users than classic email support or phone support team, when using a support ticket software.