What is live chat?
Live chat, an essential component of client interaction software, is a software technology that allows customers to communicate with customer support representatives in real-time. Customers can start live chat with you on your website, instead of having to call or send an email, making the interaction process more time efficient.
Live chat is completely browser-based and doesn't require users to download any software to start chatting. In today's world, live chat for website implementation is a must for any successful customer service strategy. Moreover, live chat for WordPress is a feature that will make your website stand out among your competitors.
Why is live chat important for customer service?
Live chat is an important communication channel for customer service because;
Customers get almost immediate answers to their questions
It provides real-time help
It requires no effort (for the customer)
Customers expect businesses to provide it
It can give you a competitive advantage
It's a low-cost solution that can improve sales, engagement, and retention
What live chat features does LiveAgent offer?
LiveAgent offers 15 live chat features that can help you improve your customer service efforts.
Chat button
LiveAgent gives you the freedom to create your own chat button that can be placed anywhere on your website. Choose the button's position, colors, animation, hover effect, mobile options, and Z index.
If you don't feel like creating a button yourself, you can use one from our chat button gallery and customize it according to your liking.
We offer:
Corner buttons
Bubble buttons
Side buttons
Inline buttons
Buttons with custom images
Buttons with custom HTML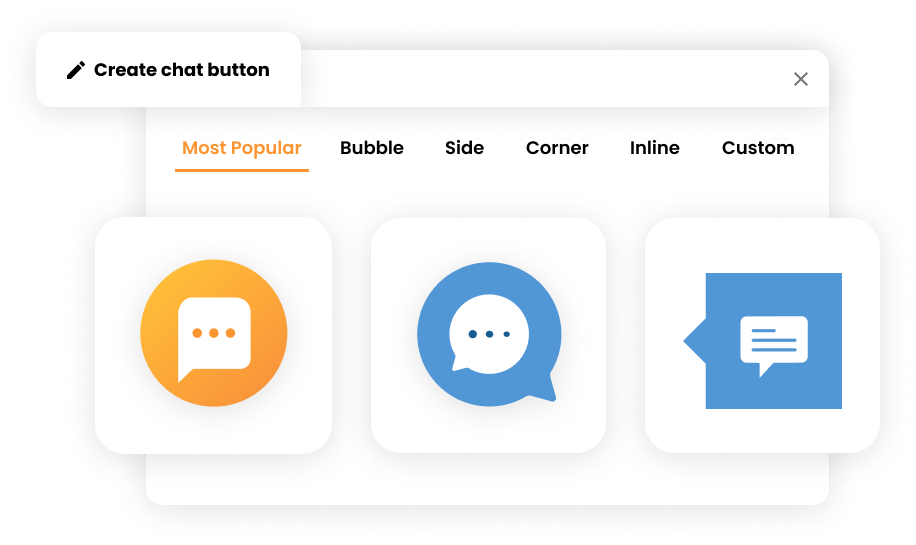 In addition to creating your own chat buttons, you can also design the chat window. You can alter the:
Welcome message/hide welcome message
Style
Size of the chat window
Hide start chat again button
Enable leaving an offline message
Z-index
Position
Custom CSS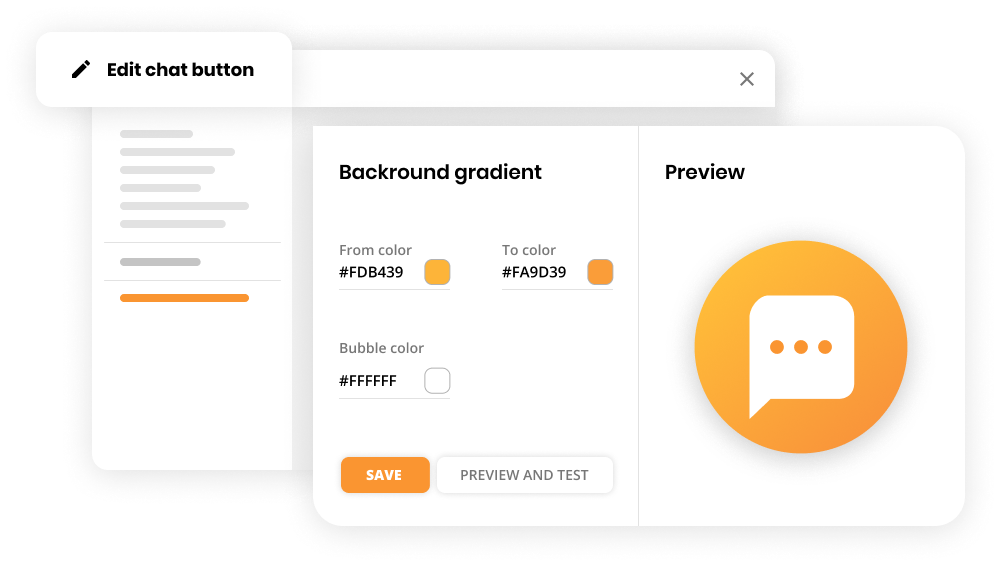 Real-time chat
LiveAgent allows your website visitors to chat with you in real-time. When they click the website chat box on your website and send their initial chat message, your LiveAgent dashboard will start ringing to notify you that there's a user waiting to chat with you.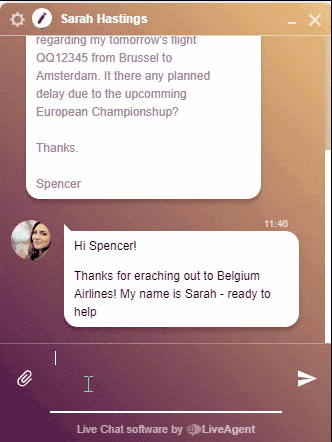 If the website visitor tries to chat with you outside of business hours, the chat will be registered inside your LiveAgent dashboard in the form of a ticket, to which you can reply later through email.
Proactive chat invitations
Proactive invitations is a chat feature that allows you to reach out and offer help to customers that are currently browsing your website.  You can place chat invitations on custom URLs on your website, such as the pricing or the FAQ page.
The proactive chat invitation buttons can be customized according to your liking, and can be also set up to display after a certain period of time has elapsed. For example, the proactive chat invitation can display if the user is viewing your pricing page for longer than 45 seconds.
Chat button gallery
LiveAgent offers a number of ready to go chat buttons that can be viewed in our chat button gallery. Simply choose the one you want, and embed the chat box on the website so your customers can start chatting with your support representatives.
Chat button animations
Animations can influence where your website visitors focus their attention. Add animations to your chat buttons to attract their attention and increase engagement.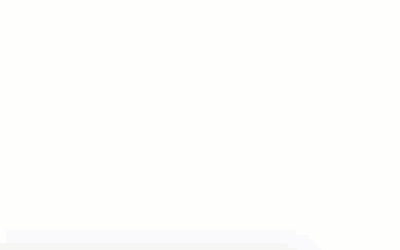 Chat invitation gallery
In addition to our regular website chat box gallery, LiveAgent offers a proactive chat button gallery as well. Choose from a number of styles and button positions, or create your own by writing your own HTML code.
LiveAgent offers proactive chat invitations in the following positions: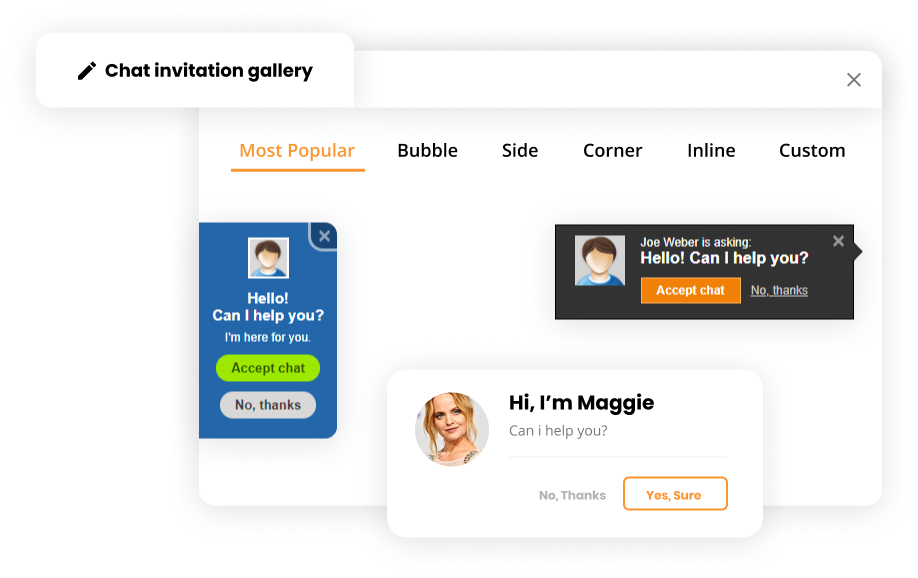 Chat window docking
LiveAgent allows users to dock the live chat window while they browse your site. When a new message is received while the chat is docked, the user receives a notification. Chat windows can be docked to the left or right side of your site.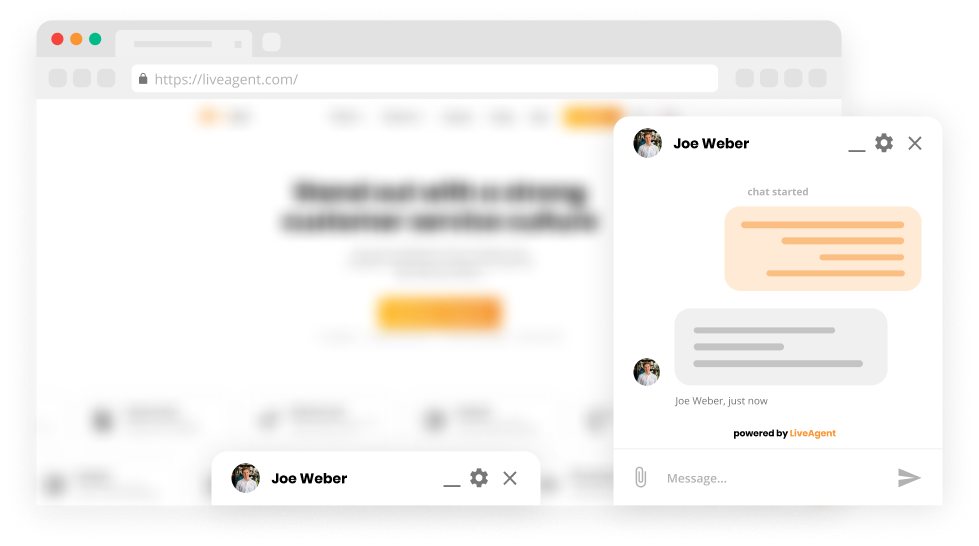 Chats overview
LiveAgent's chats overview gives you a holistic view of all of your website visitors. This chat feature shows you where your website visitors are geographically located, what URLs of your site they're browsing, and how long they've spent browsing each page.
The chats overview lets you see:
Online visitors (number of visitors browsing a website)
Chatting visitors (number of chatting visitors)
Visitors in the queue (number of visitors waiting for chat)
Available Agents (number of Agents available for chat)
The geographical location of each visitor (displayed on a map)
Visitor's country
Actual site
Referer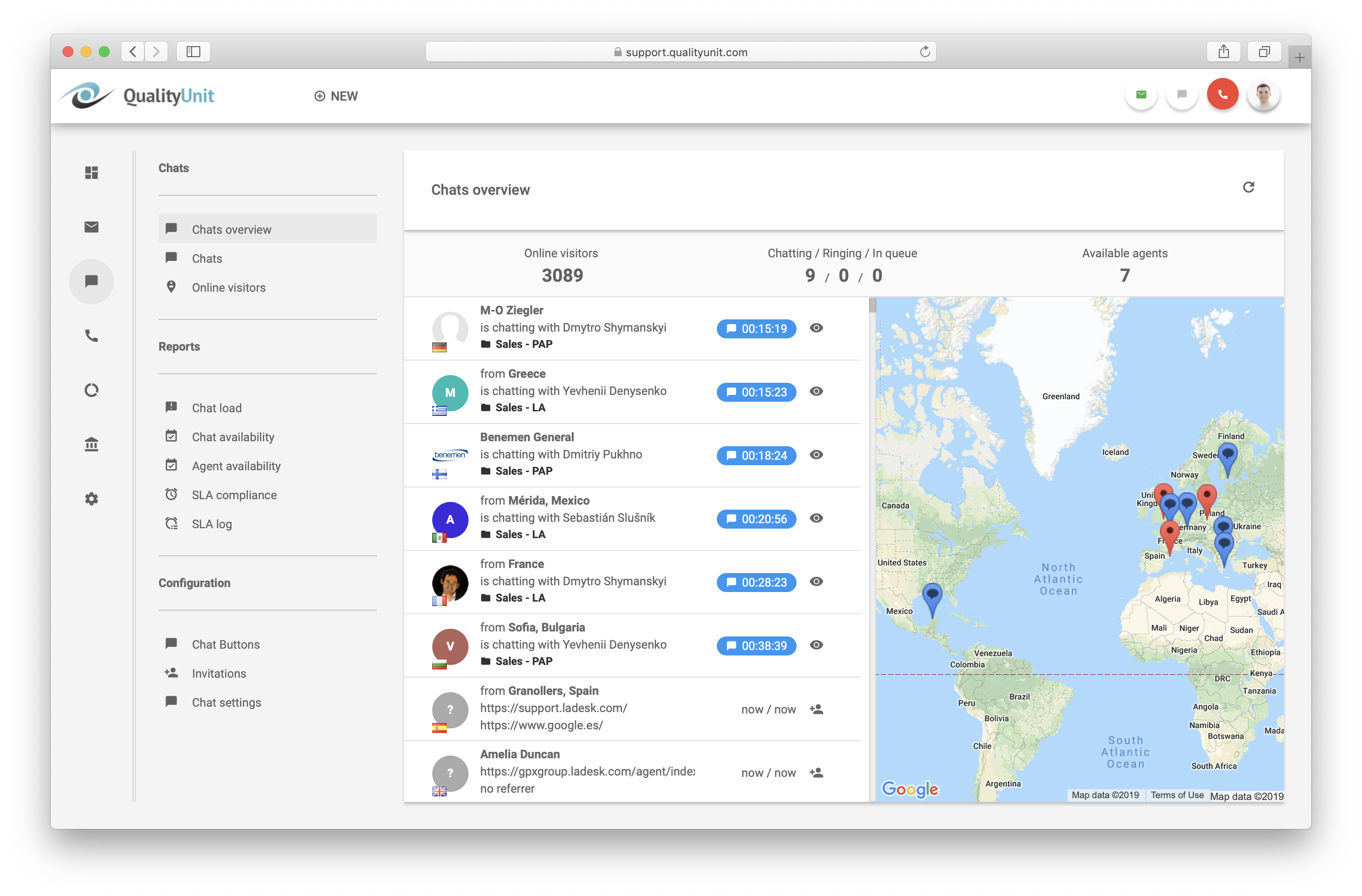 Chat history
LiveAgent allows you to view all previous chats along with all current chats on one screen. If you're searching for a specific chat, you can filter your search by tags, departments, dates, names, etc.
Online visitors
LiveAgent's online visitors is a chat feature that allows you to monitor who's browsing your site. Find out your visitor's IP address, referrers, geographical locations, current URLs on your site, and the total amount of time they've spent browsing your site.
Chat distribution
LiveAgent offers multiple chat distribution methods. The system can be set up to use random assignment, pre-set priorities, 'ring to all', average utilization, or max utilization.
Random assignment: Assigns chats to available agents randomly.
Pre-set priorities: Chats will be routed to the agent who isn't currently answering a chat, or has had the longest downtime since their last chat.
Ring to all: All agents will be notified that a customer is waiting to chat. The notification won't stop ringing until someone answers the chat.
Average utilization: Incoming chats will be routed to the agent with the lowest number of active chats.
Max utilization: Incoming chats will be assigned to the agent with the highest number of active chats to keep utilization at maximum.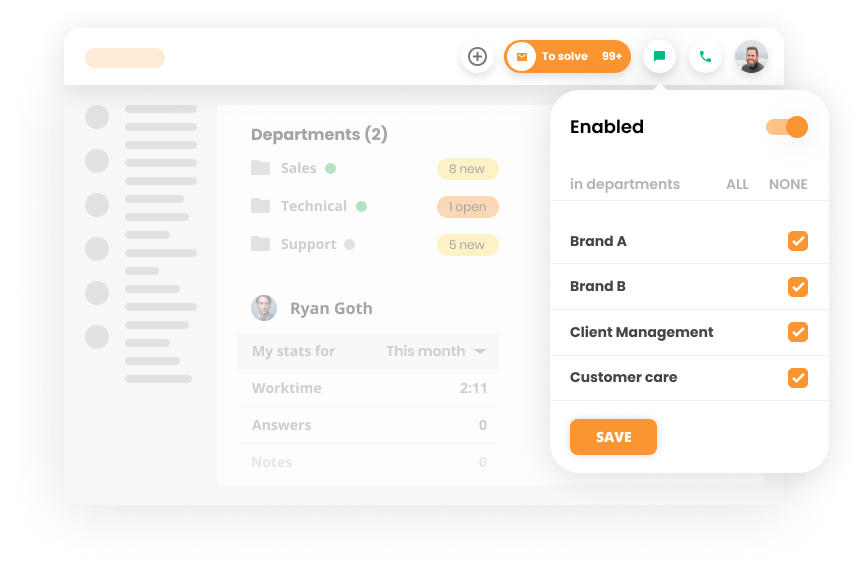 Real-time typing view
LiveAgent gives you a real-time view of what your customers are typing into the chat window. Before they even hit send, you can start looking up their order numbers, previous purchases, or previous tickets to provide even faster customer service.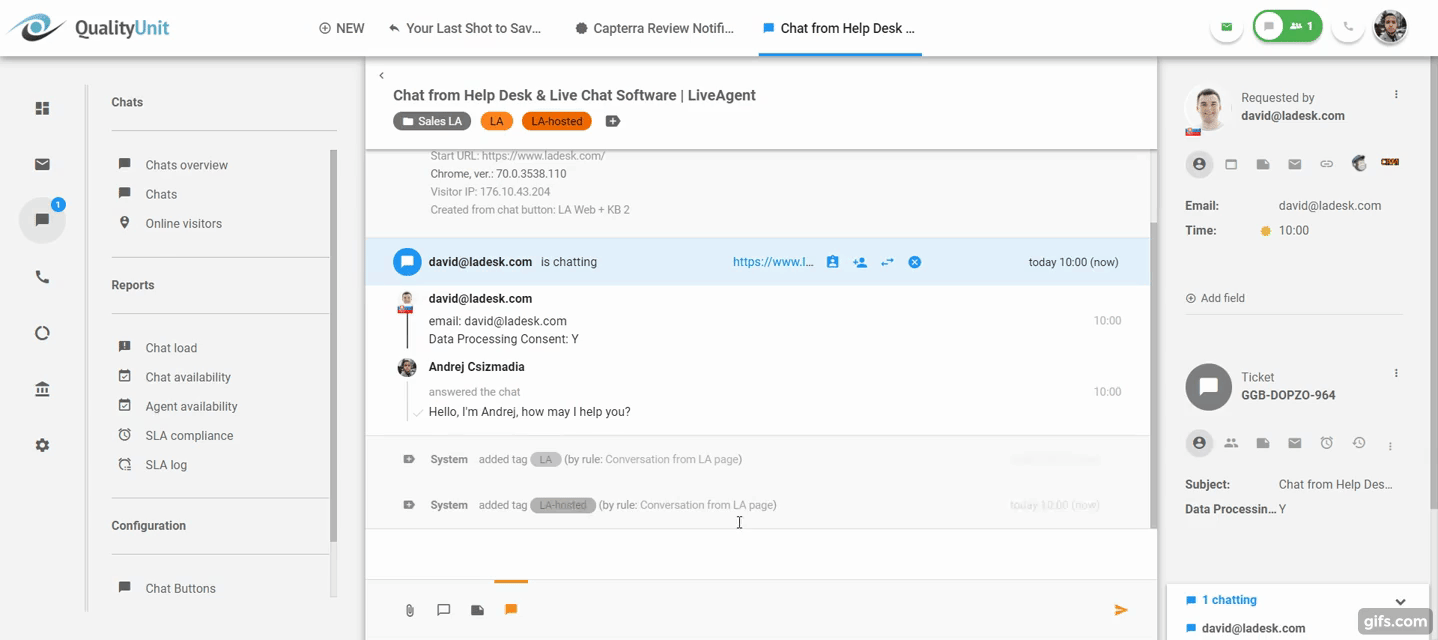 Chat embedded tracking
LiveAgent gives you the option to track events of live chat sessions in Google Analytics. You have the option to track:
Start chat
End chat
Every agent message
Every customer message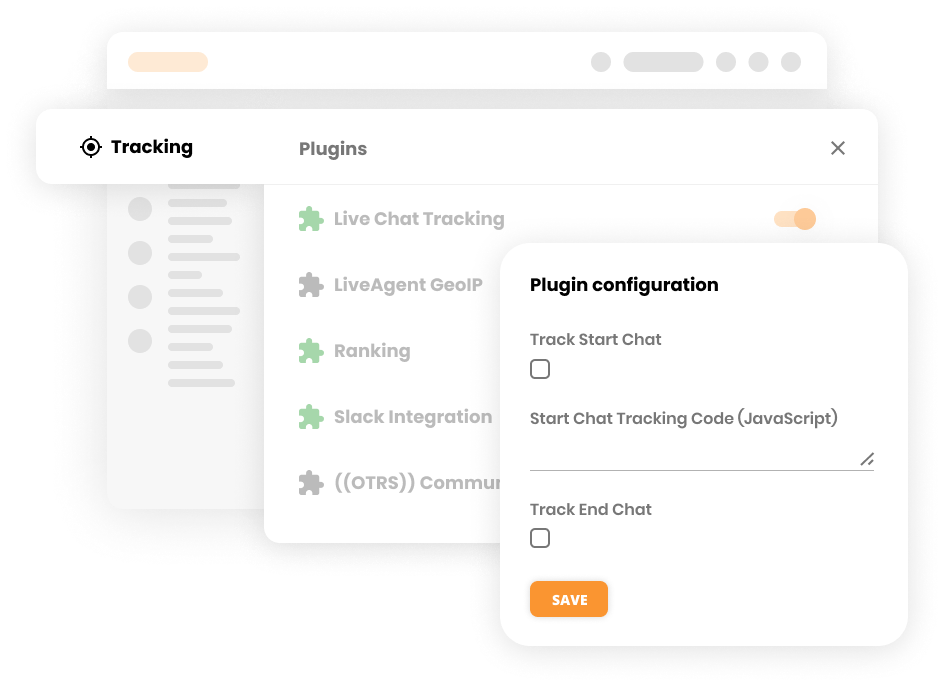 Max queue length
LiveAgent offers a solution for when there are too many people waiting in queue to chat with you. By defining your max queue limit, your live chat button can automatically change its availability to offline or completely hide from your website. When the queue is back in the limit, the website chat box will appear automatically.
Internal chat
LiveAgent provides an internal chatting tool for your agents. The tool allows them to chat amongst each other without having to exit the LiveAgent dashboard, and without using any third-party applications. The chat is equipped with file-sharing options and allows users to send each other ticket IDs that are embedded as clickable links.
Agents can have multiple internal chats open at the same time.
Current URL of live chat visitor
LiveAgent lets you see what web pages your website visitors are browsing on your site. Each time your visitor opens a different page on your website, you'll be notified.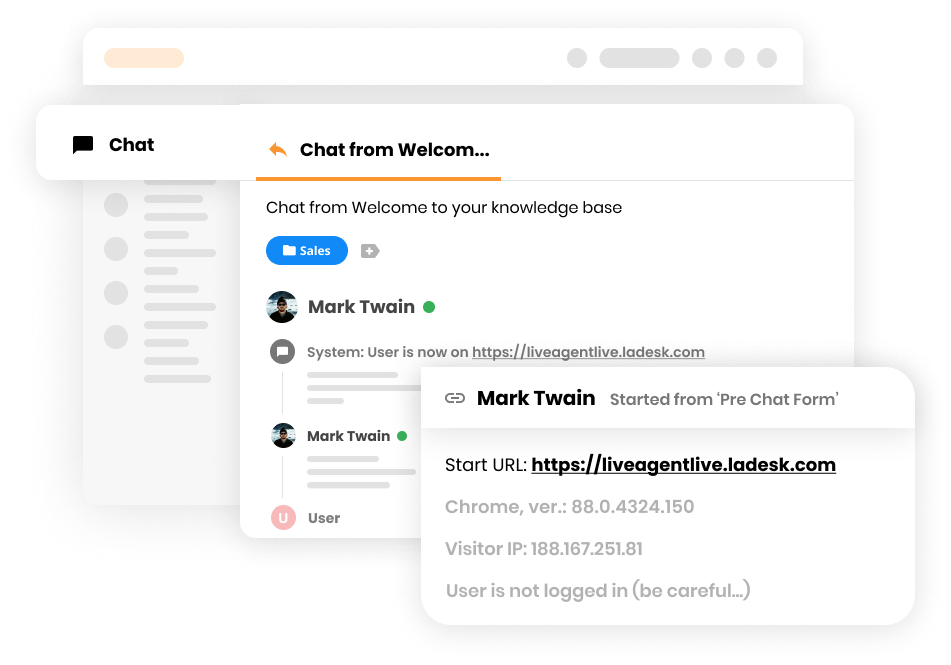 Additional chat features that'll make your support a piece of cake
Universal inbox
Our universal inbox makes it easy to multitask. While you're waiting for a new website chat response, you can focus on answering tickets from other channels directly from your centralized inbox.
Hybrid ticket stream
The hybrid ticket stream allows you to follow your customer's contact/problem resolution journey through different channels while staying in the same ticket thread. If a customer is referring to a previous conversation they've had with a different agent, you can easily look it up in the hybrid ticket thread.
CRM
LiveAgent offers a built-in CRM directly inside your universal inbox. While you're chatting with a customer in real-time you can view their information, past tickets, purchases, and any other additional information that you've collected and recorded.
The CRM information can be edited and updated in real-time.
Tags
Tags allow you to search for past tickets faster. If a customer is referring to a past live chat about their subscription upgrade, you can easily search for the chat transcript by filtering your search with the "upgrade" tag.
Canned responses
Canned responses allow you to answer frequently asked questions in an instant. Agents have the ability to type up generic responses to FAQs and save them. If a customer they're chatting with asks a general question, agents can answer with one click (by clicking on the canned response).
Third-party-integrations
LiveAgent integrates with over 40 third-party applications such as MailChimp, PipeDrive, Braintree, Shopify, GoDaddy, Nicereply, and more. By integrating applications that you use daily with LiveAgent, you'll be able to access these applications and take actions that you'd take within the apps. 
For example, if you want to add a new deal to PipeDrive, you can do so while chatting with your customer in real-time. You simply have to open up their contact card within LiveAgent, and click on the PipeDrive icon which will allow you to add new deals or change existing deal values.
Integrating the apps you use daily with LiveAgent will ultimately save you time — think less clicking, less logging in, fewer tabs.
Summary of live chat benefits
Having a chat box on the website improves customer satisfaction, which in turn, improves sales and retention. In addition, the website chat;
Decreases ticket volumes
By giving your customers the option to contact your customer service immediately, you're effectively decreasing the number of incoming ticket volumes. Live chats are generally resolved faster than phone calls and emails, and thus can prevent your customer support department from being swamped and overwhelmed by tickets.
Lowers customer effort
Customers expect to find live chat on your website. Provide it, and reduce the amount of effort they have to put into contacting you. Placing a live chat button on your website is the easiest way. Why? Customers generally look for answers to their questions on your website, and when they can't locate them, they turn to live chat. 
As such, this is the lowest effort option. If the customer had to search further to find your contact information, open their email, send it, and wait for a response, they could easily become frustrated.
Increases engagement and sales
Using live chat software can improve customer engagement and sales. By using proactive live chat software and placing chat invitations in strategic places on your site, you can easily engage with your customers, offer, help, and even upsell and cross-sell.
Did you know that customers that engage with a business on website chat are more likely to spend more and make repeat purchases?
Ready to give it a try?
LiveAgent is the fastest and most efficient live chat solution on the market. Our free 30-day trial offers full live chat functionality, and more! Try it today. No credit card required.