What is a VoIP dialer?
A VoIP dialer is a dialer software that uses VoIP (Voice over Internet Protocol) to make outbound voice calls. Rather than using traditional phone service, VoIP dialers utilize the Internet connection and a VoIP service provider eliminating the need for a phone line or even a cell phone. Agents can basically use their browser and a headset to make low-cost outbound VoIP calls to any destination as long as they have a stable Internet connection.  
Unlike inbound call centers where agents mostly deal with incoming calls, today's outbound call centers actively use VoIP dialers. Each type of auto-dialer enables agents to automate the telephone dialing process and easily make mass outgoing calls to connect with leads, prospects, and customers. VoIP dialers can be efficiently used by sales teams for making large volumes of sales calls without having to dial numbers manually as well as customer service teams for proactive customer support.
Though VoIP-based calling is typically considered as reliable as traditional voice calling technologies, the Internet connection quality and speed may actually impact the quality of calls when using VoIP dialers.
Call Center Software Demo | LiveAgent | Live Agent04:40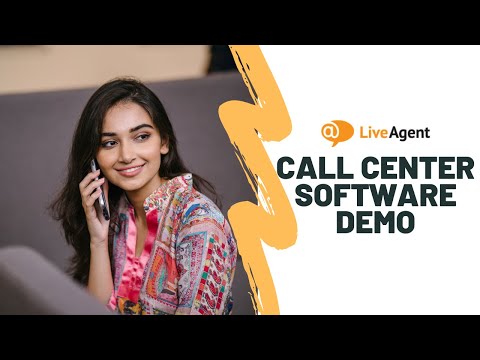 Live Agent
There are several types of VoIP dialers that differ in a way they operate:
Predictive dialers: These types of VoIP dialers are mainly used for mass outgoing calls, e.g., in telemarketing, market research, customer service follow-ups and debt collection. The predictive dialing process involves calling multiple numbers at once based on predicted agent availability while skipping disconnected numbers, busy signals and voicemail.
Power dialers: Power dialers (also known as rapid dialers) call one number per agent and ensure a call is initiated only when an agent is ready to speak. In case a number is busy, disconnected or unattended, it instantly moves to the next one from a contact list.
Preview dialers: A preview dialer enables agents to see detailed contact profiles, including the history of previous interactions, so they can screen through the information and decide whether to initiate the call or skip it. That allows for more personalized, context-driven interactions with customers and prospects.
Robo dialers: Robo dialers are capable of calling hundreds of thousands of people simultaneously without waiting for free phone lines. Once a contact picks up, it plays your pre-recorded message or connects the call to a live agent. These are mainly used for mass messaging campaigns.
Progressive dialers: Progressive dialers run through your calling lists and initiate the call only when an agent is done with their current call and is available to pick up the next one. A progressive dialer only connects agents to calls that are answered by a live person and only dial one number per agent.
Try LiveAgent Today
LiveAgent is the most reviewed and #1 rated call center software for SMB.
Frequently Asked Questions
What are the advantages of VoIP dialers?

VoIP dialers dramatically increase the number of live connections by filtering out non-connected calls, reduce waiting times between calls and agent idle times. It means that using VoIP dialers call center employees are able to reach more prospects and customers in less time. That ultimately results in improved agent performance and overall business productivity increase, as well as reduced call center labor costs.

How does a VoIP dialer work?

A VoIP dialer uses Voice over Internet Protocol (VoIP) to manage multiple outbound calls in call centers. VoIP dialers automate the dialing process eliminating the need for manual dialing. They can filter out busy signals, disconnected numbers and voicemails and connect agents only when a call is answered by a live person.

Is VoIP dialer part of LiveAgent?

Though LiveAgent's call center software supports both inbound and outbound calling, its outbound call center functionality currently doesn't support VoIP dialing. However, you can still make outbound calls to your leads, prospects or customers with a click-to-call capability. It means agents can initiate outbound calls right from the LiveAgent dashboard, while visiting your prospect's websites.
Expert note
VoIP dialers are software that use the internet to make outbound voice calls, increasing connectivity and productivity. Choose from predictive, power, preview, robo, or progressive dialers for your outbound call center needs.

Andrej Saxon
Sales manager