Call center dialers are also known as outbound dialers, automated dialers or sales dialers. Over the past years, dialers have grown to be one of the most important parts of any outbound call center. While manual dialing is still widely used in call centers, auto dialers have significantly improved outbound call center operations by automating the whole process of dialing numbers. That ultimately makes things easier for call center agents and helps improve overall call center efficiency. Here's everything you need to know about automatic phone dialers, how they work, how they differ and what benefits they can bring to your call center.
What is a dialer?
A dialer is software that is used in contact centers to simplify the process of outbound calling. Dialer call center solutions are widely utilized by sales teams for telemarketing, cold calling and lead generation. In addition, they are used by customer service teams for proactive customer service and support, conducting customer surveys and gathering customer feedback. Apart from that, call dialers can benefit businesses and organizations in other fields. E.g., voice phone dialers can be used in autodialing campaigns for appointment scheduling/ appointment reminders, emergency notifications, public reminders, debt collection, etc.
How does a call center dialer work?
Automated calling systems for call centers automatically dial numbers from a database of contacts on behalf of individual agents. When dialing numbers from contact lists, call dialers can detect invalid numbers, busy signals and disconnected lines, as well as identify whether the call has been answered by a real person or an answering machine. The system can be configured to either route calls to agents based on agent availability, connect to an IVR or play a pre-recorded message once the dialer software recognizes the call has been picked up by an actual person.
Why are call dialers important in call centers?
Having a call dialer is critical in today's call centers, particularly those focused on outbound operations such as outbound lead generation, lead acquisition, and sales. According to the sales stats, the average sales rep makes 52 calls every day, while about 15% of their time is spent leaving voicemails. That basically means 36 hours of wasted time each month per single agent in a typical sales team. With a dialer contact center solution, agents can automate the process of calling numbers from a list of leads or a huge customer base. This will improve their productivity as there's no time wasted on dialing numbers manually, busy signals or voice mail answers.
Benefits of using a call dialer ‍
Having phone dialers can benefit businesses and organizations of any type and size. Without dialers, call centers would have faced significant downtime, as typing in numbers and dialing them is extremely time-consuming. Autodialers free agents from dialing calls manually, which saves them a great deal of time and effort. In addition, since call dialers are able to filter out busy lines, voicemails, and disconnected numbers, calls are routed to agents only when a real person picks up. That means more calls per agent, increased call connection rates, less agent idle time, more agent talk time, and more time for each lead. All that results in improved overall agent productivity and performance.
Types of VoIP dialers for call centers
The various types of VoIP dialers offer different functionalities. They can be configured and operated depending on the call center needs and particular requirements of outbound calling campaigns. Outbound dialers can be broadly divided into manual dialers and auto-dialers. Auto dialers can further be classified into three main types that are designed for specific purposes: preview dialers, power dialers, and predictive dialers.
Auto dialer
Auto dialers (also referred to as automated dialers, automatic dialers, or robo dialers) allow agents to automate the process of calling prospects or customers using different dialing modes based on the calling campaign requirements. In the automatic dialing mode, only calls that are picked up by a real person are routed to a contact center agent which helps boost agent performance and efficiency giving reps more time for interacting with each prospective customer.
🟢 Pros: Auto dialers save loads of time for agents allowing them to focus more on each customer interaction, reduce agent idle time, increase talk time and improve the overall operational efficiency of outbound call centers.
🔴 Cons: Though auto-dialers employ voice recognition technologies, they aren't always accurate in differentiating between human beings and answering machines.
When to use: An automated dialer can be a lifesaver when it comes to telemarketing, lead generation, outbound sales, and proactive customer support in outbound call centers with large call center teams who are typically required to handle high outbound call volumes.
Is auto-dialing illegal?
Though auto-dialing is not illegal, the Telephone Consumer Protection Act (TCPA) restricts the use of auto dialers to place unsolicited calls. In particular, calls made to cell phones using an auto-dialing system without a recipient's consent are considered illegal. That includes both telemarketing and non-telemarketing calls, except for healthcare-related and emergency calls.
Preview dialer
This type of auto dialer is also known as a semi-automatic dialer. It is one of the most commonly used dialers in outbound call centers. The preview dialer system selects a contact from the database of leads and sends the call request to an agent who can preview the information (including the history of previous interactions) prior to initiating the call. The agent can then either choose to place the call by clicking the call button or skip it and move on to the next number. In the preview dialing mode, the system dials only when the agent is ready to attend the call minimizing the chances of call drops.
🟢 Pros: Since agents get access to customer information before placing the call, preview dialers empower agents to better prepare for each call based on the available data. Thus, agents can offer a personalized experience and improve engagement.
🔴 Cons: In cases when there is no sufficient information about the lead, the preview dialer is not helpful. Besides, as agents may waste time studying individual cases before placing the call, it can result in reduced agent productivity and fewer calls per hour. This is why preview dialers are not the best option for managing high volumes of outbound calls.
When to use: Preview dialers can be efficiently used in running collection campaigns, in sales follow-up calls, or even in complicated cases of customer support. An agent can review the available information before initiating the call to get prepared for resolving the issue.
Power dialer
Power dialer is the most basic automated dialer that dials the next number on your outreach list right as the agent completes their previous call. When the power dialing system reaches a busy signal or a disconnected number, it automatically calls the next number in the queue. When an actual person answers, the power dialer immediately connects them to an agent. Unlike a predictive dialer that dials numbers before an agent becomes available, a power dialer proceeds to the next call only after the current call is terminated. That means the agent is always on the line as soon as someone picks up and therefore dropped calls are minimized.
🟢 Pros: Compared to manual dialing, in the power dialing mode, agents can make more outbound calls as there's no time wasted on looking up and dialing numbers manually, which results in improved agent productivity.
🔴 Cons: Because there is no predictive algorithm, agents have to wait while each call connects, meaning more agent idle time. In addition, since agents don't get much time to review the information about the lead, it may lead to a lower level of personalization.
When to use: Power dialers are helpful when there is a high outbound call volume and you want to avoid manually selecting and dialing numbers. Those are commonly used by outbound sales teams, for bill and debt collection, running surveys, etc.
Predictive dialer
Predictive dialer is a type of auto dialer that is aimed at boosting agent efficiency by increasing the number of outbound calls agents can handle. The auto phone dialer will auto dial a large group of numbers simultaneously and direct answered calls to agents who are currently available. It also screens out busy signals, answering machines, and disconnected numbers. By using a sophisticated algorithm, predictive dialing software can adjust the call rate based on a number of call metrics. These include the number of available reps to take calls, the average number of dials before a person picks up, the answered calls ratio, the call abandonment rate and the average lengths of conversations.
🟢 Pros: Predictive dialers increase the contact rate and the number of calls agents can take. That ensures the efficient use of agents' working time since they are immediately connected to the next live call once the previous call is over.
🔴 Cons: As predictive dialers are fast, your team needs to have enough agents (at least 10) to efficiently handle calls without delays that can cause people to hang up before being actually connected to an agent.
When to use: Predictive dialers are best suitable for call centers with high outbound call volumes. They can be efficiently used in telemarketing and sales campaigns, debt collection, mortgage and insurance campaigns, political and fundraising campaigns for nonprofits, etc.
Challenges and Regulations:
Call delay: The predictive dialing algorithm may not always verify agent availability before routing connected calls. That can lead to delays between a contact answering the call and an agent joining the conversation, increasing the number of dropped calls.
Rate of abandonment: In the US, the Federal Communications Commission (FCC) allows a maximum abandonment rate of 3% of all connected calls per month for predictive dialers. In Canada, the maximum allowed abandonment rate is 5%.
Unable to prioritize leads: In the predictive dialing mode, agents rarely have the option of prioritizing leads which may negatively impact the quality of interactions.
High-ticket items perform poorly: As agents lack the context prior to engaging on a call, they are often unable to have meaningful, personalized conversations, which makes predictive dialers less efficient for selling high-ticket items.
Power IVR
Power IVR is used in automated outreach campaigns to deliver pre-recorded messages to a large number of leads or customers. Once the call is picked up by a live person, the power IVR system will play the pre-recorded audio file. Then it will either connect the call to an agent or remove the caller from the call list based on their touch-tone responses or speech commands.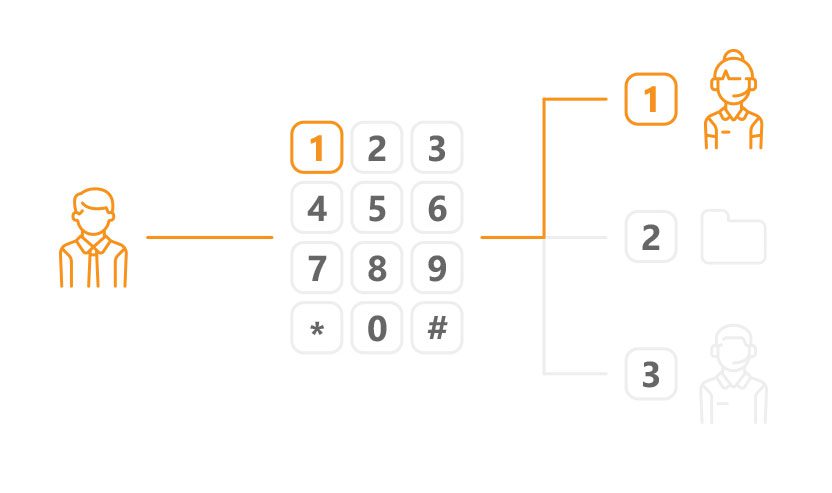 Voice drops
Voice drop is very similar to Power IVR, except that, unlike Power IVR, the system will drop the call right after playing the pre-recorded message without waiting for the touch-tone responses or speech commands from the call recipient. Voice drops are mostly used in automated outbound campaigns to reach out to a large number of customers for payment reminders, or other similar cases.
How to choose the right type of dialer
Whether you're considering hosted dialers (cloud dialers), web-based dialers, or on-premises dialer solutions, understanding what type of dialer your call center needs is the most critical step. With so many auto dialer software systems available, it might be a challenge to figure out which one is the most suitable for your outbound call center requirements and the size of your team.
The best way to manage high outbound call volumes is to use predictive dialers or power dialers. A great example of where to use them is generating warm leads from cold call campaigns. On the other side, for lower call volume processes like closing warm leads, preview dialer would be a better option. as it gives agents the context they need before making calls to ensure more meaningful interactions and higher lead conversion rates.
What is the difference between predictive dialers vs. power dialers?
Predictive dialers dial multiple phone numbers per agent based on a mathematical estimation of agent availability. In contrast, power dialers are simpler as they dial one number after another for each available agent. The next number is dialed only after an agent completes their current call. That makes predictive dialers more efficient in terms of agent productivity. However,with power dialers agents are connected before the call starts, which significantly lowers dropped call rates and helps deliver a more positive customer experience.