What is chat software?
Chat software is the easiest and not expensive way of communication between an organization and its customers and website visitors in real time. It is used by a customer service team to fast respond to queries.
Every live chat software provider offers many functions and features. In LiveAgent, you are able to set up chat invitations on your website, customize a chat button, see what your customers are typing on Live chat and much more. It brings many business benefits to your organization.

Discover the top 7 live chat software apps
Looking for the best live chat software apps for your business? This video highlights the top 7 live chat software solutions that can revolutionize your customer engagement and support. Explore the features, functionality, and unique benefits offered by each app to find the perfect fit for your organization. From real-time customer support to personalized interactions, these apps provide powerful tools to boost customer satisfaction and drive conversions. Stay ahead of the competition with the best live chat software apps.
7 Best Live Chat Software Apps [2023] | Business Solution10:12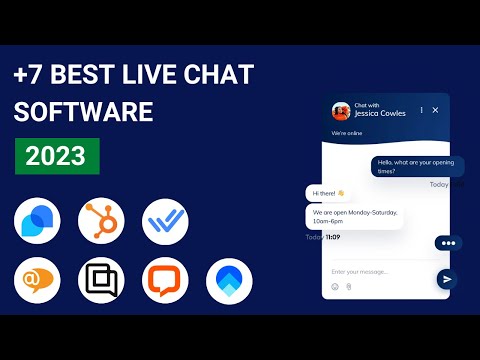 Business Solution
Topics
Video summary
In this video, the importance of live chat in customer service is discussed. The best live chat software tools are analyzed, along with their features and benefits. Companies like Video, Respond.io, Gorgeous, Live Chat, Live Agent, and HubSpot Live Chat offer powerful customer support and automation features that can help businesses streamline their communication and improve customer satisfaction.
Frequently Asked Questions
What is chat software?

Chat software is a service that enables real-time customer support. It acts as an instant messaging service through which your customers can contact you.

Does LiveAgent offer chat software?

LiveAgent offers chat software. Thanks to this functionality and its advanced features, you save time and can spend it on building relationships during a conversation in real time.

What are must-have features of chat software?

There are a few essential features that should be in a chat software. The first of these features are automatic messages that enable proactive customer service. The ready-made answers to frequently asked questions are an important function. Thanks to this option, the customer will get a quick answer, and the agent does not have to think about what to reply with for a while. Another feature is manual messaging, which gives you the chance to build a relationship with your client. The chat form is also important, as it allows you to collect customer contact details before starting the conversation. It should be important for both the service team and the customers that the customer can rate the chat. This is important feedback for the team.
Expert note
Chat software is an affordable and efficient way of real-time communication between an organization and its customers. It offers useful features like automatic messages, manual messaging, chat forms, and customer rating options.

Andrej Saxon
Sales manager