What is an agent role?
Support agents are a vital part of delivering excellent customer service. They interact with clients daily to answer their questions, provide technical support, resolve customer issues, and much more.
To avoid confusion as to which agent has particular privileges and responsibilities within the help desk system, every agent is given an agent role. All user roles come with their set of privileges like configuring the system, overseeing customer interactions, monitoring the workflow, etc.
When you add a new customer support agent to LiveAgent, it is necessary to assign them a role within the system. In LiveAgent, and as well as in most help desk systems, there are three main agent roles to choose from.
Agent – they reply to tickets, work with ticket properties, interact with customers and provide support.
Admin – this role grants privileges to configure the system settings as well as access tickets.
Owner – this role comes with the widest range of privileges. They have access to reports and manage the account, billing, and system settings while being able to work on tickets and monitor workflow.
There is also an option to create custom roles, however, this is not a guarantee for every help desk software.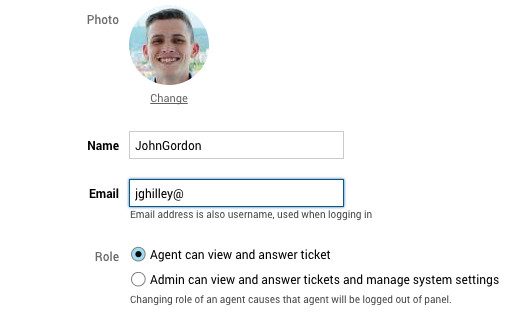 When you assign roles to agents, you avoid confusion and potential frustration for agents, which can dramatically boost their productivity. Having clearly defined responsibilities as well as privileges allows agents to focus on their tasks and provide exceptional customer service to your client base.
Ready to improve your help desk customer service?
Discover just how easy customer service can be with LiveAgent. Curious about the opporunities?
Frequently Asked Questions
What does an agent role mean?

An agent role defines a set of privileges and responsibilities an agent has within a help desk system. It is a common feature included in most help desk software solutions as a part of business rules.

What competencies does an agent role include?

In LiveAgent, there are three user roles to choose from. This role allows you access to tickets. The admin role grants you access to your tickets so you can work on them, but comes with an additional privilege of configuring system settings. The last, most powerful role is the owner, who has access to tickets, can configure system settings, monitor agent workflow, deal with billing issues, and more.

How to assign agent roles in LiveAgent?

To assign a role to agents in LiveAgent you need to log into your LiveAgent account and go to the Configuration tab and select the Agents option. Click Create Agent, and fill in the agent information like name, email, and gender. Then, assign them an agent role - agent, administrator, or owner.
Expert note
An agent role defines a set of privileges and responsibilities an agent has within a help desk system, allowing for clearer responsibilities and improved productivity.

Andrej Saxon
Sales manager