What is instant chat?
Instant chat, also known as IM, is a chat messaging system that sends messages in real-time over the Internet. Typically, IM's are short messages exchanged between two or more people.
How does an instant chat work?
To send and receive IM's users can either download a specific software or chat through browser-based chat tools. Users can see other users online and chat with them in real-time through devices such as computers, phones, iPads, and even gaming consoles.
What can you send through an IM?
Modern-day instant chat software allows users to send clickable hyperlinks, GIFs, photos, attachments, documents, videos, and even voice recordings. More advanced software also enables users to call each other through video and voice calls, and some even allow users to share their screens with each other.
How to make an instant chat in a website
If you want to provide an instant chat option on your website, all you have to do is place a chat button widget on your website. No coding is necessary, simply copy and paste your button code into your website. To learn how to do it, check out this step-by-step guide.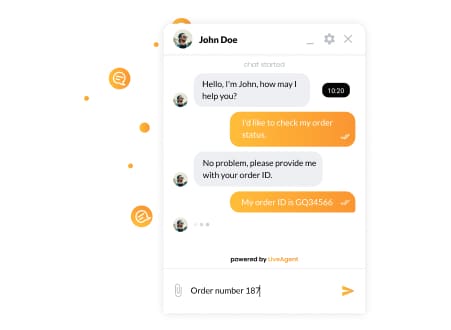 How can you use instant chat in customer support?
If you want to utilize instant chat in customer support, consider using a live chat software. A live chat software works in exactly the same way as an instant chat – it enables agents to chat with customers in real-time. The only difference is that in order to chat with customer support reps, customers don't have to download any software. If customers want to chat with customer support reps, all they have to do is click the live chat button/widget on the businesses website.
Do customers like live chat?
Customers love utilizing live chat. In fact, 79% of consumers prefer to live chat with customer support agents because they offer instant responses.
Is it worth it to invest in a live chat software just for instant messaging?
Most live chat software is a part of a larger software solution — such as a help desk software. In addition to live chat/IM features, a help desk software contains advanced features such as a ticketing software, knowledge base software, or a call center software. Therefore, it's most definitely worth it to invest in a live chat software – as you'll be getting additional functionality which will only help you provide a higher level of customer service. To learn more about help desk software, and the benefits of using it check out this link.
Would you like to learn more?
Check out our extensive research, where we gathered important information and compared LiveAgent with other chat plugins for WordPress.
Frequently Asked Questions
What does instant chat mean?

Instant chat is a type of online chat that offers real-time transmission of messages over the internet. Short messages are usually sent between two users, however some messaging services can show the text in real time as it is generated without clicking "send".  

How does instant chat work?

Instant chat works in such a way that you can contact a specific person using the messenger and the message goes directly to them. Messages are transferred in real time via direct connection. Most often, it also has the ability to transfer files. All this allows the chat to run efficiently.  

What is the instant chat in LiveAgent?

LiveAgent instant chat is part of the entire support software solution. It allows real-time contact with the customer, thanks to which the brand can provide customer service at the highest technical level. This responds to the needs of customers who often need immediate assistance.  
Expert note
Instant chat offers real-time messaging over the internet, allowing for quick and efficient communication between users. It's a valuable tool for customer service and support.

Andrej Saxon
Sales manager