What is a support ticket?
Support ticket is a term that describes an interaction between customers and the customer support team. These tickets allow customers to send a question or query to an organization in order to let them know about their problem or concern. Support tickets are received by the ticketing system. Every ticket created has its unique ID which makes it easy for the support team to track the status of each ticket and therefore nothing will get lost or forgotten. When the issue is solved, the ticket is closed.
The key elements of a support ticket
Generally, support tickets contain the following components:
Customer's request or issue
This section is the most important part of the support ticket because it contains the description of the issue or customer service request. This description is then used by customer support agents, such as a customer service representative, to determine how to proceed with the particular ticket, what is the level of priority and what department is responsible for that type of issue. Customer interaction plays a significant role in understanding the customer's concerns and addressing them effectively. It is also a possibility to add attachments in order to provide some visual documentation that could be helpful in order to solve the issue.
System information
In LiveAgent, one of the key elements for customer support agents is "System information" that contains data about the ticket. This data consists of information about the ticket being postponed, reassigned to another agent, SLA changes, and much more. It provides transparency, therefore these system notes can't be deleted.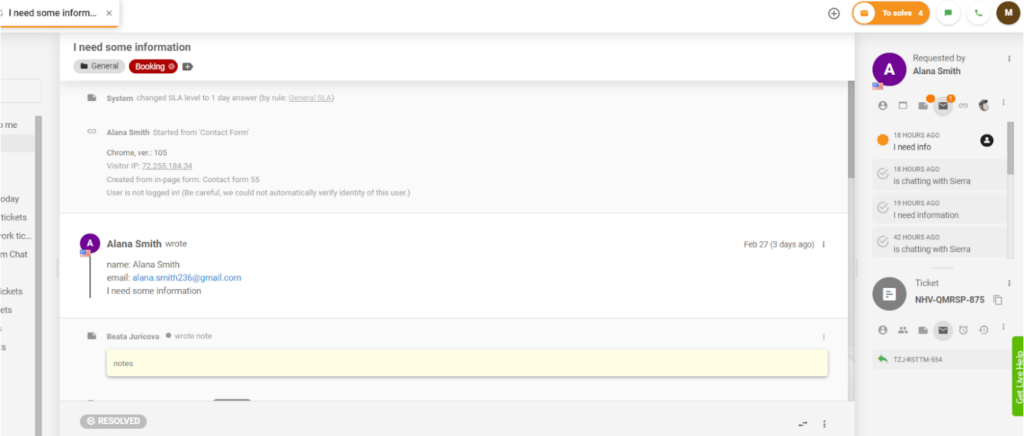 Relevant customer information
The support ticket also typically includes contact information about the customer such as full name, email address, phone number, location, and any other relevant information that can help the support team to personalize their response. Incorporating customer service software into your support system can help streamline processes, reduce response times, and enhance the overall quality of customer support. In LiveAgent, if there is no name associated with a person that is contacting your customer support team, they are automatically given a Customer ID (Visitor ID) and they are recognized based on their email address or phone number. Catering to the modern customer requires a seamless and efficient support experience, which is made possible through accurate customer information.
Ticket number
As mentioned before, each ticket has its unique ticket number that helps the agents to manage and track tickets throughout the whole process of resolution. Using ticket software can significantly improve the management and organization of support tickets. It also helps to ensure that there are no tickets being overlooked, left unresolved, and that customers receive updates on the status of their request. It also helps to make sure that all tickets are resolved in a timely manner.
Ticket category
Including the ticket category can help the customer service team to assign tickets to the right department and prioritize them in order to create a more time-effective process. These tickets can be categorized based on the nature of the problem, for example, "technical support", as well as certain topics, tags and which agent is assigned to the particular ticket.
What are the types of support tickets?
There are many different types of tickets that require a different approach from customer service representatives based on the issue that the customer is having. By categorizing tickets, the agents can effectively manage these tickets and come to a resolution more efficiently. For example, a service representative may handle technical support tickets while another representative focuses on billing and payment support tickets. Adding "conversations with customer" to the ticket history allows representatives to see the full context of the issue and provide a more personalized response.
Here are some common examples of several types of customer support tickets that the customers can submit:
Technical support tickets
Technical support tickets usually involve issues that are related to a problem with a product and its functionality or some technical specifications. It can be a technical problem that affects and decreases the functionality of the product or service. To give an example, a customer can submit this type of ticket when they are having a problem with setting up their software or service. These tickets should have a high priority because it highly reflects your customer service.
Billing and payment support tickets
As the name suggests, these tickets are related to issues with billing and payment processes. An example could be when a customer is overcharged for a product or service, or if the payment doesn't go through. Occasionally, an incoming support request might be about a customer needing clarification on their invoice or seeking information about available payment methods. These tickets should be handled with care and professionalism, as they directly relate to the financial aspect of the customer experience.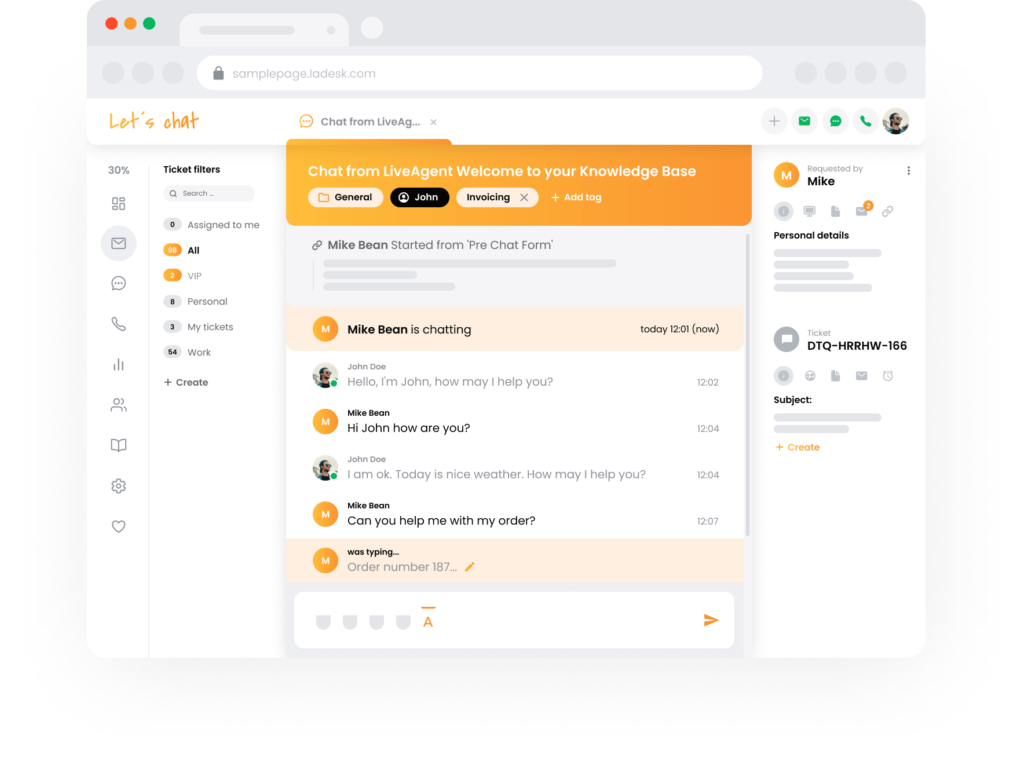 Sales
These tickets can be also called Pre-sale tickets, and they mostly come from people that are interested in buying your products and they are meant for your sales representatives. These tickets consist of questions regarding pricing, purchase, general questions related to the product or service that your company provides or questions about the initial set-up.
How to resolve support tickets faster
The goal is to resolve support tickets as quickly as possible because it can have an impact on customer satisfaction and overall experience. Customer demand also plays a significant role in determining the speed at which support tickets need to be resolved. Customer service staff can use these simple tips to reduce average resolution times:
Set clear priorities
When an agent is flooded by many customer tickets at once, they need to make decisions and learn how to prioritize. They need to take into consideration a few factors and ask themselves the following questions:
How long will it take to resolve a certain issue?
How many people are affected by the same problem?
What are the possible consequences if the ticket is unresolved for too long?
After assessing the severity of the ticket and its potential effect on the business, the agents can mark the ticket as a low, medium or high priority to keep everything clear and organized. Customer queries marked as high-priority need to be resolved as soon as possible.
One way to optimize your ticket priority is to define and set SLAs (Service Level Agreements). These are typically agreed on between the company and the customer, and they define a timeframe in which the ticket needs to be replied to or completely solved. They can also be customized depending on the customer group.
Use canned responses
Canned responses are pre-written message templates that help your customer support team to enhance their productivity, improve response times and save time. They are mostly used to quickly respond to common inquiries and frequently asked questions. However, it is also important to personalize these messages instead of just copy-pasting them to improve the experience for customers.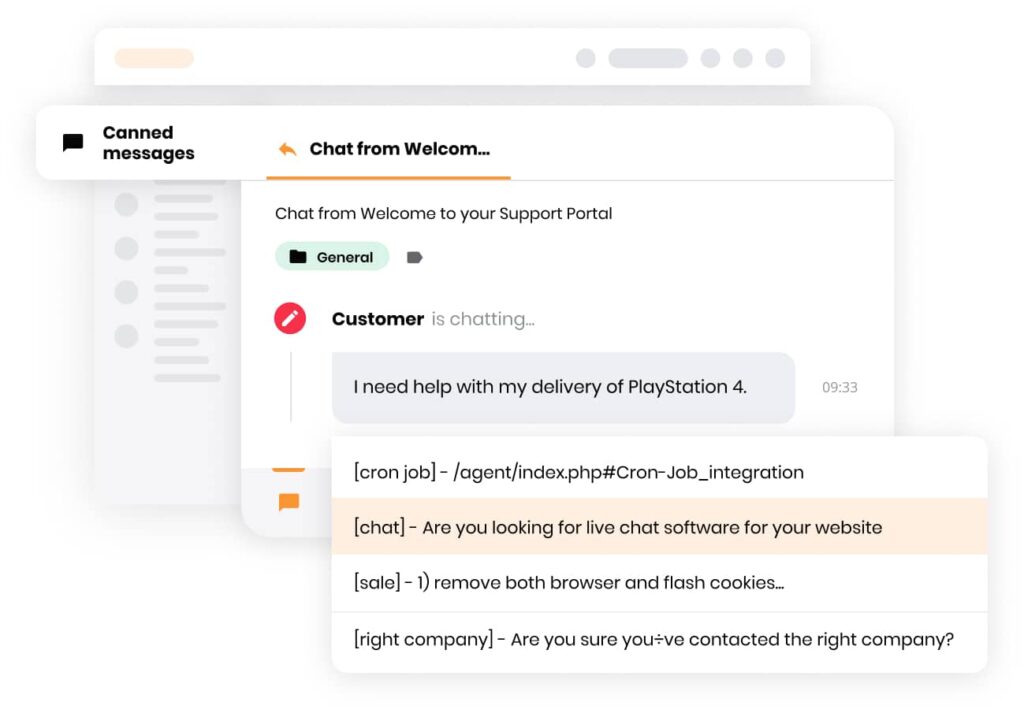 Implement automation
A help desk support ticket system often includes automation features that provide faster resolutions. From ticket routing to assigning tickets or updating statuses automatically, you can use these features to speed up the process, automate routine tasks and therefore your support team will be able to focus on more complex issues that need their attention. You can also set auto replies to let customers know that their message has been received and is acknowledged.
Provide self-service options
Another way to resolve support tickets faster is by providing self-service options to your customers, such as FAQs and user-friendly knowledge base. Here, they can find answers to frequently asked questions and issues before reaching out to customer support representatives. The support agents can use "Knowledge base suggestions" and send the customer a link that will forward them directly to a relevant knowledge base article. This can reduce the volume of incoming tickets and it leaves more time for agents to focus on more complex questions.
However, it is important to keep your knowledge base articles up to date to make sure that the customer can find relevant information and answers to their issues.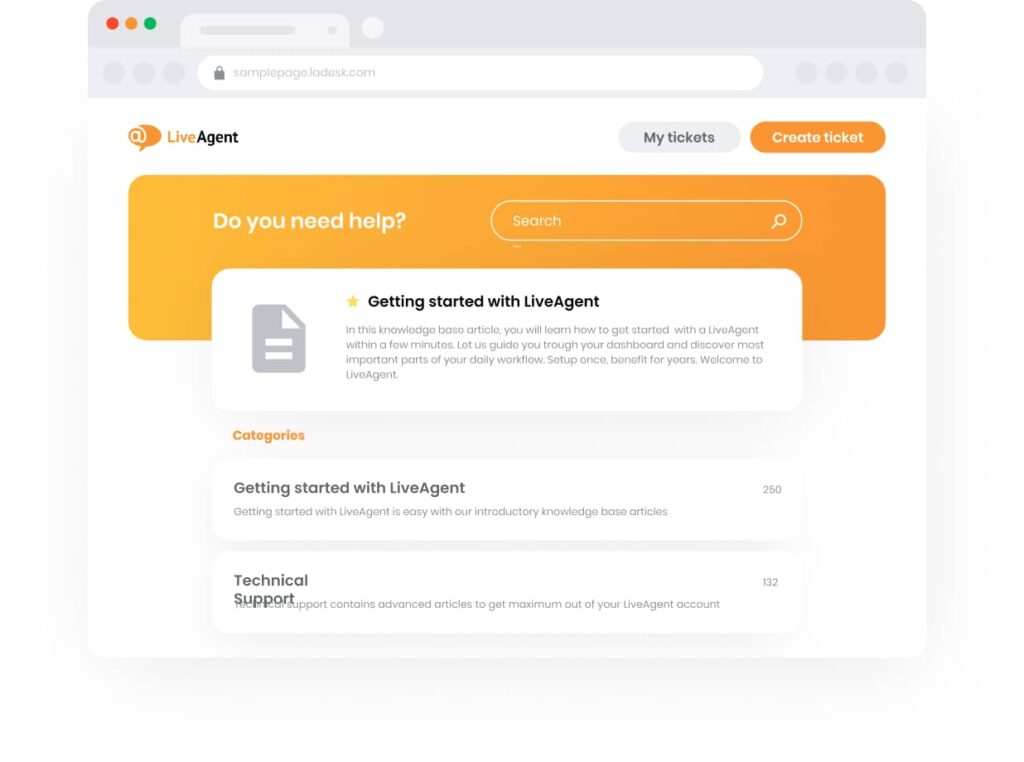 Use collaboration tools
These collaboration tools can include internal chat, sharing of notes, sharing files and documents. They help your team to work together and share their knowledge and insights in order to solve tickets more quickly. They can also share additional information from video calls or phone calls that are necessary to understand and resolve the problem.
With help desk management software, employees from different departments can have a clear overview of who is working on what. It also lets you use different labels, prioritize tickets, send pre-written canned messages and collaborate in a more effective and efficient way.
What are the benefits of using support tickets?
Support tickets are beneficial not only for the customer support reps but also for customers, as well as the whole business.
The main benefit for customers is that when they submit a ticket, it has its unique ID which they can use as a reference when talking to different agents. This helps them to save time because there is no need to repeat the whole problem all over again.
When it comes to support agents, they can easily keep track of the issue from start to finish, which makes their work more organized. Support tickets also give customer service teams easy access to the customer information, resulting in higher service quality which leads to increased customer satisfaction levels.
Businesses also benefit from offering a support ticket service. They can see the performance of their agents, analyze what are the most common customer queries, and therefore they can make necessary improvements.
Simply put, support tickets are a valuable tool that provide a number of benefits for a customer support team, as well as customers, because they can improve the whole support experience. Let's look at some more examples of benefits associated with using support tickets:
Increased organization and efficiency
Using a customer support ticketing system provides a centralized location to manage all incoming customer support inquiries. All interactions with customers, such as emails, live chats, social media conversations, and more, are organized and managed from one place.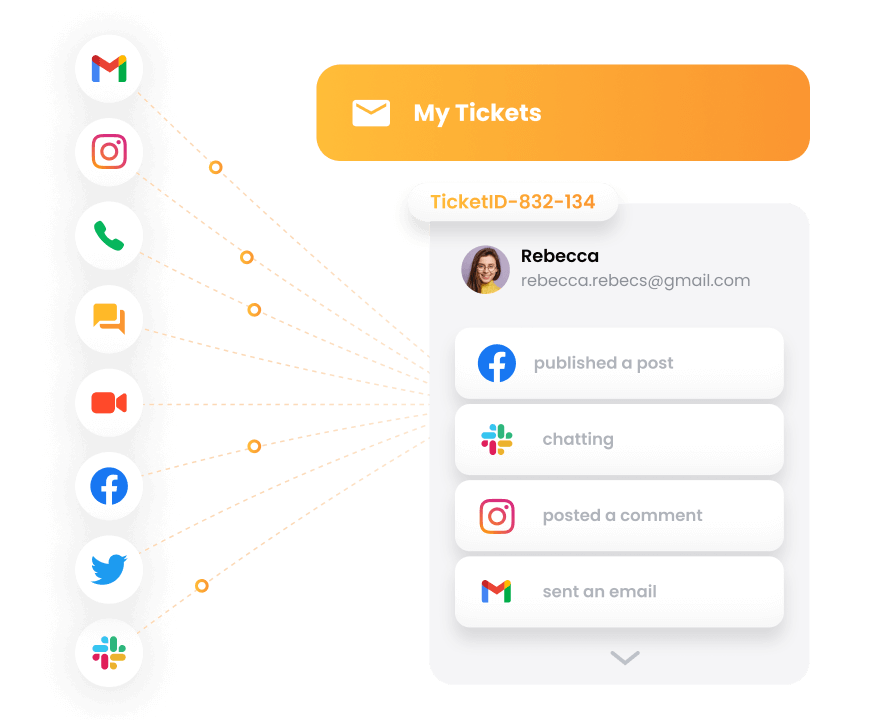 Support tickets are a great way for customers to submit their requests, and they make it easy to automate everyday tasks to boost your team's productivity. Ticketing tools make it much easier to assign each ticket to a specific department or agent, prioritize the most important tickets, and ensure that all tickets are answered and resolved in a timely manner.
Improved communication
Because all customer tickets are stored in one centralized location, it helps to provide easier communication between the company representatives and their clients. In case the ticket needs to be transferred to a different agent, they will have access to previous communication so the customer doesn't need to repeat the issue again, and therefore it also saves time. This leads to more effective and efficient communication.
Better tracking of issues and resolutions
By using a unique ticket ID assigned by the system, and categorizing tickets based on their priority and nature, customer support staff can easily track the progress of each issue and make sure that all customer inquiries are resolved in a timely manner. Furthermore, you can track the performance of your team, and identify trends and recurring issues, which allows you to make necessary improvements and proactively address common issues before they become more significant.
Improved customer experience
Delivering excellent customer experience is crucial for every business, and each organization should strive to provide a high-level experience for their customers. It can give you a competitive advantage over your competitors. Using support tickets is a great way to offer exceptional customer service which has a direct impact on customer satisfaction and their overall experience. Customers can track the status of their inquiry through ticket ID, they can receive updates on the progress, and it prevents them from repeating their problem in case they are transferred to another department or agent. All these aspects can improve their experience throughout the whole resolution process. These customers are then more likely to stay loyal to your company and spread the good word about how good their experience was.
What are the best practices for managing support tickets
Support ticket management is important to ensure that all customer requests are looked into and resolved efficiently and in a timely manner. Here are some examples of the best practices for managing support tickets:
Set up automated responses
When it comes to best practices for managing tickets and ticket handling, automation features are great if you use them to their full potential. Automated responses can be set up to send a confirmation to the customer that their ticket has been received. This message can also be personalized by providing an estimated response time and updates which keep the customer informed and reduces any additional follow-up inquiries.
Categorize and prioritize tickets
Categorizing and prioritizing tickets is important to make sure that you don't pick the tickets randomly and miss out on important or urgent tickets. All this can be avoided by marking tickets that are urgent as high-priority, and therefore the agents know that those tickets need immediate attention. By categorizing tickets based on the nature of the issue, the customer support team can ensure that the right department and agent with the appropriate experience and knowledge is assigned to the tickets to provide the best assistance.
In LiveAgent, you can see the ticket importance based on the SLA that has been established between your company and the customer. The tickets that have been waiting for the answer the longest, are on the top of the list to make sure that they get the necessary attention.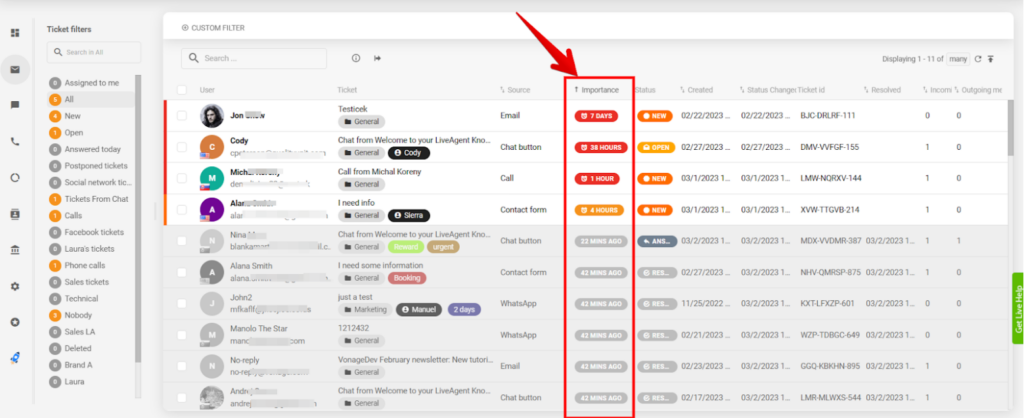 Use ticket analytics
Ticket analytics provide valuable insight into the areas that need attention and improvement. You can track data such as ticket volume, resolution rates, average response times, average ticket handling time, ticket escalation rates, and more. By analyzing these important metrics, you will be able to proactively identify areas of potential issues and avoid them before they become significant.
In LiveAgent, you can for example see the "Channel report" which is useful in order to get insights about which communication channel is used the most by your customers (live chat, Facebook, email, etc.)
Keep Customers Informed
The key to strong and long-term relationships between a business and its customers is communication. Customers should receive updates regularly, even if there is no significant progress in the status of their tickets. It keeps them informed, and therefore they don't need to send more follow-up inquiries and demand to know the current status of their issue.
Provide personalized support
When a customer receives personalized support that takes into account their specific issue, it makes them feel more appreciated by your company. This can be easily done by reviewing the history of each individual customer and providing solutions that are targeted based on their specific needs. Providing personalized customer support will help to build long-term and loyal customer relationships and improve overall customer satisfaction.
Conclusion
Support tickets are an amazing tool for the customer support team to manage all incoming customer support inquiries effectively and efficiently. It also helps to improve the communication and organization within the company, tracking of issues, and analyzing different metrics that help to make necessary improvements.
There are many benefits that come with implementing support tickets, such as improved efficiency in customer support, improved communication, better issue resolution, and most importantly, improved and memorable customer experience.
You can also implement some of the best practices for managing support tickets to maximize the effect that they can have. These may include setting up automatic responses, using ticket analytics, categorizing and prioritizing tickets, and providing personalized support.
All this combined is the reason why more and more companies of different sizes and from different industries are using the ticketing tool and support tickets as a part of their strategy.
Frequently Asked Questions
What is a support ticket?

A support ticket is an inbound inquiry from a customer about a company, product, or service. Each ticket has its own individual ID, which helps to keep it more organized and easy to follow. The tickets are handled by a customer service agent, whose task is to support the client and provide assistance throughout the whole process until the resolution of the issue.

How is a support ticket created in LiveAgent?

A support ticket is created by the customer who contacts the customer support team through any communication channel used by the company. However, this goes the other way as well. The ticket is also created when the customer support representative contacts the customer.

Where can you find a list of support tickets in LiveAgent?

How to respond to a support ticket?

First of all, make sure that you deal with the old tickets before you move on to the new ones, try to answer each ticket as soon as possible, update the ticket status to keep everything organized, and try to avoid moving the ticket from one department to the other.

How long does it take to receive a response to a support ticket?

This can depend on a few factors, such as the urgency of the particular ticket, or it can also depend on the Service Level Agreement (SLA) that is set between the company and its client, and it determines the timeframe in which the ticket needs to be replied to or completely solved.
Expert note
Support tickets are a valuable tool for customers and support teams, providing a centralized location to manage inquiries, improve organization and communication, track issues and resolutions, and enhance the overall customer experience.

Andrej Saxon
Sales manager