What is a free trial?
A free trial is a product or service offered to a customer for a limited time without any terms or conditions. A free subscription period offers an exclusive insight and instant access into LiveAgent's popular services so that you can find out how this tool can help grow your business enterprise.
With the LiveAgent desktop software, you don't need to enter your credit card information in order to start the free trial. All you need is your browser and a connection to the Internet. Now, you're ready to begin exploring the variety of options this tool offers.
The free trial option lets you utilize all the features available. Being free with no strings attached, you can cancel at any time. You can then switch to the full version if you decide to take advantage of the additional features.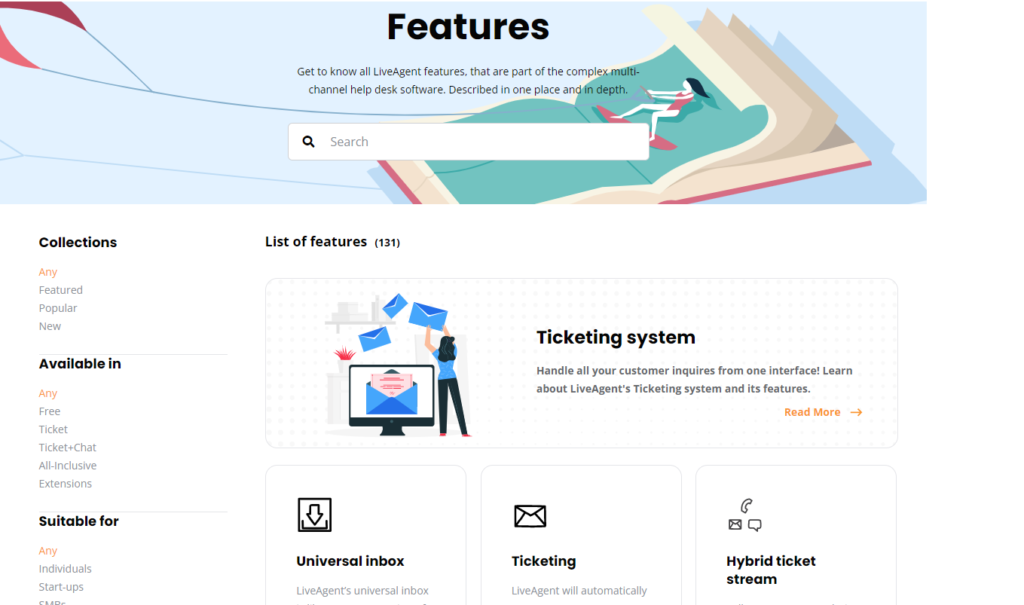 What is a free trial used for?
Before paying for a full subscription plan, you can use a free subscription period to fully understand how this cloud-based software works.
When you're looking for a way to improve the customer experience, you can test LiveAgent's features and advanced tools for 30 days free of charge. As you learn the ins and outs of the collaborative environment, you can improve relationships with your customers and enhance their digital experience.
While using the trial version, you will familiarize yourself with the main functions the service has to offer:
Ticketing system
CRM
Automated ticket distribution
Hybrid ticket stream
Social media integration
Call and voice mail recordings
Extra cloud storage
Analytics for teams
This lets you decide whether you would like to invest in the full version.
Discover LiveAgent's features
Improve your customer service and help your agents achieve higher productivity with LiveAgent. Curious about all the opportunities?
How can I get a free trial?
There are only two simple steps to follow:
Before signing up for a free trial subscription term on the LiveAgent cloud service, check your computer desktop requirements and reliable internet access.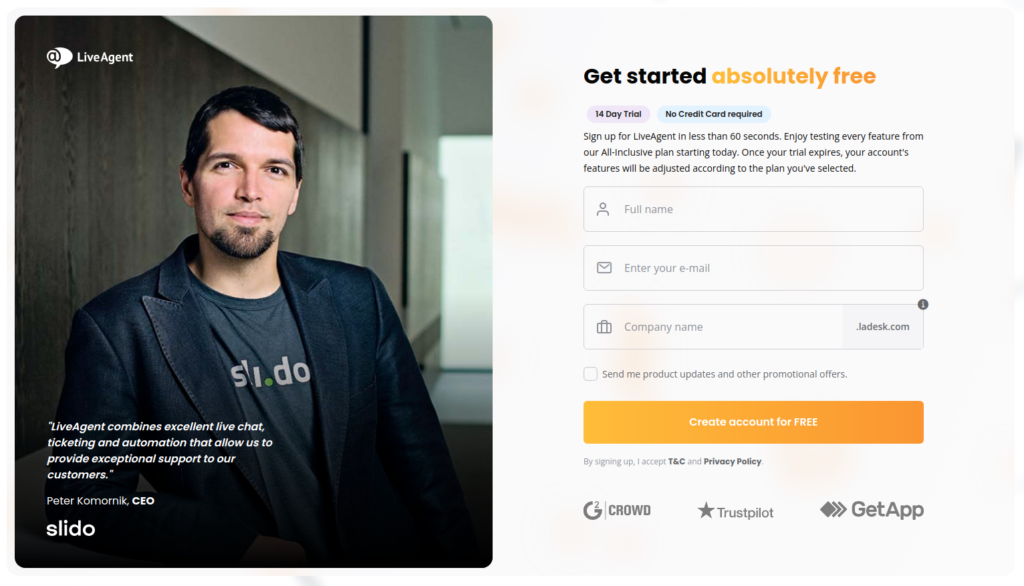 Continue by clicking on the free trial download link. Enter the required information such as your full name, email address, and the name of your company. LiveAgent desktop software will automatically install a client and send you a free trial email confirmation.
Are free trials really free?
Yes, it is completely free to try out LiveAgent for 30 days without any future charges.
LiveAgent desktop software allows users access to its main features free of charge when signing up for a pilot version. This is without hidden costs to run into while testing the platform and analytics.
During your trial, you can start learning about various additional features and collaboration tools. For example, how to create custom roles for your agents, or how to set up your call center. This will greatly enhance the customer experience in dealing with potential issues.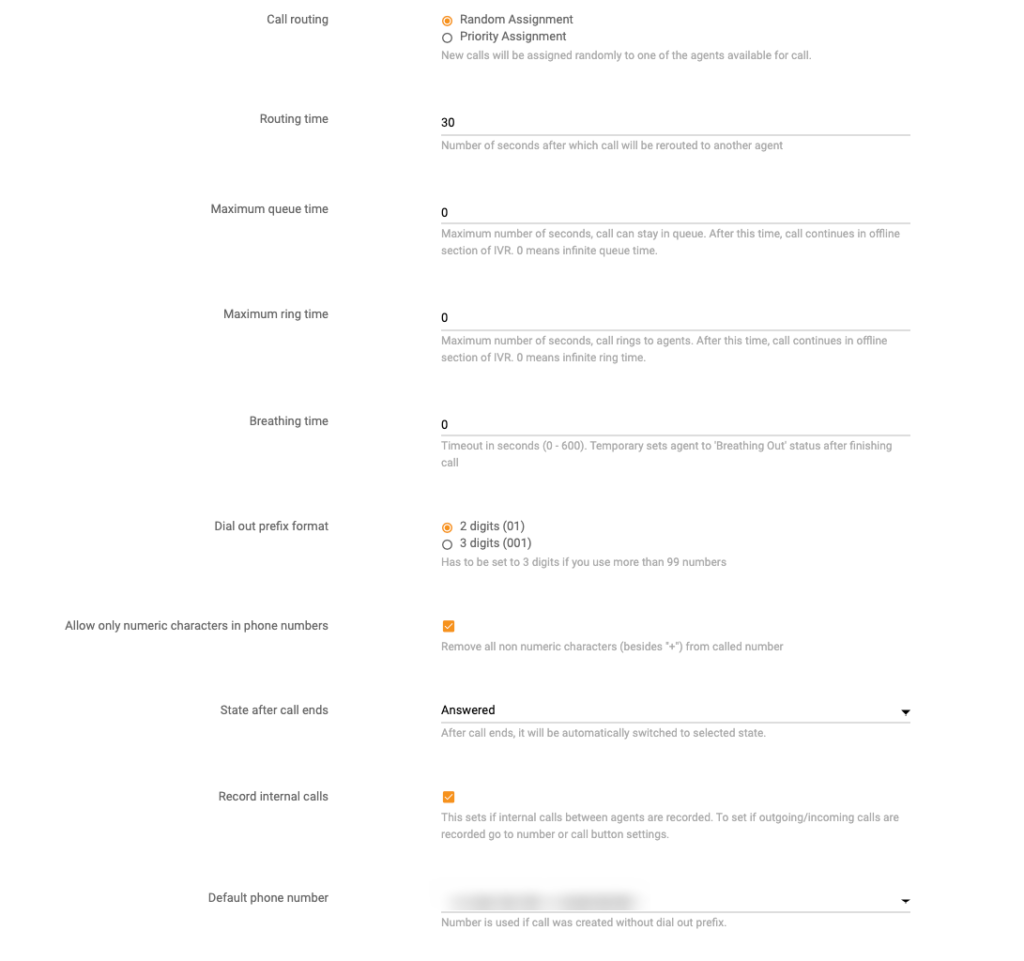 LiveAgent's practices educate clients about all the possibilities offered on this platform, before asking for anything in return.
What happens after a free trial ends?
After testing a free package for 30 days, you can decide if a service like the LiveAgent desktop software is the way to go for you and your business.
You can choose from four different subscription plans that LiveAgent offers:
Free usage
Small
Medium
Large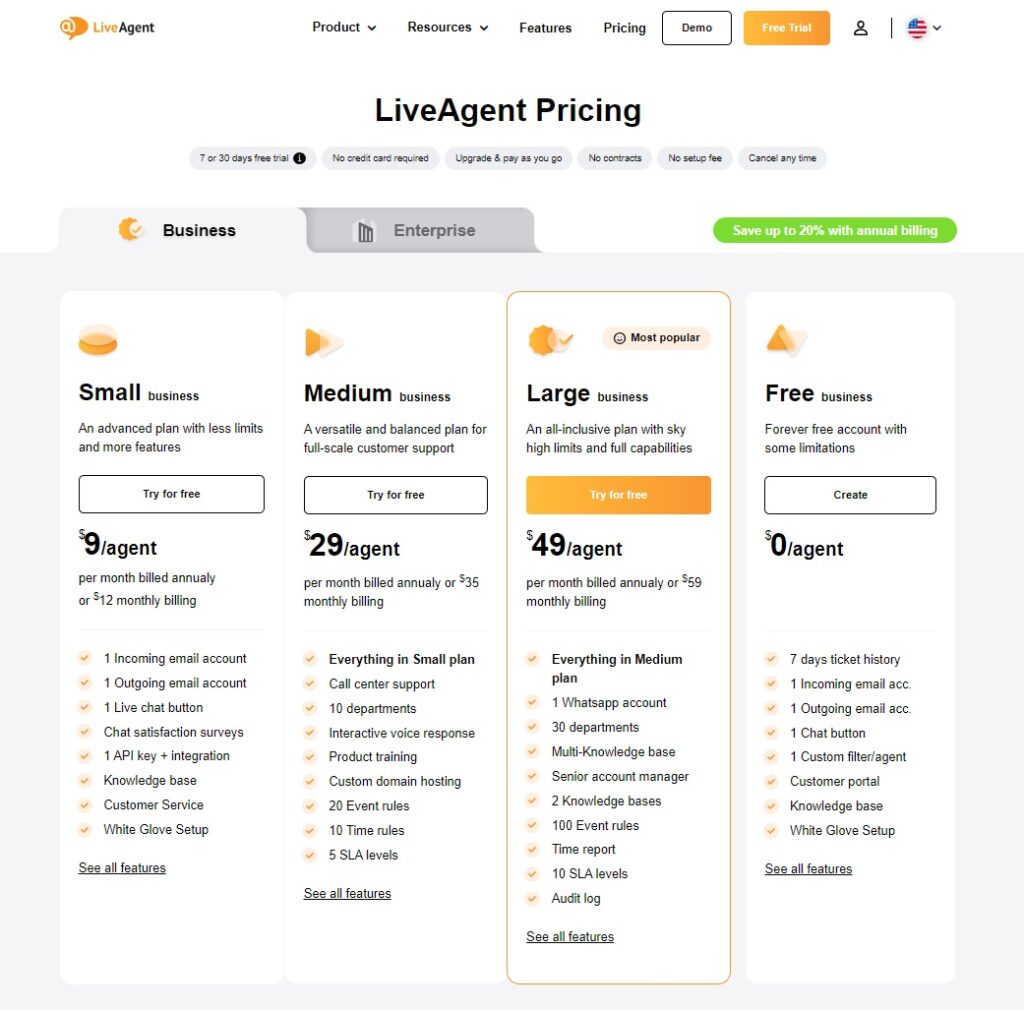 Each package offers a unique set of features and integrated tools available online. There is a free option, however, to get complete access to all the features available on LiveAgent, the best option is the all-inclusive package.
Try LiveAgent Today
LiveAgent is the best-rated and most reviewed all-in-one help desk software.
Frequently Asked Questions
What is a free trial?

A free trial is a time period in which you can test all the features available before purchasing any of the paid packages. LiveAgent gives you a 14-day free trial before letting you decide whether you want to use its services for your business.

What does a free trial do?

When signing up for a free trial on the LiveAgent desktop software, you get insight into how the cloud functions. It teaches you how you can enhance your business and your customer support system. Here you'll discover how to use all its available features to help you organize email communications, solve tickets efficiently, and provide a better customer experience.

How can I get a free trial?

Signing up to test the LiveAgent desktop software is quite simple. You can download a free trial version of the software, which will take you to a simple sign-up form. There you will provide your basic information such as your full name, business email, and company name.

Are free trials really free?

When signing up for a free trial on the LiveAgent desktop software, you can rest assured that you won't run into any hidden charges and usage limits. You won't have to enter your credit card information, and there's no risk of being charged within the 14-day trial period. Any time during the free trial, you can cancel, and on top of that, the 24/7 customer support team will answer any questions you may have.

What happens after a free trial ends?

Following the 14-day trial period, the LiveAgent desktop software will offer four different packages. Each with its own functions and usage limitations. If you decide that the platform is the right fit for you, you can begin using it to its full potential and enhance your customer service team's and clients' satisfaction without any further questions.
Expert note
<p>Discover the benefits of LiveAgent's free trial period and improve your customer experience without any commitment. No credit card required.</p>

Andrej Saxon
Sales manager