What is fixed VoIP?
A fixed VoIP is a Voice over Internet Protocol phone number attached to a physical address. This means VoIP phone numbers that are fixed have an account owner and a registered physical location. Even though these VoIP numbers are connected to a physical address, they're still internet-based phone lines.
As such, fixed VoIP phone service can be used both for domestic and international calling. Therefore, these VoIP lines are ideal for residential and business purposes.
Additionally, in the US, fixed VoIP numbers send the exact geographical location to PSAPs, or public safety answering points, which means your VoIP calls to 911 will be traced.
What is the difference between fixed and non-fixed VoIP numbers?
If you're contemplating implementing fixed or non-fixed VoIP numbers, you're undoubtedly interested in finding out more about the differences between these two similar yet different types of VoIP.
The main and the most crucial difference between these two types of VoIP services is the location. Fixed VoIP numbers have an account owner and are tied to an exact geographical address, while non-fixed VoIP numbers aren't tied to any real-life address.
Furthermore, VoIP phone systems tied to specific locations might experience easier connections with local customers and difficulties with international ones, while non-fixed VoIP systems typically experience the same quality connection regardless of their or their customer's location.
Most VoIP service providers offer both solutions as different businesses need different features from their VoIP technology.
Here's a handy list of key pros and cons of both VoIP accounts:
Fixed VoIP pros
Easy communication with local and short-distance customers.
Business phone services that are traceable and therefore more reliable.
Fixed VoIP cons
Higher costs for international incoming and outgoing calls that resemble a traditional landline.
Difficulties in reaching audiences located further away from the business.
Non-fixed VoIP pros
Better routing features for international calls.
VoIP solution for companies that have a global customer base.
Non-fixed VoIP cons
Solutions often used for fraudulent activities;
Possible lower reputability among potential customers.
Benefits of fixed VoIP numbers
Fixed VoIP numbers can easily boost your business's external communications thanks to the benefits they offer. Although benefits are numerous, transparency, security, and the ability to make emergency calls are advantages you should definitely expect. Check them out here:
Transparency
There's nothing more important than staying transparent throughout all your activities as a company. Including having your geographic locations accessible to the public when making calls.
A fixed VoIP number allows your customers to get details of your whereabouts, which automatically increases your reputation. Your business is going to be seen as a credible and reliable company that doesn't need to hide its physical location, and the customers will also see your brand as a trustworthy VoIP caller. Therefore, transparent calling features are essential for all credible businesses.
Enhanced security
When it comes to business phone calls, it's essential for them to be secured, especially if you have remote workers. Fixed VoIP telephony comes with the most advanced security protocols and safety measures and your business VoIP provider encrypts the network used for the transmission of calls as an additional step of top-tier security.
Encryption of messages and calls makes fixed VoIP phone numbers one of the best solutions for business purposes. No one will be able to trace or spy on your phone calls, and you'll be able to conduct even the most confident meetings using only VoIP voice calls.
Available emergency calls
For most VoIP solutions, access to emergency services is not available because these calls are internet-based. Although fixed VoIP also uses broadband networks to administer its calls, it can also support emergency calls to 911.
In case of an emergency, this feature can come in handy, which is why you might consider choosing a VoIP service provider that offers the possibility to contact the emergency call center when using fixed VoIP plans.
Additional features
Besides transparency, extraordinary security, and the ability to contact emergency services, these internet-based calling plans come with numerous additional features and benefits that make doing a business much more straightforward. From video conferencing to cloud calling features, there's a lot you can expect your VoIP reseller to provide you with.
Choose the best VoiP provider for your needs
LiveAgent's call center offers integrations with various VoIP providers. Wanna have a closer look?
Uncover the key differences of fixed and non-fixed VoIP numbers
Gain a comprehensive understanding of fixed numbers, which are associated with physical locations, and non-fixed numbers, which offer greater flexibility. Explore the implications of these distinctions for businesses and individuals alike. Whether you're looking to upgrade your communication system or simply seeking knowledge on the topic, this video is your ultimate guide.
Fixed vs Non-Fixed Numbers - Core Differences | GetVoIP - Expert Tutorials, Reviews, Top Providers06:14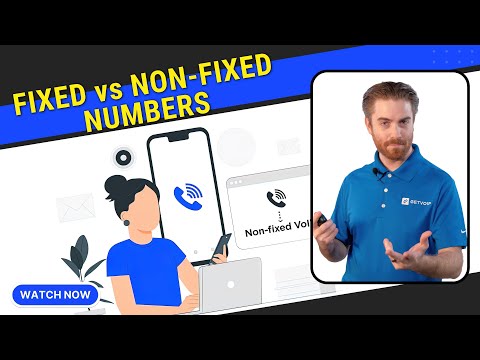 GetVoIP - Expert Tutorials, Reviews, Top Providers
Topics
Differences between fixed and non-fixed VoIP phone numbers
Advantages of fixed VoIP numbers
Advantages of non-fixed VoIP numbers
Video summary
In this video, the differences between fixed and non-fixed VoIP phone numbers are explained. Fixed VoIP numbers are tied to a singular physical location and cannot be tied to multiple locations, making them traceable to a physical location and more trustworthy to customers. Non-fixed numbers, on the other hand, are assigned to a specific user via their email address and are not restricted to a geographic location. They offer flexibility and mobility, allowing team members to handle business calls from anywhere, and are ideal for remote and blended businesses that want to expand their market beyond those within their local region. Both types of numbers have their advantages and disadvantages, and businesses should choose the one that suits their needs the best.
Frequently asked questions
What is a fixed VoIP phone number?

A fixed VoIP is a Voice over Internet Protocol phone number connected to a specific business address that exists in real life. All fixed VoIP phone numbers have an account owner and a registered street address, making it easy to locate and detect the caller using this plan.

How can you tell if it's a VoIP number?

All VoIP addresses follow a similar format. If you see a familiar VoIP address format with a mapped number or a VoIP address, this means the number has a VoIP plan. Some standard formats used include 1234@voip.domain.tld or 5678@sample.com.

Who uses fixed VoIP?

Fixed VoIP is predominantly used by companies and businesses, usually smaller and local ones that don't need to make many international calls. Companies that use these VoIP plans are typically reputable and transparent businesses that don't hide their location.

Can you call and text back a fixed VoIP number?

You can call and text back these phone numbers. VoIP technology is part of the internet telephony, allowing people to use these plans with traditional landlines and smartphones.

Can a fixed VoIP be traced?

Yes, fixed VoIP calls can be traced. That's because they're tied to the account owner and a specific physical address.

What is the difference between fixed and non-fixed VoIP numbers?

Unlike fixed VOIPs, non-fixed VoIP numbers can't be traced. They aren't linked to a specific address or location, making it difficult to identify or trace the callers.

What are the benefits of fixed VoIP numbers?

Some key benefits of fixed VoIPs are complete transparency, enhanced security and safety, and the possibility to make emergency calls. Besides these, numerous other beneficial features can make everyday business operations much smoother and easier.
Expert note
<p>Fixed VoIP is a phone number attached to a physical address, making it traceable for emergency services. Ideal for residential and business purposes.</p>

Andrej Saxon
Sales manager