What is the digital transformation process?
Digital business transformation is the process of implementing digital technologies into all business areas to increase efficiency and effectiveness and provide more value to customers.
Data (e.g., the IoT, Big Data, etc.) plays key roles in digital transformation initiatives, as it provides insights for refining decision-making processes, driving change, and outperforming the competition.
Why is digital business transformation important?
Digital transformation is vital for staying competitive. Digital innovation is one of the key factors for developing new revenue streams, transforming business models, and enhancing customer experience.
Business innovation and technological disruptions also lead to economic growth. That's why the economics of innovation has become quite relevant in today's business landscape.
With the acceleration of innovation, successful transformation, and new revenue sources, the overall economy can grow exponentially, driving more innovation and cultural changes.
How are digital technologies transforming businesses?
Digital technology can change how businesses create value. They can help transform current business models across all industries to help expedite processes and serve customers better.
For instance, companies in the insurance industry can reinvent their operating model by implementing IoT and predictive analytics. They can provide policyholders with value-added services like driver feedback and offer premium reductions. On the other hand, companies in the manufacturing industry can remove supply chain inefficiencies, reduce costs, and become customer-centric.
But to ensure success, businesses must overcome digital transformation challenges, such as lack of IT skills, a poorly defined strategy, bad organizational change management, and ineffective data management.
Start your digital transtormation today
LiveAgent can help you meet customer demands and therefore improve your business. Curious about all the opportunities?
Elements of digital transformation
The key elements of digital transformation include:
Digital technology
Data integrations
Business process optimization
Business process management
Operational agility
Change management
Transformational leadership
Customer and user experience
An effective strategy that considers all these elements can help meet customer demand and exceed customer expectations.
How to start a digital transformation in business
Successful digital transformation initiatives use a digital transformation framework that plans for all the elements of transformation.
To make your digital transformation projects pay off, start by assessing your capabilities and aligning objectives with business goals. Collaborate with IT, top managers, and other stakeholders to select strategic partners for implementing software solutions, such as help desk software.
Provide omnichannel digital experience, focus on customer outcomes, and keep employees on the same page on all things digital.
Digital transformation roadmap
A digital transformation roadmap is a plan for driving change throughout an organization. Every company's roadmap is unique, but it comes down to these stages:
Defining value – assembling the leadership team, setting the goals, and securing the digital transformation investment
Execution – launching customer service initiatives, setting up a digital unit to promote agility, and building a digital culture
Scaling up – launching quick-return digital initiatives, enhancing systems and skills, and adopting a new company-wide agile business model.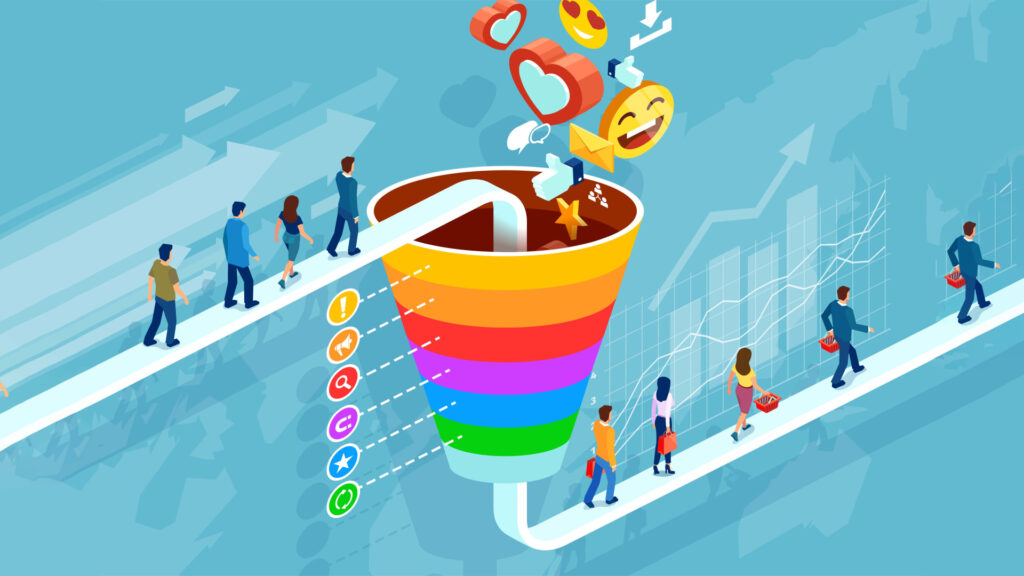 Examples of digital transformation
There's more than one digital transformation leader in every industry. For instance, a consumer goods company can use tech to monitor AI-driven prices or track automated processes.
Some of the most notable tech companies that have adopted the innovative process are Microsoft, with its cloud networking system, and Honeywell, with its new software solutions.
Other successful digital transformation examples include Target, Best Buy, Nike, Experian, Netflix, ManpowerGroup, Home Depot, Hasbro, and many others.
Does digital transformation ever end?
Digital transformation is a never-ending process because new technologies keep coming out, and every transformation stage uncovers new opportunities for improvement.
The market is constantly evolving, bringing new trends to follow and stay competitive. Consumer behavior and expectations change as well, calling for further upgrades across all business areas.
Essential digital transformation roles
The essential digital transformation roles include:
Transformation leaders
Technical engineers
Project managers
Data architects
UX/CX professionals
Financial analysts
Security and compliance specialists
How can I know if the digital transformation is working?
The key factors that indicate a successful transformation include:
Knowledgeable leaders driving positive change
New, agile ways of working
L&D opportunities for improving talent
Integrating day-to-day digital tools with other software
Enhanced communication through customer service platforms
Stronger customer relationships
A loyal customer base
Digital transformation framework
A digital transformation framework is considered a reference point that helps businesses manage the change.
Take AIMultiple's digital transformation framework, for example.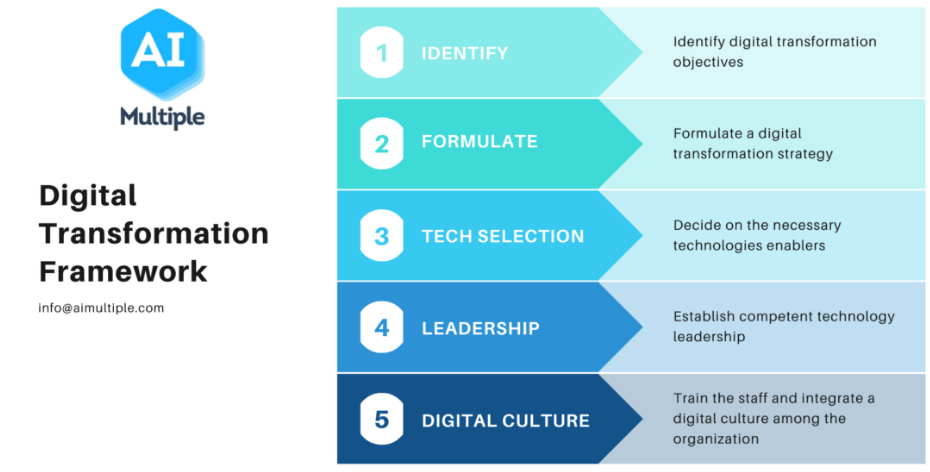 It's the blueprint of key strategies for going digital and optimizing internal processes. Having a framework is paramount for avoiding digital transformation pitfalls (e.g., resistance to change and poor leadership) and ensuring company-wide adoption.
Digital transformation strategy
A digital transformation strategy is an action plan for leveraging technology to change business models, improve processes, and deliver more value to consumers.
Developing an effective strategy requires:
Assessing organizational structure and company culture
Evaluating employees' skills
Identifying skill gaps
Mapping out business processes
Identifying inefficiencies and opportunities
Analyzing customer experience
Defining goals and objectives
Creating a digital transformation roadmap
Use the best strategy
LiveAgent can help you improve you processes and deliver more value to your consumers. Are you interested?
A brief introduction video to digital transformation
Discover the essence of digital transformation in this engaging video. Learn what it truly means and what it doesn't entail, such as mere digitization. Explore how digital transformation encompasses the entire organization, involving processes, employees, and a strategic vision for the organization's actions. Understand the mindset shift and the integration of new technologies across all business areas. Gain insights into how digital transformation impacts customer interactions, data management, production processes, product delivery, future planning, and more. Watch now to grasp the power and potential of digital transformation.
What Is Digital Transformation - A Brief Introduction With Examples, Process and Statistics | LeanVlog08:29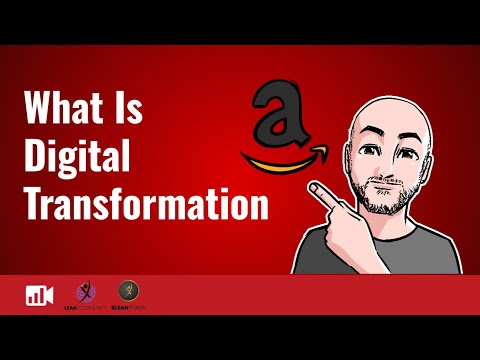 LeanVlog
Topics
digital transformation
strategic vision
new technologies
Video summary
The video discusses digital transformation as a process that engages the whole organization and is built on a different strategic vision. The transformation integrates new technologies into all areas of the organization and impacts how the business thinks, interacts with customers, manages data, organizes the production process, delivers products and plans future business. The video provides examples of real digital transformations in marketing, big data analytics, smart home automation, industry devices such as 3d printing and robots and automation, and collaborative robots. The video emphasizes that digital transformation is not simply switching from paper to a PC, but requires a hard change in the way we think about doing things and a cultural change in employees. The digital transformation requires a long-term plan to survive the next big technological wave and gain advantages over competitors.
Frequently Asked Questions
What is the digital transformation process?

Digital transformation is the process of integrating digital technologies into all business aspects to enhance operations, adapt to market changes, and improve customer experiences.

Why is digital business transformation so important?

It's vital for staying relevant and competitive, unlocking new revenue opportunities, and supporting economic growth.

How are digital technologies transforming businesses?

They're enabling them to optimize processes, become more agile, provide more value to consumers, and become more profitable.

What are the elements of digital transformation?

Digital transformation elements include tech and data integrations, business process optimization and management, company-wide agility, change management, transformational leadership, and customer experiences.

How do I start a digital transformation in business?

Assess your current digital capabilities, set objectives aligned with business goals, find strategic partners for going digital, and ensure your workforce has the right skills. Focus everything around customers' needs, and build the right digital ecosystem to improve operations and customer experiences.

How do you make a digital transformation roadmap?

Focus on three stages: defining value, execution, and scaling up. Assemble the leadership team, launch the initiatives, nurture a digital culture, and enhance skills and systems continuously.

What is an example of digital transformation?

The most common example of digital transformation is adopting AI (e.g., AI-powered chatbots). Other examples are self-training for sellers, self-help options for consumers, tracking automated processes, and monitoring AI-driven prices.

Does digital transformation ever end?

Digital transformation is a never-ending process. It should be, at least. There's always room for improvement, and constant tech advances bring more ways for optimization and streamlined services.

What are the essential digital transformation roles?

The essential experts to have in a digital transformation team include project managers, leaders, technical engineers, data architects, security and compliance specialists, UX/CX professionals, and financial stakeholders.

How can I know if the digital transformation is working?

If you use digital tools daily for internal and external communication, run a more agile business, have digital-savvy leaders in place, and have more satisfied, loyal customers, your initiative is working.
Expert note
Digital transformation is the process of implementing digital technologies into all business areas to increase efficiency and provide more value to customers. It is vital for staying competitive and driving economic growth.

Andrej Saxon
Sales manager