What is a dashboard?
Dashboard consists of a screen that displays information for the user in one place so that the information is easy and accessible. This helps the agents stay up to date with the most important information in the company.
Dashboard gives real time data and helps the agents monitor their performance. For example, when a customer service agent logs into his account, on its company webpage, he can see the amount of open tickets assigned to him and the agents that are working in his department. If there are a lot of open tickets, it means that the agent and his team are not working well to fulfil the customers need.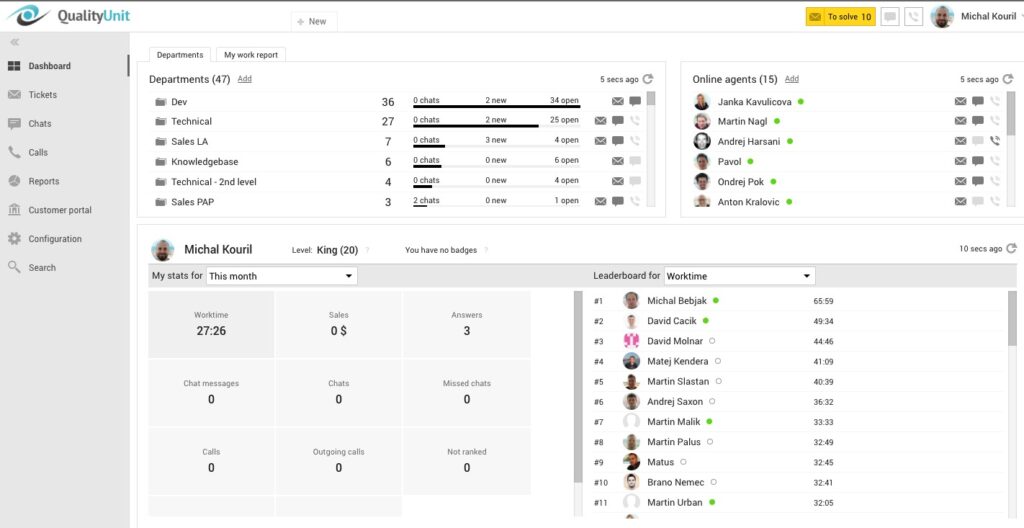 Frequently Asked Questions
What is a dashboard?

The dashboard is a tool that allows you to manage information and conduct business intelligence. It displays and stores important data from various sources in one place. Usually, data visualizations are used, which allow easy understanding of the displayed data and their dependencies. It allows you to track trends and exclude errors.

How to access dashboard in LiveAgent?

You must be a LiveAgent user to access the dashboard. After logging into the system on his account, the user is presented with a dashboard that allows you to track the number of open tickets assigned to a specific customer, information on how many people work in a given department. The dashboard helps agents monitor their performance.

What types of dashboards does LiveAgent provide?

There are three main types of dashboards, the first being the dashboard, which tells you what's going on at that moment.The second is a strategic dashboard that tracks KPIs. The last one is the analytical cockpit, which is used to process data to identify strengths. In LiveAgent you have access to the dashboard.
Expert note
An intuitive dashboard is essential for any help desk or call center operation. It provides real-time data, organizational clarity, and efficient customer service.

Andrej Saxon
Sales manager