What is a contextual help?
LiveAgent offers search widgets embeddable to your website with contextual help. Contextual help automatically suggest knowledge base articles based on keywords that you start typing. This really lifts up the customer experience and can also reduce the amount of new submitted tickets.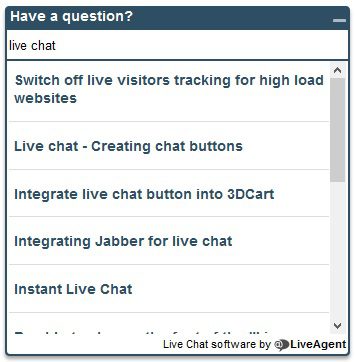 Frequently Asked Questions
What is a contextual help?

Contextual help provides help at a specific point in the software state exactly in a situation related to that state. More precisely, this means that such help contains only the most necessary information that the client needs to overcome his problem. Such help is embedded directly in the interface.

How does a contextual help work?

Contextual help usually works in such a way that the system can suggest to the user what articles or other content he should know, recognizing the URL of the website on which the user is located. These are the best suggestions that should help the client with his problem.

Does LiveAgent enable contextual help?

LiveAgent offers search widgets that you can embed anywhere on your site. This allows the client to get contextual help. The system automatically suggests articles from the knowledge base in which you can find information on a given topic, based on the entered keywords.
Expert note
Contextual help is a game-changer in customer service. By providing relevant information at the right time and place, it significantly improves customer experience and boosts customer loyalty.

Andrej Saxon
Sales manager