What is customer advocacy?
Advocacy is a form of customer service when the company focuses on and tries to do their best for the customer. It is important to keep all customers satisfied by dealing with their issues and queries. Identifying and meeting their requirements might be strenuous and difficult. 
But, customer advocacy is still an important strategy for your business.
It can increase:
sales
revenues
company credibility
customer satisfaction
customer retention
brand engagement
It also creates a deep and engaging relationship with all customers.
What is a customer advocacy program?
It is a form of marketing strategy. The purpose is to create representatives/spokespeople of your company. And encourage sharing their thoughts about products/services. This could be for example through social media or by word-of-mouth. Having a great customer experience can influence their reviews/testimonials.
Here are some tips to improve customer experience:
go omnichannel 
use customer support software such as LiveAgent
listen to the customers and improve
create an easy customer journey
empathize with the customer
be available as much as possible
make the customer's experience personal
give away gifts
answer the customers in real-time
invite VIP customers to launch/event 
skilled customer support agents
collect customer data to improve
Customer advocate is a person whose job is to find out the needs of a company's customers, and to make sure that the customers are provided with what they want
What is the role of a customer advocate?
The role is to inform potential customers about the products or services of the company. The main goal is to positively influence a large group of people to initiate purchasing actions. This process should happen organically based on the great/outstanding customer experience. Or when the advocate for customers feels there is high value to share with their audience.
How do you drive customer advocacy?
As we've mentioned before customer advocacy should happen organically. But, there are a few things that you can do to drive your customer advocacy. 
Building your customer advocates might be challenging at first. Yet, if you take a close look at your current customer advocates, you can build a profile of such a persona. Thus, it is easier to take a look at your customer database and search for the right candidates. 
Another aspect to drive customer advocates is to make them feel special. Give them certain business insights or invite them to the launch of a new product. Make them feel included in certain aspects of the company. Your company can only benefit from such feedback. 
Another important driver of customer advocacy is social media. In recent years, this has become an important way to communicate with your customers. Therefore, you should not overlook it in your company. So, how can you drive customer advocates through social media? Observing customer engagement and asking for a review might do the trick!
These days we can automate the reviews by setting up email automation. This could be another effective driver in your company. Automated emails can generate important feedback for the company.
Watch a video about customer advocacy
Customer advocacy is an important part of digital customer service, and it's a great way to ensure that your customers have timely and efficient access to the help they need. LiveAgent help desk software is designed to facilitate this kind of customer advocacy, providing an easy-to-use platform for managing customer tickets, queries, and any other sort of customer interaction. It allows a business to quickly respond to customer inquiries, incorporate suggestions and feedback from customers, provide troubleshooting, and even execute customer loyalty campaigns. This software enables businesses to better understand their customers and improve their customer service.
What is Customer Advocacy? - Atomic Revenue | Atomic Revenue01:53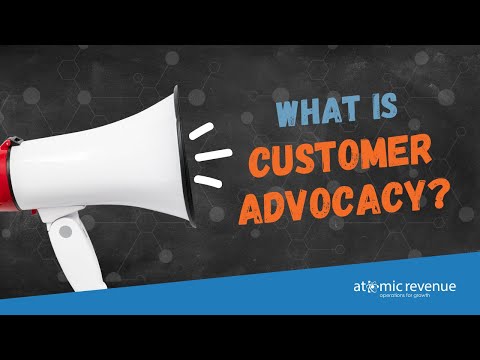 Atomic Revenue
Topics
Customer advocacy
Exceeding expectations
Lead generation
Video summary
The success of customer advocacy depends on the experience and delivery provided to the customers. The experience that the customer has from awareness to the conversion process plays a vital role in turning them into advocates. Exceeding expectations should be the objective, not just customer satisfaction. By delivering more than promised, businesses can gain raving fans who bring pre-sold leads to the company. Customer advocacy is important for lead generation and businesses should focus on creating advocates to get more leads. It is a cycle of lead to conversion to advocate, which helps in sending them back through the process again. Combining old-school business with the new one can help in creating advocates that help businesses to grow.
Frequently Asked Questions
What is a customer advocate?

A customer advocate is a person whose job is to discover the customers' needs to improve customer satisfaction and attract new leads.   

How do you build customer advocacy?

The most natural and obvious way is to ask customers for feedback after providing stellar customer service. If you receive great feedback, try to offer them a loyalty program or a referral program for repeated purchases. 

How do you measure customer advocacy?

The best and most organic way to measure customer advocacy is through customer reviews. Customer reviews have a huge impact on any business. Thus, you should put a focus on collecting testimonials as well as responding to them if necessary.  
Expert note
Customer advocacy is a crucial strategy for businesses to increase customer satisfaction, retention, and loyalty. Building strong relationships with customers and creating brand advocates can lead to organic promotion and growth.

Andrej Saxon
Sales manager