Key takeaways
Pros
Convenient dialing
Accessible to small businesses
Getting started with the 3CX call center feature
To sign up for 3CX's free account, you have to register on their website. Once you provide information like your name, company, the country you are located in, and your preferred language, you have to choose one of the three pricing options.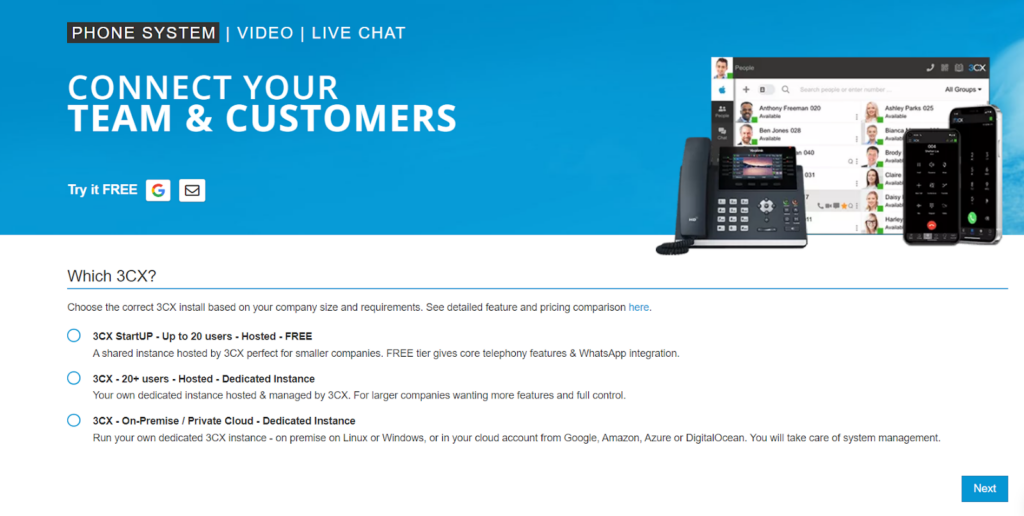 Luckily, the first one was free, so I opted for it and resumed the registration process. I verified my account via email, and right after that, I was sent my credentials like an extension, PIN, and web client login.
So I eagerly logged in to my newly created 3CX account. Right off the bat, I was greeted with the option to download 3CX's mobile app.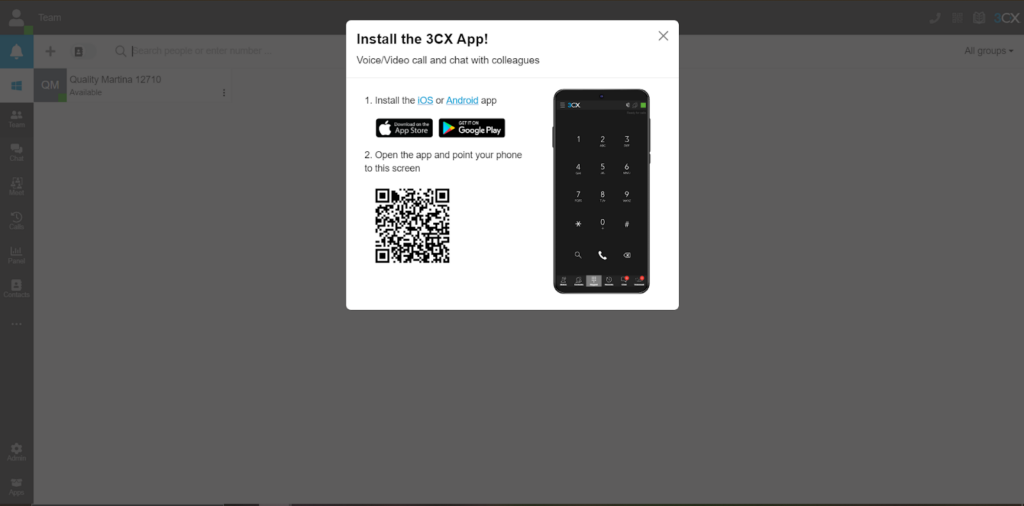 For now, I skipped this step. However, I was pleasantly surprised it was so accessible from the beginning.
I looked around for a little bit and configured my account to make and receive calls, and then I was ready to start testing. In the top right corner of the UI, you can find a dialer, a QR code to download the app, and 3CX's knowledge base. I quickly looked at the support documentation just to ensure this dialer was the right one for making outbound calls just because it seemed too easy. The knowledge article confirmed that it was the right way to initiate calls, so I got to it.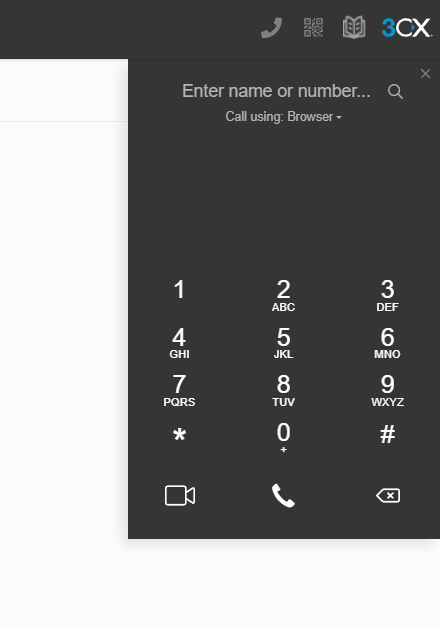 Lo and behold, nothing! It didn't even start dialing. Thinking I must have made a mistake, I tried a few more times, but all I got was a few unsuccessful calls in my call log. As I was taught in the first grade, I decided to try the other options and leave the problem area for later.
To my surprise, making internal calls or receiving incoming calls was not a problem at all. The call quality wasn't the best, but it wasn't bad enough to complain about too much. So after a short high, I was back to figuring out why outbound calling didn't work for me. I tried a few more times before I started browsing the support documentation once again. However, no amount of troubleshooting seemed to identify and fix my problem. So I moved on to Google to consult my fellow 3CX users. I quickly realized that I wasn't the only one experiencing this issue. Although I tried a few suggestions forums provided, they didn't solve my issue.
I gave it one last try by downloading the desktop app. A few people claimed it had helped them, so why not?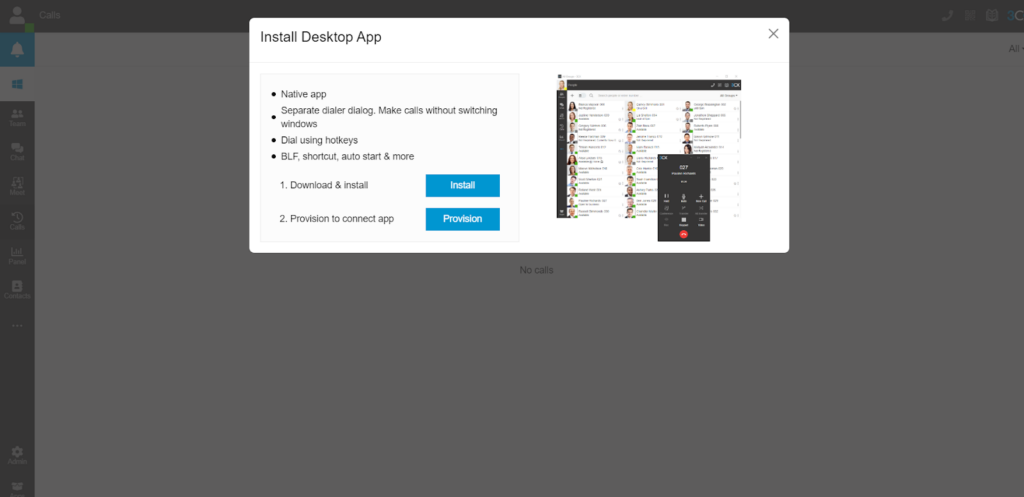 I installed the application, clicked through the configuration wizard, and connected it to the web client version of the software.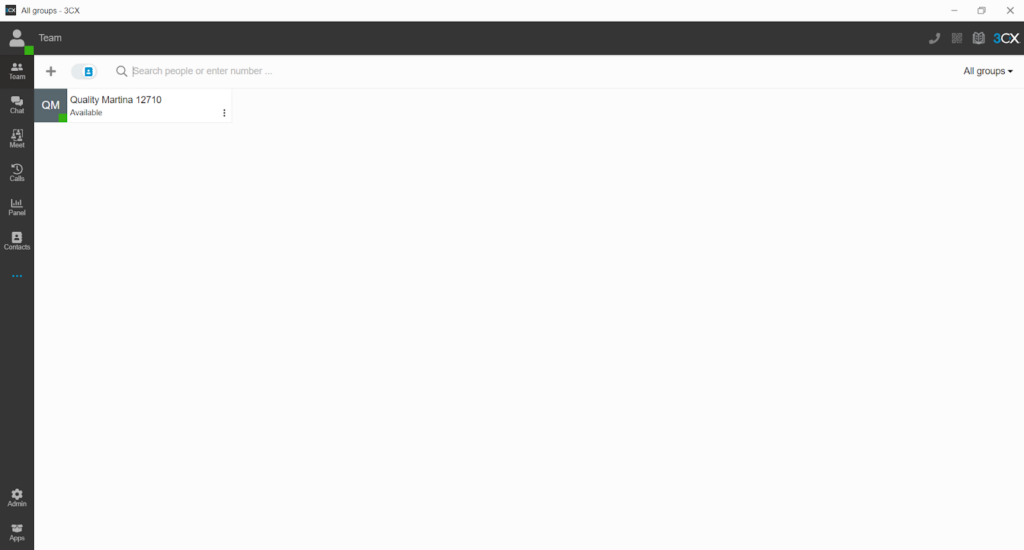 The UI was just as bare-bones as the one in the browser-based app, which was no surprise. I quickly checked the configuration and gave the outbound calling another try. This effort led only to another missed call without even dialing. After browsing the internet some more, I admitted defeat.
3CX Call Center Features and Implementation
As I've already mentioned, 3CX is quite an accessible solution because it offers a mobile app on iOS and Android, a browser-based app, and a desktop application. Downloading each of them is a straightforward experience, so you can get them up and running very quickly.
Besides the obvious inbound and outbound calling, 3CX lets you set up a live chat widget, integrate WhatsApp, and Facebook, set up internal messaging, and send emails to your co-workers and customers.

You can also set up video calls using the Meet functionality.
While you're on the phone with either a team member or a customer, you can hold, mute, transfer, record, use a video, initiate a new call, or set up a conference. These functionalities can be quite useful in call centers. And the fact they are accessible right in the "calling window" makes them easy to use in a fast-paced environment call center agents are often used to.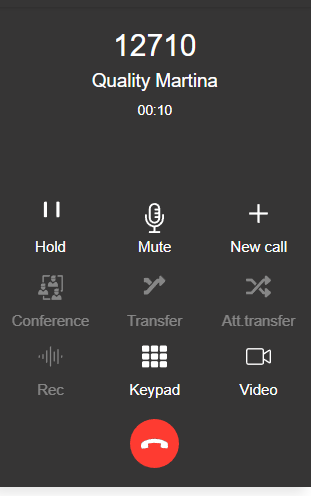 In the call log, you can click on each interaction and examine its details, add the contact to your contact list, initiate a new call, and archive the interaction.

Performance and usefulness
3CX is a straight-to-the-point software. The system facilitates customer communication primarily through phone calls, but it also includes some additional features that streamline the process. It has an outdated UI that is very bare-bones. While navigating it wasn't horrible, it wasn't my favorite experience.
The call quality wasn't the best either, so if you're looking for a solution your agents can use to explain intricate details and give technical instructions and support, 3CX maybe isn't the best one. On the other hand, the number of features included in the call window can be very useful when agents need to tackle multiple tasks at once.
I might not be entirely to blame for not being able to figure out why my outbound calling efforts failed. As I wasn't the only one having problems getting it to work, and certainly not the only one having this issue, maybe it speaks to the overall experience.
3CX pricing
3CX has two separate pricing categories. One is for a hosted solution, and one is for the self-managed option. The main difference is that if you opt for the hosted solution, 3CX manages the system for you. If you decide on the self-managed option, you are responsible for the entirety of the system. With all the tiers, the price rises with the number of agents using the software. I will discuss the prices applicable for 10 agents, so if you're planning on having a bigger team, you will probably pay more.
Hosted
The free pricing tier includes 1 ring group, 1 auto attendant, video conferencing with up to 25 participants, live chat, team messaging, and WhatsApp integration. You can use this pricing package for up to 20 users.
The Startup PRO package includes everything from the FREE tier, plus multi-level IVR, holiday and business hour routing, call and chat reporting, voicemail-to-text, and more. This tier is limited to a maximum of 20 agents and costs €175 per agent per month.
This pricing tier will cost you €295 per agent per month for 4 sim calls. Among its features, you can find a dedicated hosted instance, CRM integration, SMS and MMS, video conferencing with up to 100 participants, Microsoft 365 integration, and more.
For €330 per agent per month for 4 sim calls, the Dedicated Enterprise tier lets you use everything from the Dedicated Pro package, plus some additional features like skill-based routing, video conferencing with up to 250 participants, start/stop call recording rights, and more.
Self-managed
For €145 per agent per month for 4 sim calls, this option includes hosting on your private cloud on Amazon, Azure, and Google, CRM integration, call queues, hot desking, call flow designer, WhatsApp integration, listen-in, whisper and barge in functionality, video conferencing with up to 100 participants, and more.
The more expensive self-managed tier costs €180 per agent per month for 4 sim calls. With this package, you can enjoy all the features from the previous tier, plus skill-based routing, video conferencing with up to 250 participants, a custom IP phone logo, and more.
Conclusion
My overall experience with 3CX's call center software was somewhat clunky. Despite the convenience of some features, I'm left wondering why this mindset wasn't implemented throughout the user interface.
Of course, I have to mention my unfortunate experience with outbound calling. Throughout writing this review I went back and tried to figure it out again and again. No luck, so I have to conclude that 3CX's outbound calling feature is at minimum faulty. The call quality wasn't anything to write home about either, but if you're trying to just make a quick pitch to your customers, I guess it can work just fine.
And that's where I'll leave this review. While 3CX's call center is just fine in some aspects, it falls short in others.