Why consider alternatives to HubSpot?
Claiming HubSpot doesn't have a positive presence in the market would not only be inaccurate, but dishonest. However, as with any other customer service software, it's not without its faults and drawbacks that prompt customers to seek other options.
One of the common customer issues is HubSpot's pricing. Although it is a robust piece of software, customers find themselves going over their budgets trying to afford it. Many have stated that the software just wasn't customizable enough or didn't offer enough functionalities to be considered worth the price tag.
Another issue customers may stumble upon is HubSpot's frequent use of jargon and brand-specific terminology. Although branding is important and can help create a distinct customer experience, HubSpot tends to go overboard. This means that customers might have to decipher the terminology trying to navigate an otherwise complex and sometimes confusing software suite.
Of course, with almost two decades of experience, HubSpot Service Hub certainly does many things right. Many people swear by its extensive knowledge base and customizable ticketing system. What it ultimately boils down to is finding a help desk system that covers your specific needs and requirements.
What essential factors to evaluate when choosing alternatives to HubSpot?
Feature set and functionality
When you're searching for a HubSpot alternative, one of the most significant deciding factors includes the suite of features and functionalities it has to offer. Before committing to a single platform, evaluate which features your business needs to operate, and then add those that will make your day-to-day sales workflows more streamlined and efficient.
For example, you decide features like a ticketing system, drag-and-drop editor, meeting scheduler, visitor tracking, and some kind of telephony feature are necessary for your customer service team to function. Sure, you could stop there, but why not look for more? At this stage, you should consider additional features like mergeable tickets and unlimited contacts to streamline the sales process. On top of that, you can consider adding more multilingual channels and social media to your ticketing system. If you've decided on a call center feature, why not look for a HubSpot alternative that contains IVR, video calls, and unlimited call history?
Don't settle for the bare minimum that keeps your contact center afloat, but aim for operational efficiency and consider software with a wide range of features that can elevate the experience not only for your support team but mostly for your customers.
Pricing and value for money
Although paying for quality is certainly a thing, don't blow your budget just because it seems like the right thing to do. Carefully look at a software's pricing structure and plans before purchasing. Buying any SaaS product is a tradeoff between the money you're willing to spend and the features the software delivers. So don't think the cheapest option is always the right one either. Look for that balance of substantial functionality and affordability. This way, you can decide on a HubSpot alternative that best suits not only your contact center needs but also your budget.
Integration capabilities
When providing customer service, chances are that you'll need some third-party applications to make the business process more efficient and convenient. Look for a HubSpot alternative that not only has a substantial number of integrations, but also easily connects to the apps that you use the most. Remember, it's quality over quantity. Having hundreds of integrations doesn't necessarily mean that you'll be able to connect all the apps you like to use.
Besides that, look for integration updates; you should probably opt for a solution that continuously adds to its integrations, as it shows that the development team is receptive to the needs of their customers.
Customization and flexibility
As we've already established, help desk software is not a one-size-fits-all solution. When considering a HubSpot alternative, look for its personalization and customization options and flexibility. Can you make it your own? Will it be able to support the needs of your customer service agents and your business?
These are valid questions you need to ask yourself to ensure you don't regret your investment down the line.
User experience and ease of use
You will probably agree that implementing a HubSpot alternative shouldn't require all your customer service agents to have an engineering degree just to use it. Of course, the more complex the software, the steeper the learning curve. However, implementing even a complex platform can be easy, and hassle-free if its design keeps the user in mind. When considering a solution, look for ones that cater to less tech-savvy folk as well as specialists that can add custom code to it.
Scalability and room for growth
Most businesses strive for growth. When choosing a HubSpot alternative, always consider a software's scalability. This way, you will not be caught off guard when you suddenly need to upgrade from a basic plan to an enterprise. On the other hand, you may find out your subscription is too extensive for your needs. Don't get trapped in the loop of endless arguments with customer support and waiting for your subscription to be adjusted. Choose a platform that can easily scale up or down, based on your unique needs.
Customer support and resources
Last, but certainly not least, read up on a HubSpot alternative's customer support. A company is as good as its customer service. Even if a software solution seems to be the perfect one for you, if it comes with poor customer service, steer clear.
Besides the availability of a customer service team, make sure your chosen solution has an extensive knowledge base with troubleshooting guides, tutorials, and customer forums. This way, you can rest assured that the platform does its best to prioritize their customers' needs.
The 15 best HubSpot alternatives
1. LiveAgent
LiveAgent is a well-established HubSpot alternative with over 130 powerful features that ensure an omnichannel experience. Although packed with features and integrations, LiveAgent is a user-friendly and affordable solution for businesses around the globe. LiveAgent's help desk software allows thousands of customers to deliver the best customer experience.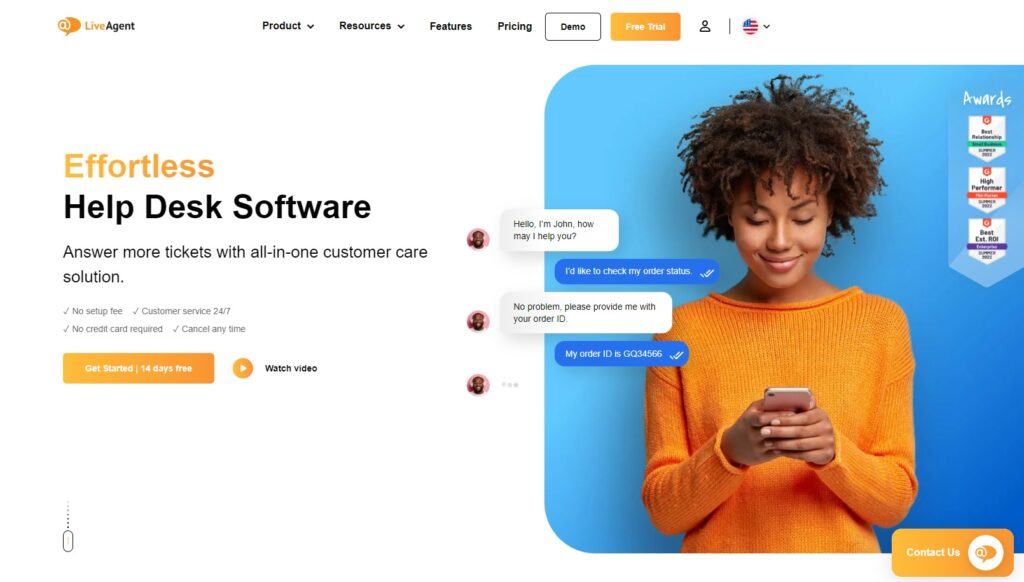 LiveAgent features
Ticketing system
Customer contact management
Multilingual capabilities
Social media management
Automation features
Knowledge base management
Customer relationship management (CRM)
Call center software
IVR
Unified inbox
Collaboration features
Advanced reporting features
Live chat
Content management
Key integrations
You can pair LiveAgent with more than 200 third-party apps. Customer favorites include Shopify, Slack, Jira, Magento, WhatsApp, Salesforce, Twilio, ActiveCampaign, and many more.