Key takeaways
Cons
No Twitter integration
Can get costly if you pick a paid plan
Getting started with Tidio social media features
It's easy to get started with Tidio thanks to its free account. You can keep it for as long as you like, and you can upgrade whenever you feel ready for such a step. The registration requires an email address, password, and a website. This can prove troublesome for business owners who don't have, nor don't want to have a website, but it's understandable since Tidio mostly focuses on chatbots, which require a website to function properly. Once I finished the registration, I was taken straight to the Tidio web app.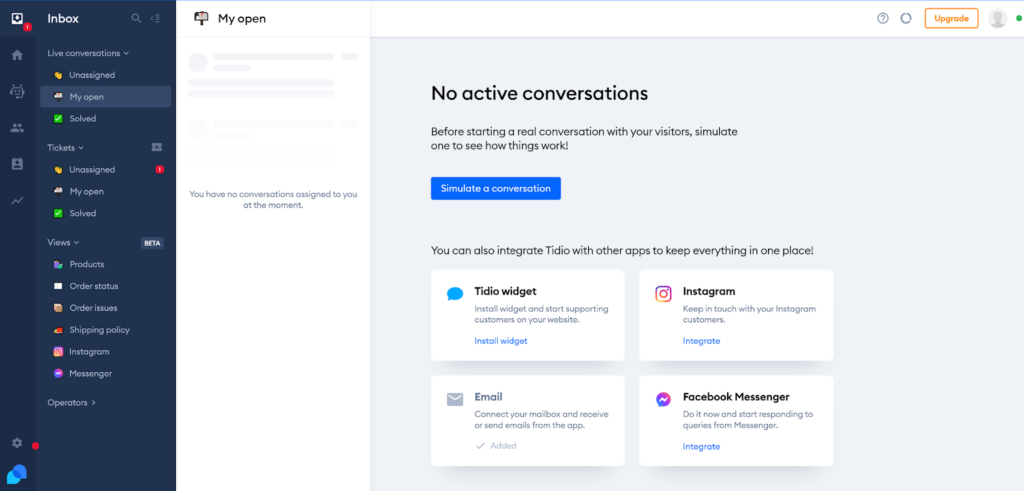 Once I got into my inbox, Tidio informed me about my active conversations. What's even better, it offered to set up integrations with email, Tidio widget, and more importantly – Facebook and Instagram. This page reveals straight away what kind of social media functionality Tidio offers. At this point, you can keep getting familiar with Tidio if it's your first time, or dive into the integration process for social media. I started with integrating my Facebook Messenger first.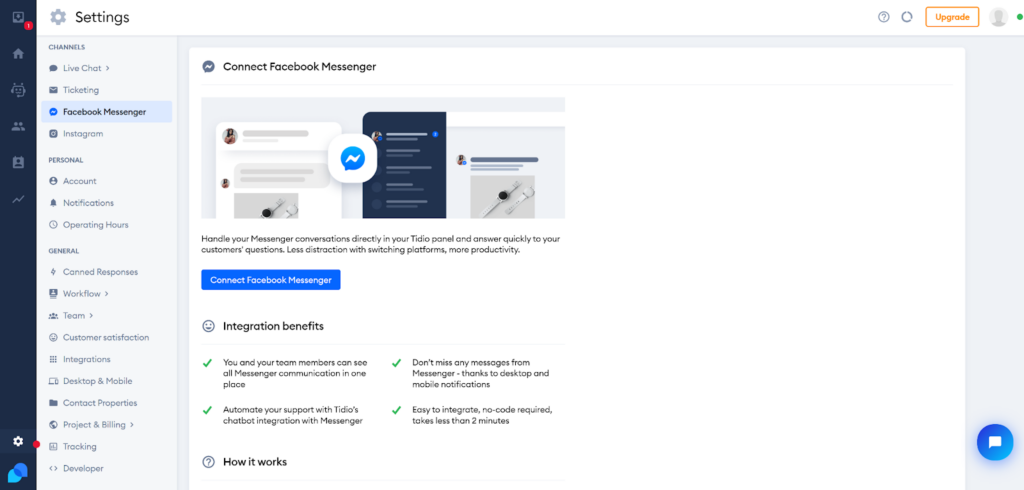 Once I clicked on the option to integrate Facebook Messenger, I was taken to a new screen where I could see integration benefits, as well as an explanation of how the integration works, and how it can be connected. The integration process is pretty standard, I only needed to log in and decide how I wanted Tidio to handle my Messenger data. Tidio also offers the option to connect Messenger integration with their chatbot. I declined this option, since I already covered chatbots in the Tidio chatbot review.
You can expect the same, or at least very similar integration process when integrating Instagram. The screen is essentially the same as when you're integrating Facebook Messenger too. You only need to log into your Instagram account and provide access to Tidio to handle your Instagram communication. I didn't run into any trouble during the Instagram integration and everything worked out very well.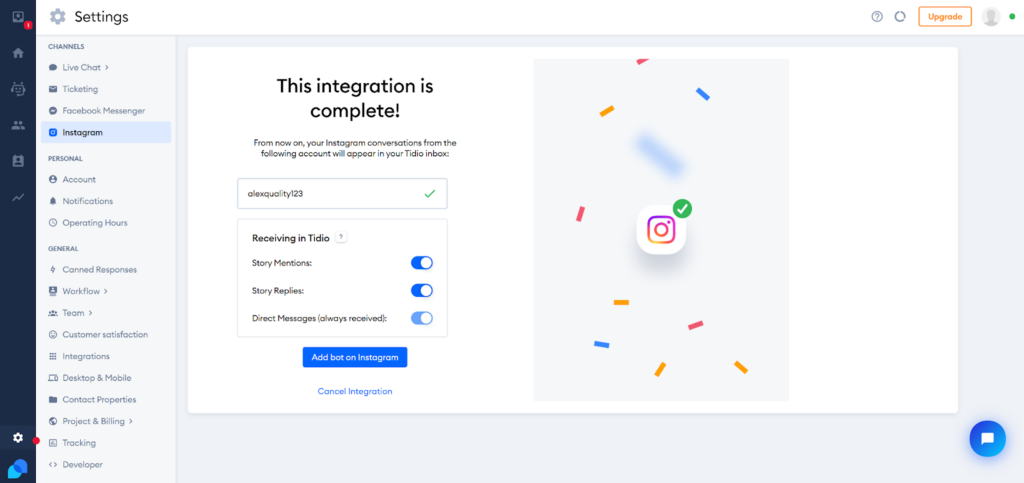 Overall, Tidio offers an incredibly easy and intuitive way of integrating both social media channels. Before I get into the testing part of this review, let's review what sort of social media functionality you can expect from Tidio, as well as what additional features you can get if you decide to use it as your primary social media customer service software.
Tidio social media functionality & features
Tidio isn't primarily focused on social media customer service, but nevertheless it offers very good functionality that doesn't stay behind the competition. A part of it is the ticketing system which gathers all communication from any type of communication channel that's integrated. The ticketing also offers a pretty standard set of subfeatures for effective replying, and accessing contact information. This functionality works well with social media integrations as well.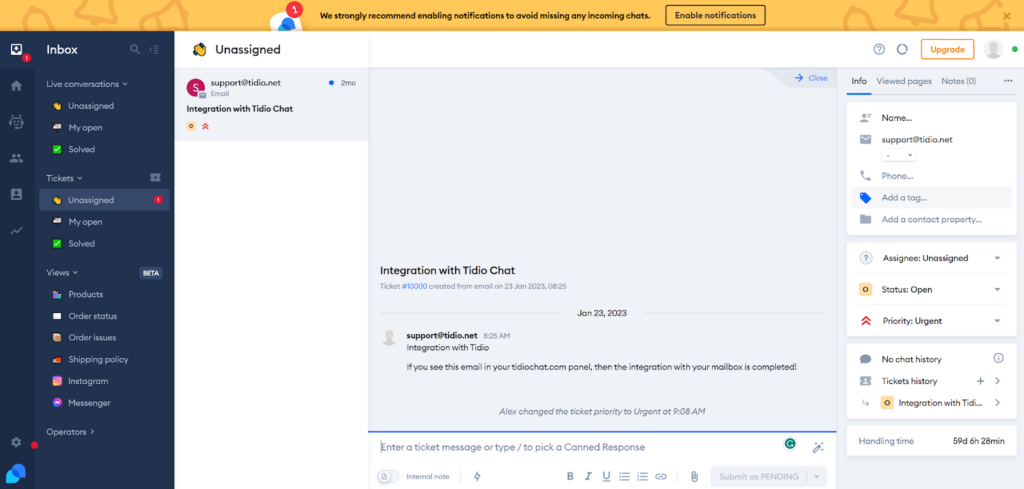 Other features include analytics, visitors, and quite extensive settings. Analytics provide important data that give a nice overview of overall communication efforts, while visitors can reveal information about who visits your website. The most mentionable feature though, are the chatbots, which you can integrate with your social media channels and let them handle the communication for you. Tidio offers very good chatbot functionality, so this might be an interesting addition to your social media services.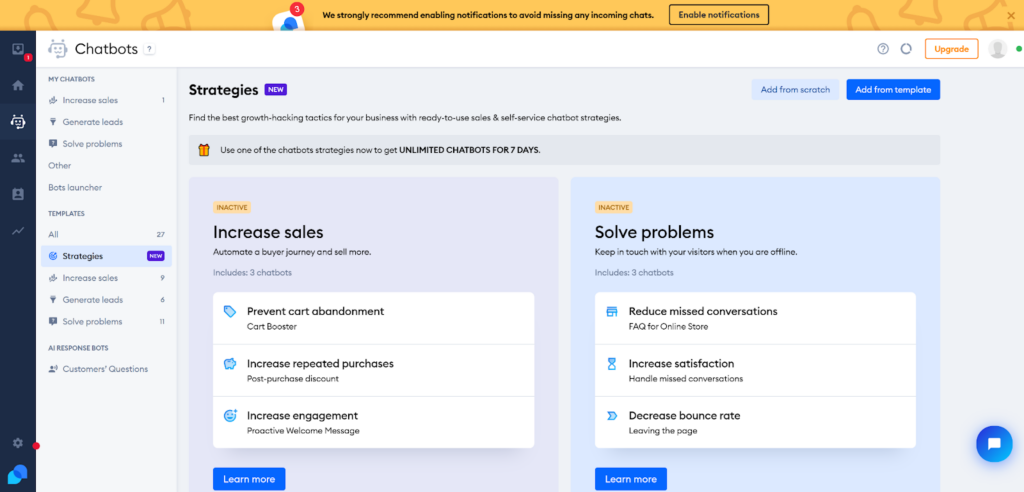 Tidio social media features user experience
I tested Tidio's social media features thoroughly and I think the experience is very good. Immediately after I sent myself a message to simulate a conversation, it popped up in Tidio. Not only that, but the screen immediately switched to the conversation window, so I didn't have to waste time finding the respective menu button to get there. This keeps focus on the conversations, which is always a plus in any communication solution. On the other hand, it may tear you out of a task you might've been attending to. Either way, it's an interesting addition.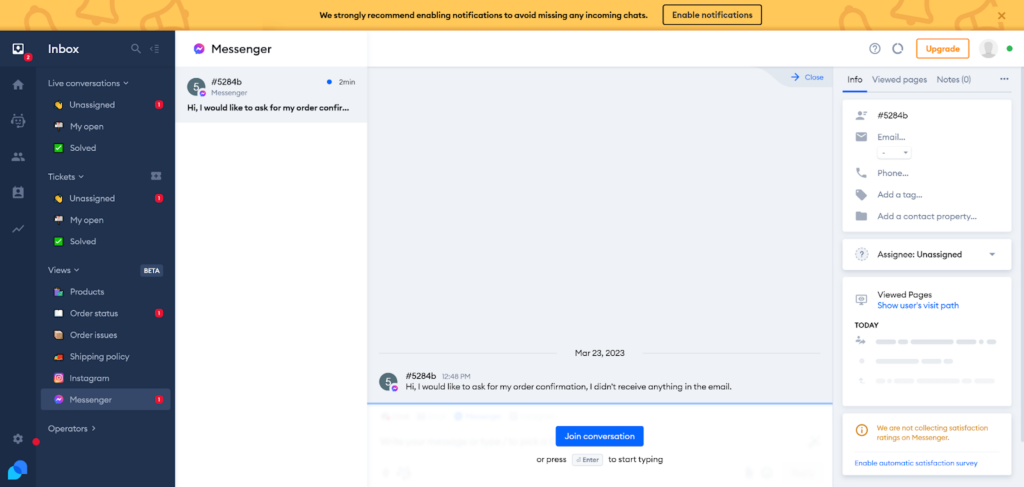 Once you click on Join conversation, you can get started with the reply. The interface is designed very well. I had my contact's information on the right side, while the center of the screen focuses on the messaging. An interesting functionality, which works in any type of ticket, is the option to hit the "/" key on your keyboard to summon a list of canned responses. This allows you to stay in the game by not leaving your keyboard and searching for the right button to click within the user interface.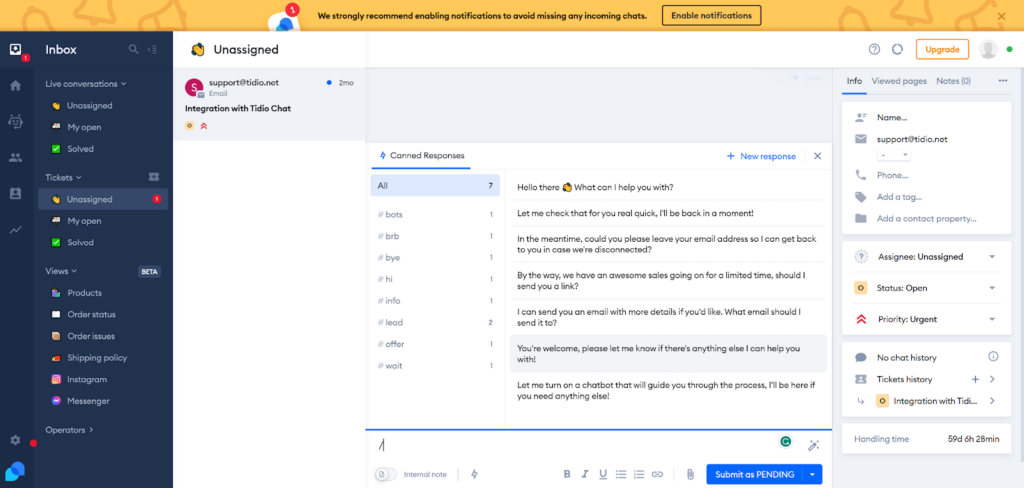 The great experience remains so even when dealing with Instagram requests. There's not a huge difference between dealing with Messenger tickets and Instagram tickets, the system works the same regardless of which one you're dealing with. Tidio always shows exactly where the ticket comes from. Besides that, you can always utilize segmenting thanks to the left inbox menu column and select messages only from specific sources.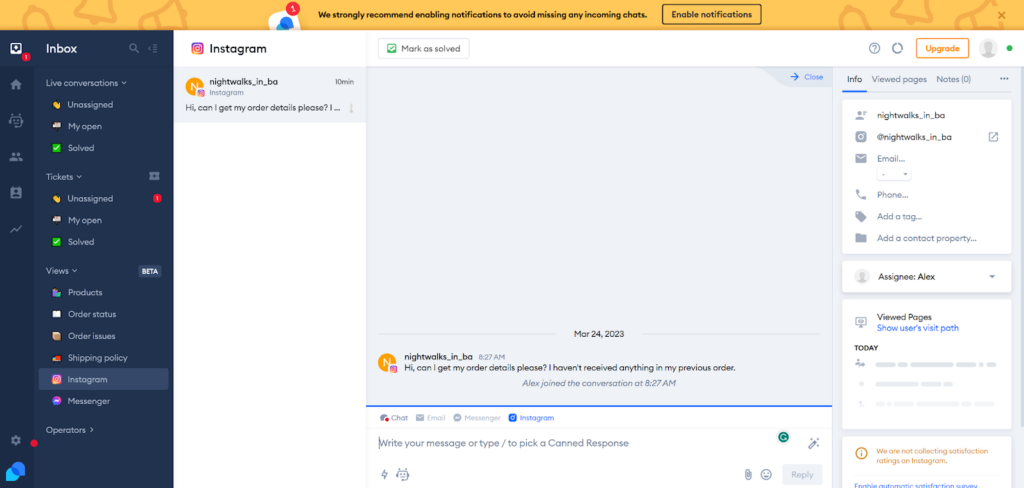 Making conversations with Tidio tickets is a delightful experience that didn't let me down. The entire system is designed extremely well, and it presents itself with essentially zero problems. Whether you will be replying over Instagram or Messenger, you are sure to have a pleasurable experience. Tidio is very responsive to all types of communication from social media, and always notifies you when something new arrives in your inbox.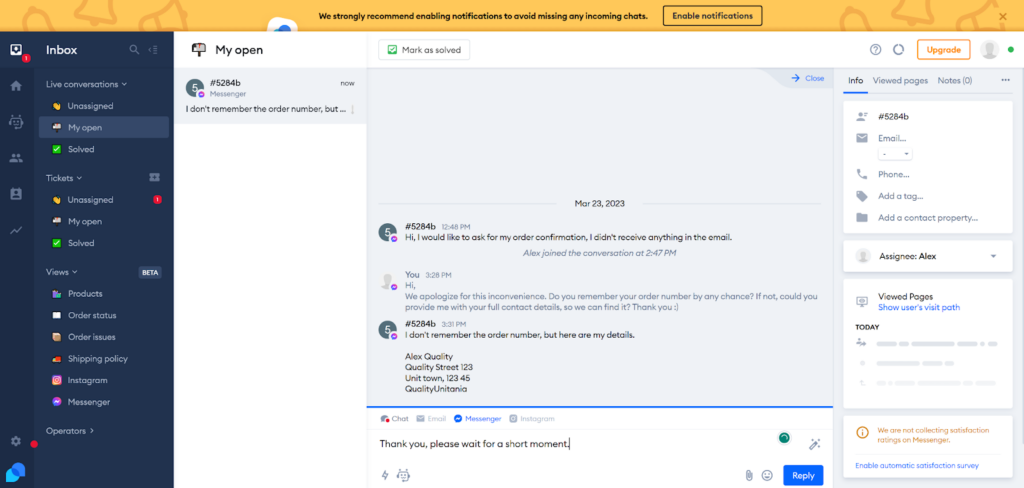 Tidio pricing
Tidio offers four pricing plans, including the free option. Most of them are focused on the Tidio chat bot functionality. Since the social media functionality is included even in the free option, your decision making will most likely revolve around other Tidio functionality, as well as the number of conversations you need to handle monthly. Let's have a look at each plan and see what you can get for your money with each of them.
Free
The Free plan is absolutely free and offers live chat conversations with 50 users, chatbot conversations with 100 users, email support, ticketing system, desktop & mobile apps, 3rd party apps integration, visitors info, and JavaScript API.
Communicator
The Communicator plan costs $15.83 per month per operator annually, or $19 per month per operator monthly. It gives you unlimited live chat conversations, up to 5 operators, email and 24/5 live chat support, all the features from the Free plan, team departments, analytics, native Shopify integration, live typing, viewed pages, live visitors list, permissions, and notes.
Chatbots
The Chatbots plan costs the same as the Communicator plan, but it focuses on chatbot communication a bit more. You get chatbots with 1000 triggers, email and 24/5 live chat support, all the features from the Free plan, 35+ chatbot templates, visual chatbot editor, and Zapier integration.
Tidio+
The Tidio+ plan ups the price tag a significant amount, it costs $329 monthly regardless of if you choose annual or monthly billing. This plan provides you with unlimited live chat conversations, custom number of operators, custom number of chatbot engagements, 24/5 email support, 24/7 chat support, emergency phone support, all features from the Communicator and Chatbot plans, Tidio AI response bots, multisite support, custom integrations, email marketing, and more.
Conclusion
It's very hard to find anything wrong with Tidio. The social media functionality is superb, the entire system works very well, and you can get started for free without any credit card information or strings attached. Tidio's Facebook Messenger and Instagram integrations are great, however you might start missing Twitter because that's the only integration you won't find here. If you don't need it, there shouldn't be anything stopping you from picking Tidio.
If you are looking for reliable social media customer service software, it's important to consider the different options before making a decision. Different providers offer various functionalities, integrations, and pricing plans that may better suit your budget and needs. While Tidio offers superb functionality, it's worth doing your own research to see if other providers can better meet your specific needs. Remember, this review is just a personal opinion, so take advantage of their free plan to assess performance and user interface before committing.