Key takeaways
Pros
Super fast implementation
Smooth integrations with website builders
Great configuration and planning features
Stellar performance
Cons
Some users might get slightly overwhelmed by the options
Getting started with the Tidio chatbot feature
Tidio is a popular, extensive customer support software with a toolset that focuses on ticketing, social media, and live chat. The live chat is powered by a chatbot that can help businesses relieve their teams and provide essential support and answers to all online visitors. We're going to look at Tidio's chatbot feature and find out how it performs in a day-to-day customer communication scenario.
Since Tidio offers a free plan, it's easy to get started. All you have to do is register your free account. One of the most important things that you can do during the registration process is the option to choose a website hosting service. If your site was created using website builders, such as Wix or Shopify, you can directly implement the chat with a chatbot to your page with almost no effort. You can look at the list of Tidio integrations to see if the website builder you used has a direct integration.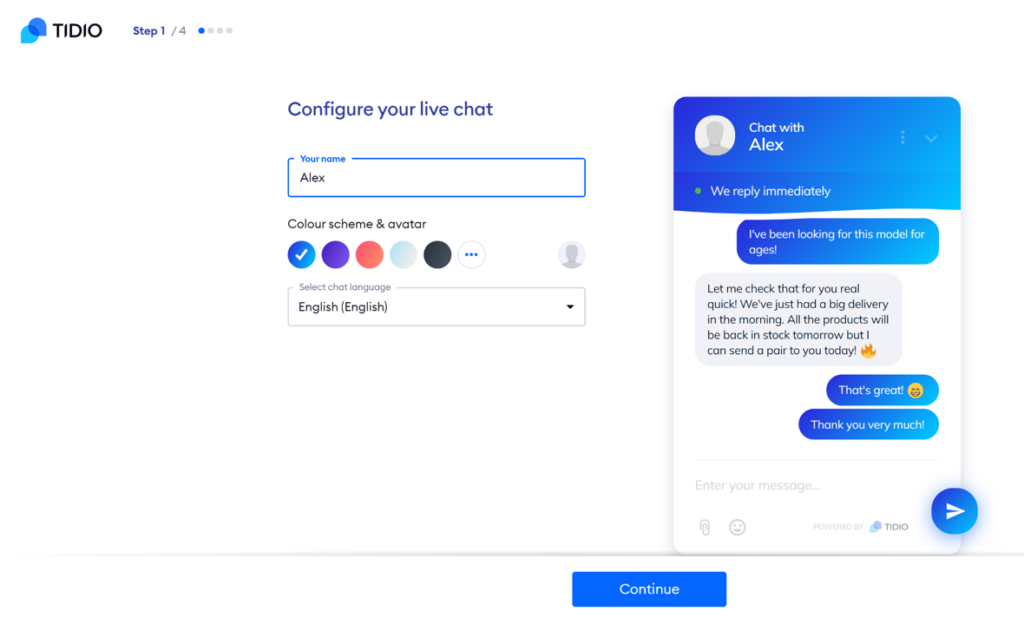 If you complete your registration using this service, it will immediately take you to the respective integration page on your service's website. This is where you can add Tidio live chat with a chatbot to your site with a short clicking session. The system will need answers to a couple of questions first, such as how many customer service agents you have, the intended goal and purpose of your website, how many customers you have, and so on. It's pretty straightforward and easy to do if you know the answers to these questions.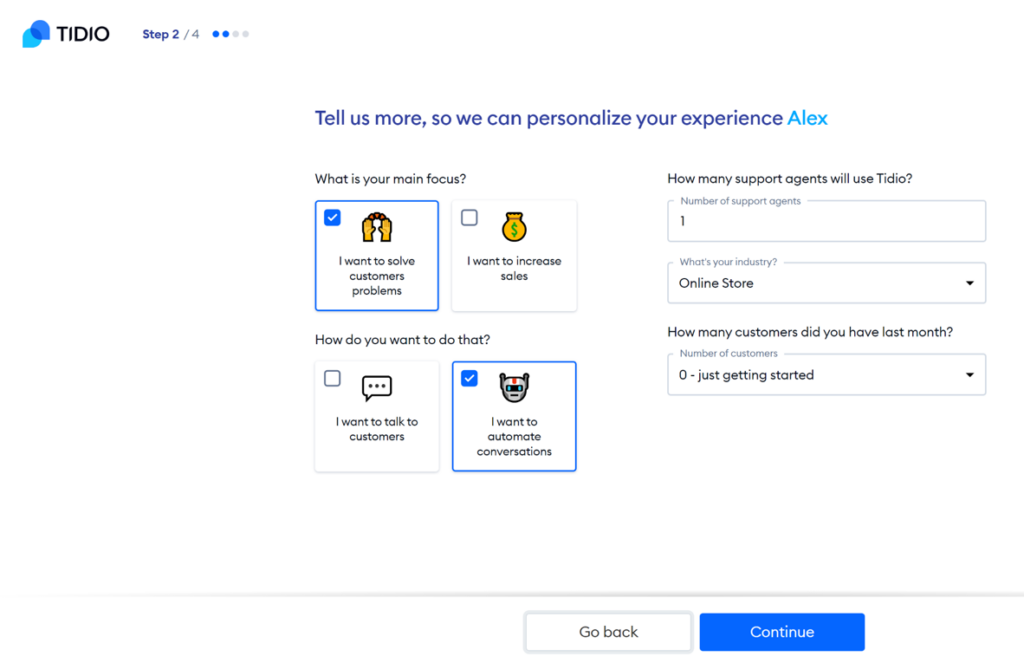 If your website runs on another platform, the process remains very simple, but you will need to access your website code to make the chatbot integration happen. The setup is basically the same as in the case of website builder registration, except you have to answer these questions directly on the Tidio website during your registration. The most significant change is that you have to copy and paste the automatically generated live chat code into your website's code. Make sure you have access to your website code or ask your web administrator to do it for you.
Tidio chatbot features and implementation
Tidio has multiple chatbots available and each of them serves a different purpose. You can use them to increase sales, promote special deals, or help customers with their inquiries. I think the selection is good, it's not too broad to confuse you, but you get multiple options within each category. When you take your pick, you still have some work to do because the chatbot needs to be configured. This means that you have to do some planning and fill in the most likely customer questions the chatbot will encounter on your website.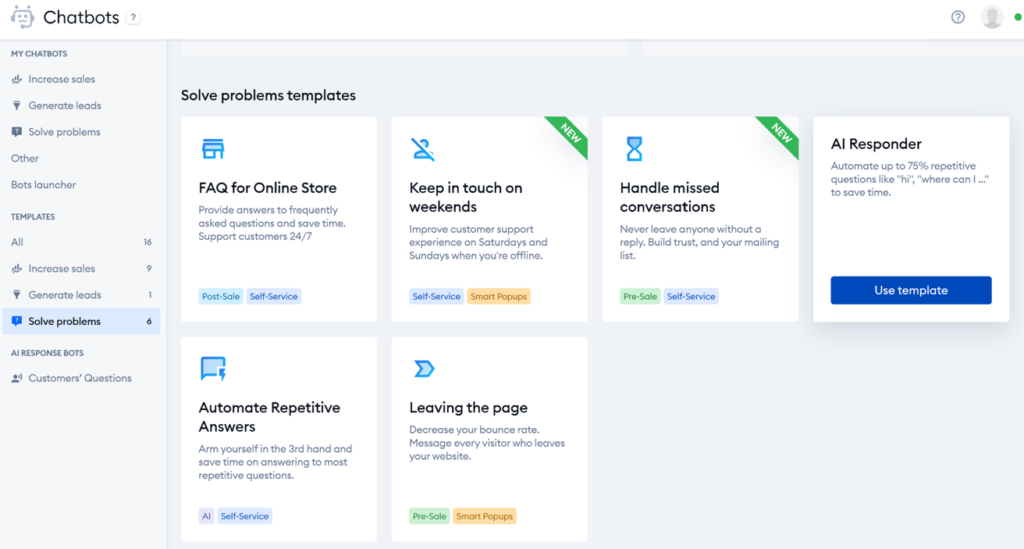 As meticulous as you are, this portion of the process can be time-consuming. You can provide questions and answers only to the most common topics, or you can go really deep if you want to make the bot a proper know-it-all. Either way, this part of the implementation process is pretty well-designed and easy to do. If you ever created a chatbot or an IVR, you probably won't be surprised by how the process works. Tidio has a chatbot builder with a visual representation of all possible conversations it can handle, and you can access the details of each one by simply clicking on them.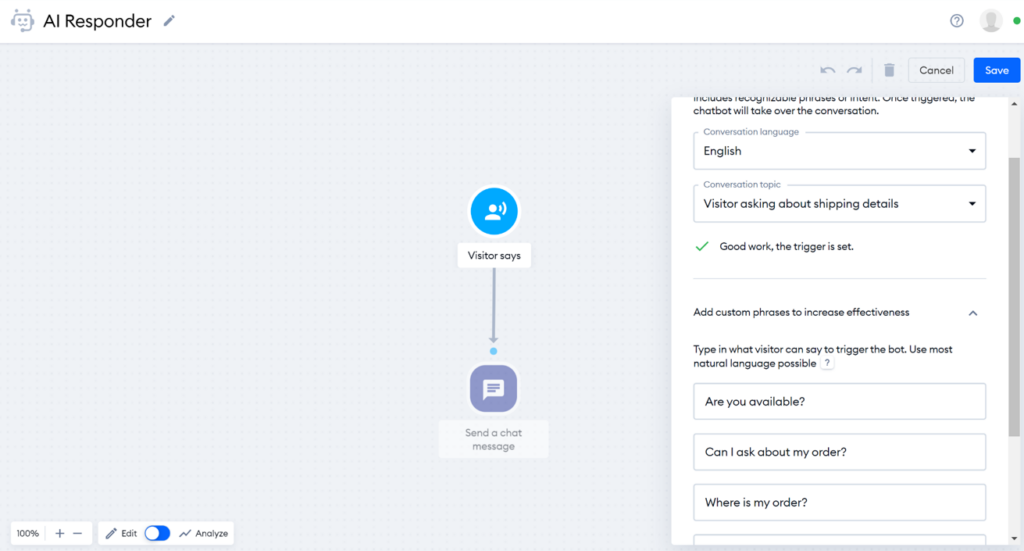 You can choose from a selection of the most used languages besides English for your chatbot, and see some common topics to make the process easier. Besides that, you can also choose the conversation trigger at the very beginning of the process. You can configure the chat to trigger once a visitor enters your website, when they start a conversation or pick another option from the list. There's a plethora of options, so you have the opportunity to go deep and make the chatbot as responsive and smart as you possibly can.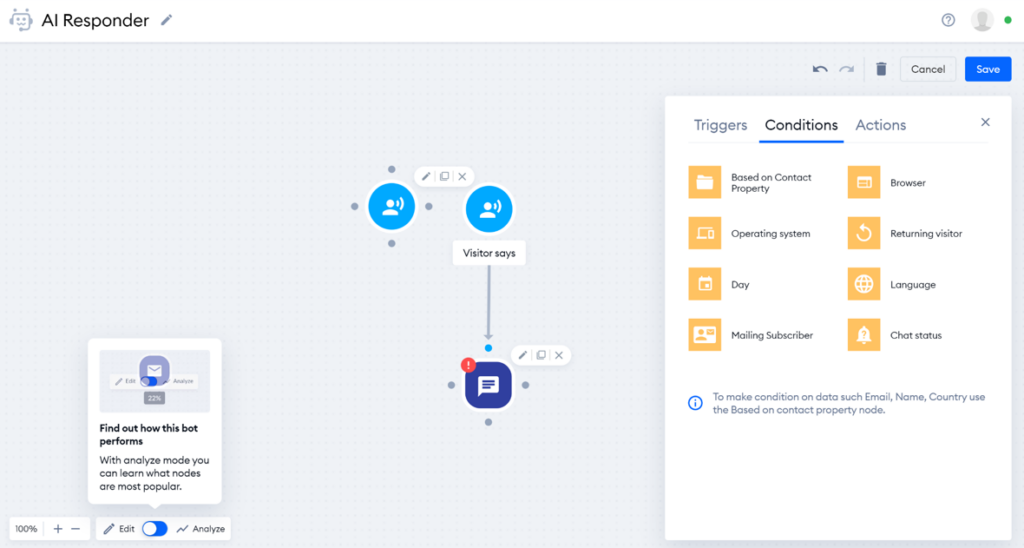 There are also various conditions you can implement into the chatbot's behavior, such as browser, operating system, country, day, language, and a couple more. You can use these conditions to specify the bot's behavior when the conditions are met. This can be immensely helpful, for example, when you're running a multi-language website or when your store has human customer support available only on certain days and during certain business hours.
Performance and usefulness
I've tested the Tidio chatbot with my configuration on a test website I created with Wix, and my results were pretty good. As mentioned before, Tidio chatbots are only as good as the amount of effort you put into configuring them. Therefore, you can easily create a useless chatbot, as well as an incredibly helpful one. A well-planned chatbot conversation route can be immensely beneficial and can save you a lot of time. With that being said, the process of creating a Tidio chatbot can be a long one. However, the available presets make the whole planning easier.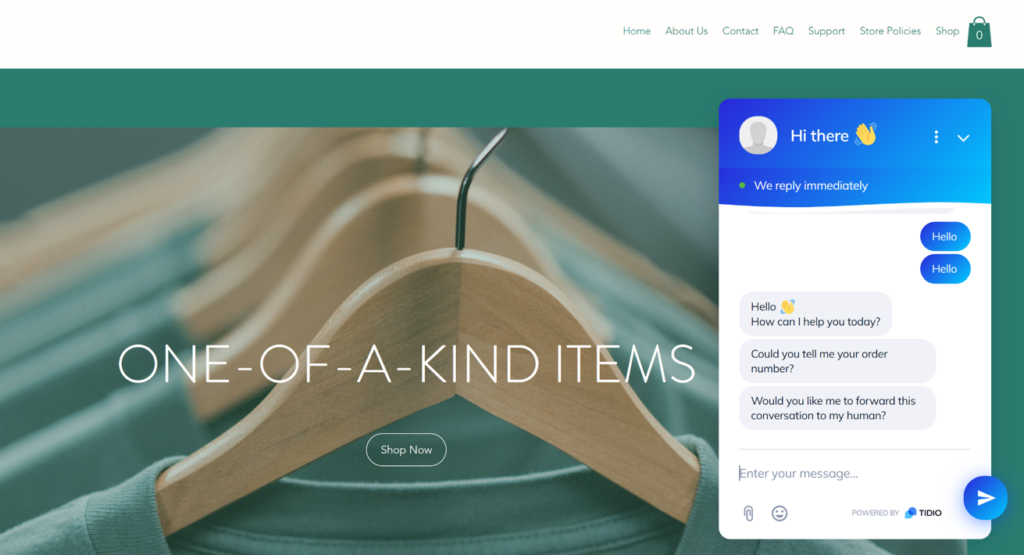 During my testing, I personally tested the chatbot and filled in the blind spots as I found them and updated the chat widget regularly. I had no trouble with Tidio's chatbot performance. However, even a smartly planned chatbot has limitations, so it's important to make sure that a human agent will be available to answer more elaborate customer questions. Tidio was not only easy to use, but also easy to integrate which makes it a great solution, especially considering that it was free right from the start.
Tidio chatbot pricing
Tidio has four pricing plans with chatbots available in each one of them. If you're considering getting Tidio mainly for its chatbot, the only decision you have to make is whether you're looking to use other Tidio features. Let's take a look at what each of the plans offers.
Free
The free plan is available for everyone. It includes live chat with 50 conversations limit per month, chatbots with 100 conversations limit per month, email support, desktop, and mobile apps, 3rd party app integrations, visitors' info, and JavaScript API.
Communicator
This plan costs $15.66 per user per month. It includes unlimited live chat conversations, up to 5 operators, email, 24/5 live chat support, permission management, live typing, analytics, departments, live visitors list, viewed page statistics, and all the features from the Free plan.
Chatbots
The Chatbots plan costs $31.74 per month and provides chatbot conversations with 40,000 users per month, all features from the Free plan, a visual chatbot editor, Zapier integration, and more.
Tidio+
This is the most elaborate and expensive plan that Tidio offers. It costs $235.16 per month and has unlimited live chat conversations, a custom number of operators, a custom number of chatbot engagements, full support, and all features from the previous plans. It additionally includes services such as a dedicated customer success manager and more.
Conclusion
Tidio is nothing short of almost perfect. If you want great chatbot software, you can't go wrong with it. Tidio is not tedious. It's easy to implement, manage, and use, especially if you go with one of the smooth integrations with the website builders. It's hard to think of any cons when it comes to Tidio. Especially when it's a free chatbot available for anybody thanks to a short registration.