Key takeaways
Pros
A complete IT ticketing solution
All essential features available
No hidden charges, completely free of charge
Cons
Lack of advanced features
Getting started with Spiceworks ticketing
Spiceworks offers their IT help desk with a ticketing system completely free of charge. The Spiceworks team even included an entertaining section with pricing plans on their website. It lists four plans with the same features and the price with a $0 tag. This means you only have to create your own account on the Spiceworks website and get started. All you need is some basic information such as your email address and name. You can choose the name of your help desk domain in the next step.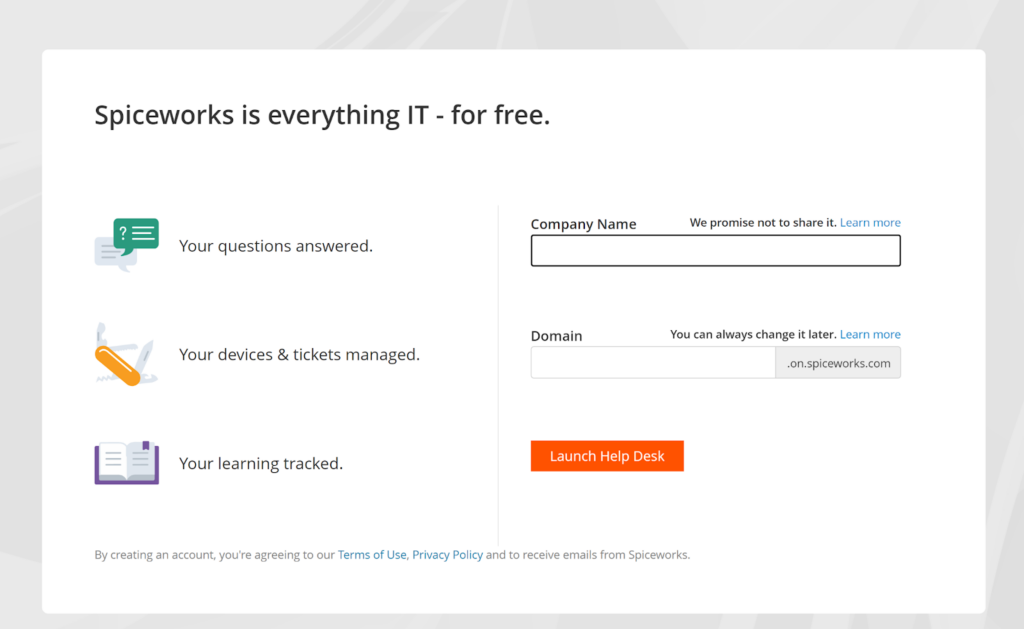 Spiceworks automatically creates a dedicated email address for you. It doesn't make you jump through hoops, and is very straightforward in every regard. Once you fill out the aforementioned steps, you will be taken straight to the ticketing system without any waits. The interface design is clean and extremely functional, with very easy navigation and all tools available on screen once you open the application.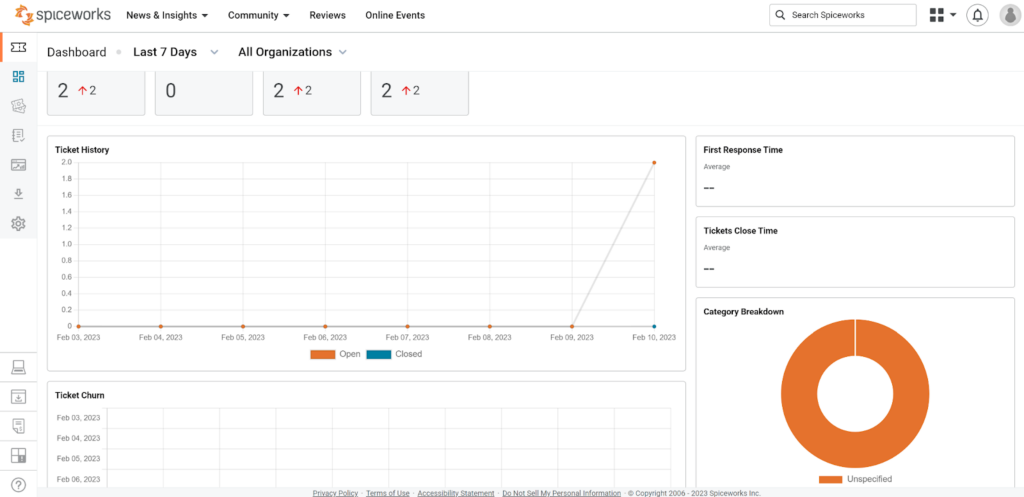 I have to admit that I expected a lot less from a free solution, but so far, Spiceworks was a pleasant surprise in almost every aspect. Spiceworks offers much more than just an essential ticketing system, it can help businesses with reports, and even knowledge base articles without any imposed limitations to the features. It's quite impressive really, but before we take a further look at the performance, let's take a look at what kind of features Spiceworks offers.
Spiceworks ticketing system features
Tracking down Spiceworks features is no easy feat, since the website offers only essential information regarding their free tools. However, you will be able to get a good overview of the Spiceworks ticketing feature set once you start using the application. You can expect the standard help desk functionality in the ticketing system. Spiceworks can also aid you in creating your own knowledge base and help you with reports. You can also use the export functionality to export your report data in three various formats.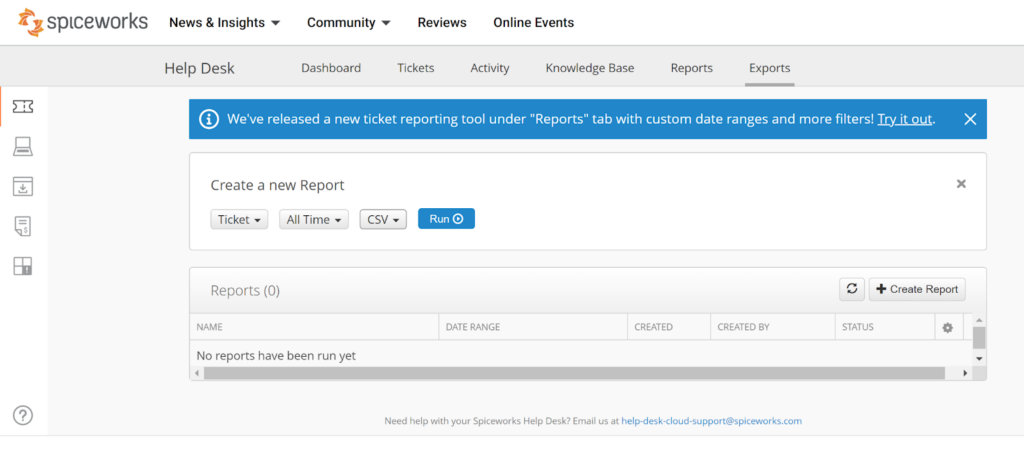 Since Spiceworks is focused mainly on IT ticketing, its feature set reflects this. You can use device management features to track computer devices, software inventory, as well as contracts. Spiceworks supports ticket rules, canned responses, automatic ticket updates, and notifications among other standard help desk and ticketing system features.
Ticketing system performance and user experience
Let's take a look at how Spiceworks performs in a standard scenario, and if it can measure up to other paid IT ticketing solutions. I emulated the agent experience by sending myself a couple of emails. The first one arrived almost immediately although I'm not sure how often Spiceworks ticketing refreshes itself. I had to click the refresh button to make the email show up in the ticketing system, and I would rely on it during the course of the test.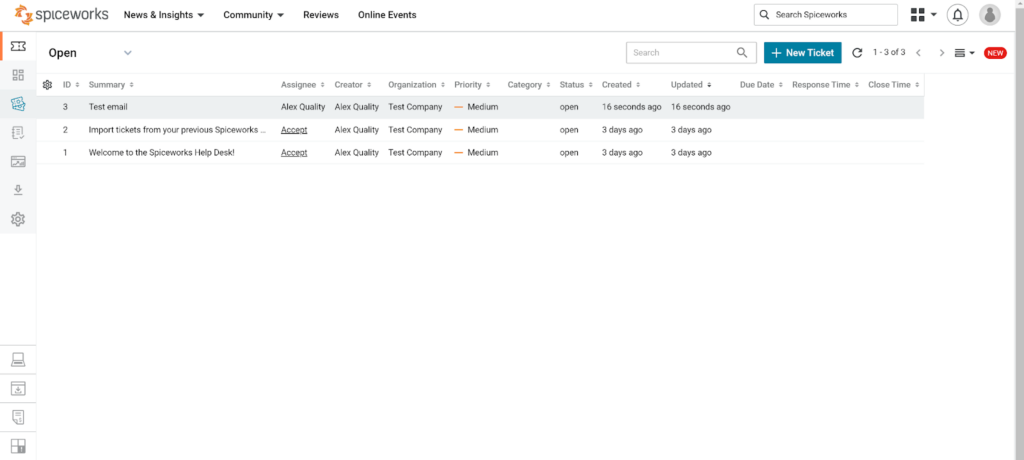 The ticketing interface looks very neat and professional, despite being free. Once you open the ticket, the interface looks just as well albeit a bit blander. It's very simplistic but also more than functional enough to allow agents to work comfortably with Spiceworks. It's interesting that you can see a part of your inbox even while you're inside an open ticket. The rest of the interface is taken up by the reply box and customer information with ticket status info, as well as related information fields on the right side.
The reply box is not exactly spacious, so one of the first things I was curious about was if it stretches out. It does stretch out as you write, however, it stretches upwards instead of downwards. It does have a maximum size and if you write past this value, you need to rely on scrolling from there. You can access a couple of tools just below the reply field, namely attachments, canned responses, and internal notes.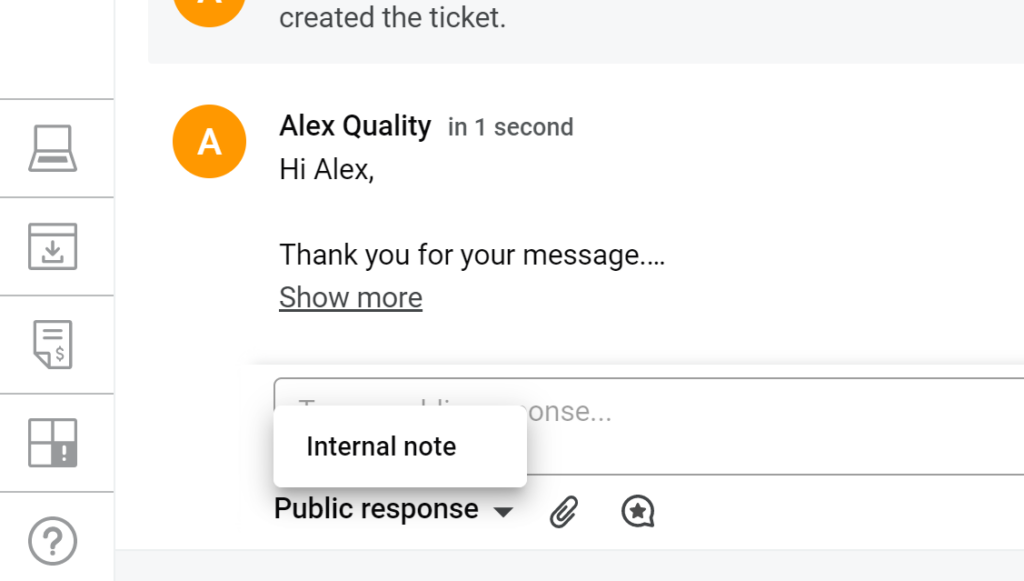 The last mentionable feature includes the panel on the right side. This is where users can access some basic information about customers, assignees, ticket status, priority, due dates, and ticket category. This panel also allows you to keep track of related devices, tasks, time spent, and CC'd users. That's pretty much everything you can expect from Spiceworks ticketing tool features. While it's not the richest feature set, it definitely manages to provide everything necessary for agents to do their work in an organized manner, even if it's just the bare minimum of features.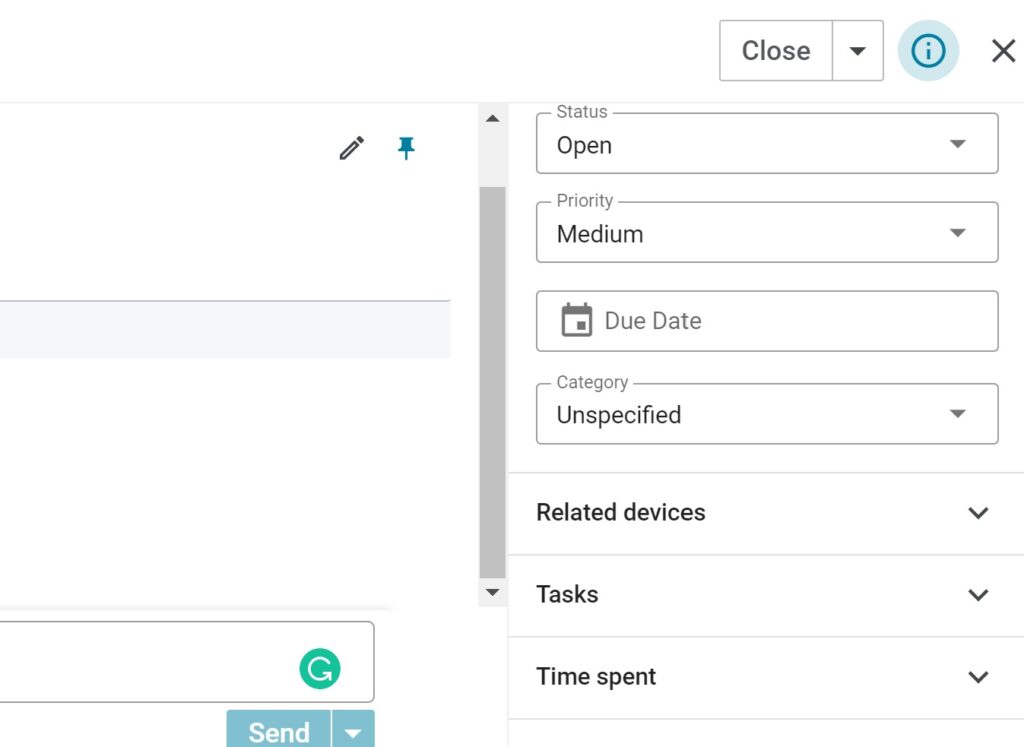 All in all, Spiceworks doesn't offer a bad ticketing system, but the feature set definitely is just essential. It offers every basic feature expected from an IT ticketing system, and it seems greedy to ask for more since it's completely free. However, I do have to say that users who are used to more advanced ticketing systems might be slightly disappointed. Once they get used to the feature set in Spiceworks, they might realize that less is more and get their work done splendidly even without fancy functionality. This alone makes Spiceworks worth it just to help you save your money.
Spiceworks pricing
The Spiceworks website does have a pricing section included, however, it serves as more of a comical way of telling everyone that Spiceworks is completely free. It lists four fictional pricing plans with the same feature set and the same $0 price tag. The website mentioned that all people who sign up for Spiceworks get access to unlimited tickets, unlimited devices, unlimited agents, unlimited users, unlimited technicians, premium support, and an IT community with millions of IT pros.
Conclusion
Spiceworks definitely has what it takes to offer a great ticketing system for IT teams. It's not perfect by any means, but it's extremely functional, and it can prove to be a great choice for many businesses that are willing to live without certain fancy features. It's also completely free of charge with no hidden charges and unwanted extras, so it definitely will be worthy to consider it as one of your primary tools.