Key takeaways
Pros
It's free
Offers various, less and more advanced features
Easy to use
Can be integrated with other tools
Cons
It feels overwhelming in the beginning
The interface can be limiting for users
The Enterprise solution is expensive
Getting started with the HubSpot chatbot feature
HubSpot is a customer relationship management (CRM) platform and marketing, sales, and customer service software. It provides tools and features to help businesses manage and analyze customer interactions and data throughout the customer lifecycle, with the goal of improving customer relationships and driving business growth. The most interesting feature of HubSpot for me was of course the chatbots, which I tested out for the purpose of this review. But before actually using the chatbots, you need to register first.
To do that, you have to go to their website and click on the "Get started for free" button. You will be asked to provide some essential information, such as your first and last name, as well as an email address. Next, you will be asked things like: what industry you're coming from, what your job position is, what your company is called, how big it is and what its website is.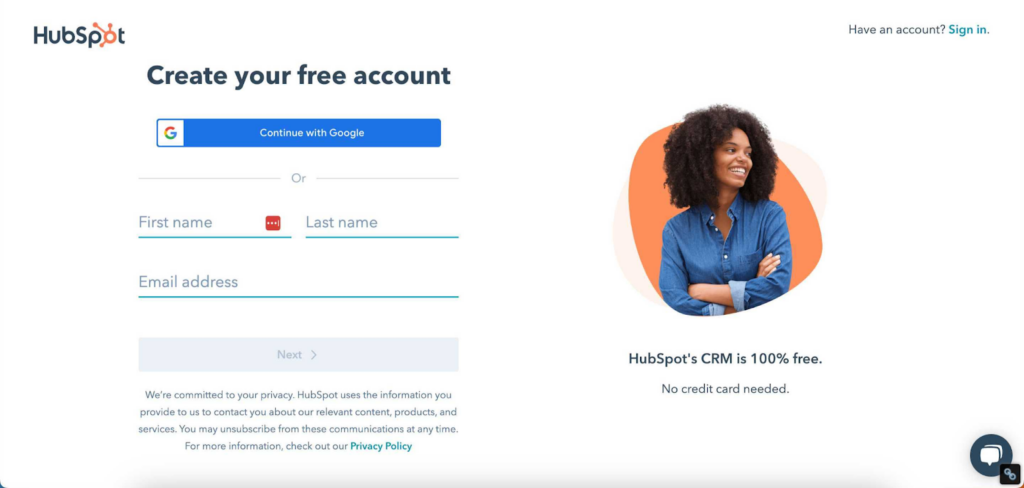 The whole sign up process doesn't take longer than 10 minutes and is very user-friendly. The only drawback I noticed is that it took a little longer than I expected to receive the email confirmation link. Although, it might've been my email provider's fault.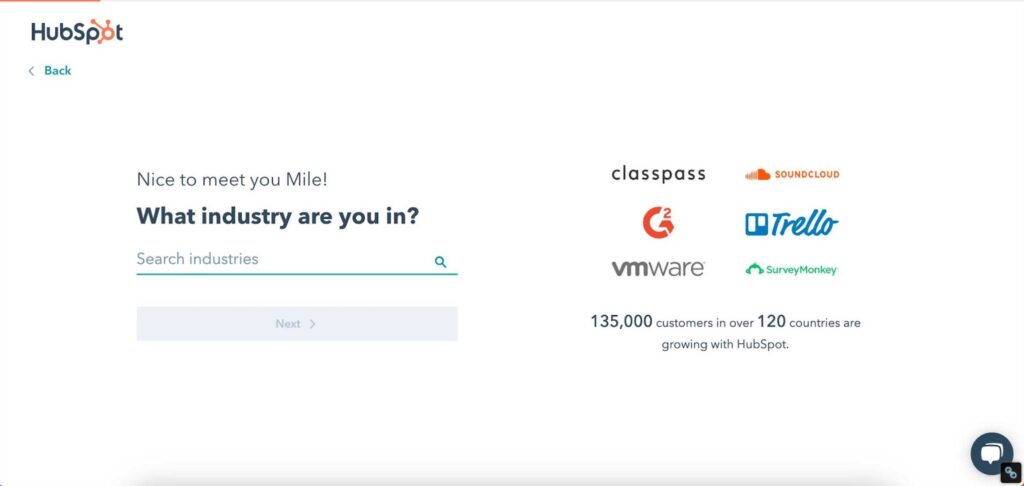 Based on my very first impression, the interface seemed pretty user friendly. Everything was clear and easy to follow, which was very satisfying.
I was a bit put off by HubSpot asking all these details in the beginning, until I realized it was for personalization purposes. This way, I will be receiving content from HubSpot that actually suits my industry and job role.
HubSpot chatbot features and implementation
Upon finishing my registration process, it was time for me to finally dive deep into HubSpot's features and the chatbot implementation.
The visual design of the tool seemed slightly overwhelming in the beginning. As you can see below, there are quite a lot of different tabs to click on such as "Contacts", "Conversations", "Marketing", "Sales", "Service" and others. After some time though, I got used to it. That being said, I wouldn't say that HubSpot is complicated to use at all, since I was able to navigate through the interface relatively easily.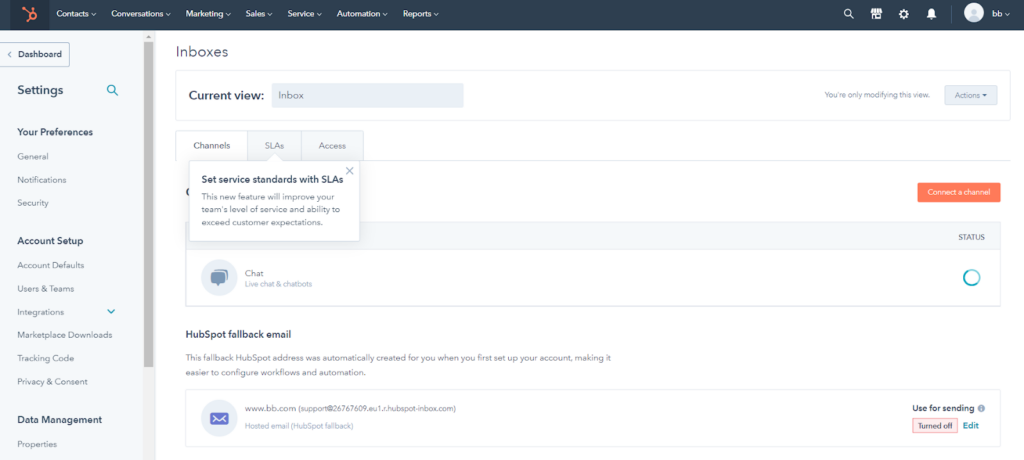 I was positively surprised by the availability of different features included in the free plan. Compared to other tools, it's fair to say it outperforms other solutions on a similar level. Some of the features that positively surprised me the most were the chat widget, and the option to adjust your chat's availability and manage people within your team.
Once again, when exploring the different features, I was slightly overwhelmed by the amount of different settings. Similarly, I had to take some time to get familiar with everything.
I didn't find anything to be particularly confusing, which surprised me positively. I also didn't encounter any issues with the chatbot. It must be thanks to the incredibly helpful tutorials for newbies. Users like me get access to a variety of them, which is a good thing. When you need a hand, a quick tutorial will guide you, even in the form of pop-up tutorials and tips. Below you can see what they look like.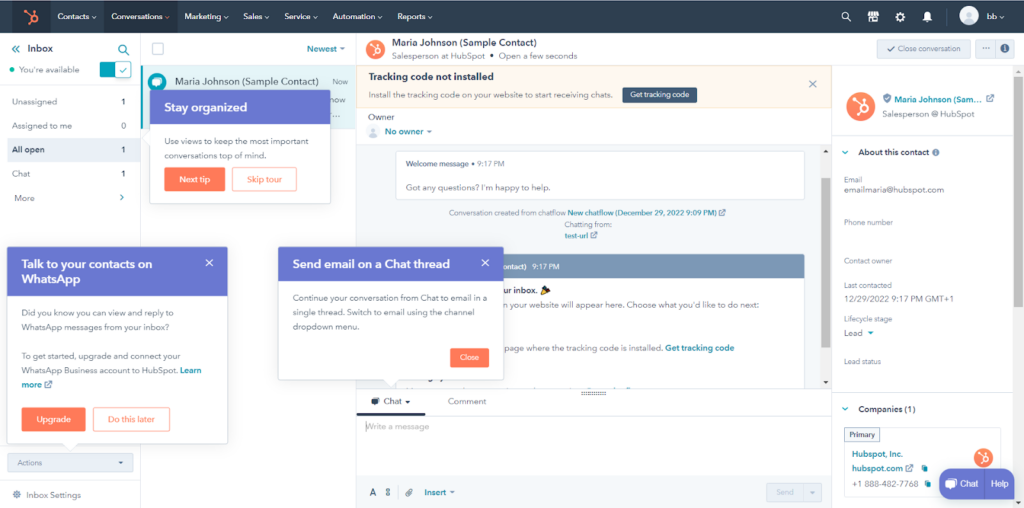 I was also very curious to see HubSpot's integrations. Once you navigate to their App Marketplace, you can see plenty of integrations to choose from, including ones that are useful for things like sales and customer service. Popular examples of live chat integrations include Intercom, Sakari SMS, Facebook Messenger, Salesmsg SMS and TruConversations.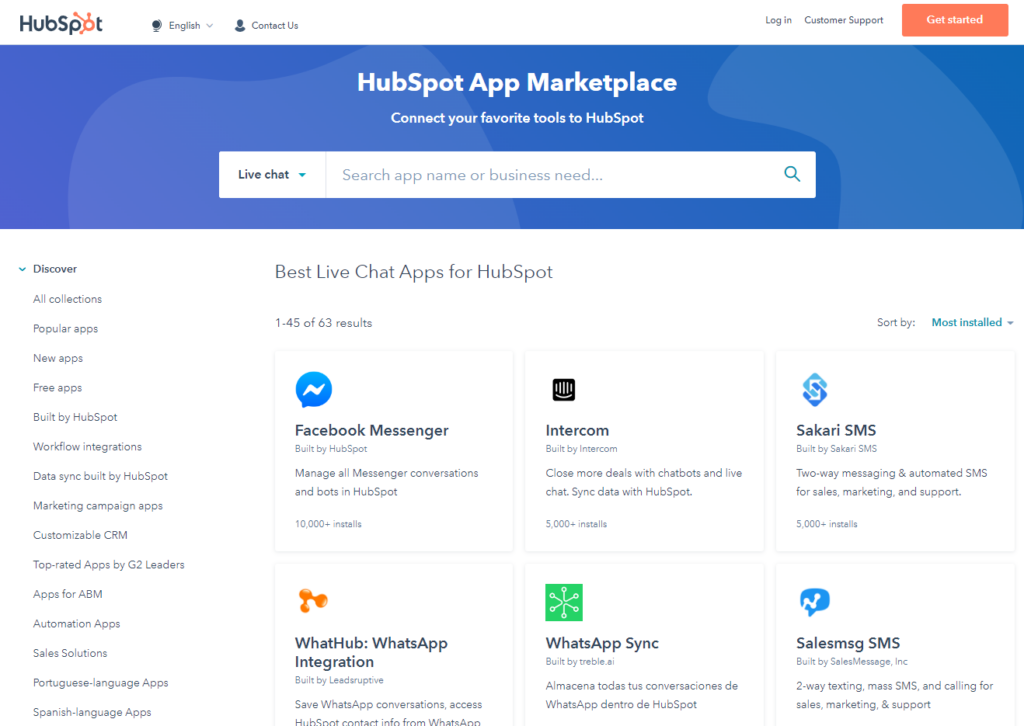 Performance and usefulness
To test the performance and usefulness of HubSpot's chatbot product, I implemented it on a website of mine and monitored its performance over the course of a few weeks. I set up the chatbot to handle a range of tasks, including booking meetings, creating support tickets, and helping qualify leads.
I also tested how the chatbot understood and responded to a variety of input languages. Besides monitoring the chatbot's performance, I also requested feedback about its usefulness from colleagues who interacted with it.
As a result of my testing, the chatbot provided valuable assistance to our users and was able to handle a high volume of requests. Overall, I was impressed with the performance and usefulness of HubSpot's chatbot product.
HubSpot chatbot pricing
The first thing to note is that HubSpot offers its subscribers a free plan for life. That's great news for non-paid solution fans. Additionally, there are paid plans available. Below are the details of all the available plans.
Free ($0/ month)
Firstly, there is the free plan. This one, as well as all the other ones, gives you storage up to 15 million contacts and 1:1 technical support. Amongst this plan's features, there are also various email templates, Facebook Messenger integration and livechat features.
Starter (from $50/ month)
The Starter plan includes everything as the Free plan, but with extended limits. What's more, it gives you the option to remove HubSpot branding from various places within the chatbots.
Professional (from $500/ month)
Next, we have the Professional plan. Within this one, you can expect everything from the Starter plan, plus: team management and personalization features, advanced support and calculation options.
Enterprise (from $1200/ month)
Last but not least, if you have big needs and a big team behind your back, you might want to opt in for an Enterprise plan. This specific option gives you access to everything the previous plans do, as well as some additional ones. They include customization, administration and coaching features.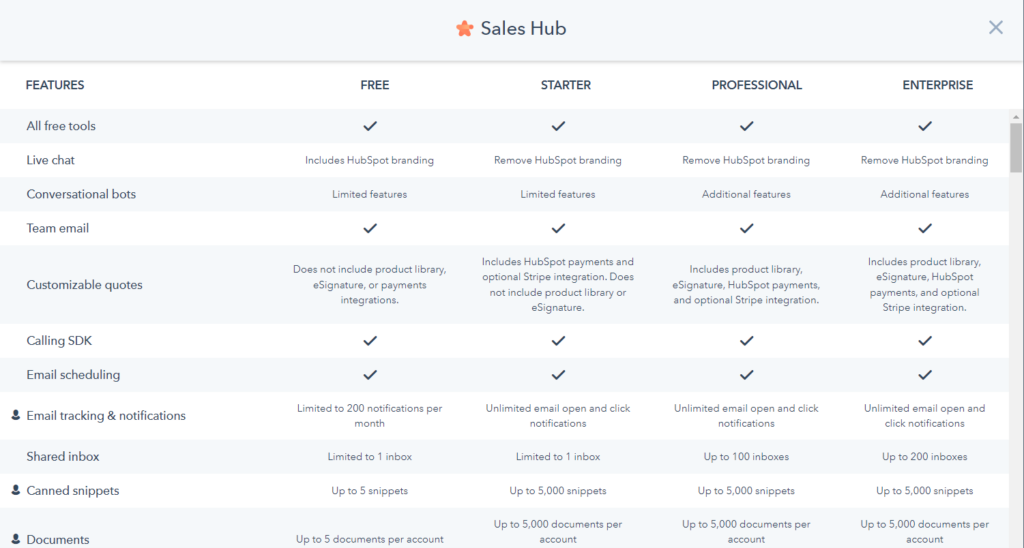 Conclusion
HubSpot's chatbot tool is generally reliable for businesses looking to use chatbots in client conversations. For businesses, it offers a range of customization options. Examples include the ability to set up specific keywords or prompts for a chatbot, as well as the ability to integrate the chatbot into websites or messaging apps.
Although HubSpot's chatbot tool may have some minor disadvantages, such as the possibility for the chatbot to misinterpret customer inquiries or not respond accurately, the tool is free. Thus, these drawbacks can be offset by its advantages. Small and medium-sized businesses may find this especially appealing since they may have limited budgets to spend on customer relationship management applications.
Frequently Asked Questions
What to do if the email verification link doesn't arrive?

If you're struggling with receiving your verification link, first you should check if everything is right on your side. Always check your SPAM before troubleshooting with HubSpot. It may be that your email provider marked the email from HubSpot as SPAM. You can also check focused inbox together with quarantined emails, if you're using Outlook or Office365. Once you make sure that everything is alright on your side, you should reach out to the support team via a special form available on HubSpot's website to get the link.

How to learn using HubSpot's chatbot interface?

If you find the interface of HubSpot's chatbot confusing, you shouldn't worry too much about it. This is because HubSpot offers a rich variety of guidelines, tips and tricks to help you get started with the tool. Firstly, there are many in-app pop up windows that guide you through the process of creating chatbots. Secondly, HubSpot provides their users with a knowledge base about their chatbot. All these materials should make your user journey far easier and more enjoyable.

What to do if I can't afford HubSpot's chatbot Enterprise plan?

Generally speaking, HubSpot's chatbot is free to use with certain features. If you cannot afford the Enterprise plan, you have a free, as well as few paid plans to choose from instead. Should those plans not suit your needs either, you may always decide to pick a more budget-friendly chatbot for your business – you don't have to use HubSpot's solution.