Key takeaways
Pros
Fast and reliable live chat widget
Reports and analytics
Cons
Difficult to navigate
The software can be laggy
No real-time typing view
Getting started with Bitrix24
Signing up for Bitrix24 was easy and hassle-free. All you have to do to get your free trial account is fill out the signup form and confirm your email. After you do that, you'll be greeted with a pleasant-looking albeit a bit confusing interface.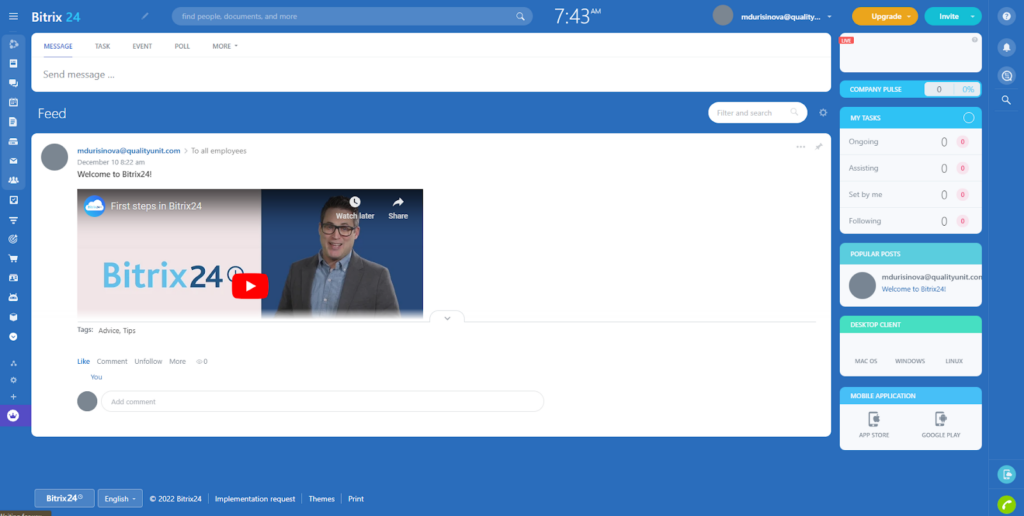 Right from the start, I wasn't sure how to navigate the software. I tried exploring the left-side menu. But I couldn't find anything resembling code I could copy and paste to my website.
When I decided I couldn't figure it out on my own, I looked at support documentation. Although it was easy to find and full of tutorials, I simply couldn't find the right answer. Don't get me wrong, documentation regarding live chat widgets, integrations, and even some sample codes are there. However, none of it was of any help because it didn't bring me any closer to finding the few lines of code I needed.
After some time and a few unsuccessful attempts, I was back to searching the UI. After some time of clicking on absolutely everything the interface allowed me to click on, I finally struck gold.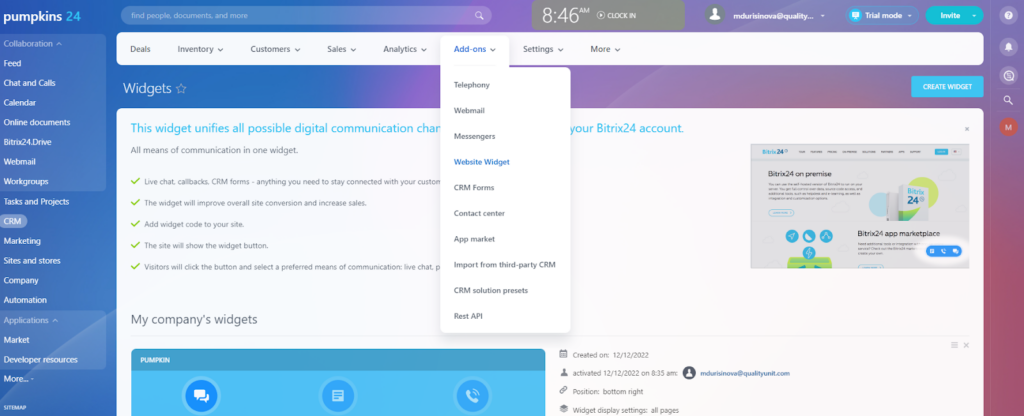 In the CRM tab, you need to click on Add-ons in the bar on the top. A drop-down menu lets you choose from a few options you can set up. For me, it was the Website Widget option.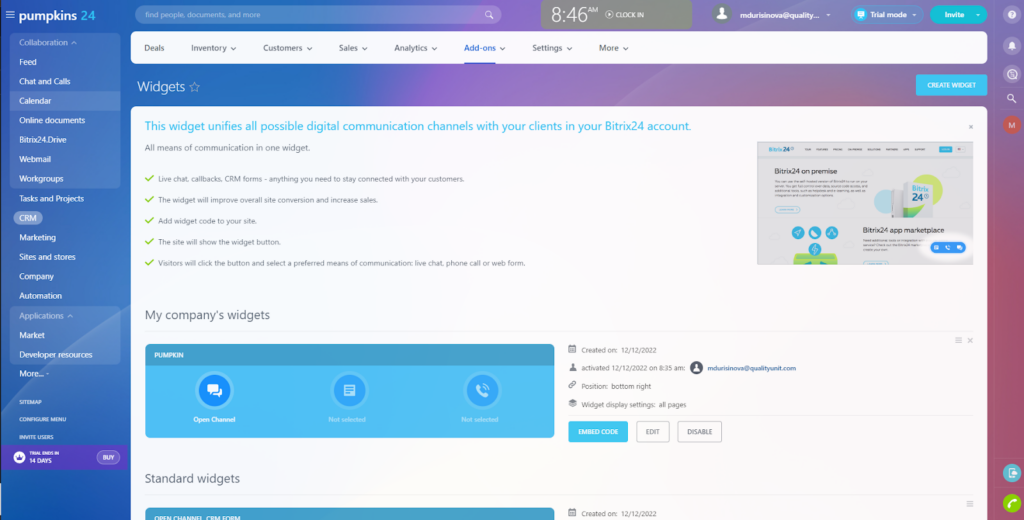 From there, I was able to set up a live chat widget. I found the code I needed by clicking on the Edit button, but it also works if you use the Embed code.
To test it out, I simply pasted the code before the on my test website and hit save. The live chat button appeared on my site, but when I clicked on it, I got a feedback form instead of a conversation. I looked around the settings in the Bitrix24 interface and found the issue.

I disabled the CRM form, and my live chat widget was ready.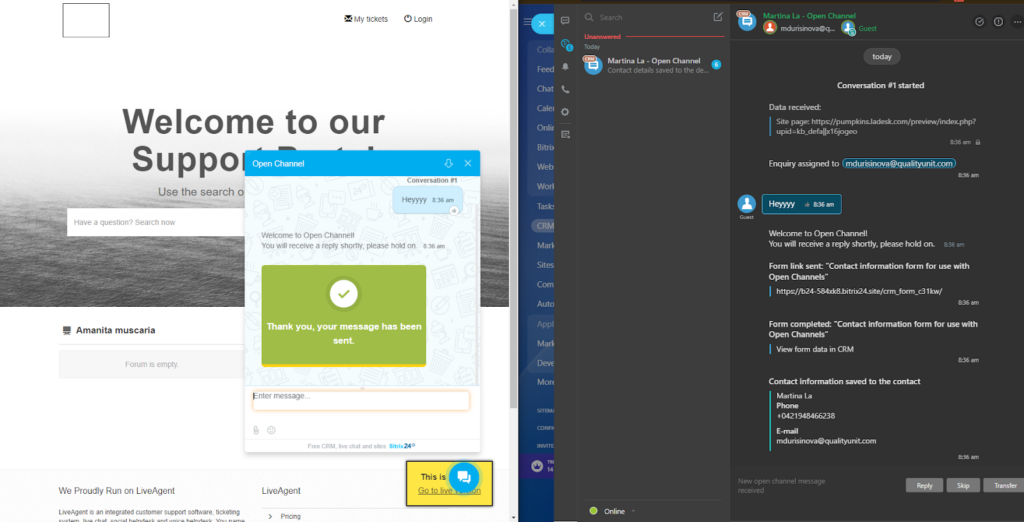 Features and user interface
Bitrix24's software is quite robust, including a desktop client that runs on Mac OS, Windows, and Linux. You can also get a mobile app from Apple's App Store, and Google Play. However, I chose to implement it using my web browser. I used Google Chrome, but you can run it on Firefox, Safari, or Edge.
The software Bitrix24 provides is solid and packed with many features and functionalities. That being said, although you have a lot to work with, it's not particularly easy to navigate.
When it comes to live chat software, I was pleasantly surprised by receiving a type of canned response right away, even without setting it up myself. Bitrix24 also automatically saved the information of the person contacting me to the CRM even though I hadn't set it up manually.
I also looked at whether this live chat solution has a real-time typing view, how the media sharing works, and other little things that can enhance customer interactions.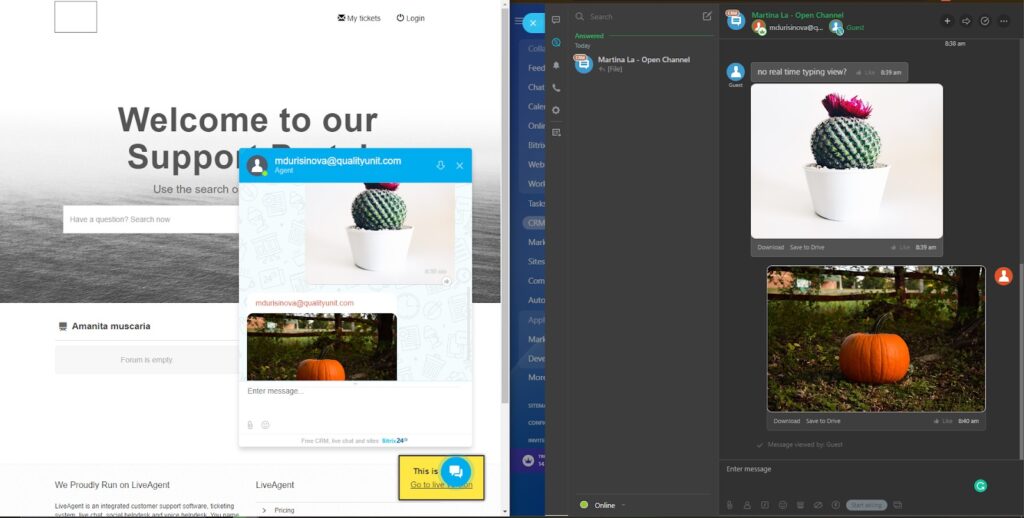 Unfortunately, as an agent, you can't preview what a visitor is typing. However, the rest of the basic features worked as expected without hiccups.
I liked the option to check my chat record in the Customers tab.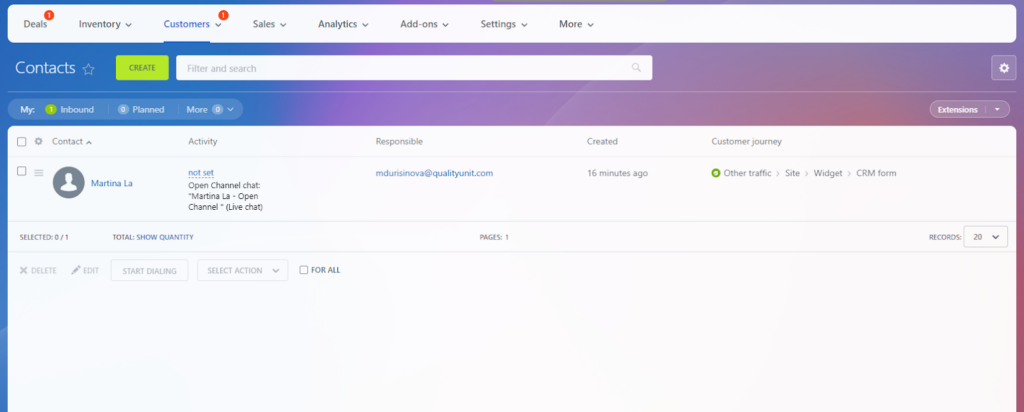 Here, you can see the visitor's contact information, their activity, which of your agents is responsible for the interaction, chat duration, and even the customer journey that led the visitor to write you a chat message. You can also filter your chat records to have a better overview of your inbound activities.
On top of that, Bitrix24 lets you create various reports, monitor and streamline your sales process, and more.
Live chat performance and user experience
Working with Bitrix24 was a bit of a frustrating experience. As I've mentioned before, the software is quite extensive, and it can be difficult for a first-time user to figure out how to use it. The sheer amount of tabs, menus, and buttons is overwhelming, to say the least.
Another issue I had while testing this software was how laggy it was. I won't attempt to count the number of times I had to refresh a page because it either didn't load properly, wasn't responding, or just didn't work.
As for the live chat itself, there is not much more to be desired. The only thing I could find that could use an improvement is the real-time typing view, but besides that, the chat is quick, reactive, and very easy to work with on both sides.
Messages with attached files are sent back and forth without any issues. Every time you receive a message, a notification pops up in both right and left-side menus and on your main CRM board.

As a visitor, you can't edit or remove messages you've already sent. However, from the agent's side, there is quite a lot you can do with your replies.
To sum up, Bitrix24's live chat performance, although it has its ups and downs, is not an unpleasant piece of software to use. It's quick and reactive, and despite missing some advanced features, it gets the job done.
Pricing
Bitrix24 offers five pricing packages in total. You can pay either monthly, every three months, or annually. For simplicity, I'm going to talk about the monthly payment option, plus the free plan. Each pricing tier includes all the functionalities from the cheaper packages plus some upgrades, extensions, or entirely new advanced features. Although all the plans are packed with various features, I'm going to stick to those pertaining to live chat.
Free
This package is free of charge and includes 5GB of storage, CRM software, and live chat with some limitations. With this plan, you can also set up group chats and record voice notes.
Basic
This tier includes up to 5 users and costs $46 per month for all users. Agents can share 24GB of storage, and use live chat with added HD video calls with screen sharing and audio/video recording.
Standard
For $124 per month for all users, you can have a team of up to 50 people. 100GB of storage allows for more freedom and more opportunities to collaborate.
Professional
With this plan, up to 100 people can use Bitrix24's software for $249 per month for all users. This plan offers 1024GB of storage, and is the first tier that lets you use automation like smart processes, and automation rules and triggers.
Enterprise
This tier starts at $499 per month for 250 users. However, you can scale it up to 10,000 users. The amount of storage is based on the number of users working with the software. For 250 users, the system lets you use 3TB of storage. In this tier, you can set up branch structures that allow you to manage a large enterprise.
Conclusion
To sum up my experience with Bitrix24's live chat software, I have to admit that it was a bit of a bumpy road. Looking just at the live chat widget alone, I'd say it was great. Even with some missing features, it's still a reliable live chat solution that has all the basics covered.
However, when I take the overall user experience into account, it somewhat taints my opinion. The setup was confusing and at times, outright frustrating. It takes a while to understand and navigate the UI. Once you get used to it, it works fine, but if you don't have much time to spare, you can get easily discouraged.
Another thing to discuss is how clunky and laggy the app is. It doesn't seem to be much of a problem when using the live chat, but setting everything up takes a considerable amount of time, largely due to the pages not loading properly.
All in all, Bitrix24's live chat widget by itself can be a great option for many small and large businesses. If you're ok with overlooking some inconveniences that come with the software, it can be a reliable tool for your customer communication.
Frequently Asked Questions
My live chat only displays a feedback form

To resolve this issue, go to CRM, click on Add-ons, and choose the Website Widget from a dropdown menu. In My company's widgets choose the one you need to adjust and click Edit. Scroll down to the CRM form and turn it off. When you refresh your site, the live chat widget should be working properly.

I need to find chats that belong to a deactivated agent

You can find message logs for dismissed employees by clicking Employees, then Inactive. Select the employee and click Message Logs. If you don't have the Inactive option, it means that the system administrator disabled it in the Account settings.