What is ticket sharing?
Sharing tickets is a key element in providing exceptional customer service. Agents can collaborate, exchange insights, and leverage collective expertise to handle customer inquiries more effectively and give more accurate answers to their questions. Additionally, ticket sharing enhances workflow efficiency, reducing response times and ensuring prompt resolution of customer inquiries, leading to higher customer satisfaction levels.
Facilitate ticket sharing with a ticketing tool
Ticket sharing can be a breeze when you decide to implement reliable ticketing tools into your business. Taking an advantage of the its many features can be highly essential for support agents. With the internal ticketing tools, they can quickly share tickets through the internal live chat feature. This enables swift collaboration and problem-solving among the customer support team.
By clicking on the hyperlinked Ticket ID, agents can easily access specific tickets in their agent panel. This efficient ticket sharing feature greatly enhances the productivity, ensuring that no issue goes unresolved. Another helpful part of tickets and sharing is the ticket and customer backlog, so your customer support team can always stay on top of unresolved tickets.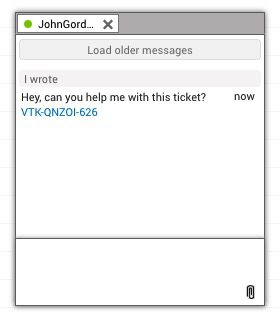 Frequently Asked Questions
What does the term ticket sharing mean?

Sharing tickets means sharing tickets quickly and securely between agents. So they can support each other.  

Why is it advisable to use ticket sharing?

Ticket sharing allows for quick transfer between agents when you need support and additional knowledge that another agent may have. All this facilitates the work of agents and ensures the free flow of information.  

Is ticket sharing available in LiveAgent?

LiveAgent ticket sharing is available thanks to the internal live chat. When the agent uses the correct ticket ID, it receives a hyperlink that it can easily share.  
Expert note
Ticket sharing is a game-changer for customer service teams. It improves response times, allows for better collaboration among agents, and ultimately leads to happier customers.

Andrej Saxon
Sales manager