What is ticket sharing?
Sharing tickets is easily done by using the internal live chat. Whenever an agent uses a proper Ticket ID, it is automatically hyperlinked for easier sharing, even for internal tickets. When the agents click on the Ticket ID, it automatically opens the specific ticket in their Agent panel. This saves time especially when agents need help from each other and they can quickly share tickets where they need help. This feature is present in the best it ticketing systems and help desk systems on the market.
Another helpful part of tickets and sharing is the ticket and customer backlog, so your customer support team can always stay on top of unresolved tickets.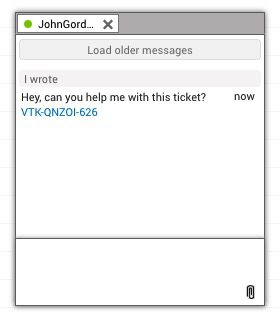 Frequently

asked questions
What does the term ticket sharing mean?
Sharing tickets means sharing tickets quickly and securely between agents. So they can support each other.
Why is it advisable to use ticket sharing?
Is ticket sharing available in LiveAgent?
LiveAgent ticket sharing is available thanks to the internal live chat. When the agent uses the correct ticket ID, it receives a hyperlink that it can easily share.
Expert note
Ticket sharing is a game-changer for customer service teams. It improves response times, allows for better collaboration among agents, and ultimately leads to happier customers.

Andrej Saxon
Sales manager