What are contact fields?
Contact fields contain specific information about your contacts. Generally, a contact card contains information like the contact's postal address, phone number, email address, job position, or the company they work at.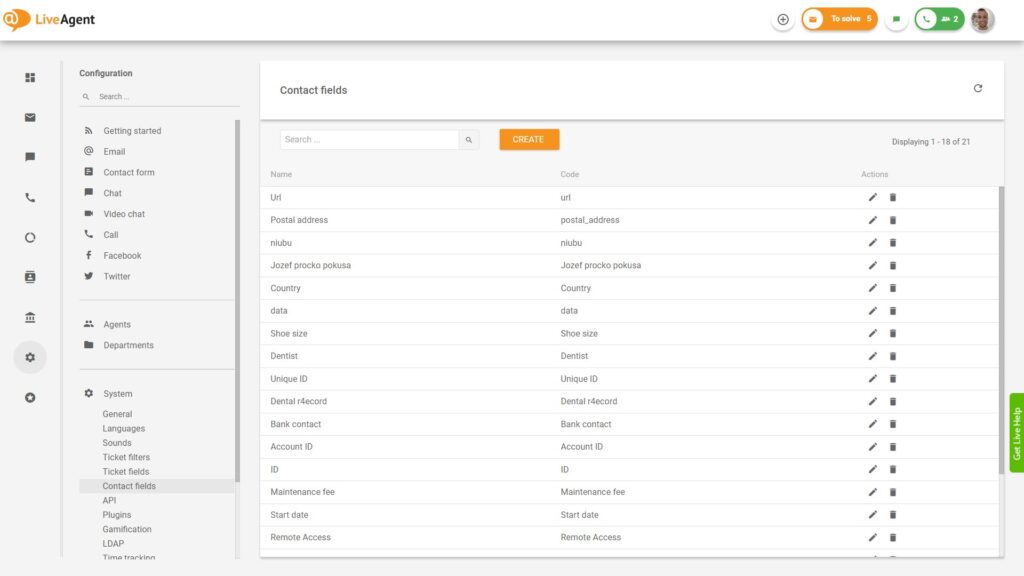 What information can you store in contact fields?
Contact information in LiveAgent can include:
First and last name
Avatar (photo/profile picture)
Multiple email address
Multiple phone numbers
Timezone
Gender
Company and job position
Language
IP address
Browser information (e.g., Google Chrome)
Contact groups (e.g., VIP customers, Spanish speakers)
Private notes (internal reminders – don't call at 11:00 am, etc.)
The contact's tickets (all tickets submitted across various channels)
The LiveAgent software also lets you create unlimited custom contact fields so you can gather as much information about your prospects as you need.
For example, let's say you want to store more information about your contacts than just the basics. In that case, you can create custom contact fields such as billing address, shoe size, car model, account number, birthday, or whatever else.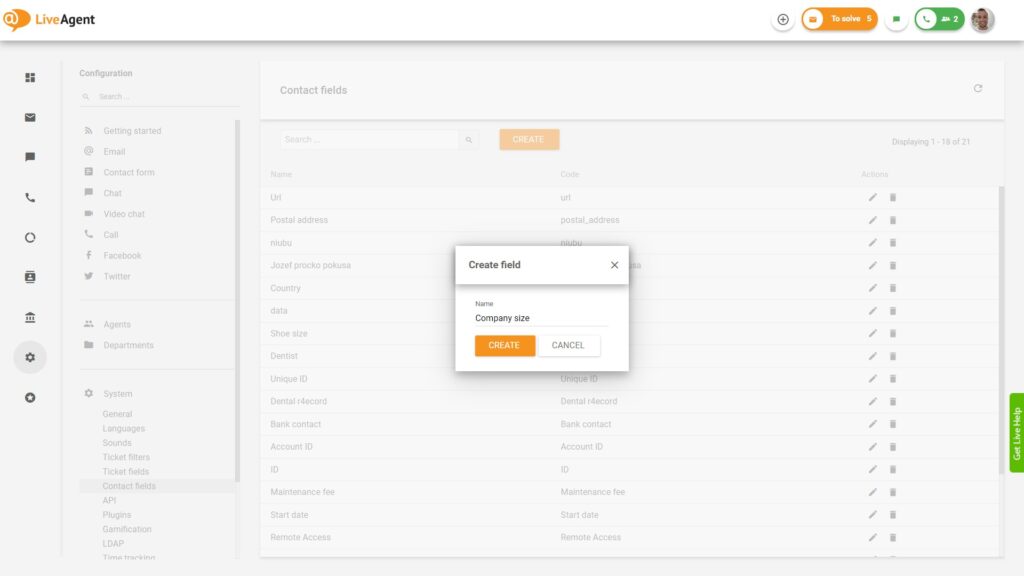 What can you do with contact fields?
Besides storing additional CRM information about your customers, you can use contact fields to:
Effectively filter through tickets and search your universal inbox
Create automation rules that apply to only users with particular contact fields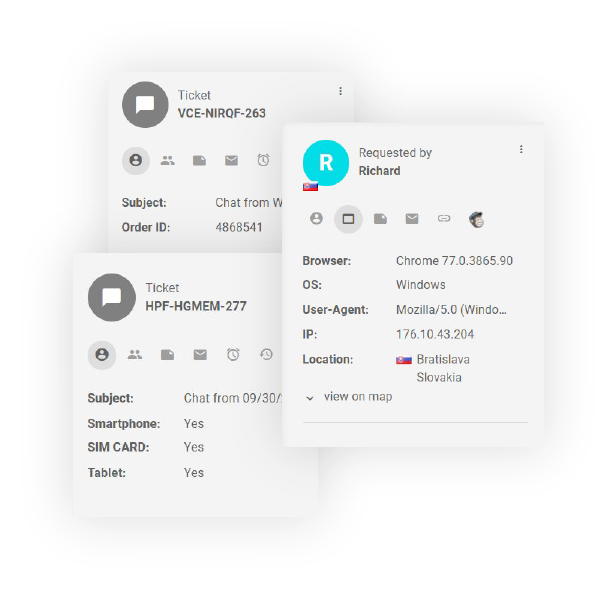 How can I create custom contact fields?
Log in to LiveAgent.
Click on Configuration.
Click on System.
Click on Contact fields.
Click on the orange Create button.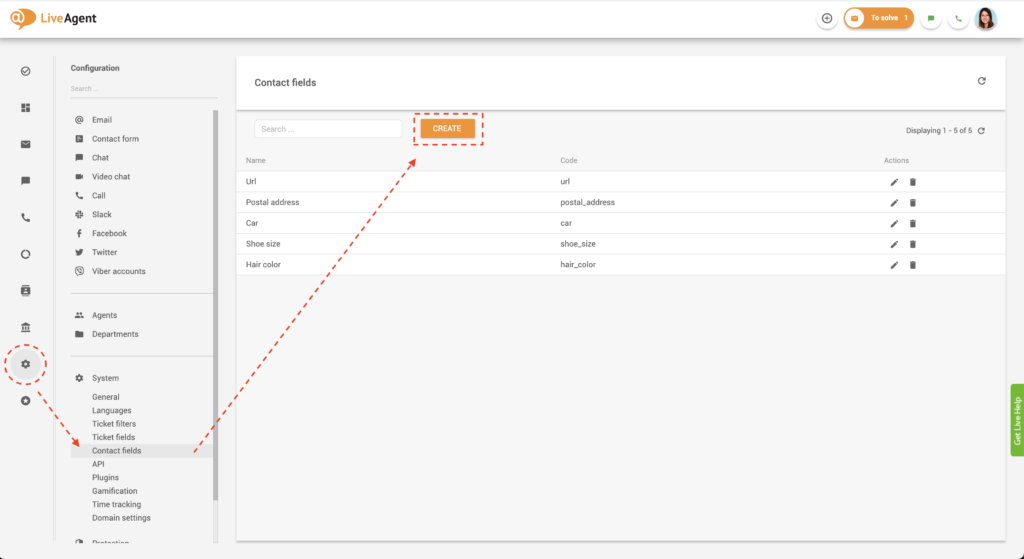 6. Set a code name for your custom contact field. For example, it can be something like "hair_color" or "country." Please note that only lowercase letters, numbers, hyphens, or underscores are allowed in the code. You may not use spaces.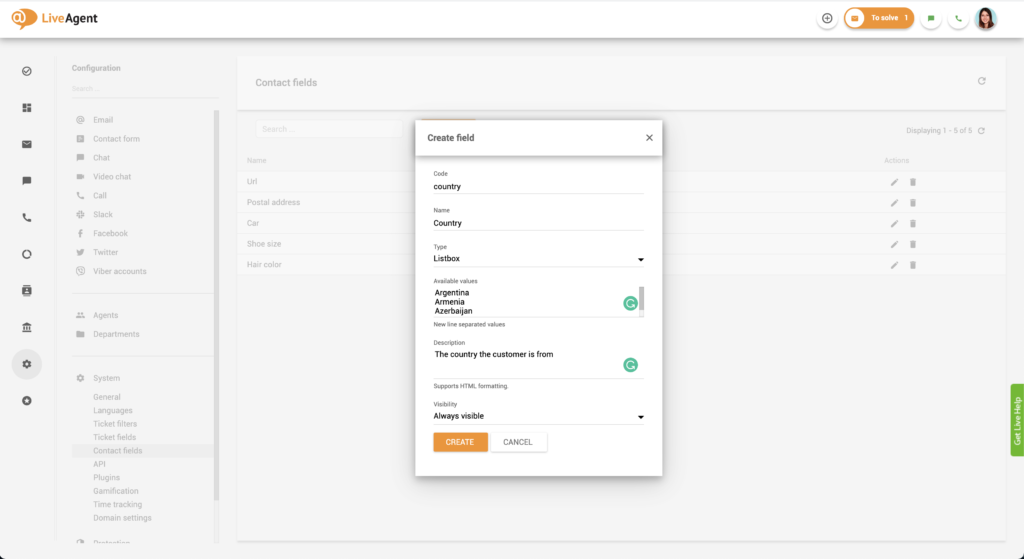 Name your custom contact field. This time you can name it "Hair color" or "Country" without any formatting restrictions.
Click on Type and select the input option that suits you best. For example, you can choose from a textbox input, list box, checkbox, checkbox group, or postal address.
Optional: Click on the description and write a description for the custom contact field. The explanation can provide additional information regarding the contact field for you and your staff.
Select the Visibility option and choose whether to show the custom contact field when creating a contact.
Click on Create.
Alternatively, you can also create a unique contact field directly in your contacts. To do so, please:
Log in to LiveAgent.
Click on Customers.
Click on Contacts.
Click on the desired contact.
Click on Add field.
Click on Create field.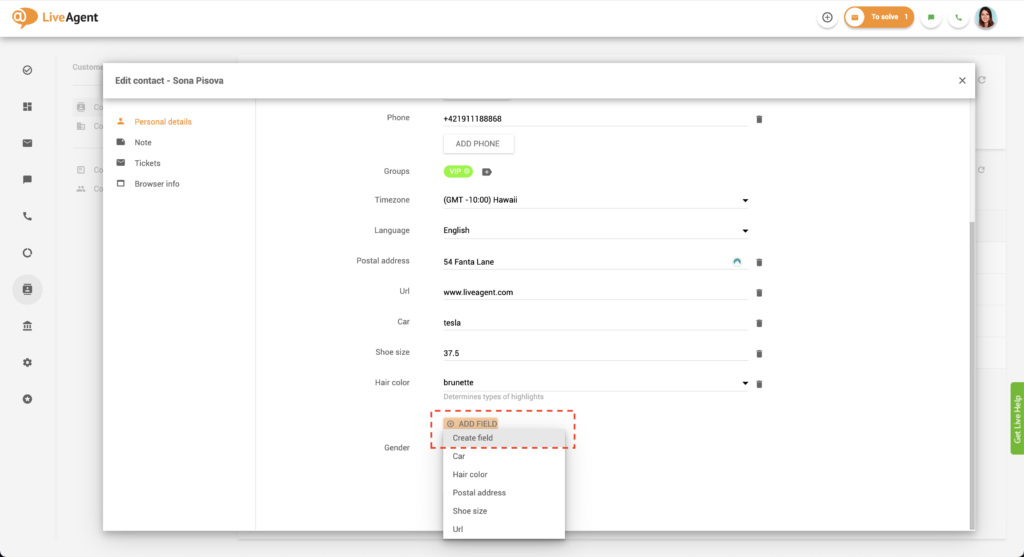 7. Following the instructions above, take steps 6-11. Please note that if you decide not to select the Always visible option in step 10, you will have to click "Add field" to see/select the contact field you created previously.
How can custom contact fields be useful?
More personalized service
Creating custom contact fields can help you personalize your sales, marketing, and support efforts. For example, let's say a potential customer contacts you about the restocking of a particular pair of shoes in their size.
By recording their shoe size and the product ID they're interested in, you'll be able to reach out to them proactively once it's back on the shelf. Doing so will also enable you to personalize future marketing campaigns. For example, in future email newsletters, you'll be able to showcase styles they might be interested in or recommend similar styles in their size.

More knowledgeable service
Creating unique contact fields can help your agents provide better service for your customers. The more information you collect, the easier it will be to provide knowledgeable and relevant answers to customer questions. 
For example, let's say you work in the automotive industry. A potential customer has been interested in a Mercedes AMG but is still on the fence about making a purchase. If you record this information in a unique contact field, you will be able to leverage it in the future. 
The next time they contact you, you can impress them by remembering the model and brand of car they were interested in. Then, they won't have to repeat their wants and needs, which most customers consider poor customer service.
Record unique customer insights
Create unique contact fields to save more valuable information about your customers. Try it today. No credit card required.
Improved customer satisfaction
By creating exceptional customer experiences with personalized and knowledgeable service, you'll keep your customers satisfied with your company. Keeping them happy can lead to long-term relationships and provide additional advantages such as favorable reviews, brand advocacy, and repeat purchases.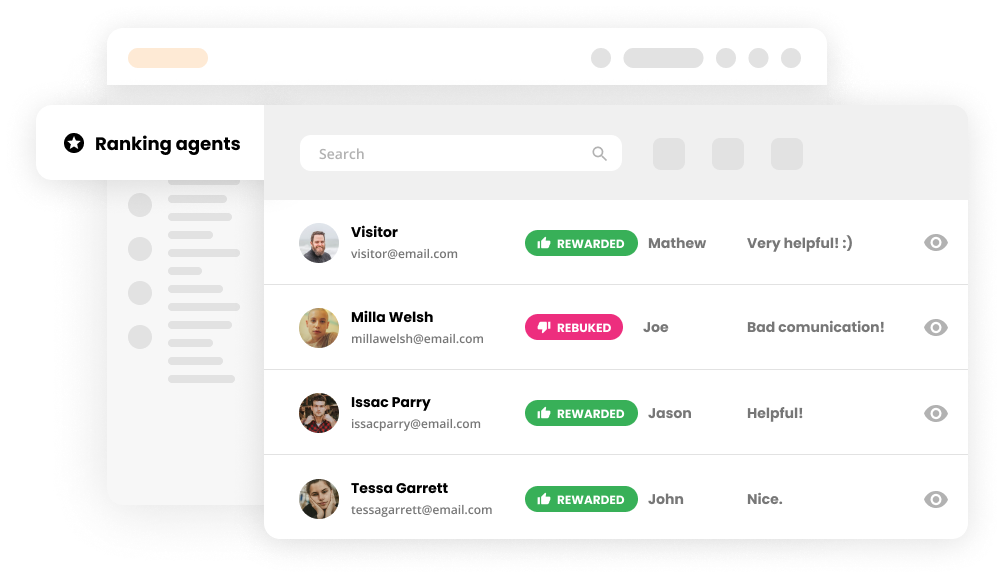 More sales
The more satisfied your customers are with your service and marketing efforts, the more purchases they make. They also bring in new customers by recommending your business to others and sharing their positive experiences with friends and family. So, if you consistently provide exceptional customer service, you will create a beautiful cycle whereby your happy, loyal customers bring in new customers that keep generating revenue for your business.
Knowledge base resources
Want to learn more about contact fields? Our knowledge base, academy, and blog cover everything you need to know.
LiveAgent Product Tour | Live Agent02:25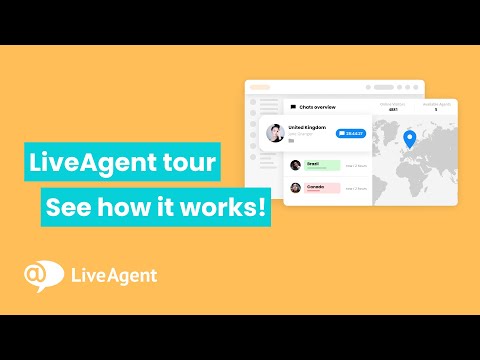 Live Agent
Ready to create unique contact fields?
Discover just how easy it is to provide knowledgeable and personalized service with unique contact fields. You can try our all-inclusive free 30-day trial without a credit card to see if we're a good fit.
Capture essential customer data
With LiveAgent's contact fields, you can effortlessly collect and organize vital customer data. Customize your contact forms and gain valuable insights to provide personalized support.
Frequently Asked Questions
What are contact fields?

Contact fields contain specific information about your contacts, such as their postal addresses, phone numbers, email addresses, and job positions at the companies they work in, just to name a few.

What information can you store in your contacts?

In addition to basic information, help desk software like LiveAgent enables you to create custom contact fields to store unique information about your contacts, such as their shoe size or car model.

How can custom contact fields be useful?

They can help you provide more personalized and knowledgeable service, leading to more customer satisfaction and sales.